Omelette Muffins
I am a firm believer that breakfast is the most important (and possibly delicious) meal of the day, and I definitely prefer savory to sweet. I've always made time for it, every morning before school I would have a bowl of cereal or maybe some toast. Even when I was on the phone all day for work, I made sure to get up early enough to make something quick for breakfast. I knew that it would make the morning much more bearable if I wasn't hungry the whole time.
My tastes have shifted a bit from the cereal I ate in high school and college to more protein based breakfasts. I know some people don't like eggs, but I happen to LOVE them. I make some most mornings to take with me to work; they're just so quick and versatile!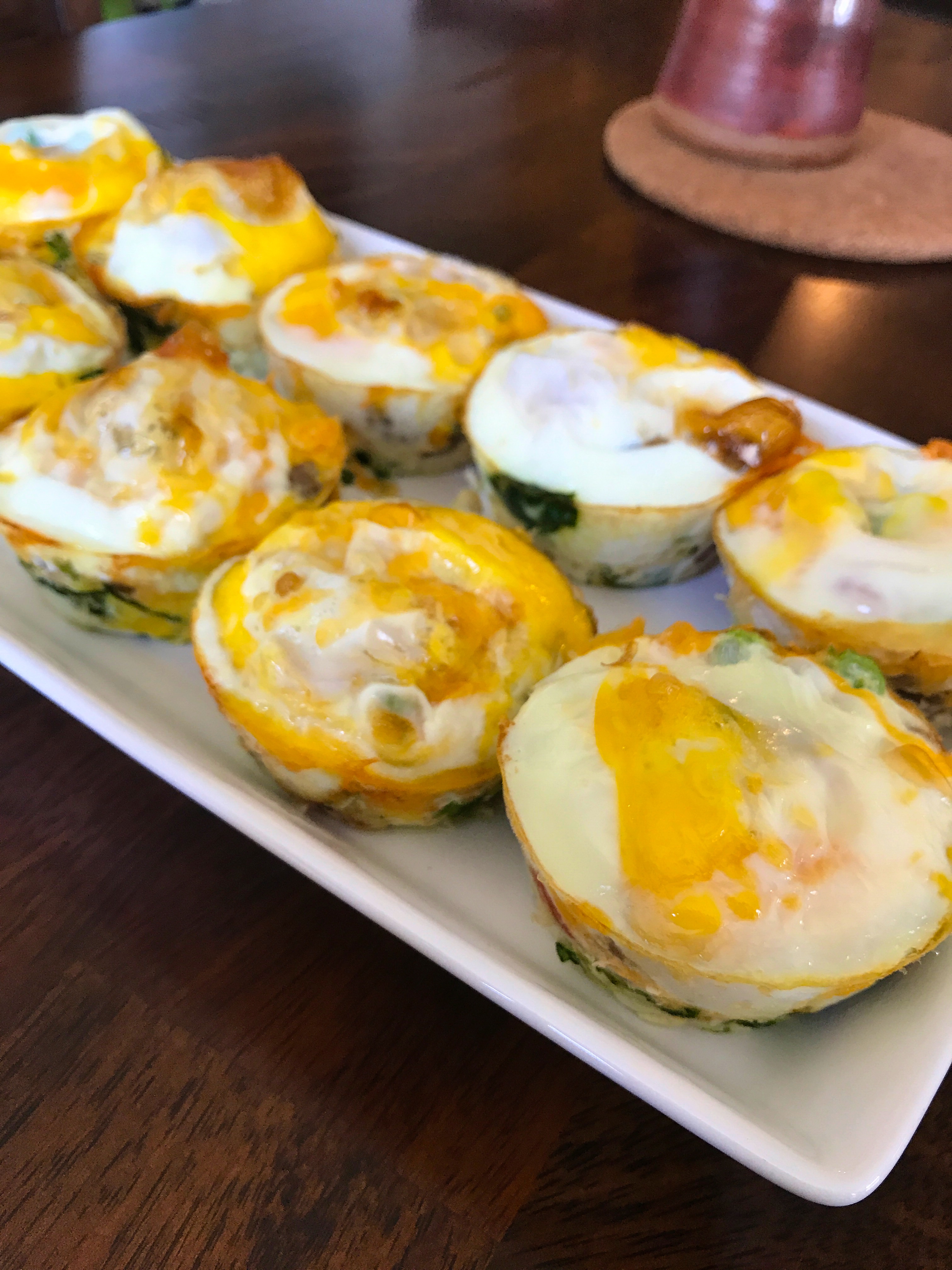 With the freezing, dark months of winter upon us in Minnesota, I am finding it more difficult to get out of bed in the morning with enough time to make breakfast at home. On those days, I tend to buy something in our cafeteria at work instead – which is really good, but very overpriced! Whenever possible, I like to have make ahead breakfasts like these omelette muffins that I can just grab from the fridge and take to work with me to heat up there!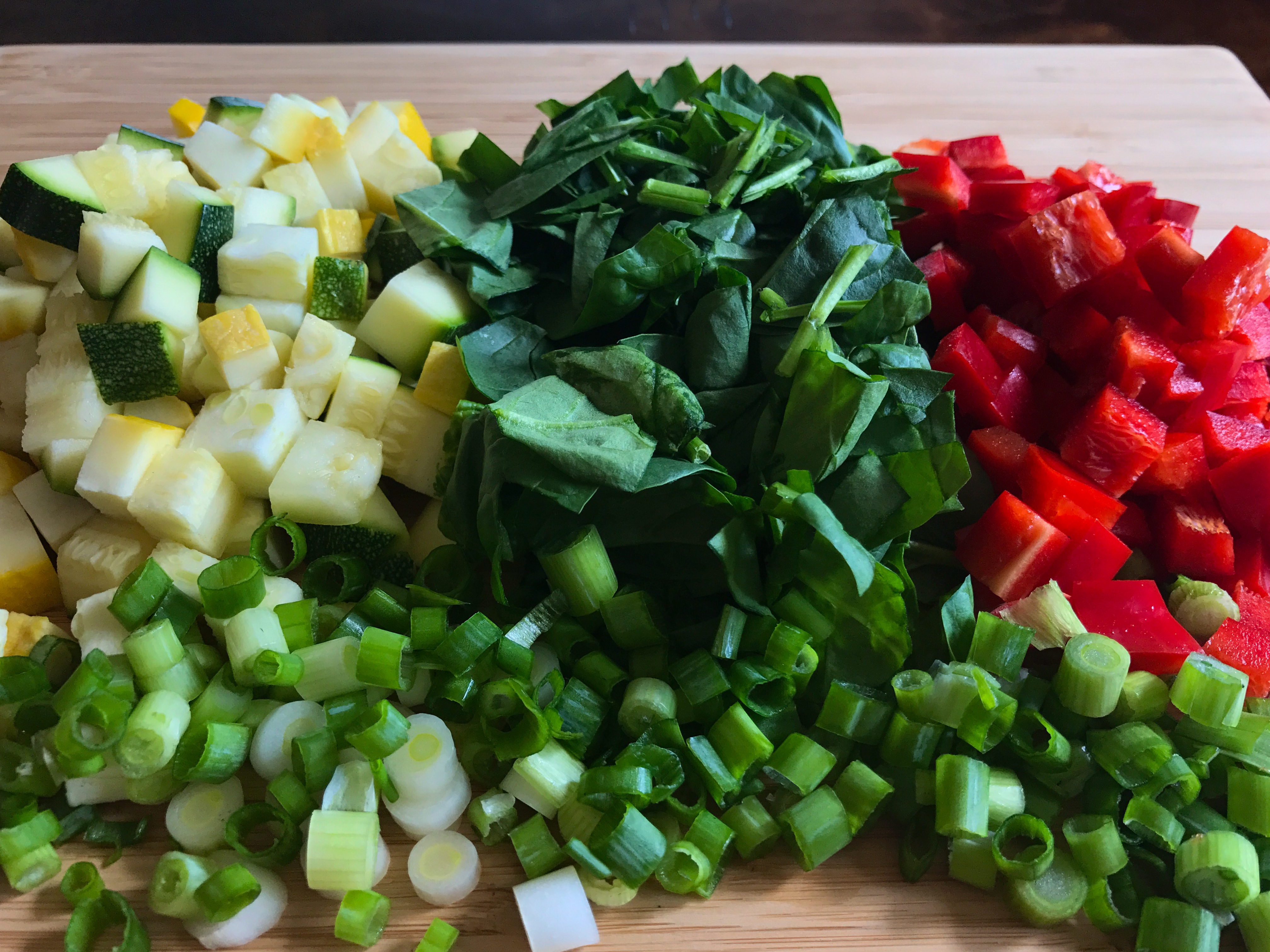 The omelette muffins are super easy to make, and require just a bit of chopping to get started. The best part about them is you can use any combination of veggies/meat/cheese that your little heart desires! The vegetables I used for this particular batch were zucchini/summer squash, spinach, red bell pepper and green onions.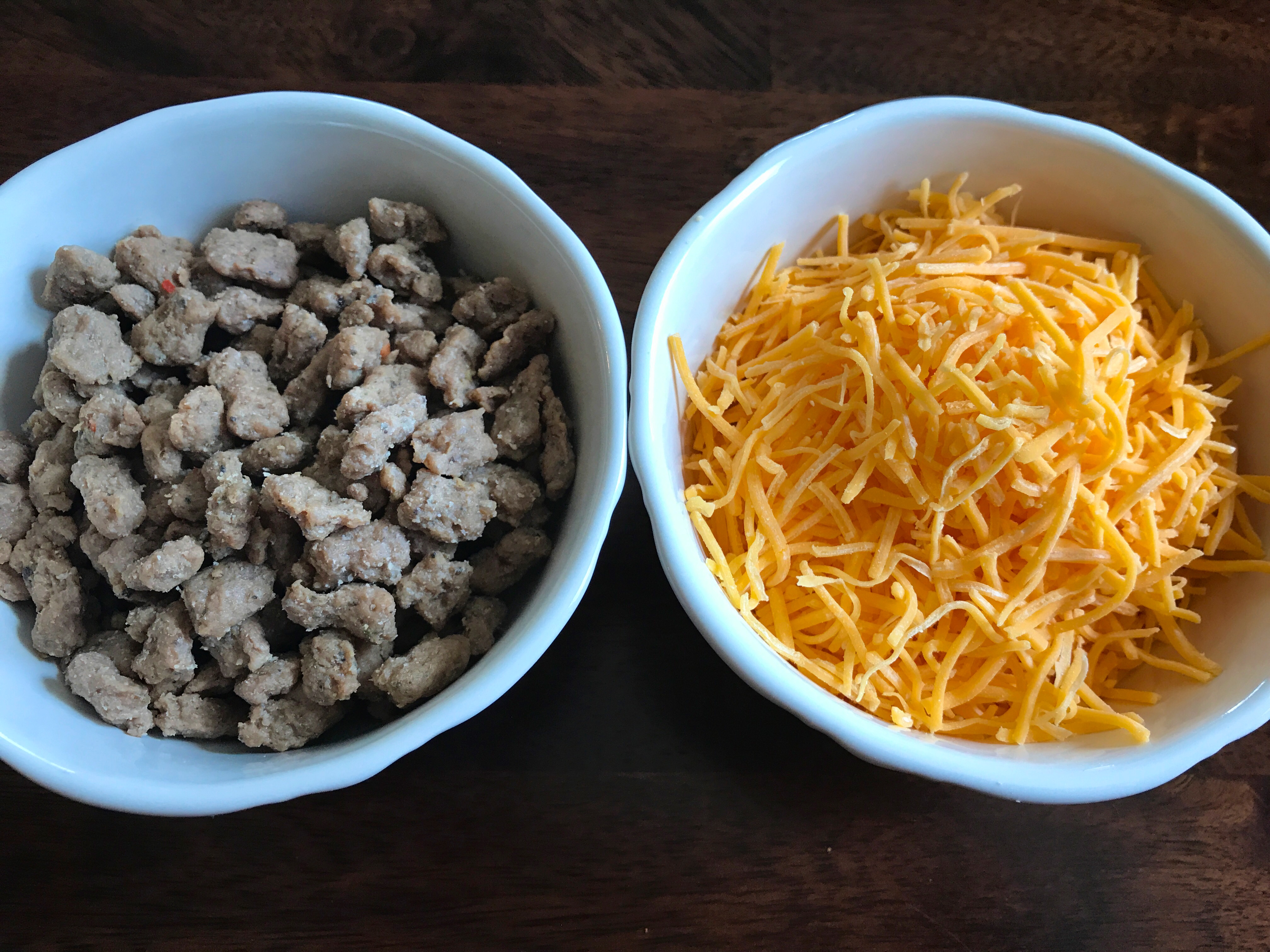 I also added some shredded cheddar and cooked turkey sausage crumbles. Can we talk about these sausage crumbles for a minute? I was always a little hesitant to try pre-cooked sausage crumbles, because I just assumed they wouldn't be good… boy was I wrong! I'm sure there are people who will disagree with me, but I can't taste much of a difference between the turkey sausage crumbles and pork sausage (unlike turkey bacon, you can always tell the difference there). It's a great way to add a little bulk to plain eggs!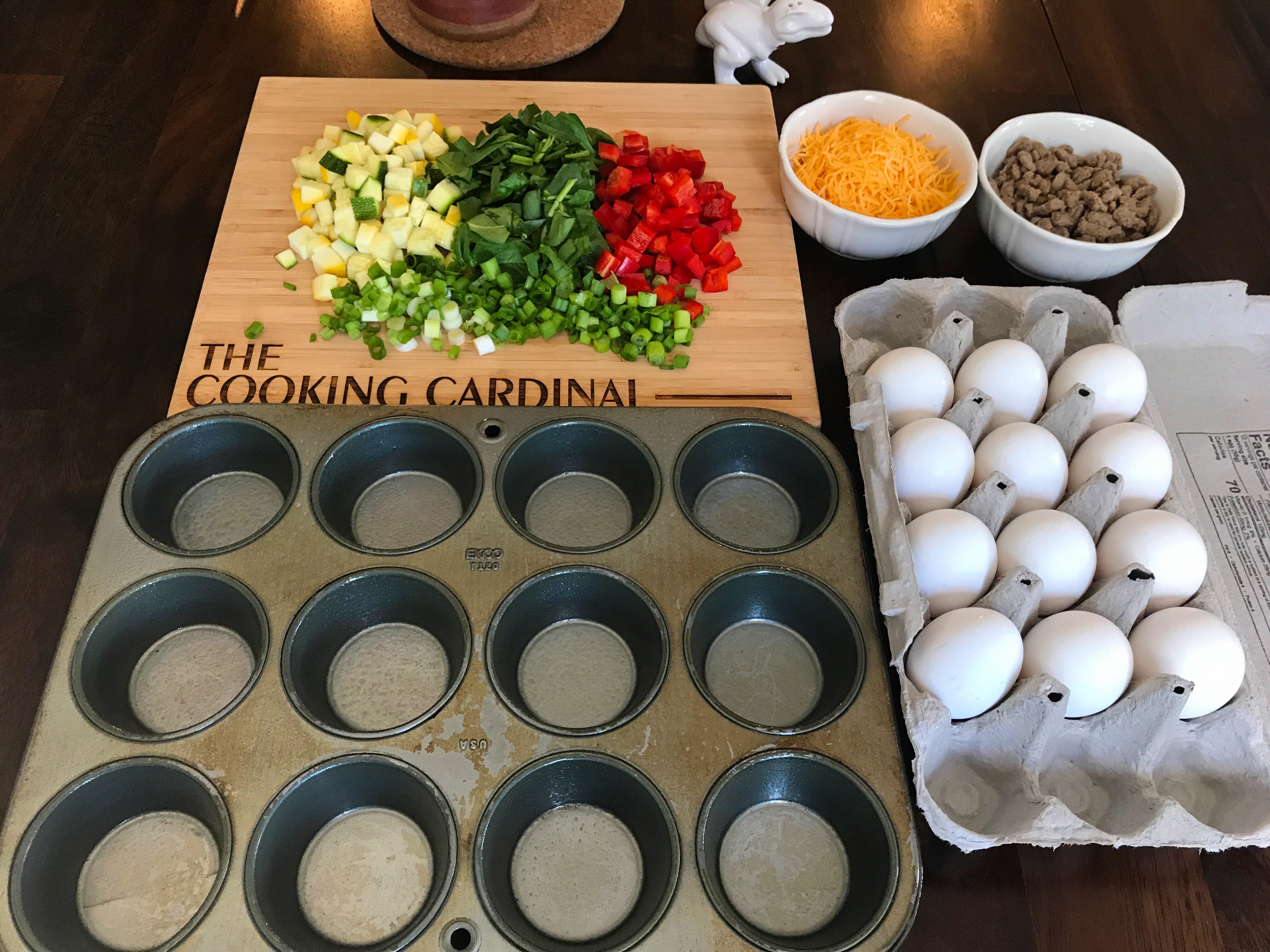 Okay… back to the omelette muffins! The last item on the list is a dozen eggs (one for each muffin cup). Once all the ingredients are prepped and ready, the assembly is very easy.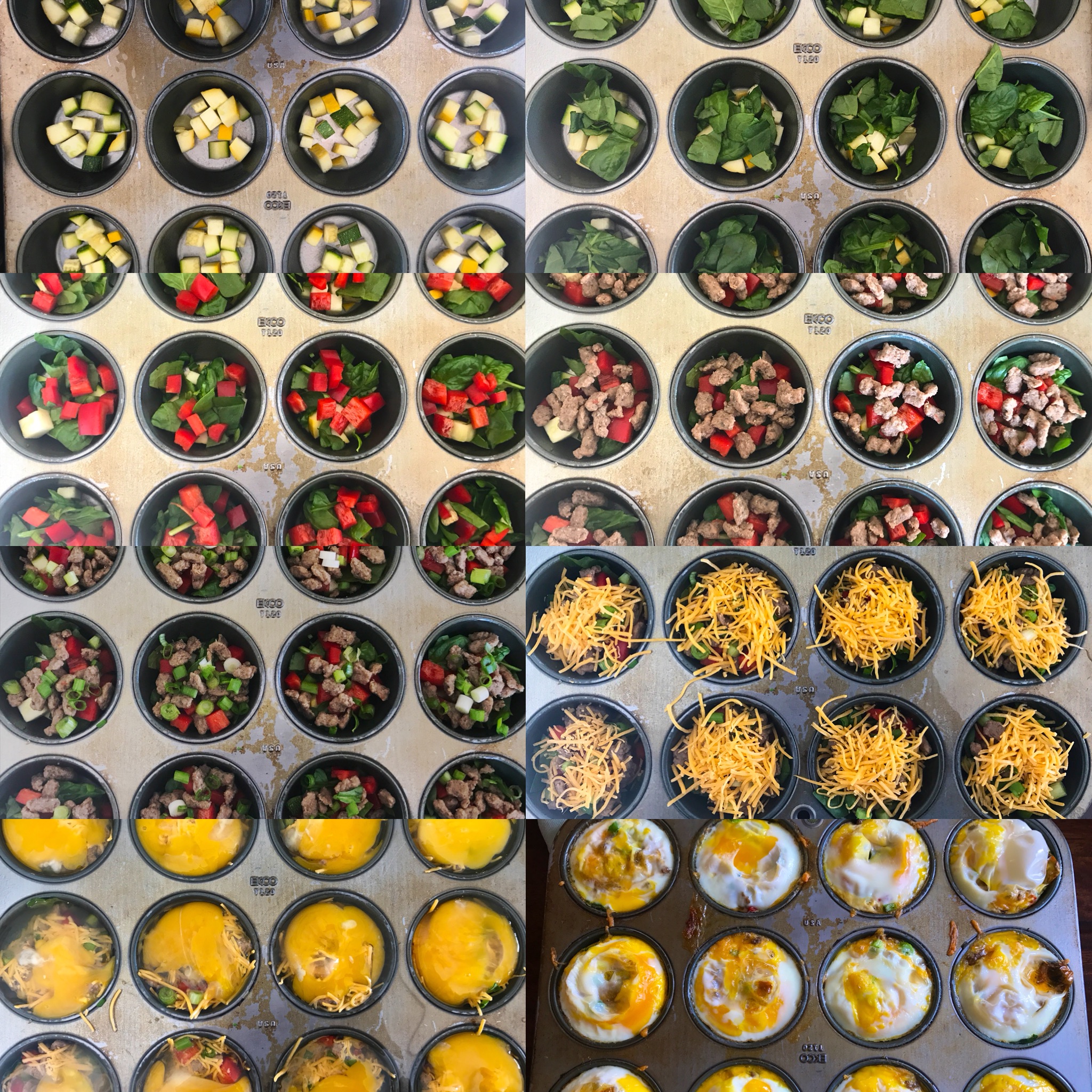 Pictured above are the steps for how I composed my omelette cups. Into a greased muffin pan, I put the following: First I put a layer of zucchini/summer squash in the muffin cups. Second was some chopped baby spinach. After that I added some diced bell pepper, followed by a tablespoon of turkey sausage crumbles. Next was a pinch of green onions, and then a tablespoon of shredded cheddar cheese. Finally I cracked one egg into each cup. I used about 1 tablespoon of each of the vegetables, but I didn't really measure those. I just went with what I like, and what looked like a good amount to me and threw them in the pan.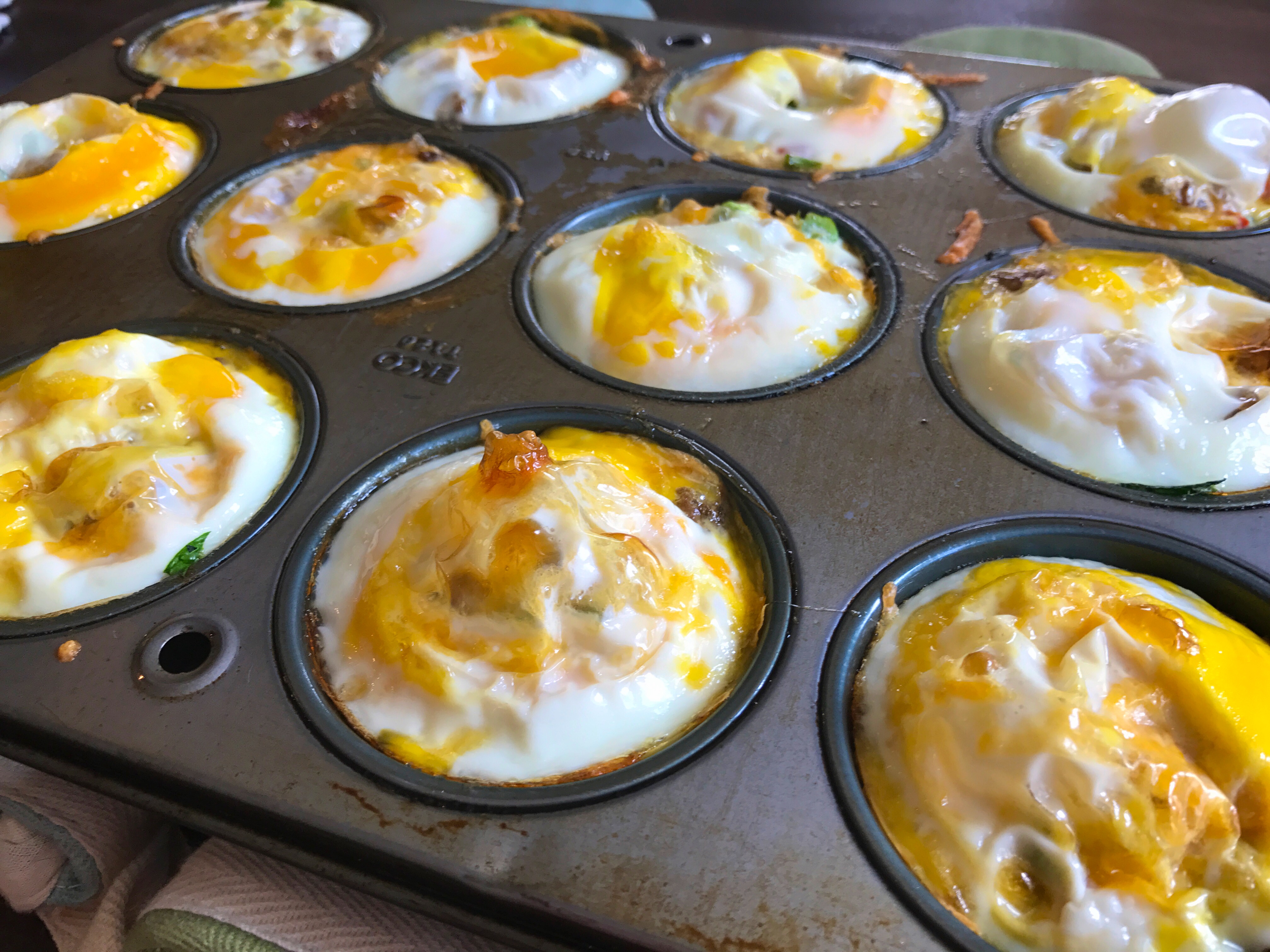 The cups baked at 350F for 15-20 minutes, until the eggs were set. All the vegetables go in raw, and are perfectly cooked by the time the eggs are done. Throughout the week, I grab a couple for breakfast and just pop them in the microwave for a minute or so to warm them up!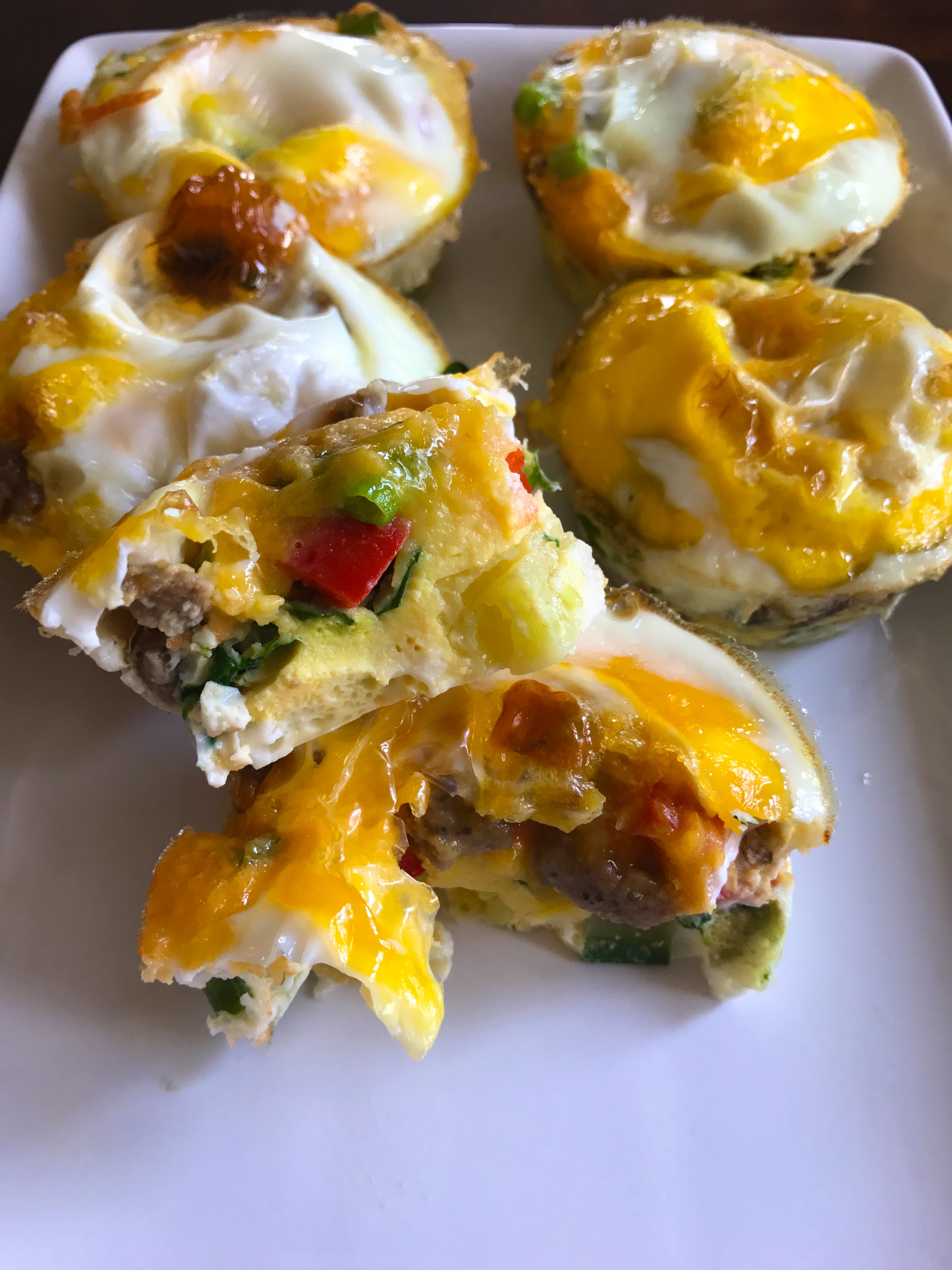 If you are looking for a well balanced, easy to make, convenient and delicious breakfast, you need to try these!

4812 Total Views
1 Views Today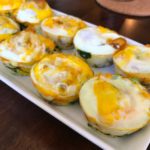 Servings

Prep Time

12

muffins

10

minutes
Servings

Prep Time

12

muffins

10

minutes
Servings

Prep Time

12

muffins

10

minutes

Servings

Prep Time

12

muffins

10

minutes
3/4

cup

zucchini/summer squash

diced, use 3/4 cup total of the two, not 3/4 cup each

3/4

cup

red bell pepper

diced

3/4

cup

baby spinach

chopped

1/2

cup

green onion

sliced

3/4

cup

turkey sausage crumbles

pre-cooked

3/4

cup

shredded cheddar cheese

12

eggs
Preheat oven to 350F, and grease a 12 cup muffin tin

Add about 1 tablespoon of each of the chopped vegetables and turkey sausage into each muffin cup

Sprinkle 1 tablespoon of shredded cheese onto each cup

Top each cup with one cracked egg

Bake for 15-20 minutes, or until eggs are set

Remove from pan, keep in airtight container in refrigerator for up to 7 days
**Cardinal Rule** If your muffin cups are getting too full with the filling, gently beat each egg before adding it to the tin.  This will help the egg seep in around the veggies better.
---