Sweet Potato Hash
This summer I have been trying to get back into the habit of doing meal prep on Sundays, so I have breakfasts and lunches ready to go for the week. We have two awesome cafeterias at work, but I've been trying to make an effort to not eat at them as much in order to save money and make smarter choices about what I'm putting in my body. I love to cook (obviously), so spending a couple hours cooking on a Sunday is quite relaxing for me. I understand that practice isn't for everyone, and that's ok! Honestly, I don't always get around to doing meal prep for the week, because you do need to dedicate a good portion of the day to cooking. This Sunday, for example, I focused on finishing a book I've been reading for several months instead of cooking.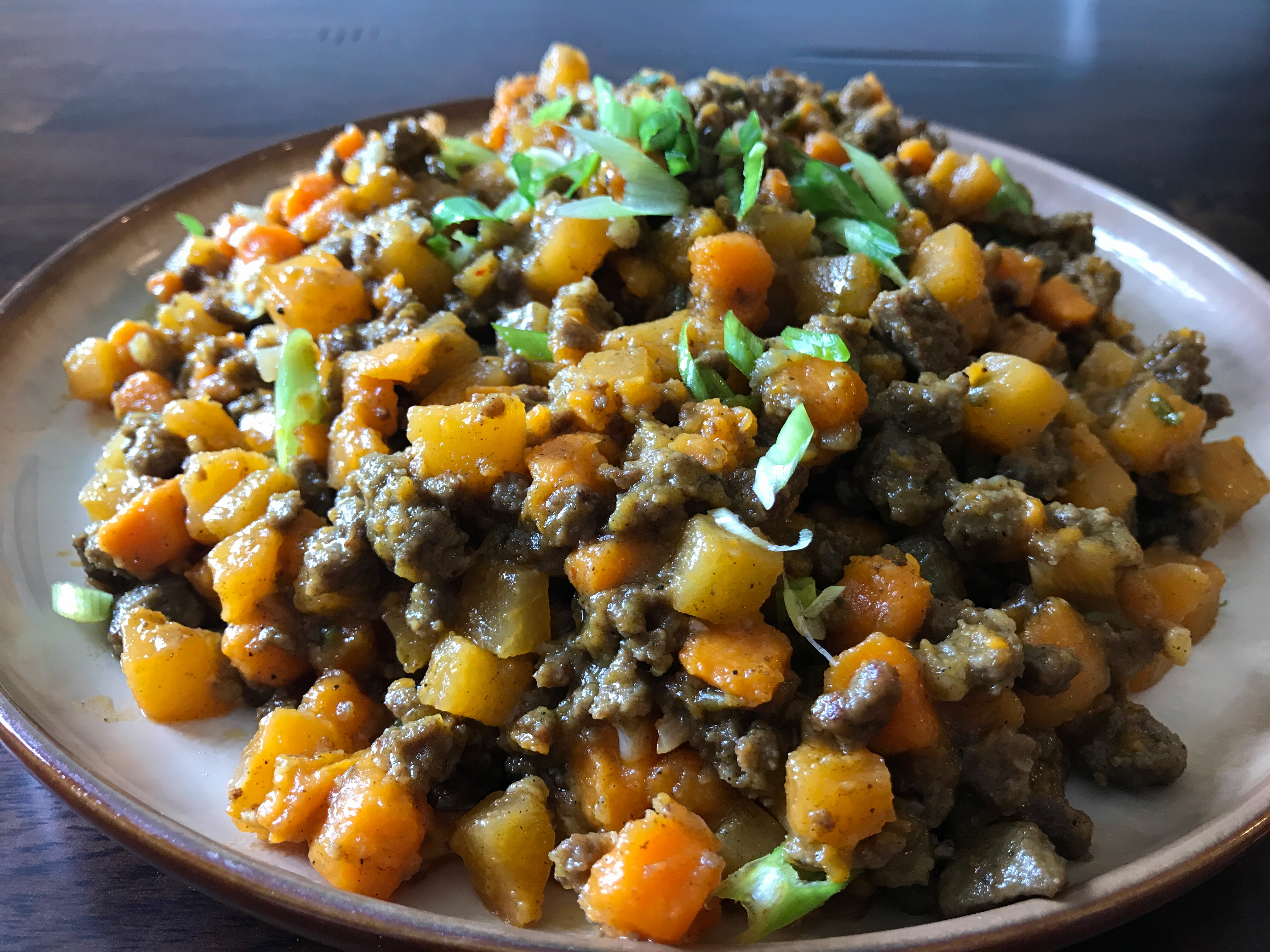 One of my favorite things to make ahead is this sweet potato hash; I cook it up Sunday and portion it into individual servings for the week. Then all I have to do in the morning is make an egg or two, and I'm ready to go! I started making this hash last summer when I was doing Whole30, and have tweaked and perfected the recipe over the last year.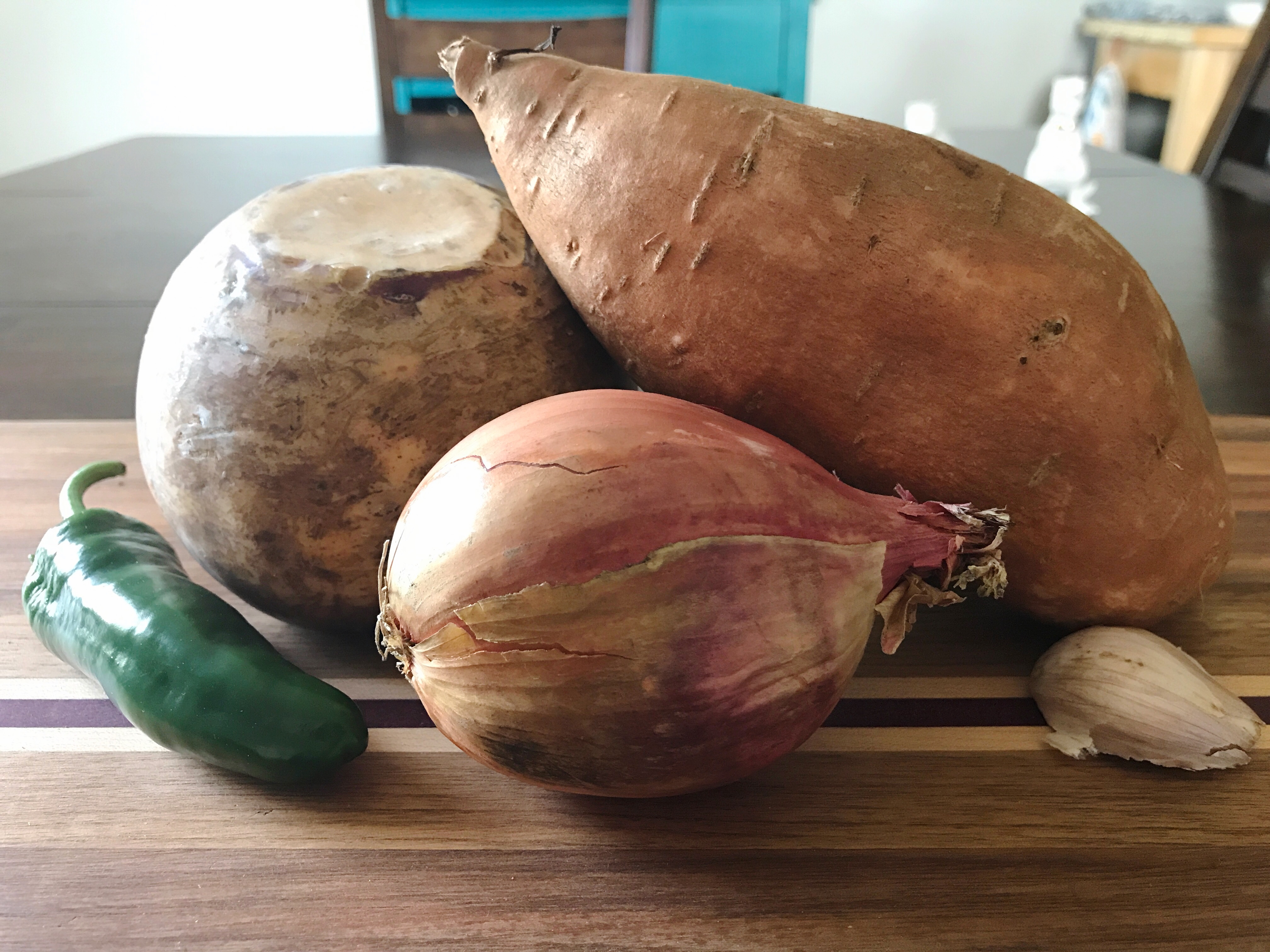 The first time I made this dish I was actually trying to make taco meat (kind of an epic fail in that department); but even after adding a jalapeno and spices, it was more savory than spicy. So I diced up some sweet potatoes and other root vegetables (parsnip, turnip and rutabaga), and made a breakfast hash instead. I've used a multitude of root vegetables when experimenting with this, but the sweet potato is always a must have. For this version, I have a sweet potato, rutabaga, shallot, garlic, and jalapeno.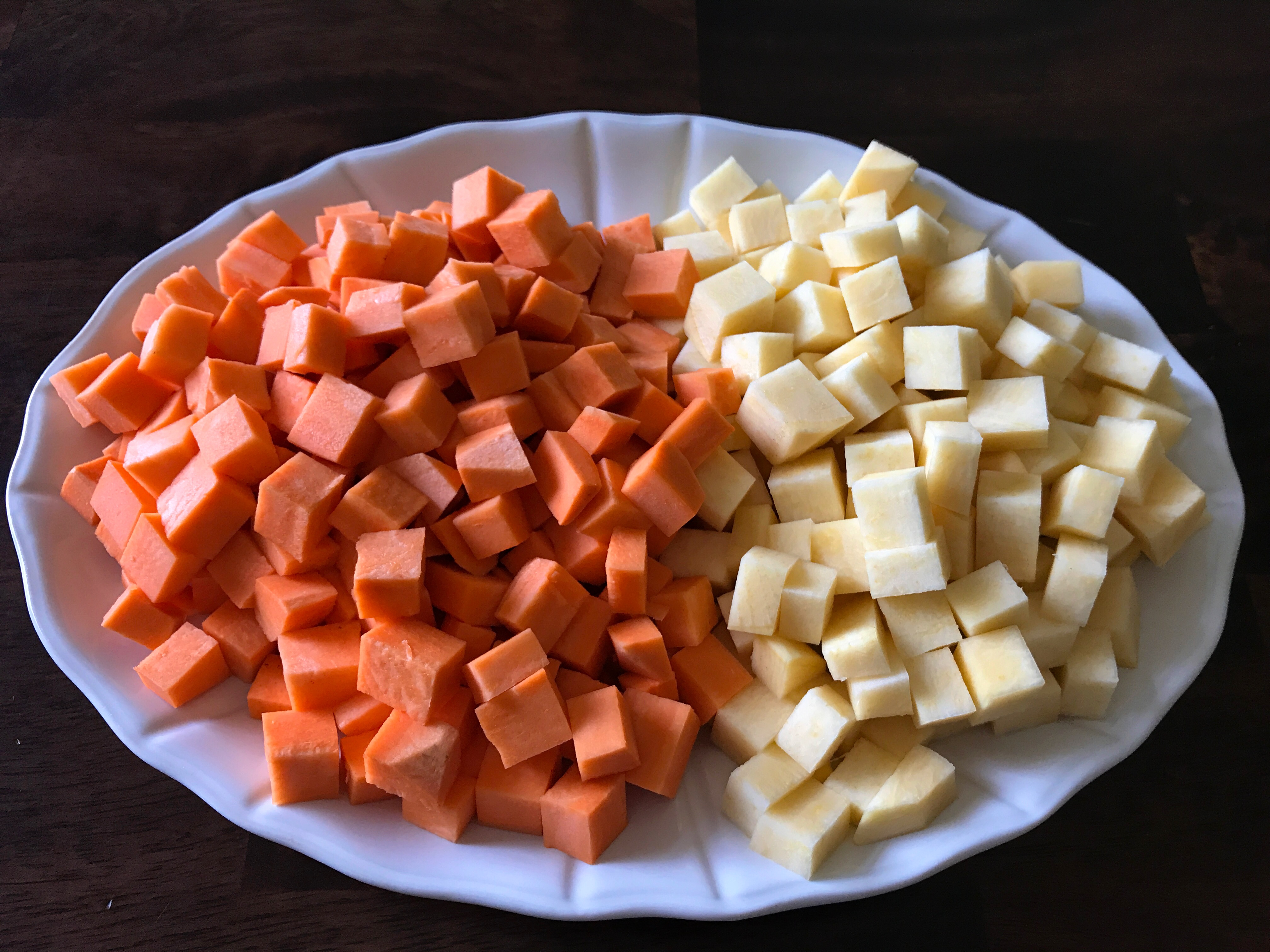 I start by prepping the produce so everything is ready when I need it. First I peeled and diced the sweet potato and rutabaga. I cut them into similar sized pieces so they cook at the same speed, they are approximately 1/2 inch cubes. You can certainly cut them into smaller pieces, but I would not make them any larger than what is pictured above.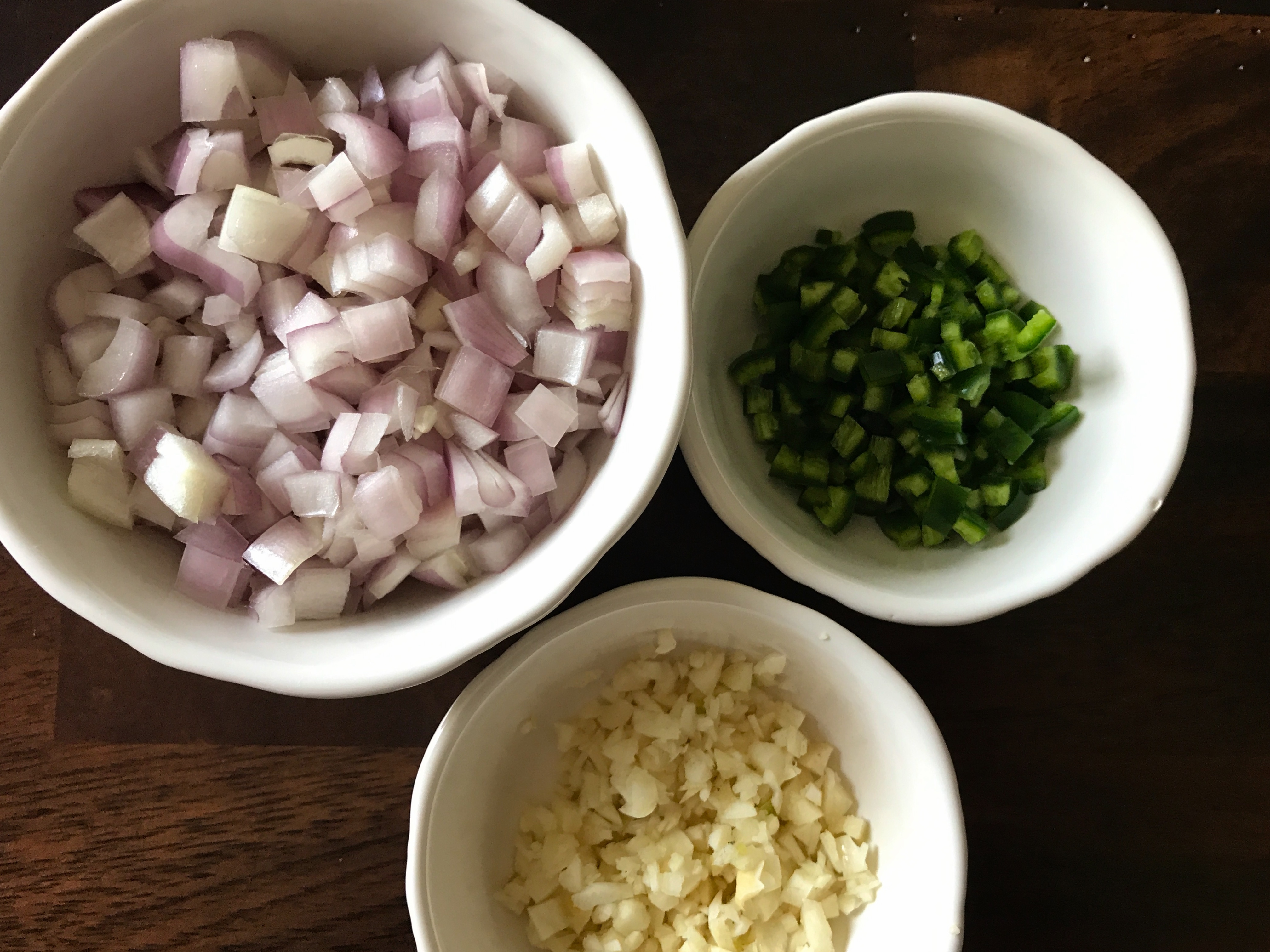 After the root veggies were diced, I got to work on the shallot, jalapeno, and two cloves of garlic. I like the shallot because of the mild flavor, and one large shallot is the perfect amount for this recipe. If you don't have shallots (or just don't want to buy one), half of a yellow onion would work in its place. Set aside aside the vegetables once they are all chopped, keeping the root vegetables separate from the shallot/garlic/jalapeno combo.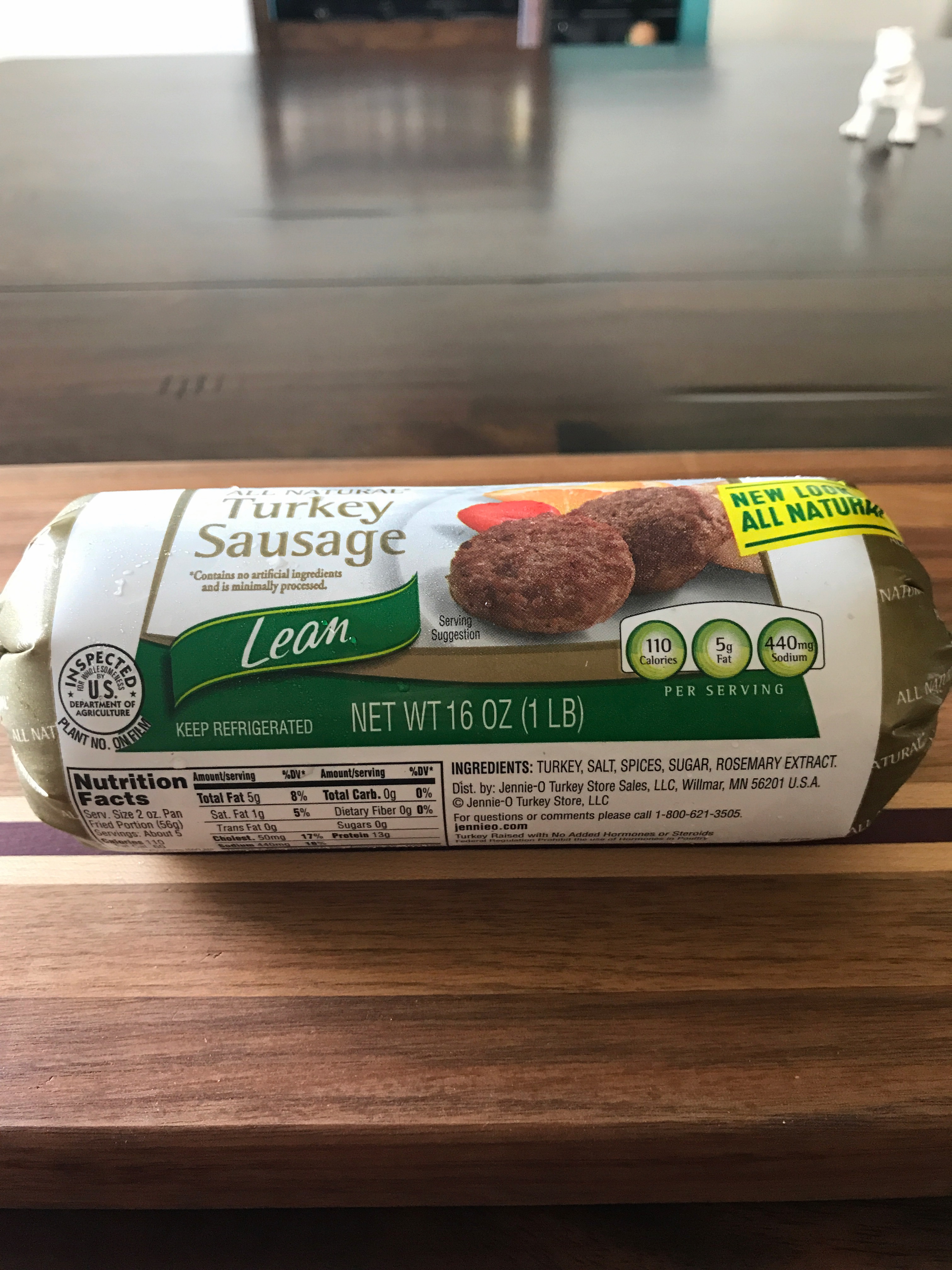 In addition to testing this recipe with different vegetables, I've also experimented on the type of meat that is in it. Like I said, the first time I made this, I had been trying to make taco meat so I was using ground beef; but I've also used chicken sausage and turkey sausage. I like the chicken or turkey sausages best because they don't have as much fat as traditional pork sausage, which keeps the dish a little healthier.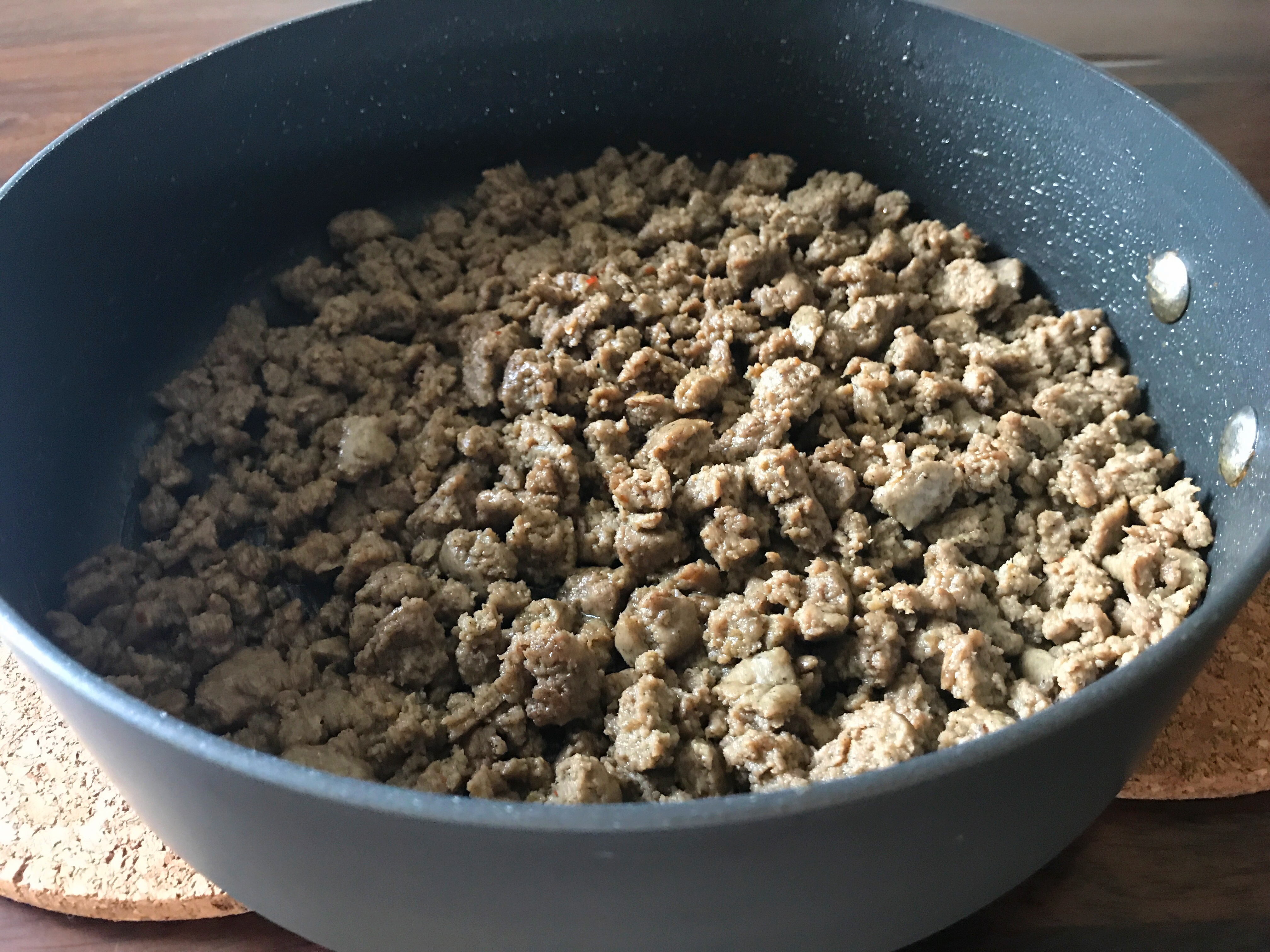 For the actual cooking portion of this dish, I begin by browning the sausage, turkey in this case, and break it into smaller pieces as I cook it. Once it is all brown, I add the diced shallot, garlic and jalapeno.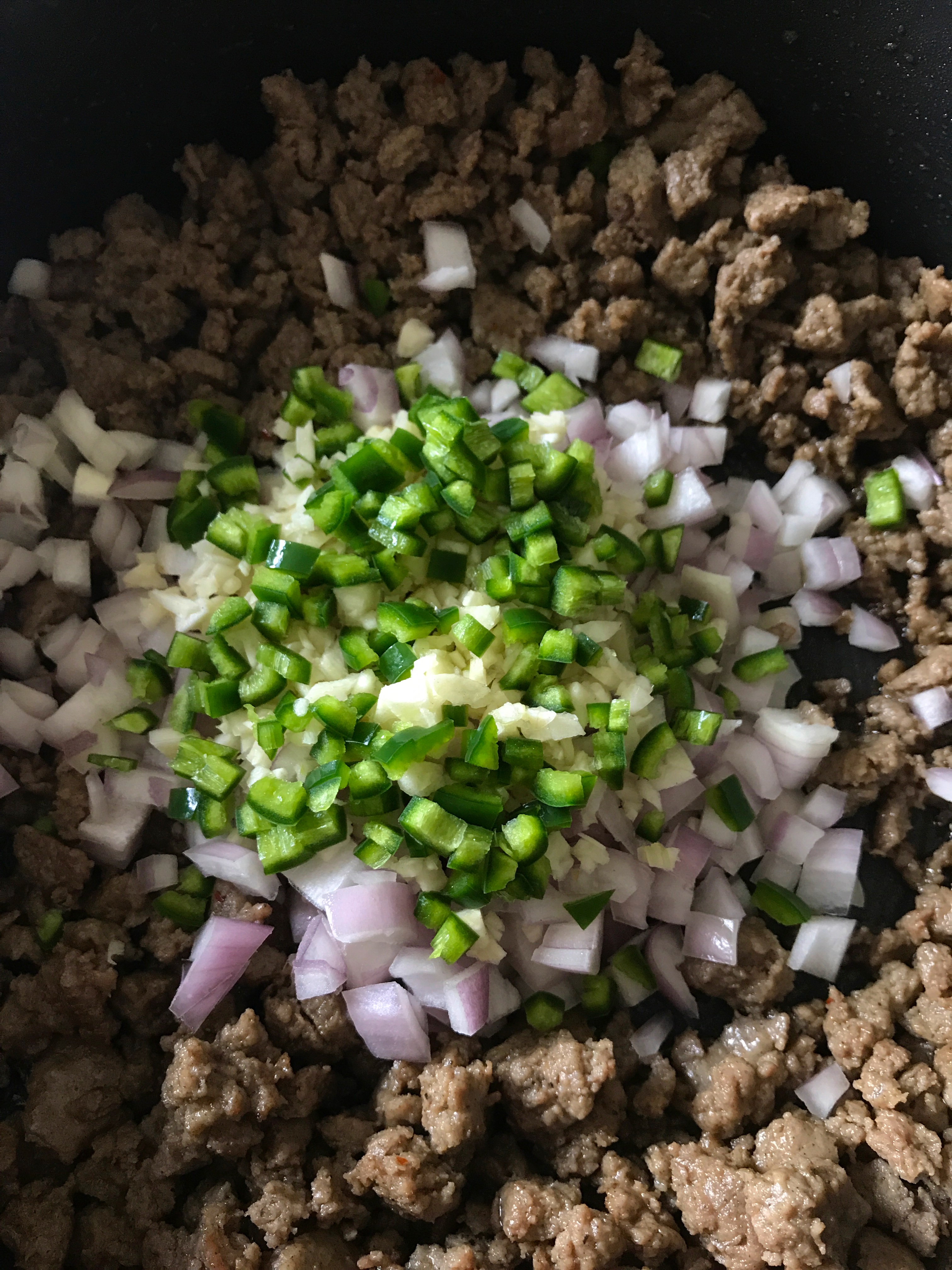 I typically add a little olive oil to the pan at this point; the turkey sausage is very lean, so it helps to add a little fat to the pan to prevent things from burning. I'll continue cooking this mixture for 5-10 minutes, or until the shallots are soft and the sausage is nice and brown.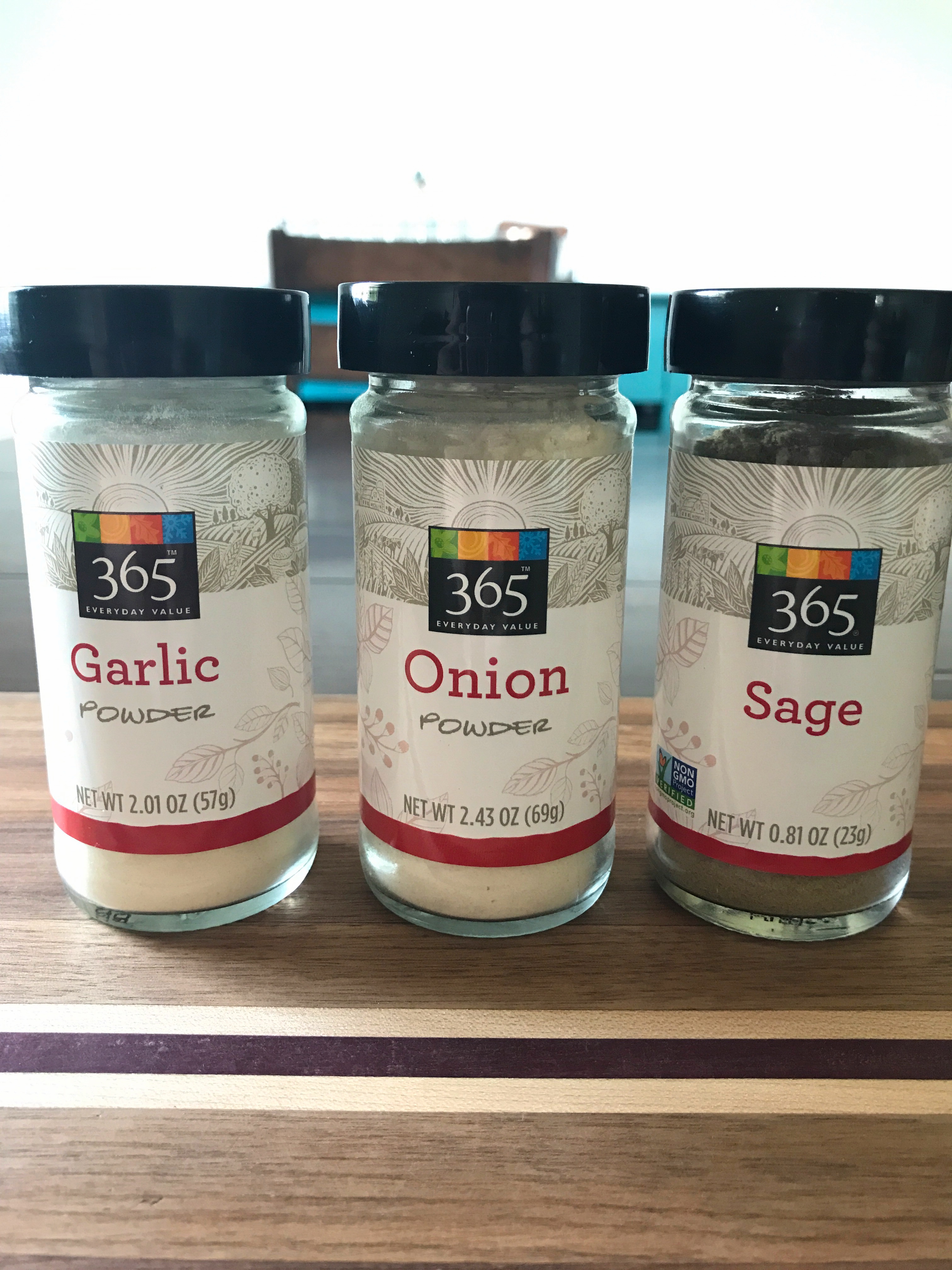 While the shallots, jalapeno, and garlic are cooking, I start adding spices to the dish. Even though there is garlic and shallot in the hash, I like to add some additional flavor with garlic and onion powders. I also put in a heavy pinch of dried sage. If I'm not using a jalapeno, I'll also add some chili powder or cayenne pepper to give it a little kick.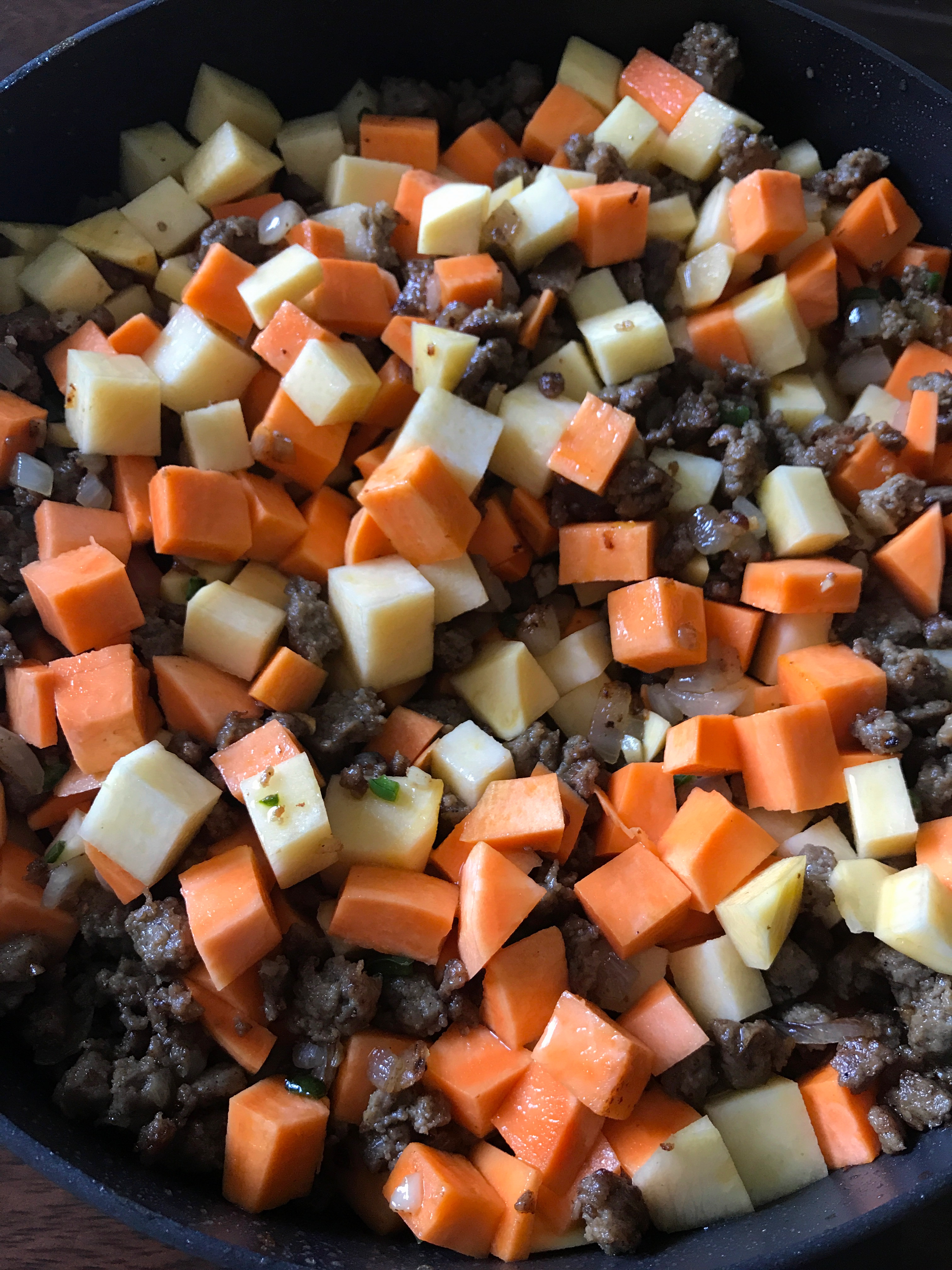 Once the turkey sausage is nicely browned and the shallots are soft and slightly caramelized, I add in the sweet potato and rutabaga. Everything gets mixed together, and then I pour in about a cup of vegetable stock. That gets stirred around, and then I cover the pan and cook it all for 20-30 minutes. You want to stir the hash every 5-10 minutes, and check that there is enough liquid in the pan. Add more stock if needed, and cook until the root vegetables are tender.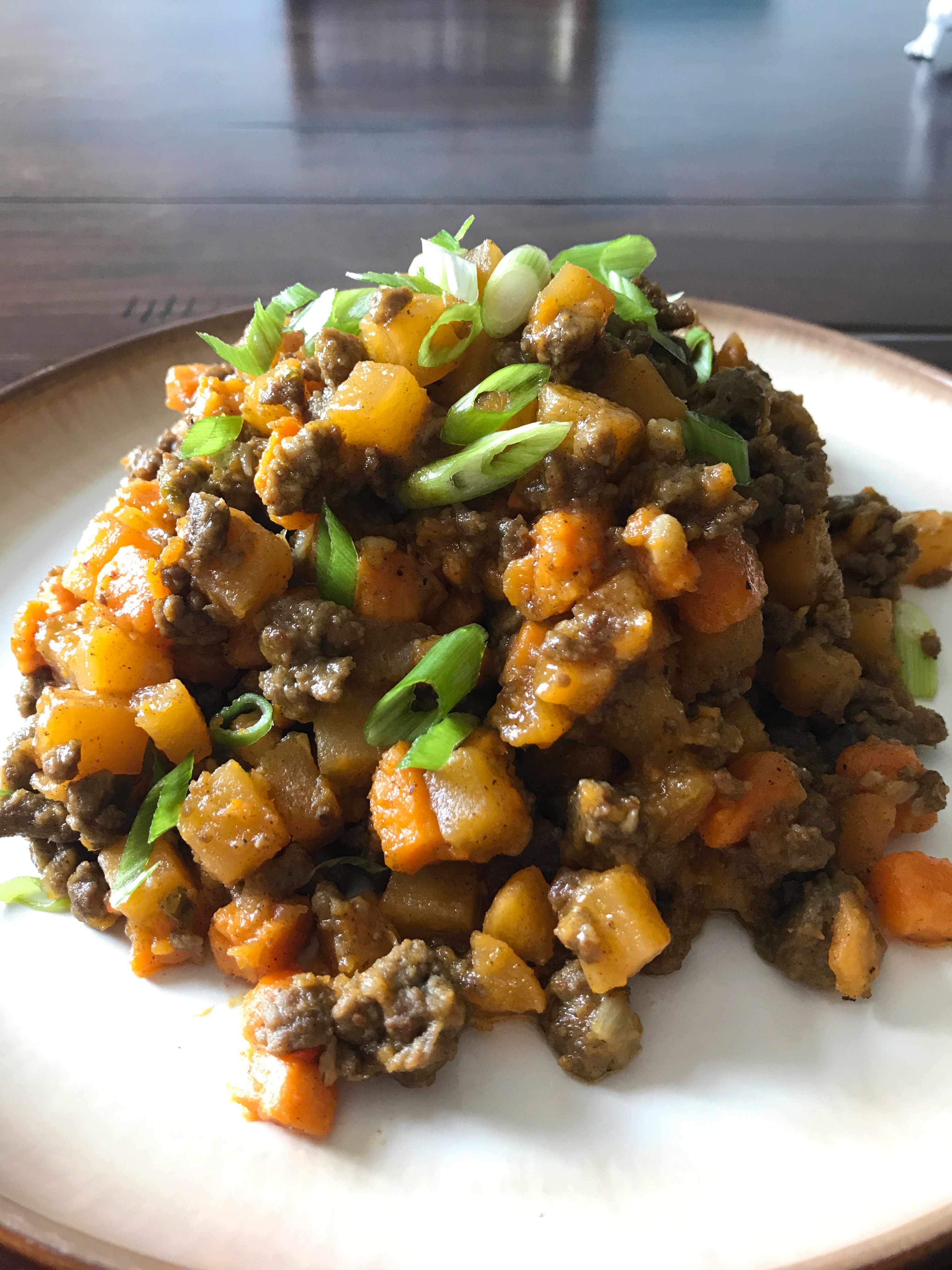 As the vegetable stock reduces, it coats all the ingredients and brings the whole dish together. If you have scallions on hand, you can slice those and use them as a garnish. It's not necessary, but it adds a little pop of freshness right at the end.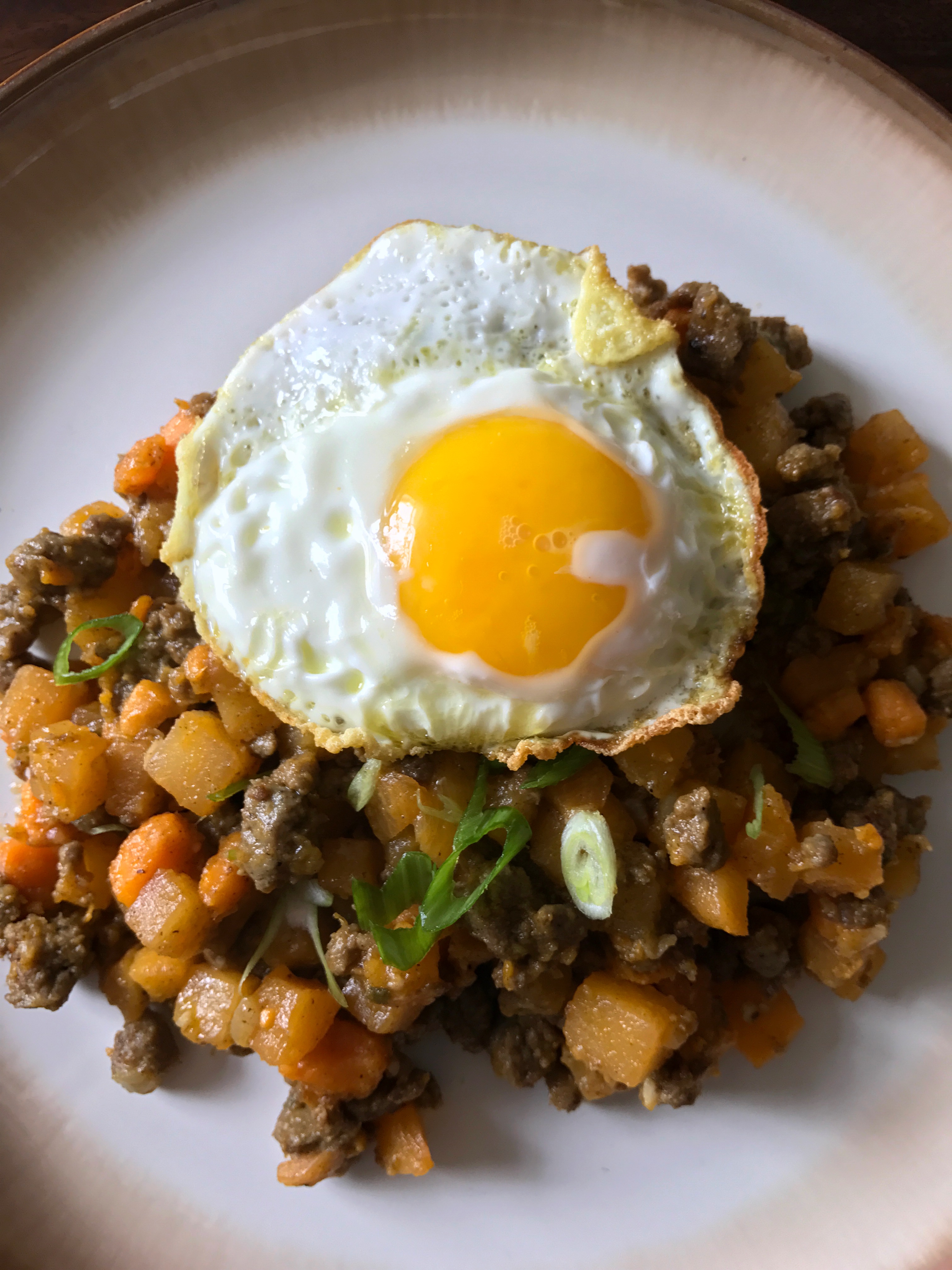 My favorite way to eat this is with a fried egg on top. I like to cut into the yolk so it runs over the hash, making everything extra rich and satisfying. This hash is good enough to stand on its own, though, and will make you forget the days you skipped breakfast!

3108 Total Views
1 Views Today
1

medium

sweet potato

1

rutabaga

can substitute a pasnip, turning or additional sweet potato

1

pound

turkey sausage

can substitute chicken or pork sausage as well

1

large

shallot

diced

1

jalapeno

diced

2

cloves

garlic

minced

1

tsp

onion powder

1

tsp

garlic powder

1

tsp

dried sage

1-1.5

cups

vegetable stock

salt and pepper

to taste

3

green onions

optional
Peel and dice sweet potato and rutabaga into 1/2 inch cubes, set aside.

Start browning the turkey sausage and break into small pieces as it cooks.

Dice the shallot and jalapeno, and mince two cloves of garlic. Add them to the browned turkey sausage. If necessary, add 1-2 tablespoons of olive oil to the pan to prevent the shallots from burning and sticking.

As the shallot, jalapeno, and garlic cook, add the onion powder, garlic powder and dried sage to the mixture. Cook for 5-10 minutes, or until the shallots are soft and sausage is browned.

Add diced sweet potato and rutabaga to the sausage mixture. Pour over 1 cup of vegetable stock, and stir to combine.

Cover pan and cook for 20-30 minutes, adding more stock if necessary, until the root vegetables are tender.

Garnish with sliced green onions, if desired.
**Cardinal Rule**   If you need to add more stock toward the end of cooking, add it a little at a time.  You don't want too much liquid in the pan, or it will be soupy.
---