Lemon Herb Dressing
I first started making me own salad dressings when I was in college, and it opened my eyes to the world of homemade dressings.  I stuck with pretty basic ones back then, like balsamic vinaigrette or red wine vinaigrette, but those gave me a good foundation to build upon.
The formula for a standard vinaigrette is a simple one: 3 tablespoons olive oil, 1 tablespoon vinegar, 1 teaspoon dijon mustard, and a pinch of salt and pepper.   Once you have that down, you can experiment and make the vinaigrette your own.  You can use different acids like lemon juice or grapefruit juice, you can add a little honey to make them sweeter and balance out the acid, you can add herb and other spices, the possibilities are endless!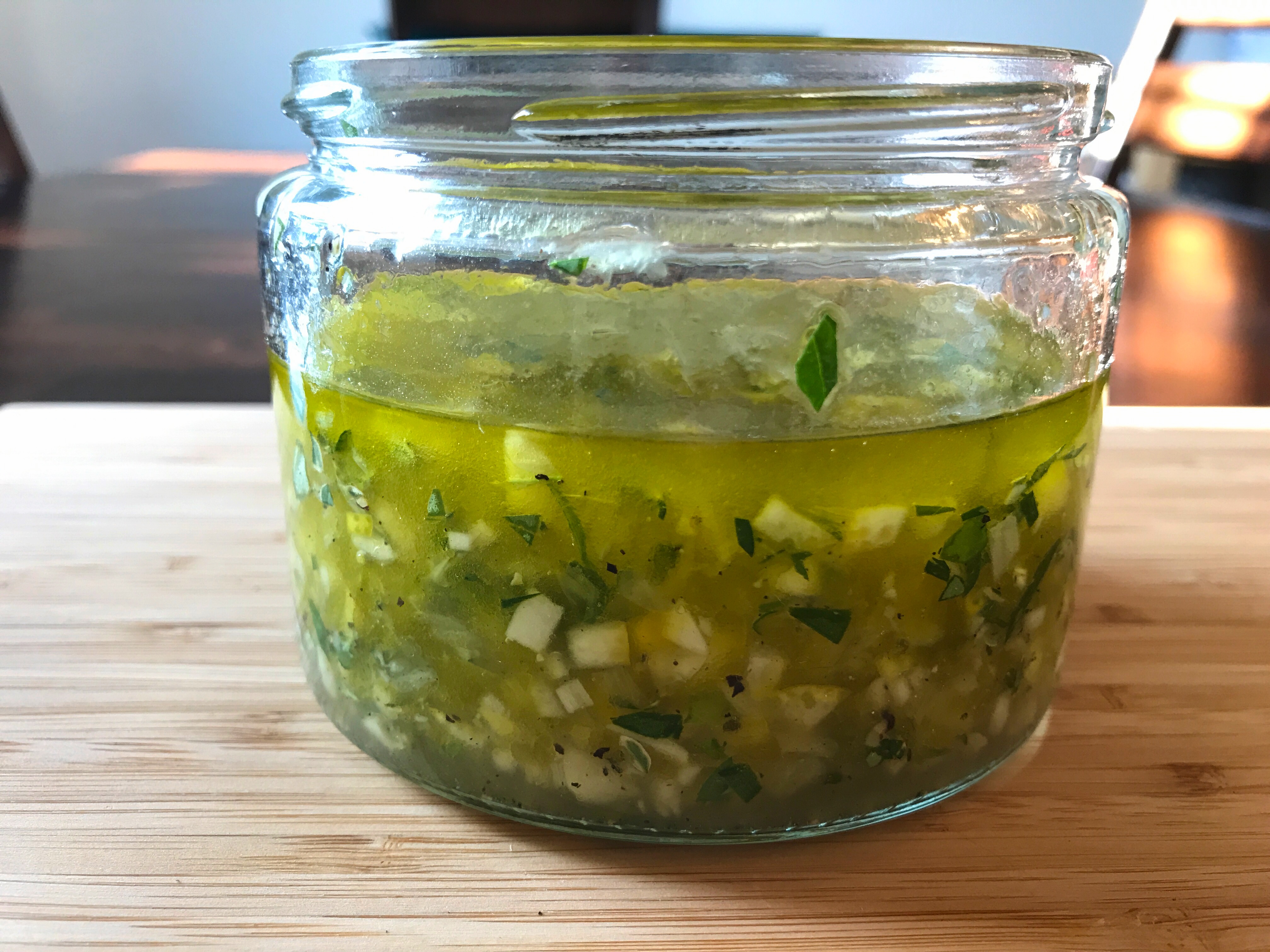 This lemon herb dressing doesn't exactly follow the method for a classic vinaigrette, but it is most definitely tasty!  The unique thing about this dressing is that it uses an entire lemon, not just the juice.  I've used the juice, pith, pulp, and skin of the lemon to create a bright, zippy dressing that has some bitter undertones from the pith (or white part) of the lemon.  While some may not like the bitter pith, I think it adds a complexity to the flavors that isn't commonly found in dressing.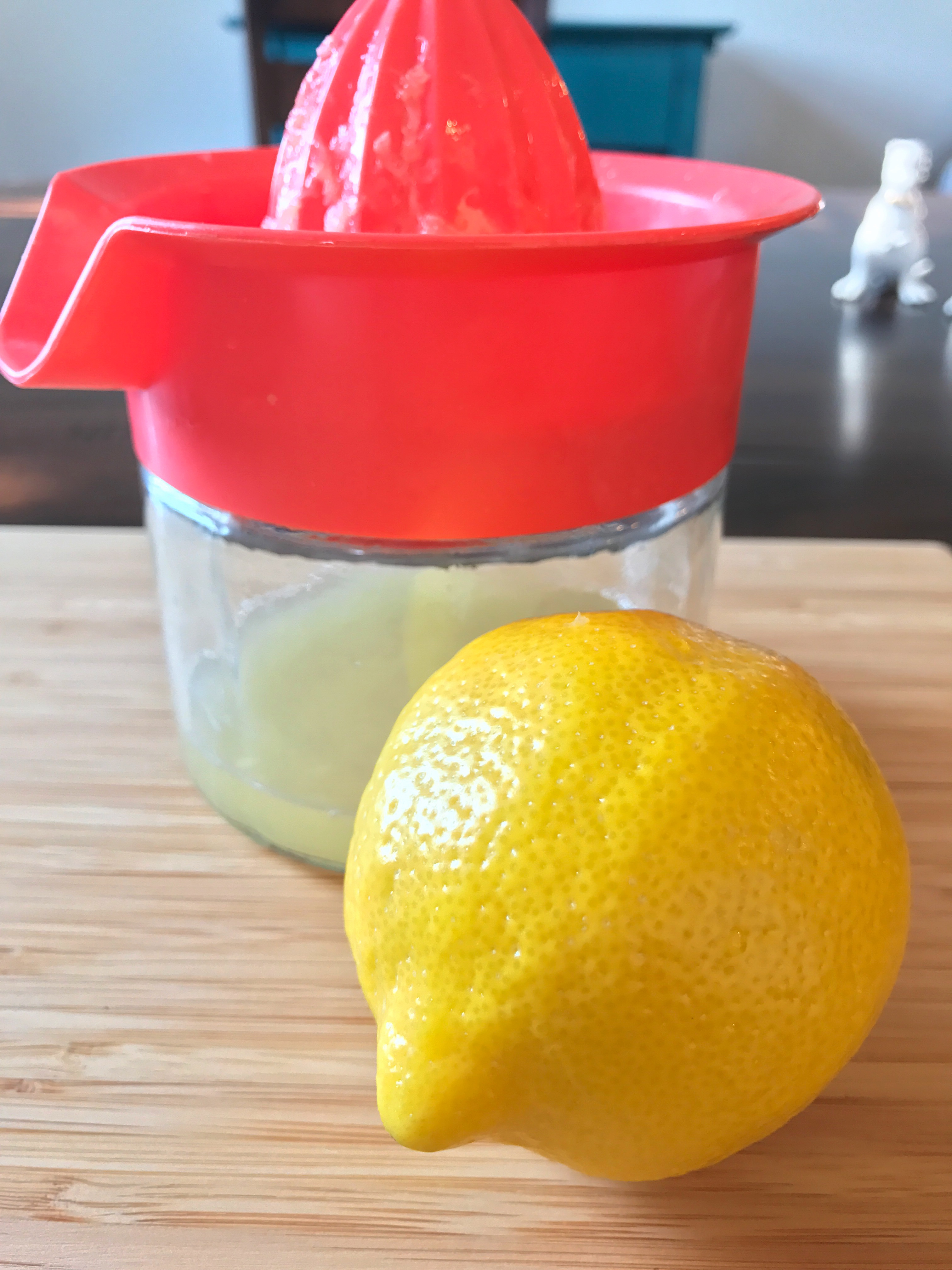 You'll need two lemons total for this dressing.  The first one you'll want to simply juice into a small bowl or jar, you should have about 1/4 cup total from that lemon.  The second lemon you should thoroughly wash and dry, slice off and discard the ends, and then finely chop the entire thing.  I sliced my lemon into thin slices first, and then diced those up into small pieces.  The pith on this lemon was rather thick, I'd recommend using a lemon with less of the white part.  Try using an organic lemon, as they tend to have thinner skins.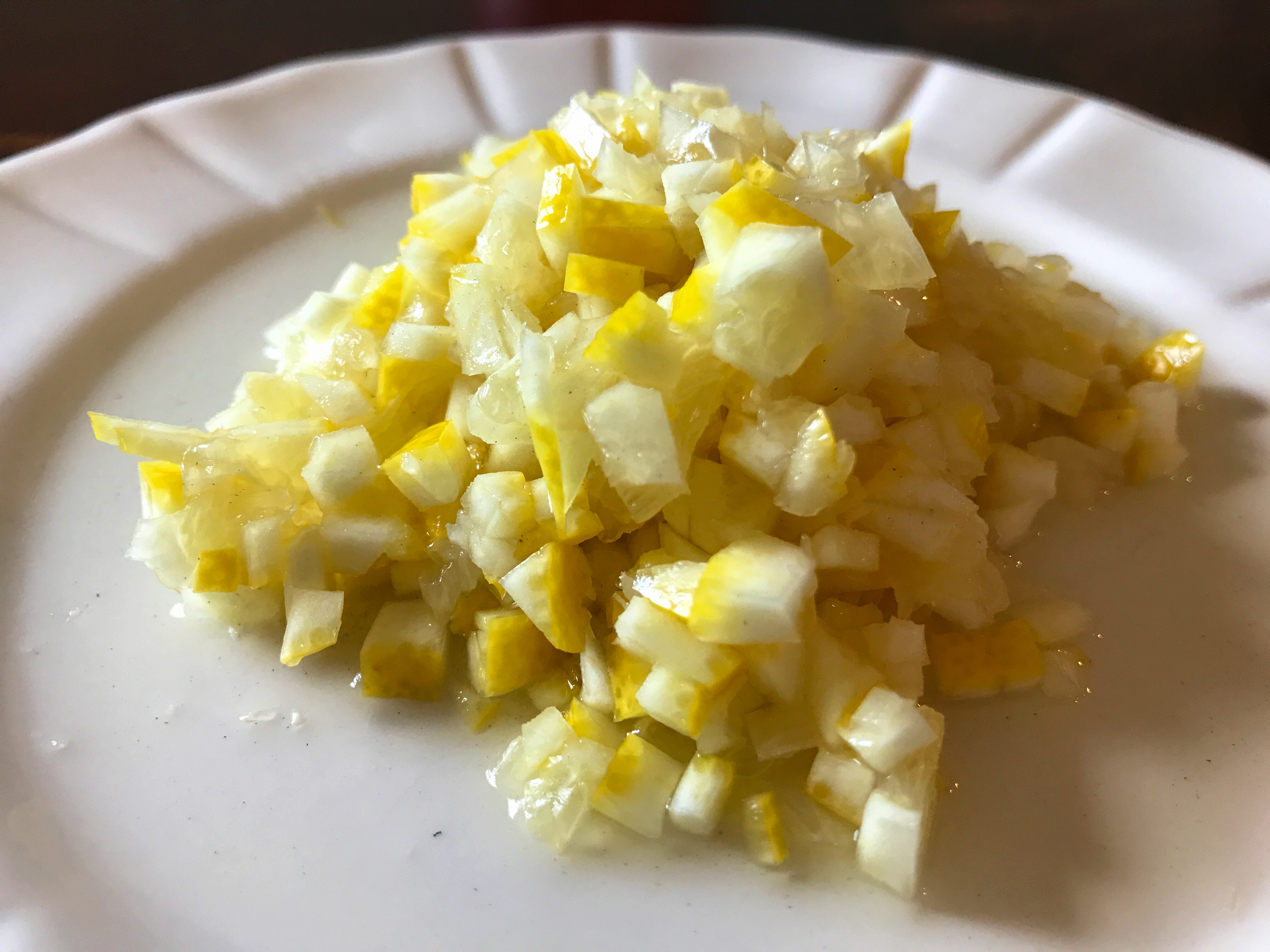 This dressing kind of goes against most rules about using lemons, and that's one of the reasons I really like it.  We're so often warned against the bitterness of the pith, and this dressing embraces it with open arms!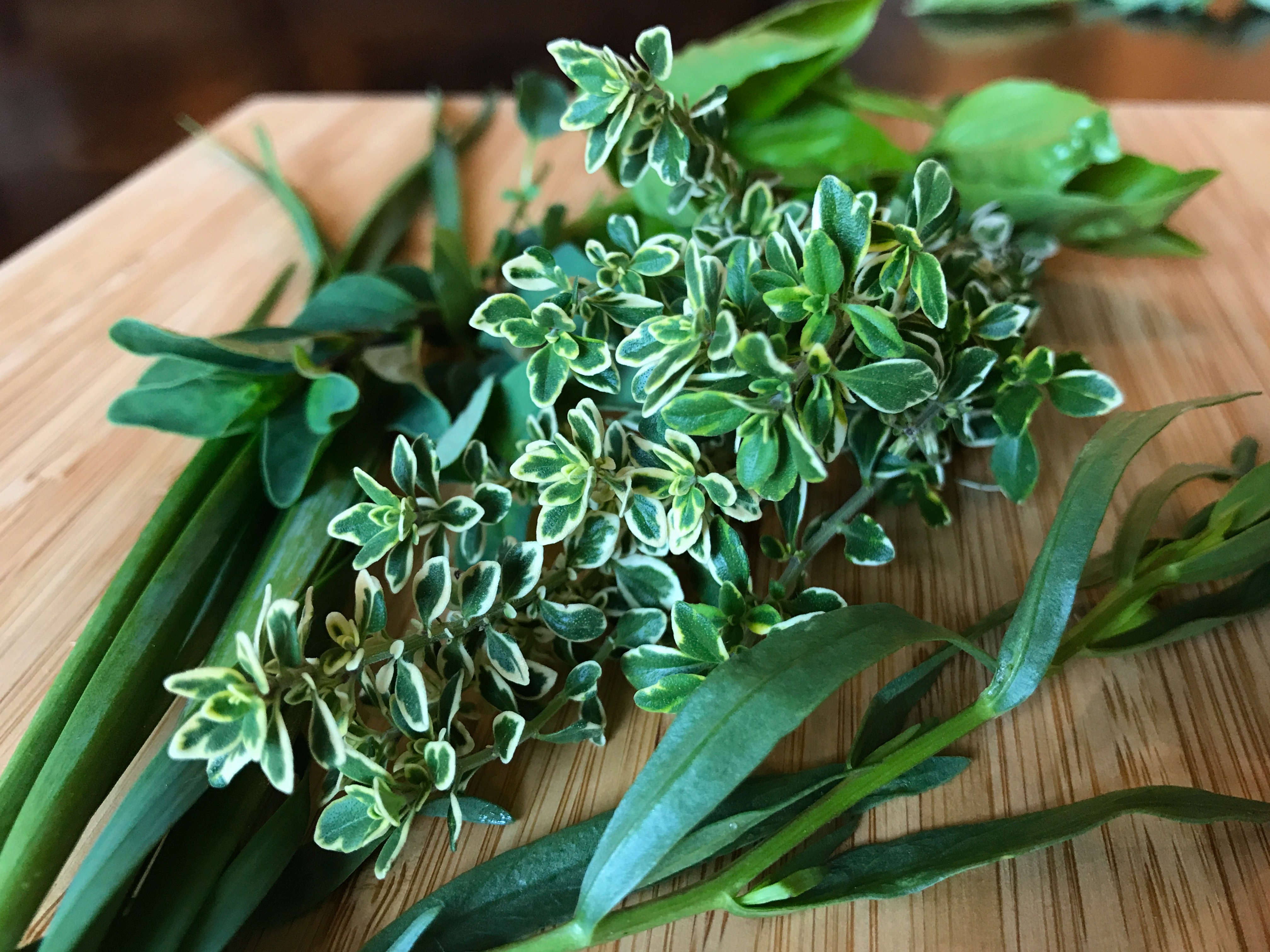 I used a combination of fresh herbs that I got from the garden for this dressing; and by "the garden", I mean my mom's not one of my own.  The herb with green leaves trimmed in white is lemon thyme, and it really sings in this dressing!  The other herbs in the picture above are tarragon, oregano, basil, and garlic chives.  Any combination of herbs will do, you could do all thyme or oregano, or add some parsley to the mix; whatever you like will work.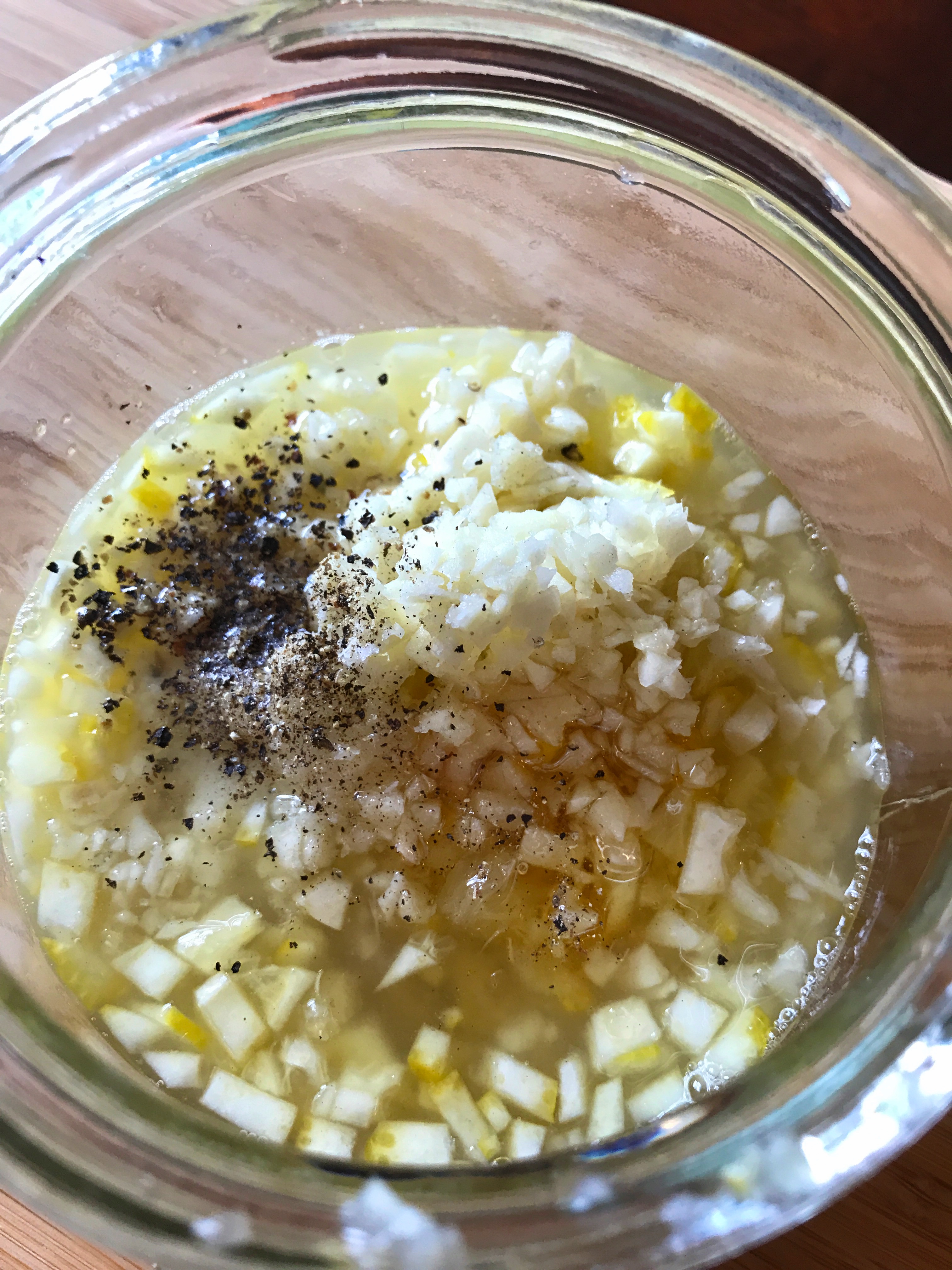 After chopping the lemon and herbs, I started mixing up this magical potion.  To the jar with the lemon juice, I added the diced lemon, minced garlic, honey, salt, and pepper.  The honey helps balance out the bitterness of using the whole lemon, and the garlic adds a nice assertive bite.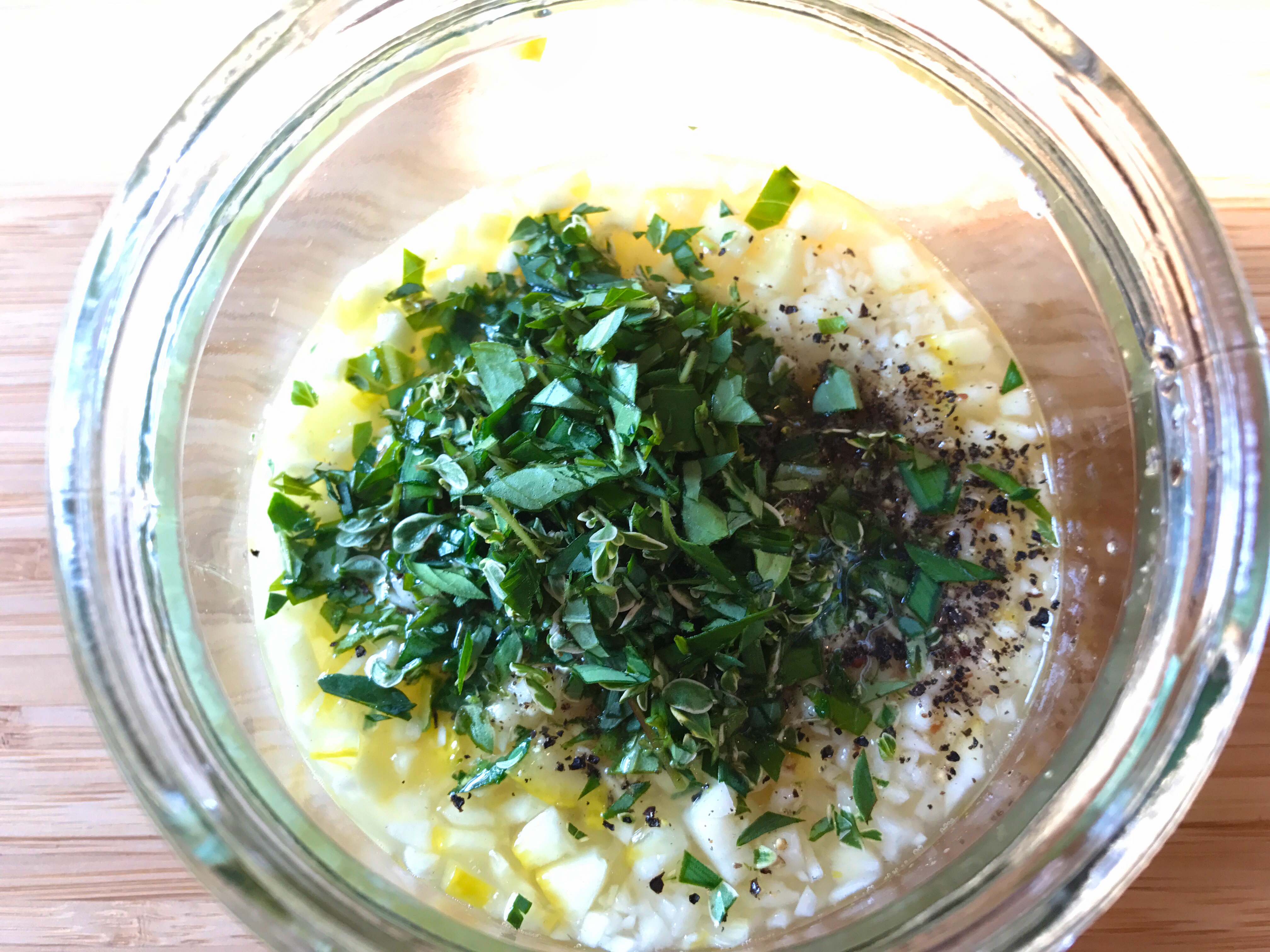 I then added my chopped herbs to the mix, about 2 tablespoons are needed (feel free to add more if you want).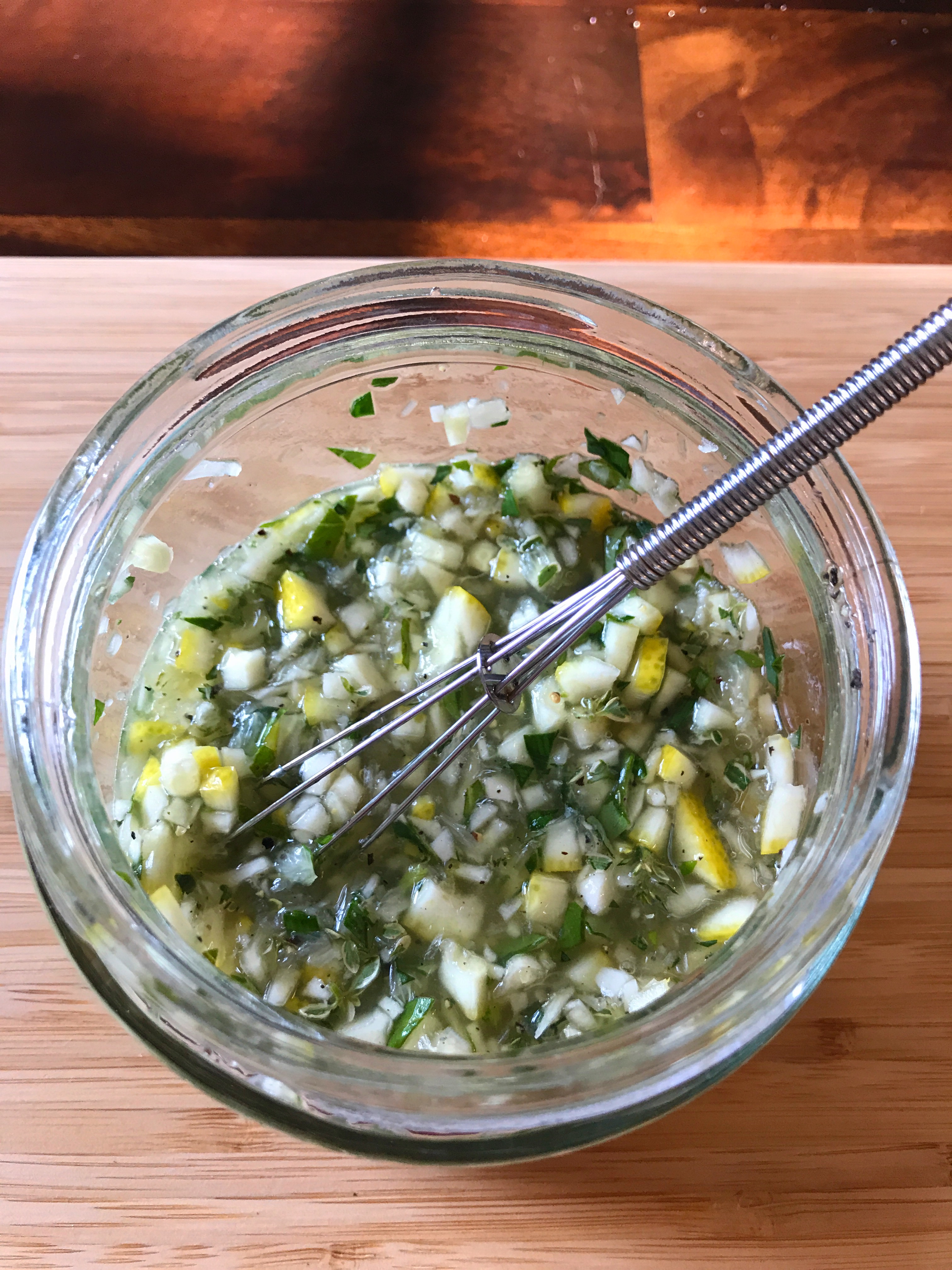 Give the mixture a good stir, or whisk it together with a cute little whisk, making sure to get the lemon and herbs well combined.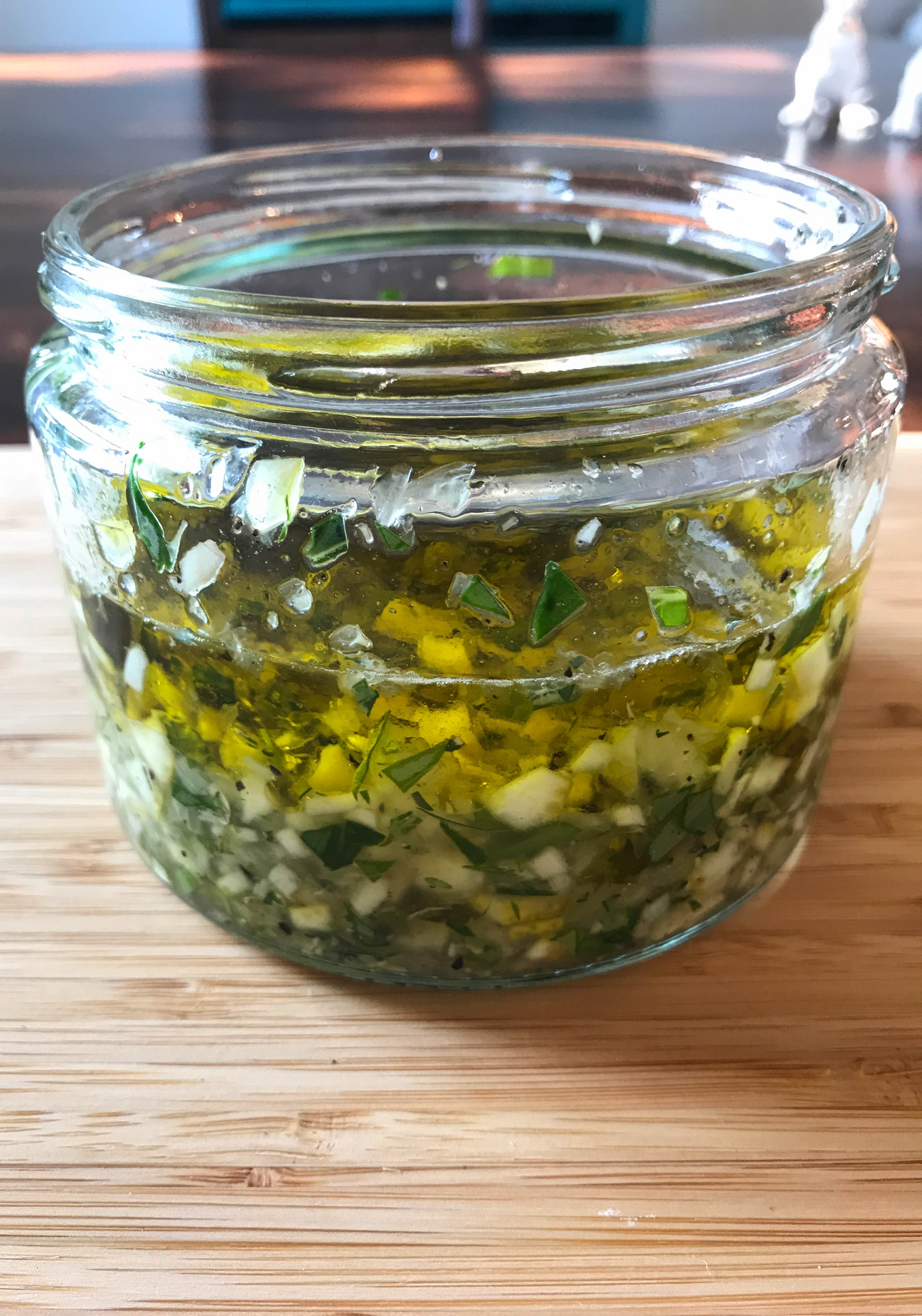 The final step is to add the olive oil.  If you have a cover for the container you're making the dressing in, you can put that on and give it several hearty shakes to combine the oil with the rest of the ingredients, or you can whisk it all together until it's slightly emulsified.  Once the oil is all mixed in, it's ready to go!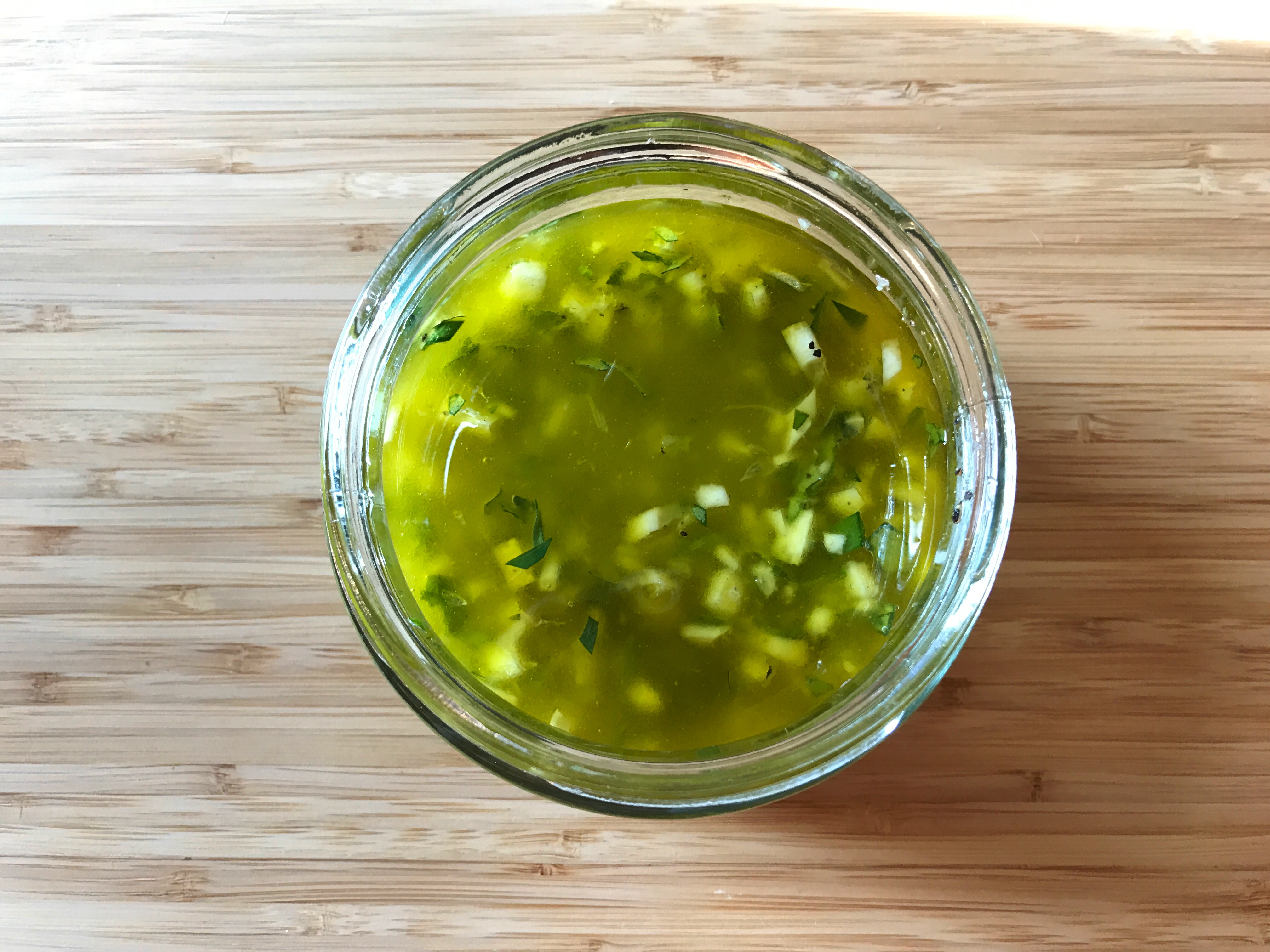 There are a lot of uses beyond for the dressing beyond just salads.  One of my favorites was for a salmon-grain bowl that I made with salmon, freekeh (a tasty grain similar to brown rice), edamame, roasted sweet potato and parsnip, cherry tomatoes, and roasted chickpeas.  Whatever you choose to put it on, I'm sure you'll love this dressing!
2491 Total Views
5 Views Today
1/4

cup

lemon juice

about 1 whole lemon

1

medium whole lemon

well washed and dried

1

tsp

honey

2

garlic cloves

minced

1

tsp

salt

1/2

tsp

black pepper

fresh cracked

1/2

cup

olive oil

2-3

tbsp

fresh herbs

finely chopped
Remove and discard the ends of the whole lemon, slice into thin pieces (removing the seeds), and then finely dice the lemon, including the skin, pith and pulp.

In a small bowl, add the juice of 1 lemon (about 1/4 cup), minced garlic, honey, salt and pepper. Whisk to combine.

Add finely chopped lemon and 2-3 tablespoons the chopped fresh herbs. Mix well.

Add the olive oil and whisk vigorously to combine with the rest of the ingredients.

Keep in refrigerator for up to 1 week.
**Cardinal Rule** If the bitter pith really isn't your thing, that's ok!  Instead of using the whole lemon, you can just use the zest from 1 lemon and the juice from two lemons.  Be sure to zest the lemon before you slice and juice it.
Recipe Source: The Cafe Sucre Farine
---