Cinnamon Chip Scones
Yesterday was Mother's Day, and I got to spend both Saturday and Sunday with my mom.  Previous years, I have made brunch for the three of us which was delicious, but we took a more low-key approach to our celebration this year.
On Saturday my mom, sister and I met for breakfast, and then the three of us went to a nursery where those two had fun picking out flowers and vegetables for their gardens.  As I live in an apartment, a garden isn't an option for me; but it was fun helping!
Sunday was pretty quiet; I went to my mom's and we cooked dinner together.  Before I went over there, I made her some cinnamon chip scones to enjoy.  I have promised her these scones several times, and never followed through 🙁  So I decided to not tell her I was going to make them and surprise her (also, this way she couldn't be disappointed if they didn't turn out or I forgot!).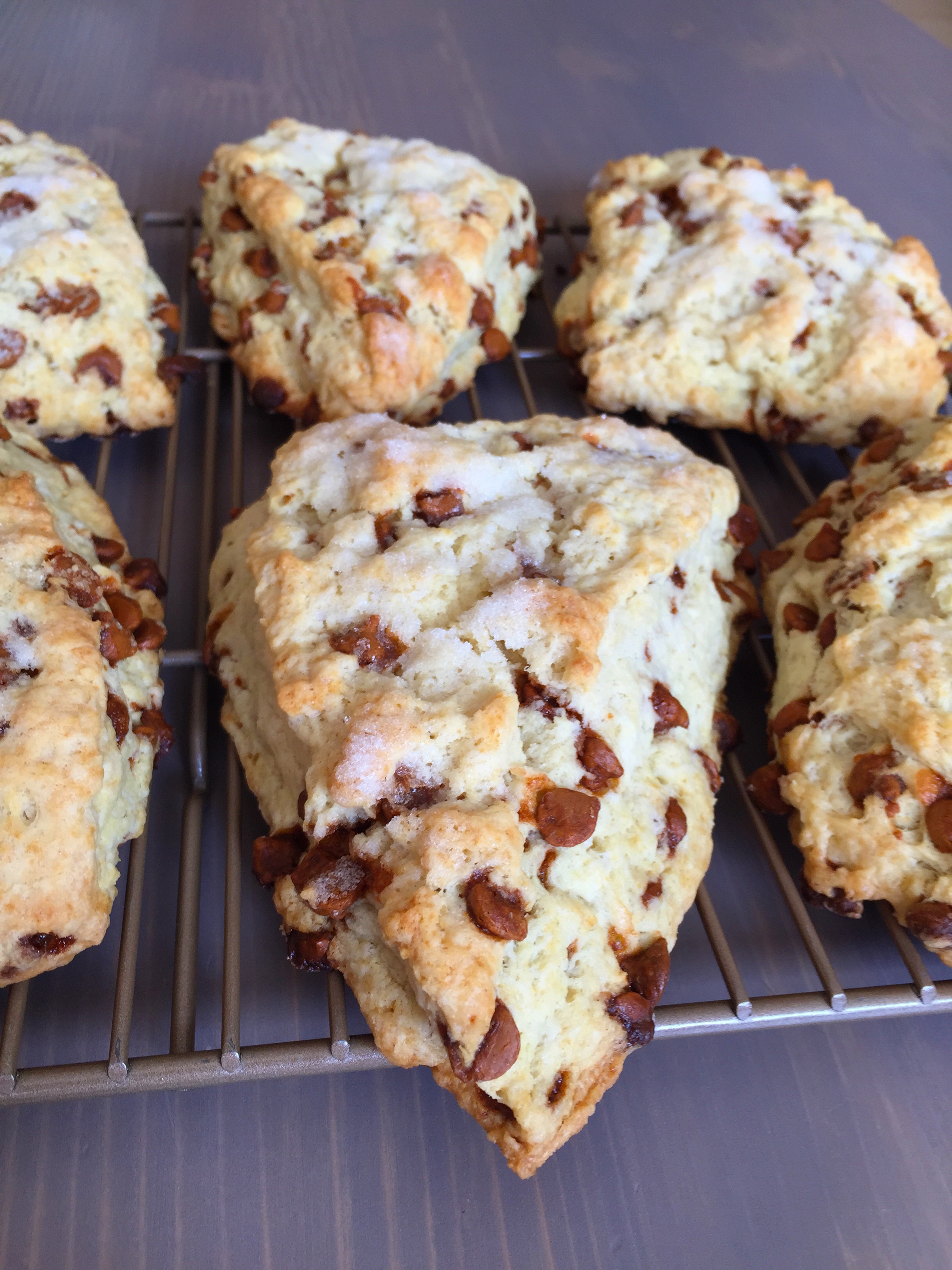 These are by far my favorite scones I've made to date.  They have never turned out dry for me, the cinnamon chips stay soft after baking, and there is a great crunch from the sugar on top.
As with most scones, these start with cutting cold cubes of butter into the dry ingredients.
The dough comes together quickly, and once it's combined you add a bag of cinnamon chips.  I've heard of people having trouble getting cinnamon chips for this recipe, but I have always had luck finding them at the local grocery store right next to the chocolate chips.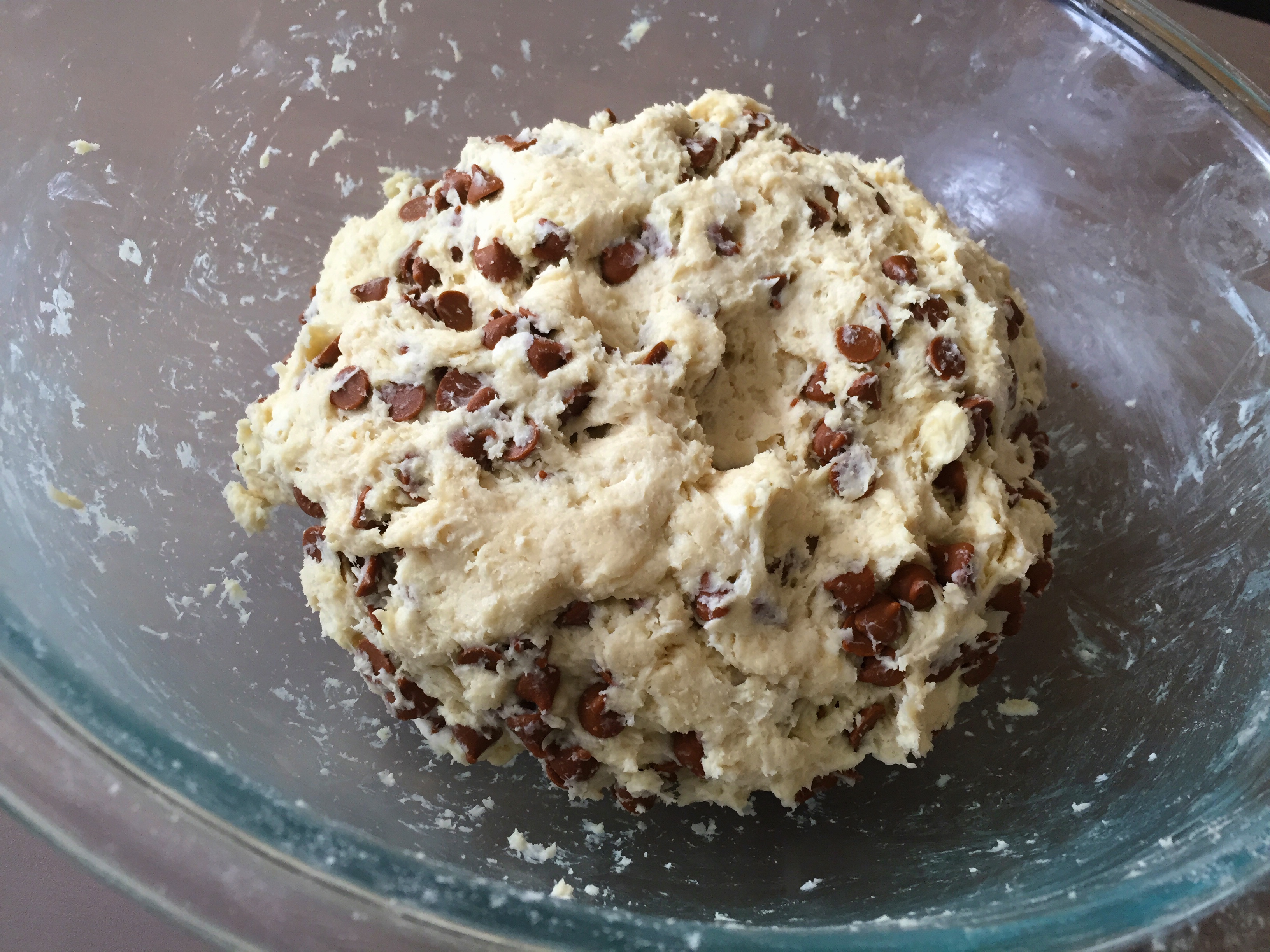 The scones I made are pretty big, so feel free to cut them into smaller triangles.  Just be sure to bake them for a shorter time so they don't dry out and burn.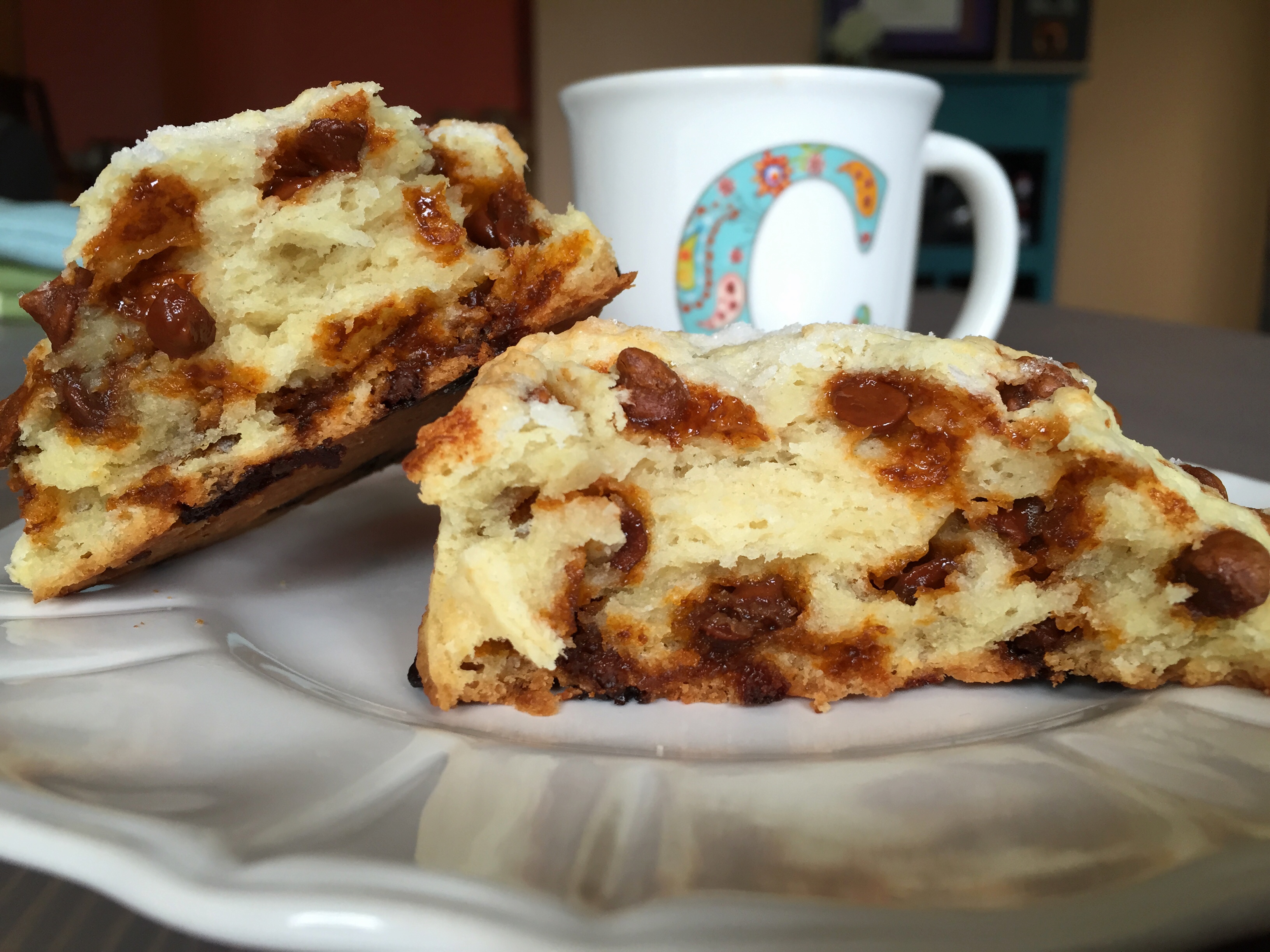 This recipe is simple to make and comes together quickly.  Give it a try, and before you know it you could be devouring a warm, cinnamony scone too!

2139 Total Views
3 Views Today
3 1/4

cups

all purpose flour

1/3

cup

sugar

2 1/2

tsp

baking powder

1/2

tsp

baking soda

1/2

tsp

salt

3/4

cup

cold butter

cubed

1 1/4

cup

buttermilk

may need more, add 1 tbsp at a time if needed

1

package (10 ounces)

cinnamon baking chips

2

tbsp

sugar

2

tbsp

butter

melted
In a large bowl, combine the flour, 1/3 cup sugar, baking powder, baking soda and salt. Whisk together.

Cut in butter (with either a pastry blender or two knives) until the mixture resembles coarse crumbs.

Stir in buttermilk just until moistened. If dough is dry, add more buttermillk 1 tablespoon at a time as needed to combine all the flour.

Fold in cinnamon baking chips.

Turn dough onto a lightly floured surface; knead gently 10-12 times or until dough is no longer sticky. Gently pat or roll into a 10-inch circle.

Brush with melted butter and sprinkle with remaining 2 tablespoons of sugar.

Cut the circle into 8 wedges. Separate wedges and place on an ungreased baking sheet.

Bake at 425F for 10-13 minutes, or until lightly browned. Serve warm.
**Cardinal Rule** If you do not have buttermilk you can make it at home.  Place 1 tbsp of lemon juice or white vinegar into a 1-cup measuring cup.  Add enough milk to reach 1 cup, stir and let sit for 3-5 minutes.  The buttermilk helps keep the scones tender, so try to not skip this step!
Recipe adapted from: Taste of Home
---
---