Potato Salad
Confession: Until this summer, I had never made potato salad before.  There, I said it.  One of the reasons I was so hesitant to make it was that people have such strong opinions on what makes potato salad "good" or "bad".  Some people like it with celery and onions, while others hate if there is anything crunchy in it at all.  I prefer the former with some crunch and texture to it.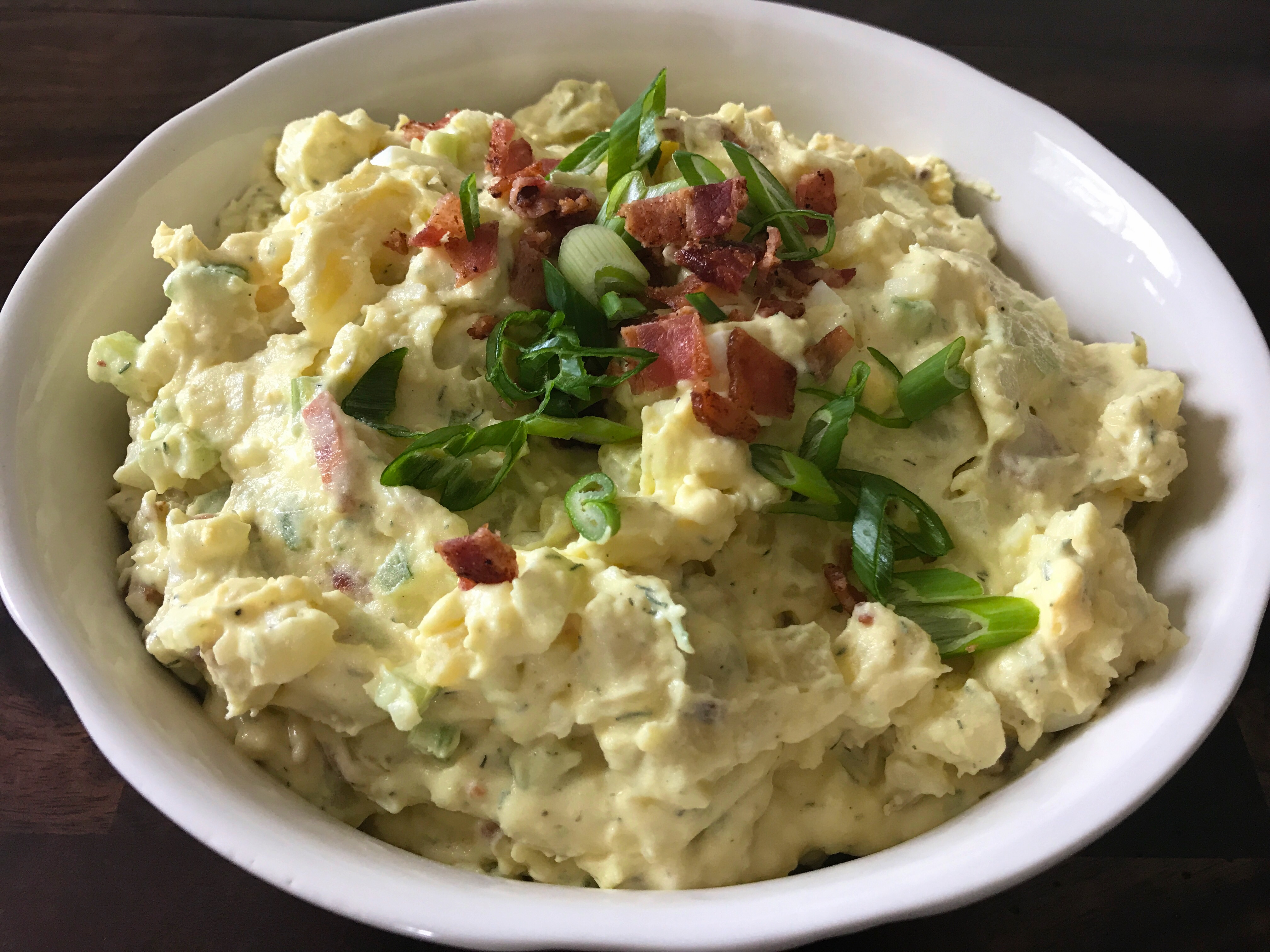 I have made this potato salad twice in the past month, it's that good.  This first time was just for us to have at home; but it made way more than I expected, so I ended up taking it to a family get together where it quickly vanished.  The second time was today for a barbecue with some friends, and it was a hit there too!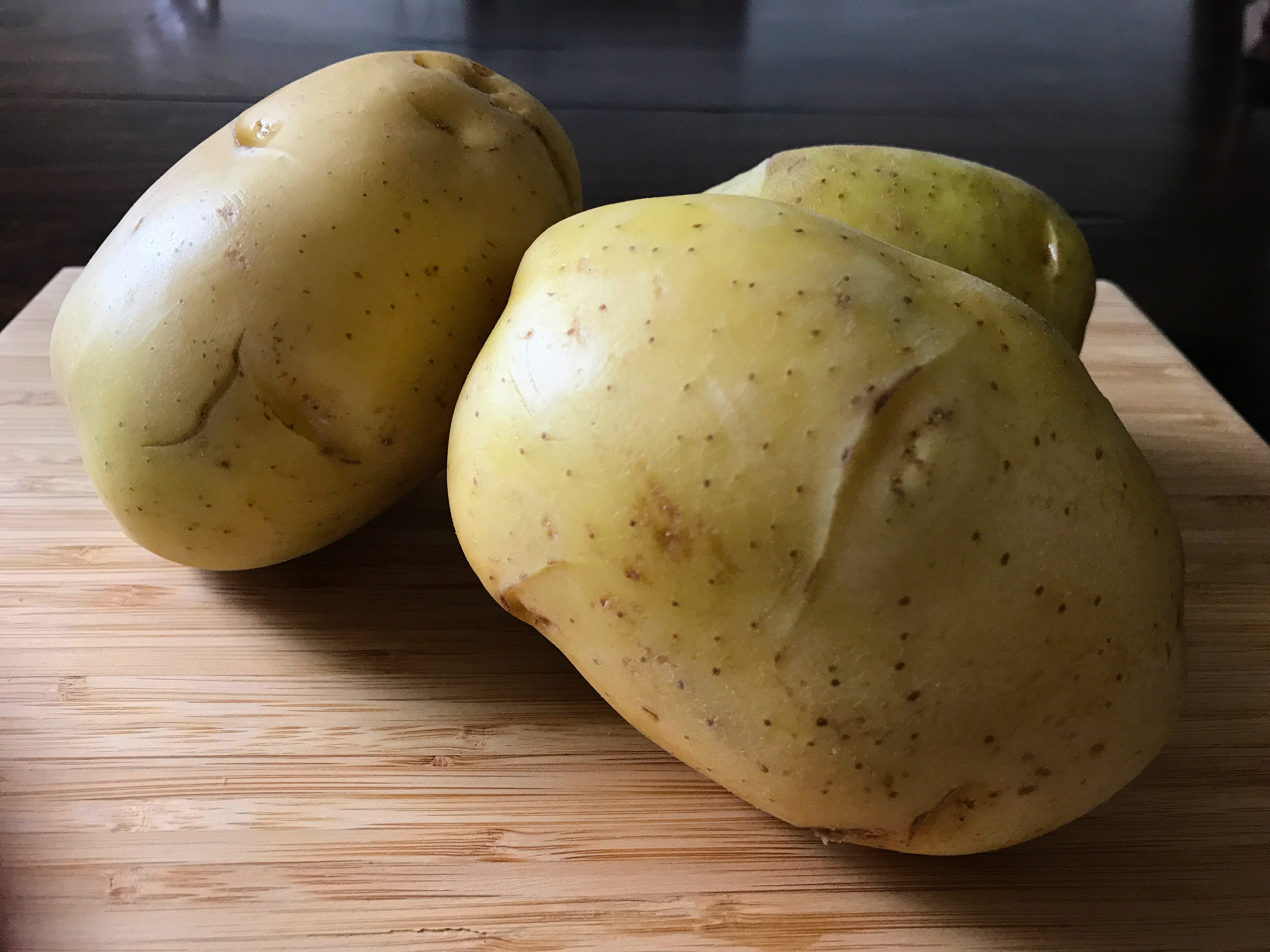 I used 3 large Yukon Gold potatoes, which is about 2.5-3 pounds total.  I cooked the potatoes with the skins on, and just gave them a good wash before cutting them into eighths.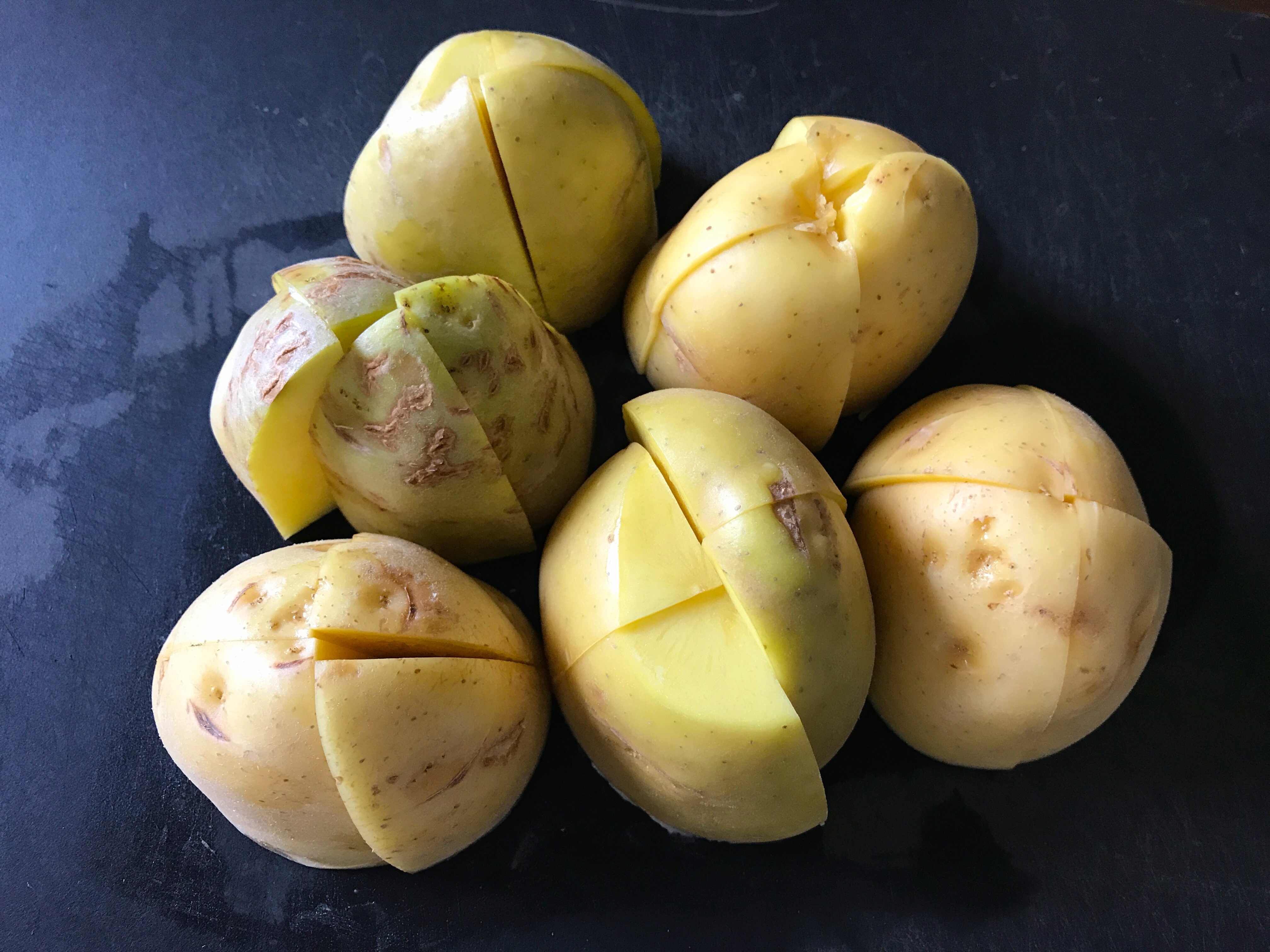 I like to cook potatoes in my big stock pot, as I have a certain knack for my potatoes boiling over and creating a mess on the stove top.  By using a large pot, I can prevent that from happening.  I filled the pot up with enough water to cover the potatoes by about an inch, and then put a generous pinch of salt in there.  The potatoes need to cook for 15-20 minutes, until you can easily pierce them with a fork.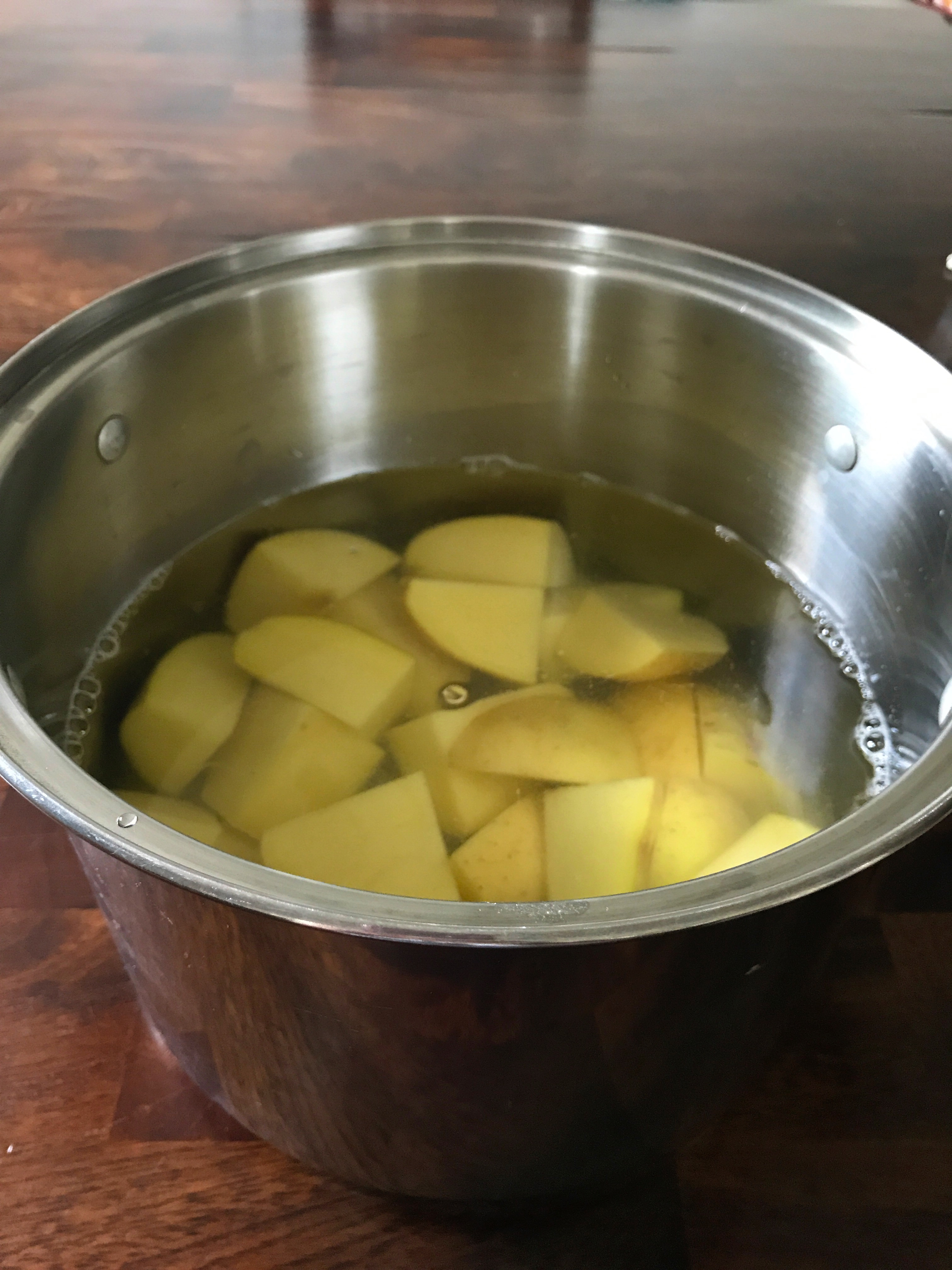 After the potatoes are done cooking, you'll want to drain them and let them cool.  Most of the skins should come off easily, and you can use a pairing knife to help remove the peel if necessary.  Once the potatoes are cool, you'll chop them into bite sized pieces.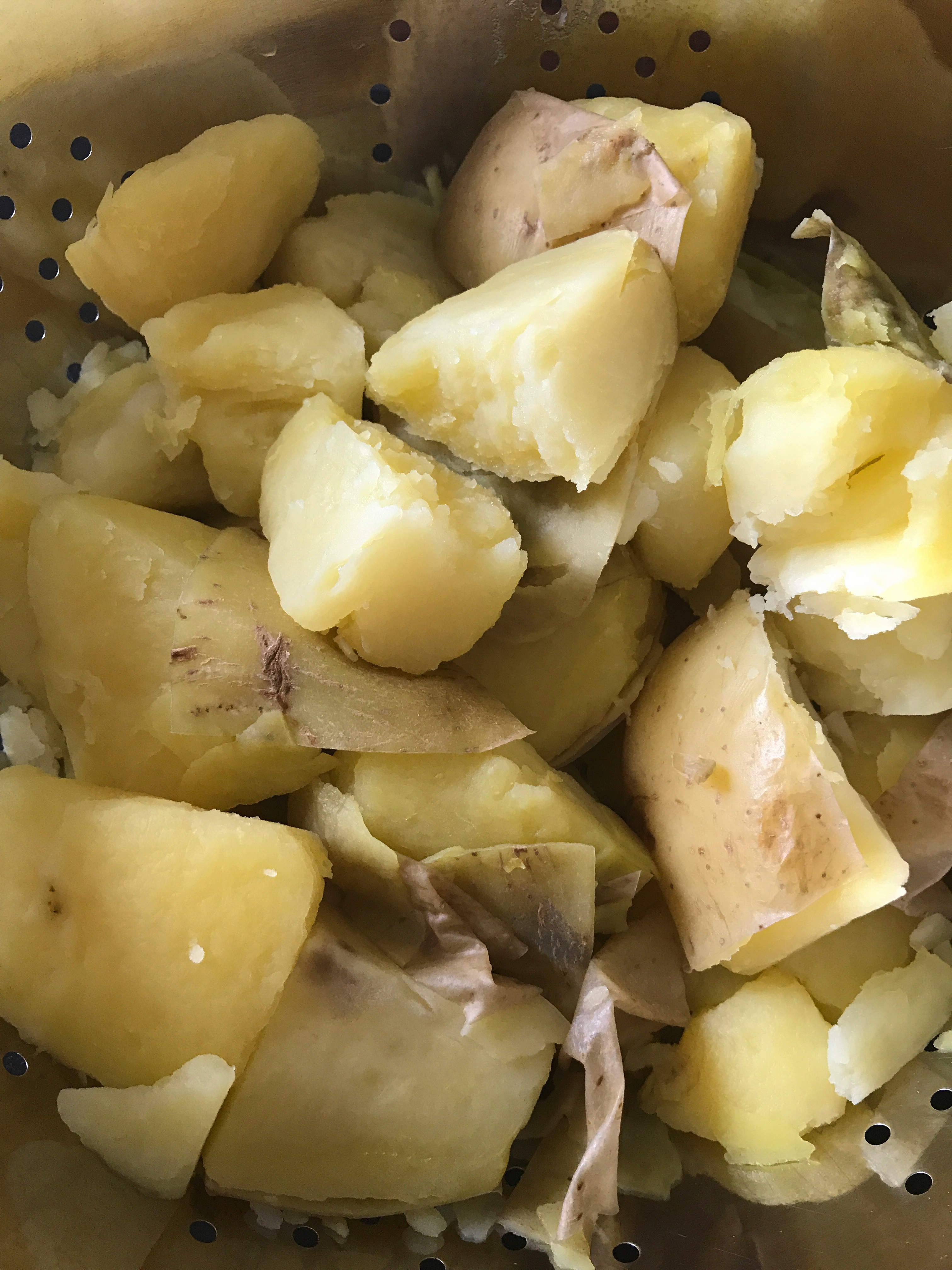 While the potatoes boiled away, I fried up 4 slices of bacon and hard boiled two eggs using my fool-proof method (Hard Boiled Egg Recipe).   Once the bacon was cooked, I chopped it up, along with some yellow onion and celery.  I am getting a CSA box again this summer, and had some lovely bunching onions in this week, so I combo of those and yellow onion this time (bunching onions are white onions with small bulbs and mild flavor, similar to scallions).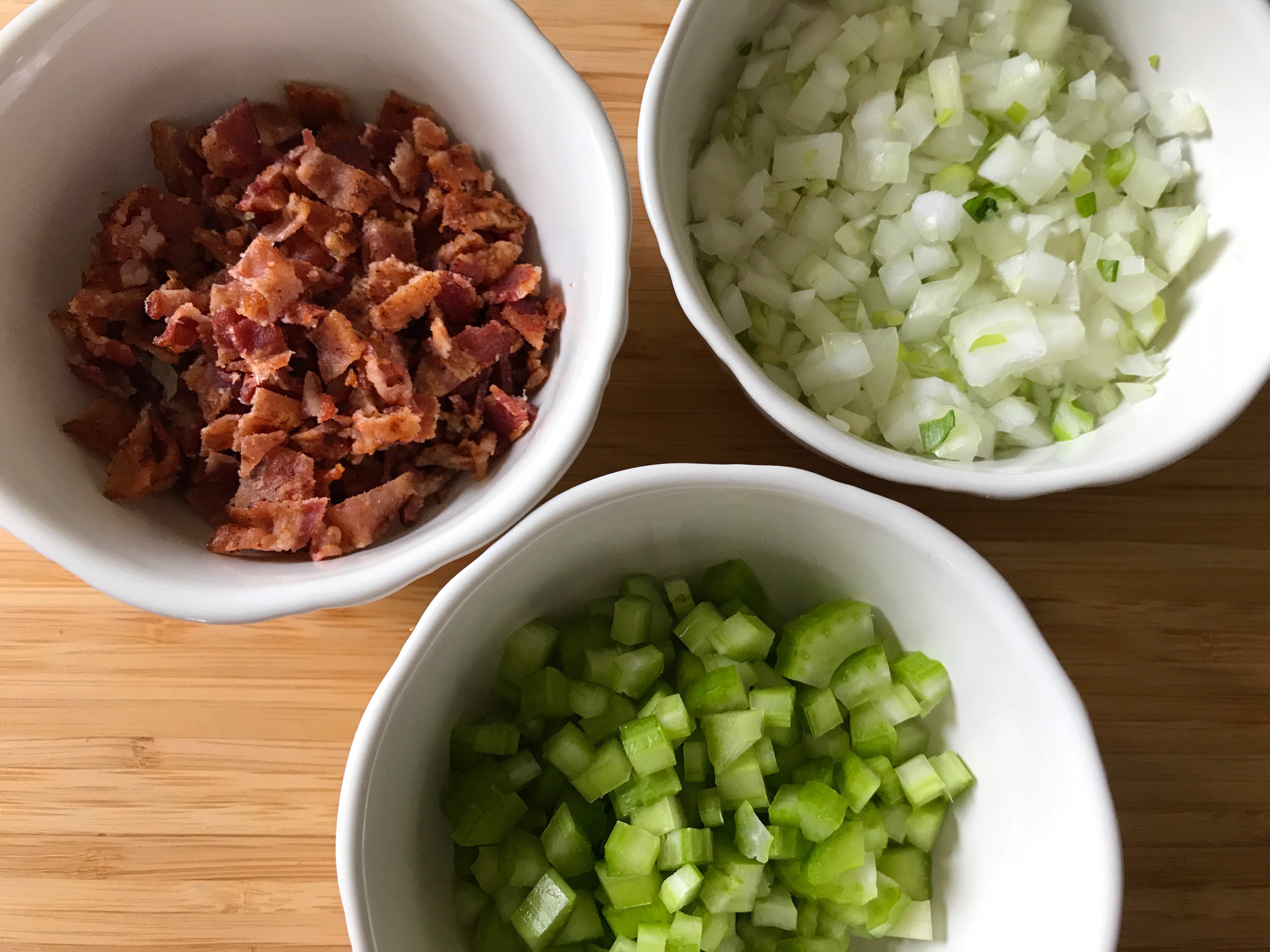 After the eggs were cooked, I ran them under cold water to stop the cooking process.  Once they were cooled, I chopped them up into bite sized pieces.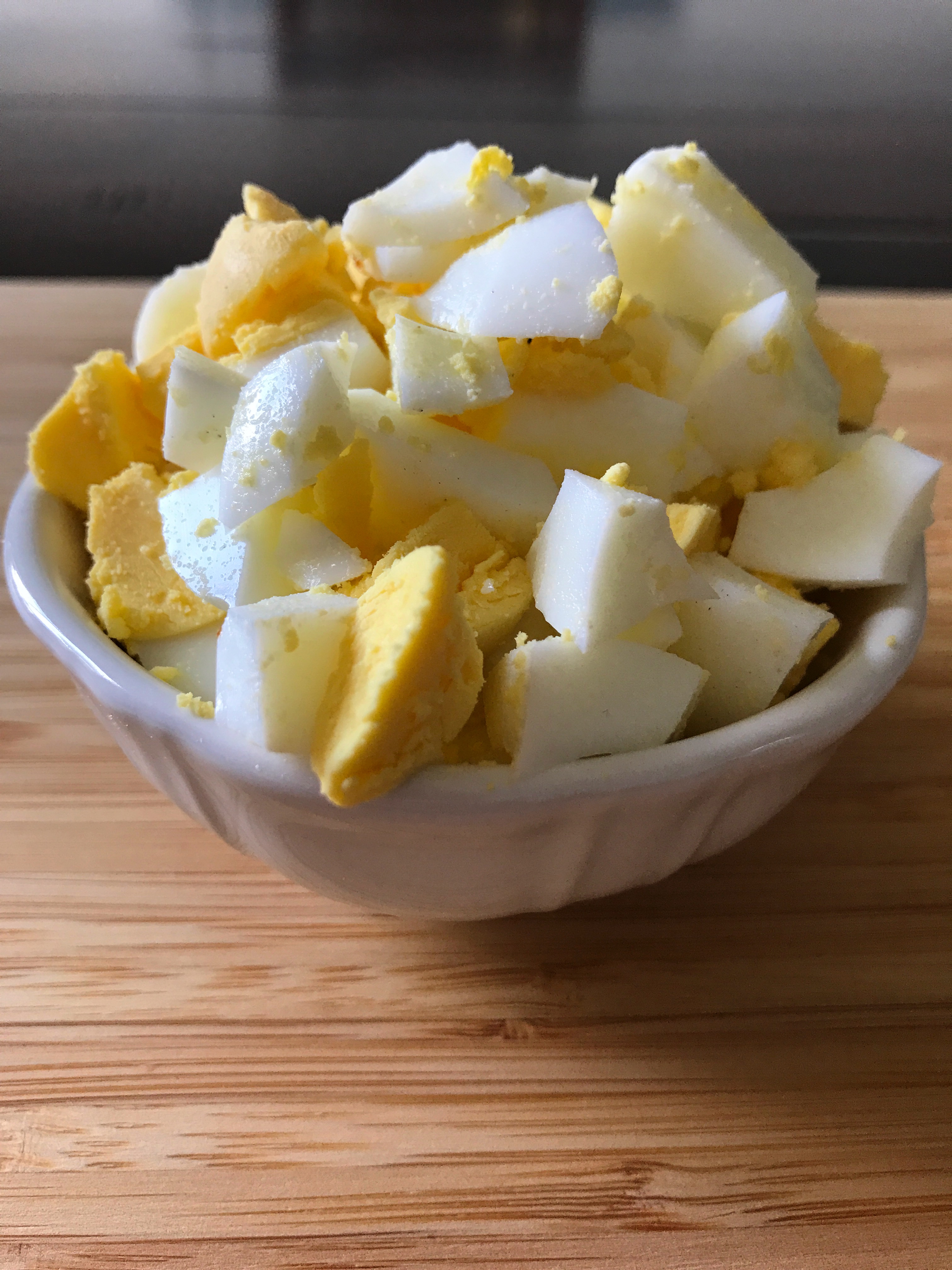 Next up was the dressing for the potato salad.  It is mayonnaise based (and yes, there is a lot of mayo, but this potato salad makes a ton), and is rounded out with yellow mustard, a small amount of salt, pepper, dry mustard powder, and dried dill.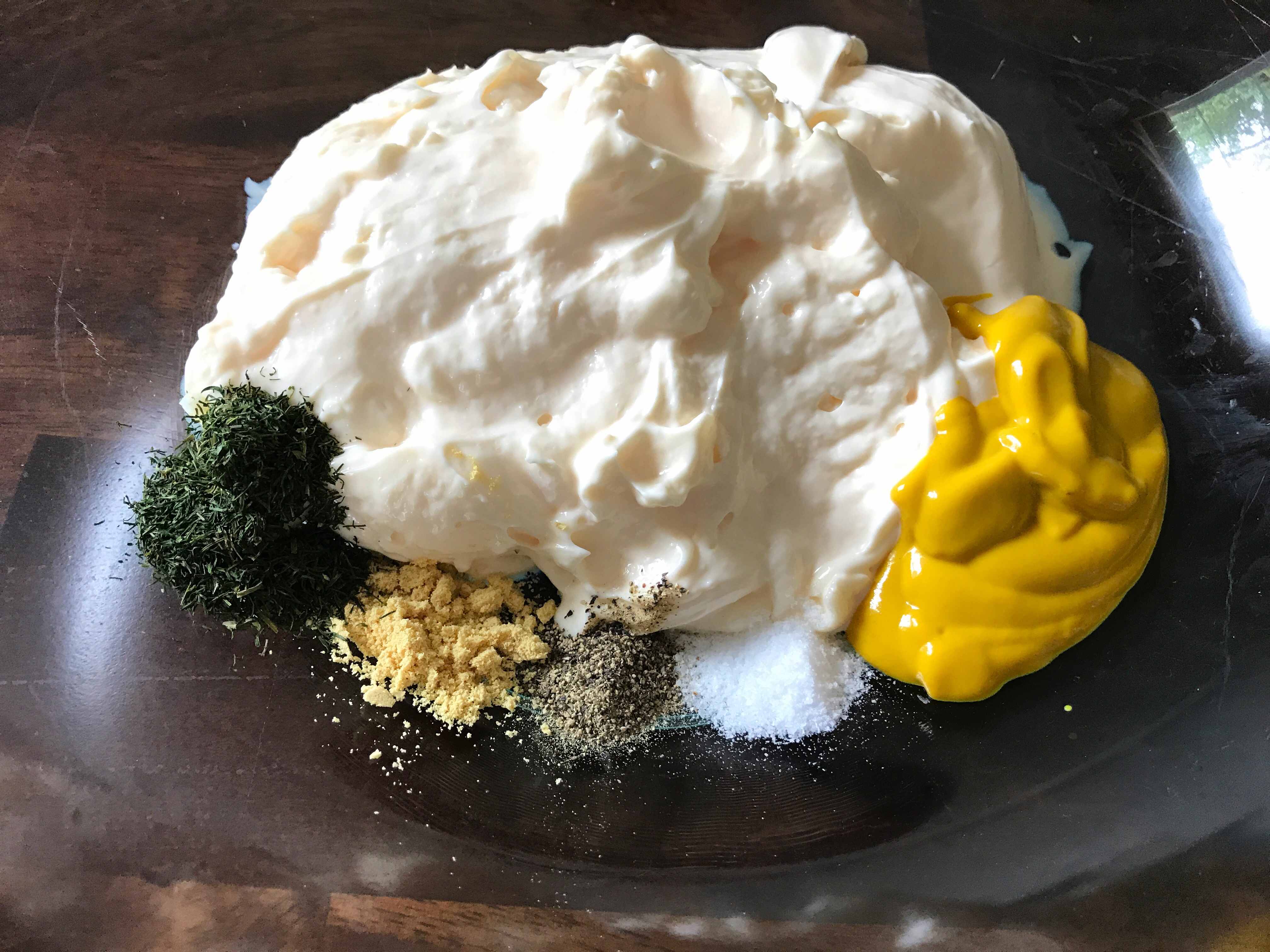 Mix it all up and then start adding in the rest of the ingredients, and I like to add them in stages.  First I mix in the chopped potatoes, then the celery, onion and bacon, and finally I gently stir in the hard boiled eggs.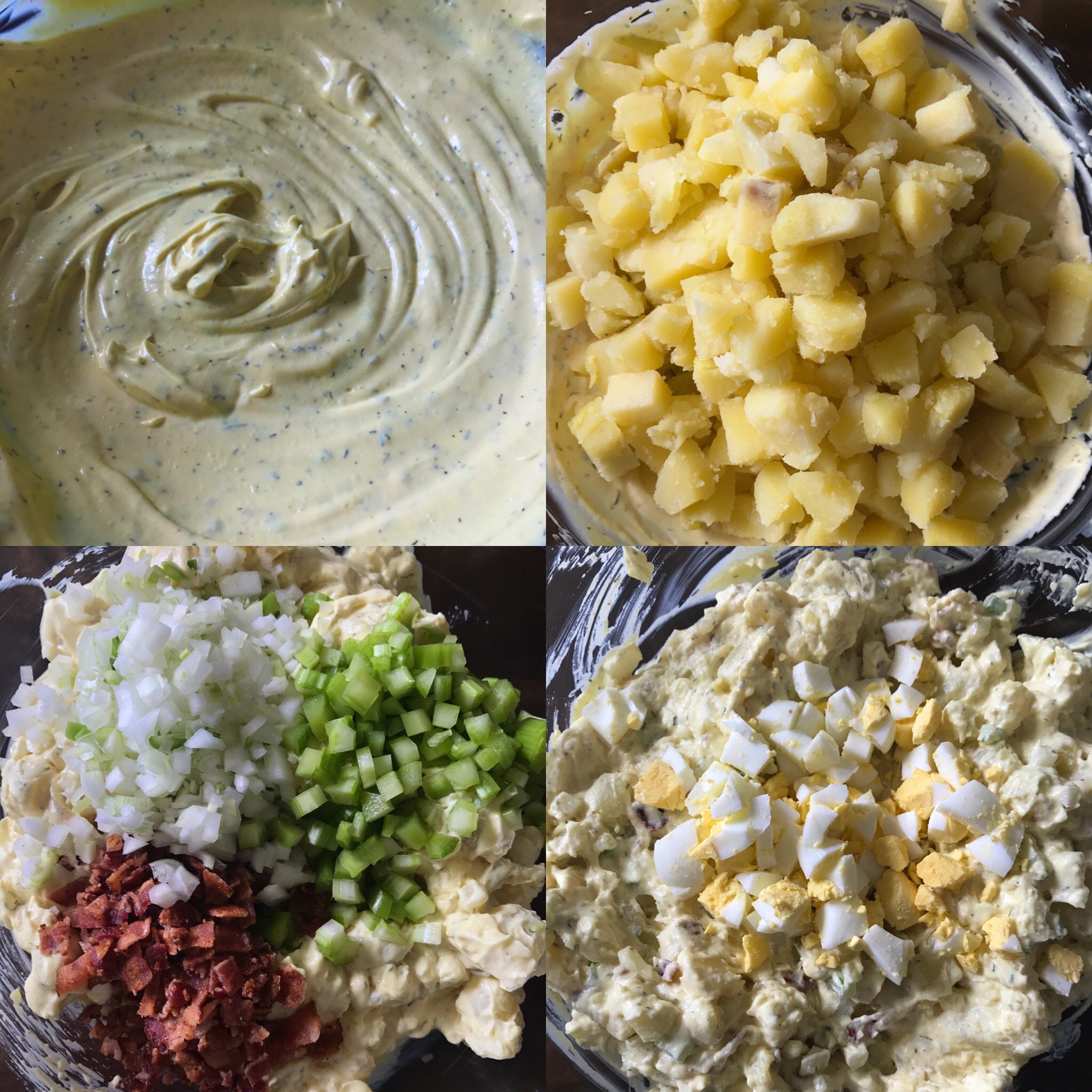 You don't have to worry about being to gentle when mixing in the potatoes, it's ok if some of them mash up a bit.  It'll give it a nice creamy texture.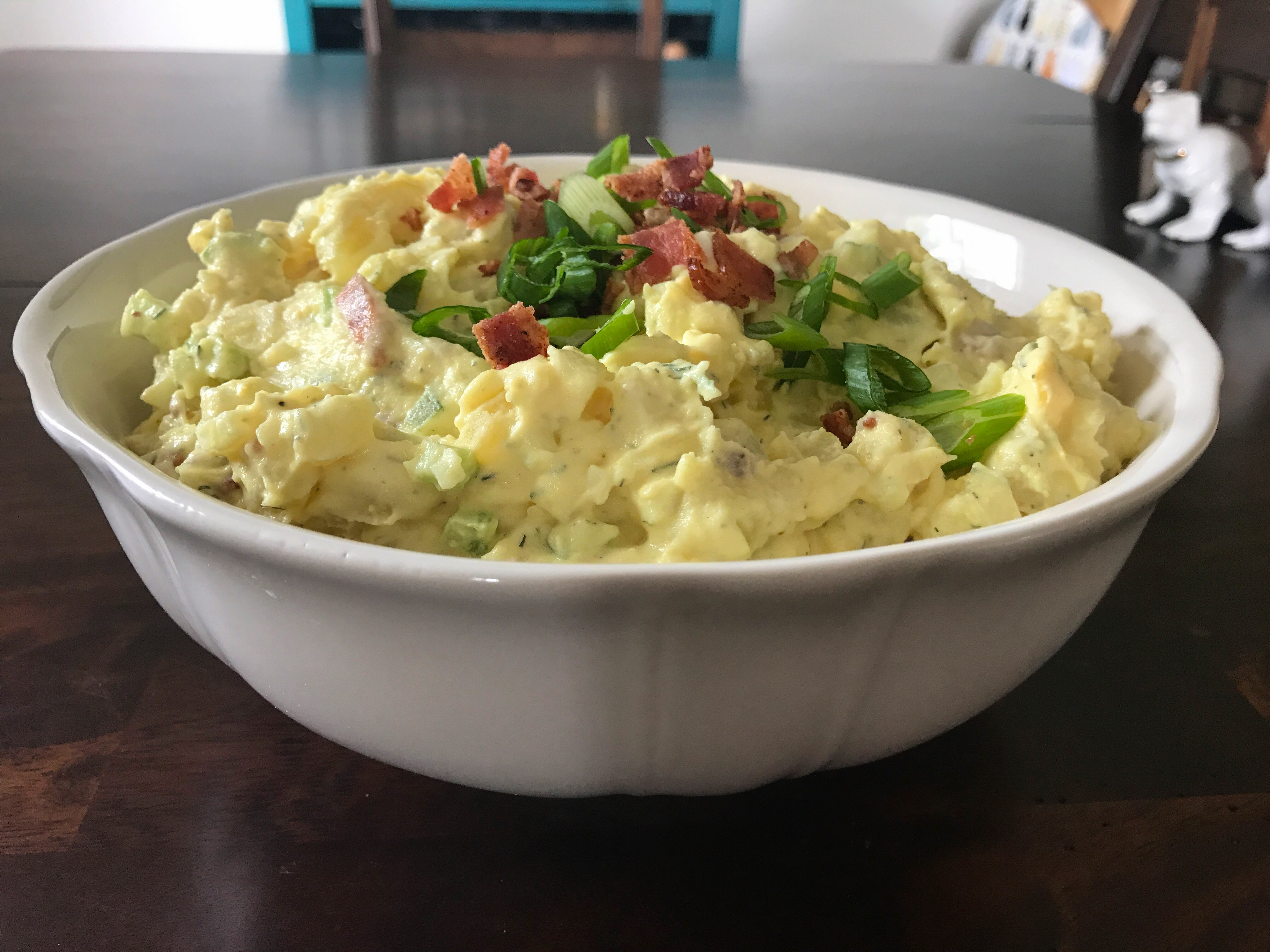 Bring this to all your summer events, and you will make all your friends and family happy!

2594 Total Views
2 Views Today
3

large

Yukon Gold potatoes

2

hard boiled eggs

diced

4

slices

bacon

cooked and diced

1/2

cup

yellow onion

diced

1/3

cup

celery

diced

1/4

cup

green onion

if desired for garnish
1 1/2

cup

mayonnaise

1 1/2

tbsp

yellow mustard

1/4

tsp

salt

1/4

tsp

ground black pepper

1/4

tsp

dried mustard powder

1/2

tsp

dried dill
Wash and cut potatoes into eighths, put into a large stock pot and fill with cold water (the water should cover the potatoes by about an inch).

Bring water to a boil over high heat, add about 1/2 tablespoon of salt to the water, and boil for 15-20 minutes.

Once potatoes can be easily pierced with a fork, drain them into a colander and rinse quickly with cold water. Let them cool down to room temperature.

After the potatoes have cooled, remove the skins and dice them into bite sized pieces.

While potatoes are cooking, hard boil 2 eggs. Run the eggs under cold water once they are done cooking to cool them down and prevent them from over-cooking.

Peel and dice the eggs, onion, celery, and bacon. Set aside.

Make the dressing by combining the mayo, yellow mustard, salt, pepper, dried mustard powder, and dill. Mix until combined.

Assemble the potato salad by first adding the diced potatoes, stir them into the dressing until the potatoes are well coated.

Next add the celery, onion, and bacon, and mix until well combined.

Finally, add the diced hard boiled eggs, stirring them in gently.

If desired, garnish the potato salad with sliced green onions and more bacon.
**Cardinal Rule**  Be careful to not overcook the potatoes.  They should be tender, but you do not want them to be mushy.
---