Flavored Cream Cheese
Bagels top the list as one of my food guilty pleasures; and they are something I could eat every day, which is a bit of a problem.  If I'm being honest though, I think it's actually what's smeared on top of bagels that I like so much – cream cheese.  Be it plain or flavored, it's delicious.  Sure, you can buy flavored cream cheese, but why bother with store bought when you can make your own!
There are different flavors of cream cheese available for breakfast at my work, but I knew I could make better ones at home.  I had so many ideas floating around my head for different combinations, and it was hard to pare it down to just two that I was going to make this weekend.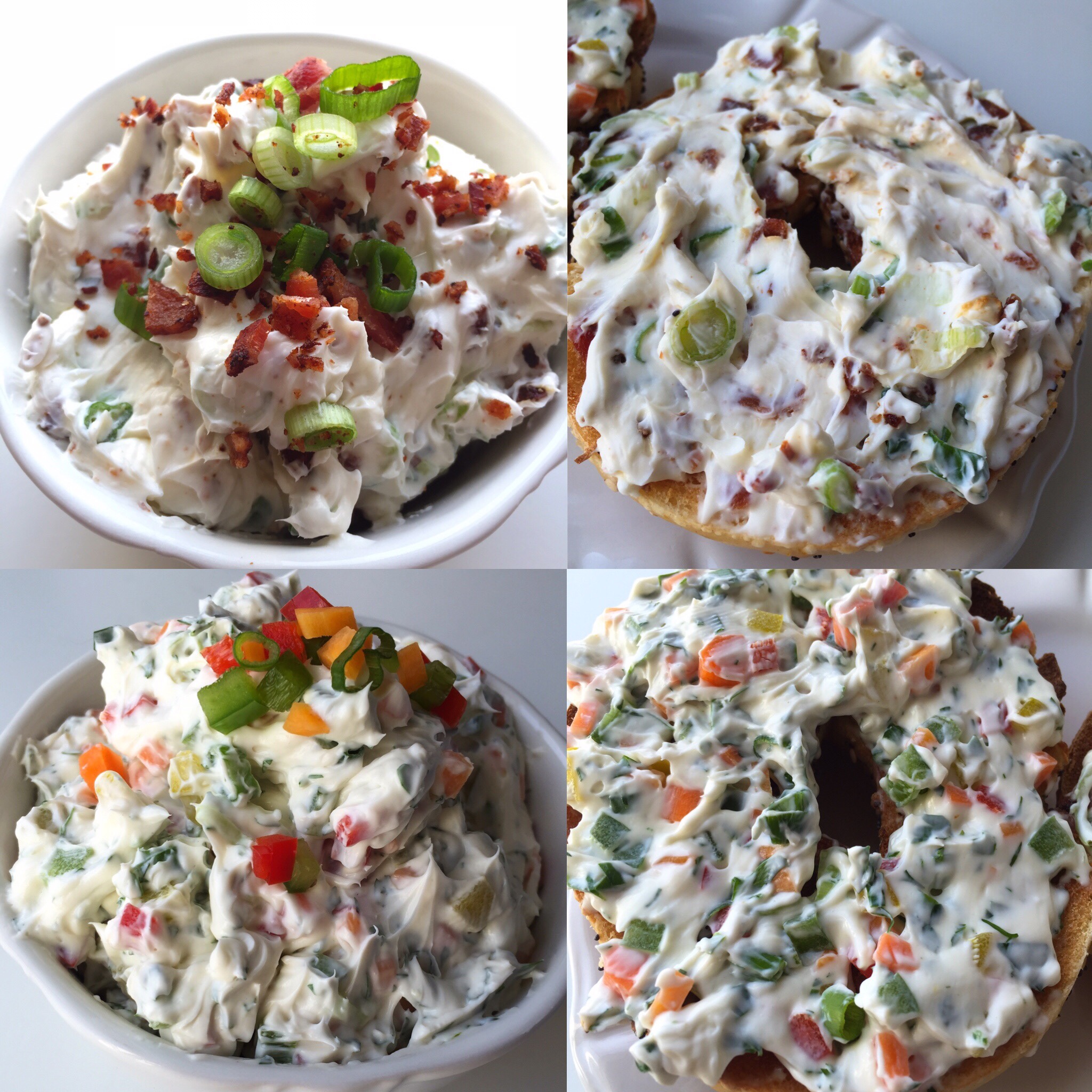 The two I settled on were bacon-green onion and vegetable, and they are easy to make.  Both start with softened cream cheese that is whipped up using either a hand mixer (my choice of equipment for this) or you could use a stand mixer.  I used one 8oz brick of cream cheese for each of the different flavors.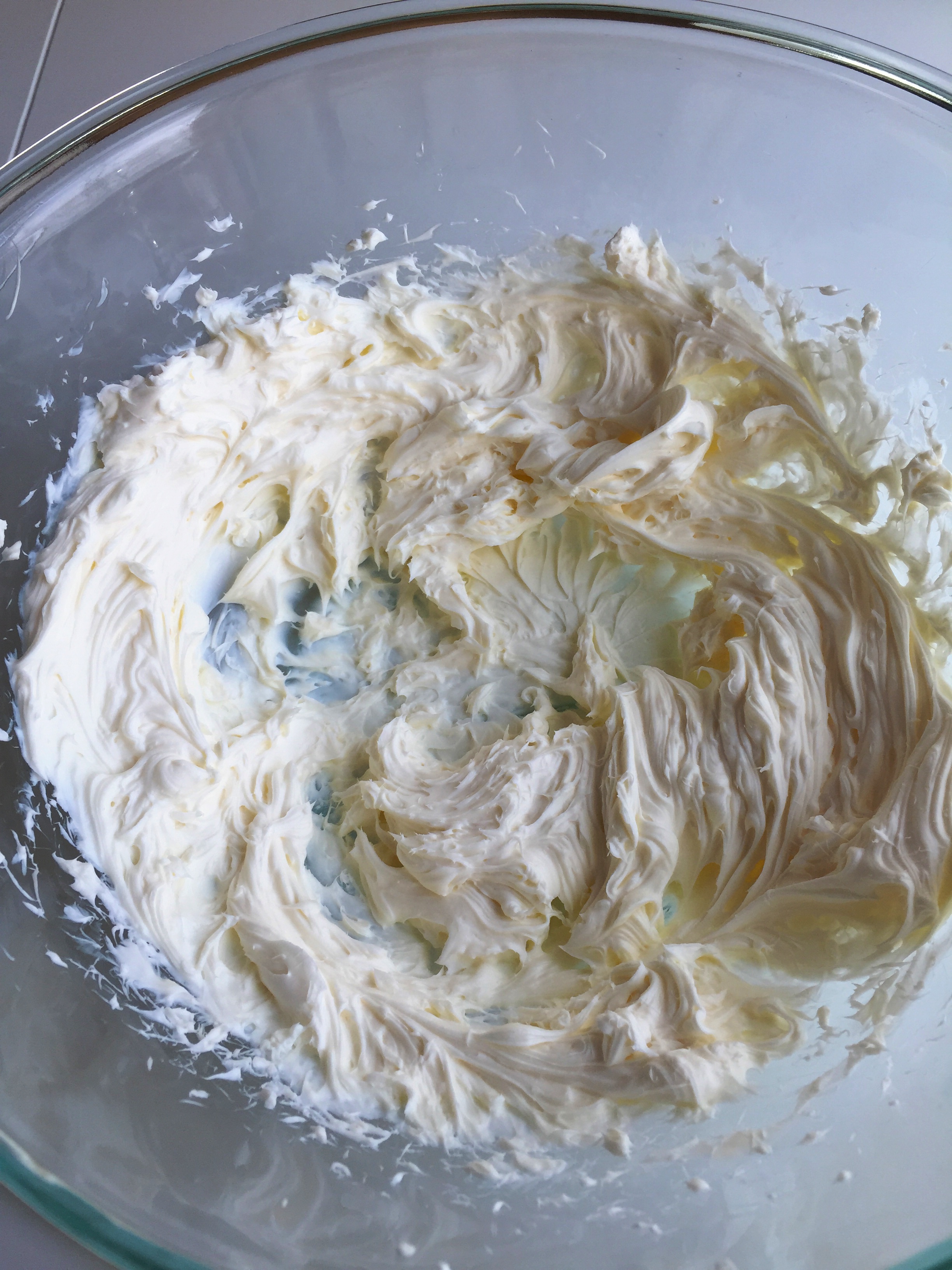 For the bacon-green onion you just need to cook a few slices of bacon and wash some green onions.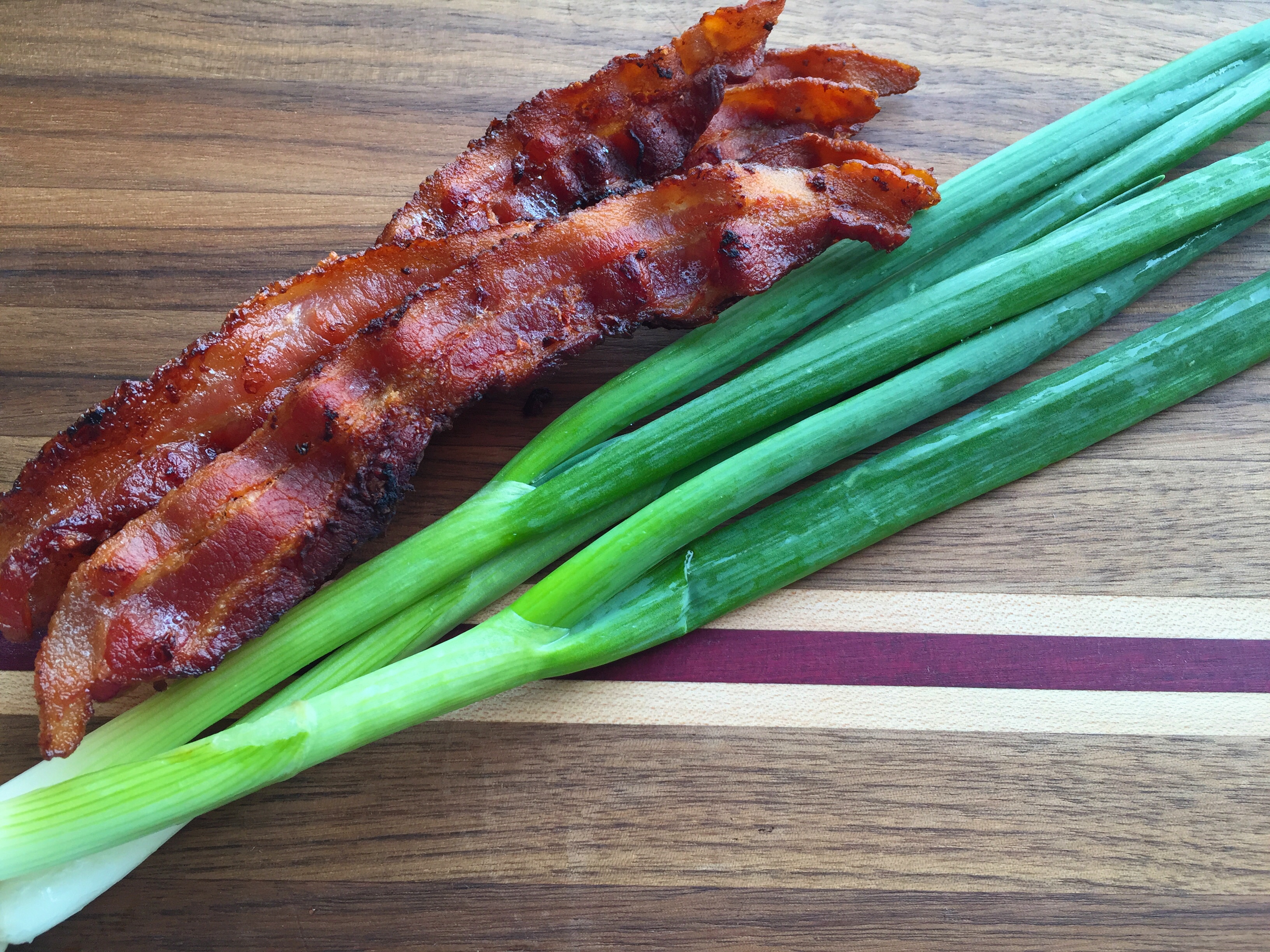 Chop the two into small pieces, and mix into the whipped cream cheese.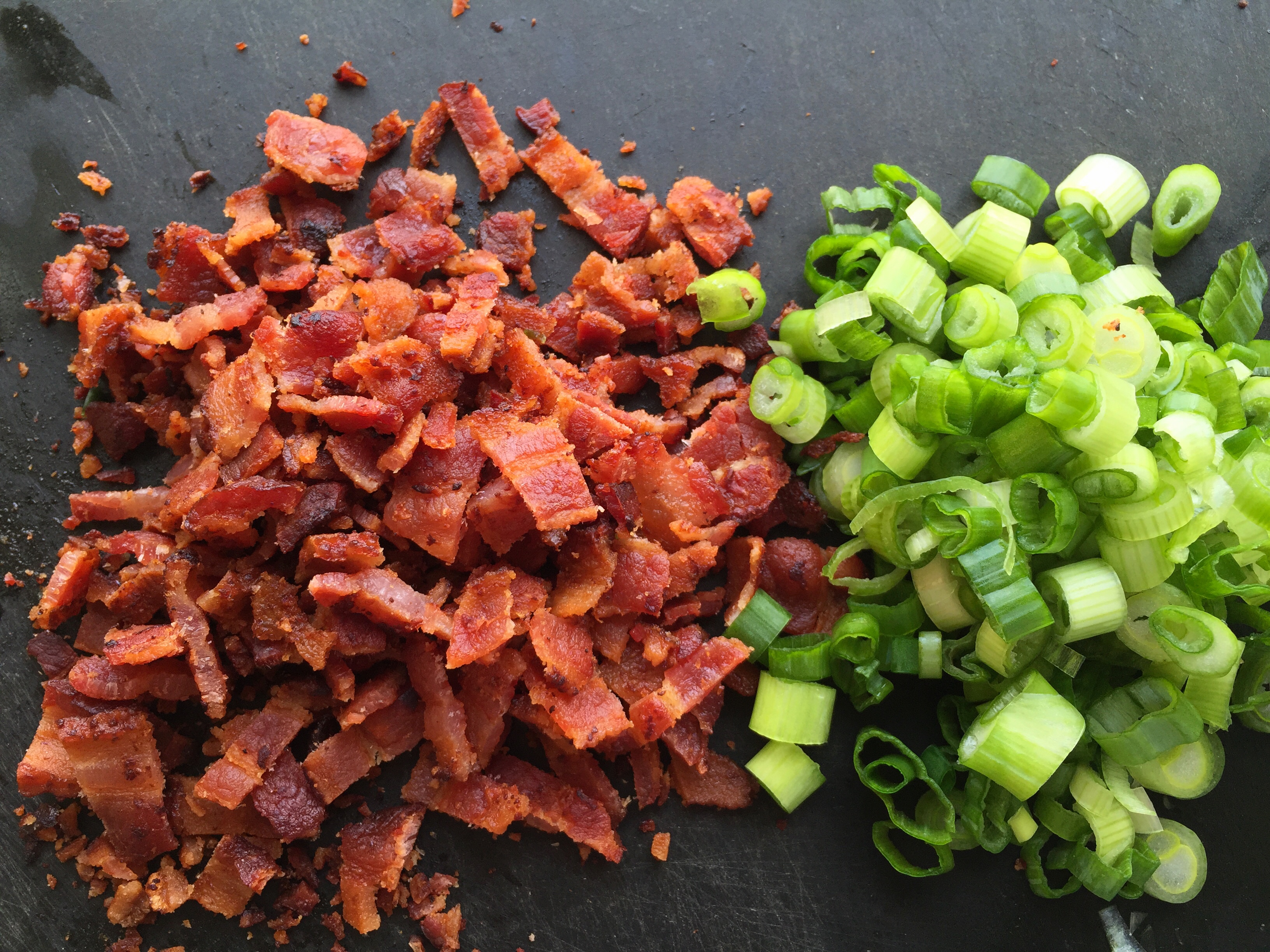 The vegetable cream cheese takes a little more prep work, but is totally worth it! You'll need some bell peppers (any combination of colors will do), carrot, green onions, fresh parsley and dill.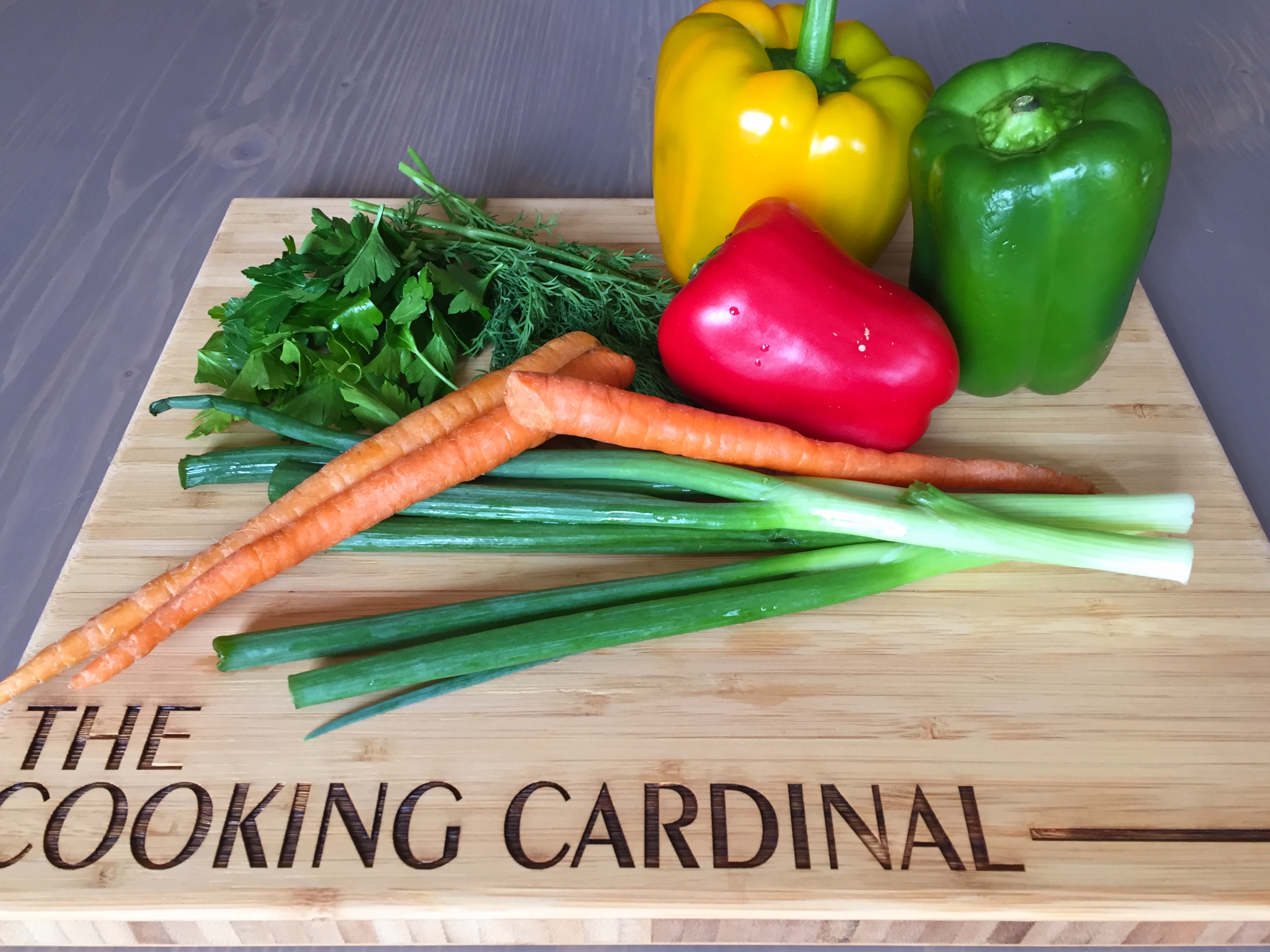 Finely mince the fresh herbs and dice all of the vegetables into small pieces.  You want them to be as small and uniform as you can get them so you can spread it on whatever you like.  In total, I used about 1/4 to 1/3 of each of the 3 bell peppers I had.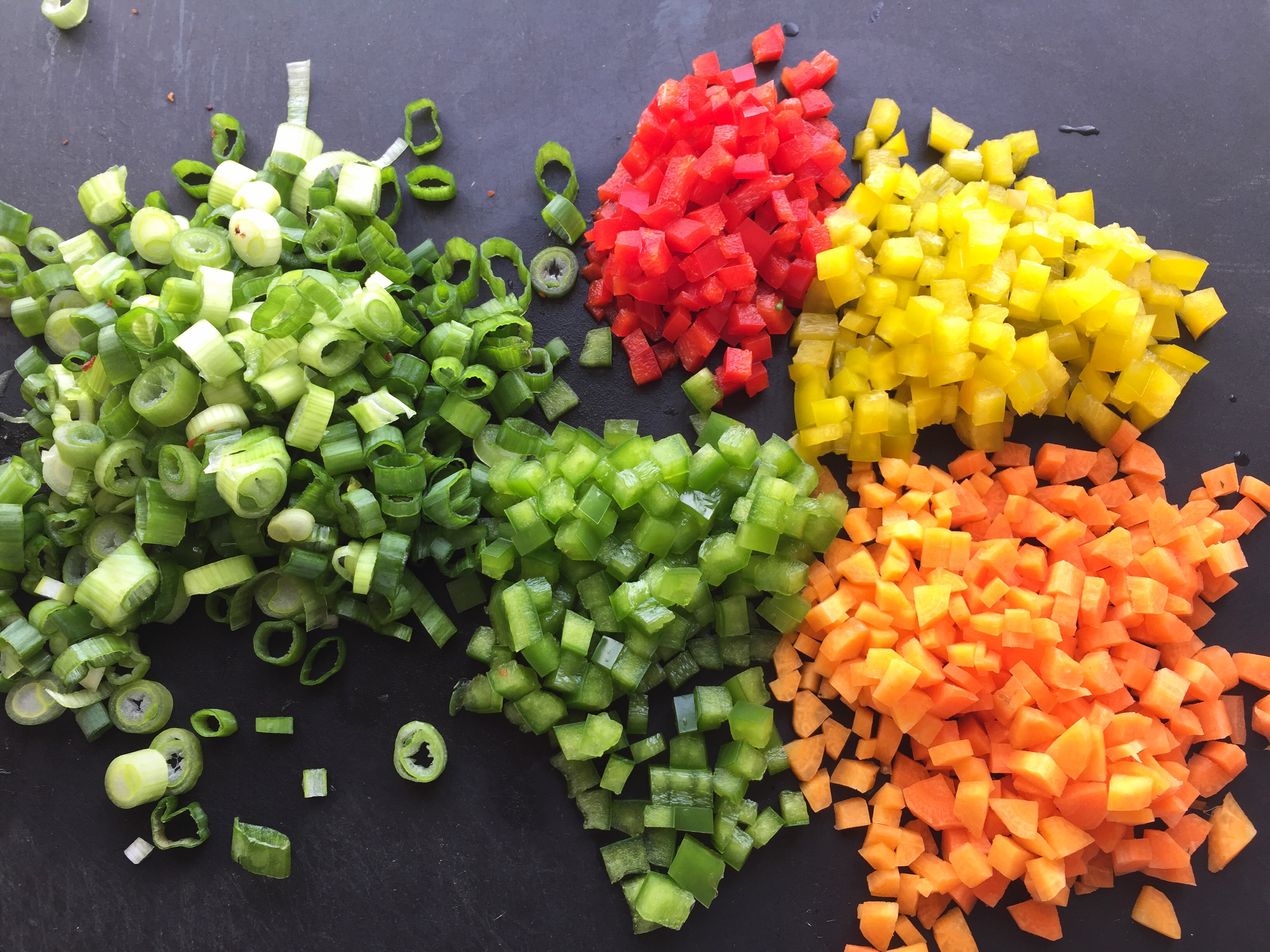 You can spread these on just about anything you want and it'll be delicious (ok, maybe don't put them on pancakes or cinnamon rolls… that wouldn't be very good).  I enjoyed them on an Everything bagel, either would also be pretty tasty mixed into some mashed potatoes, or as part of a creamy pasta sauce, or eaten straight out the container with a spoon.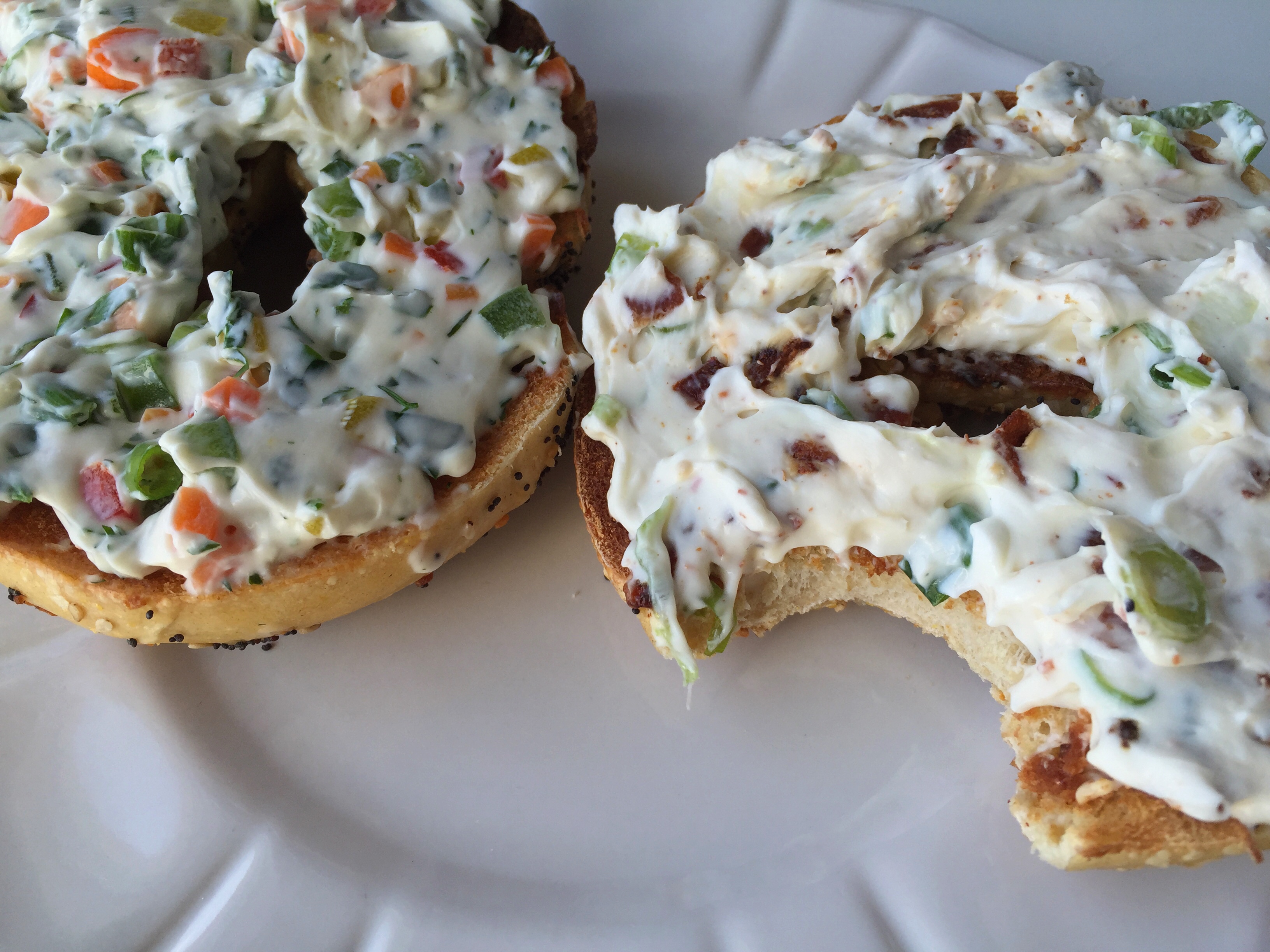 Buy your favorite bagels, get some cream cheese and whatever mix-ins you fancy, and start your day off right with this for breakfast!

6010 Total Views
1 Views Today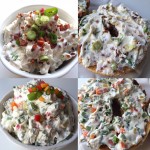 Passive Time
30-60
minutes
Passive Time

30-60

minutes
Passive Time

30-60

minutes

Passive Time

30-60

minutes
Bacon-Green Onion Cream Cheese
8

oz

cream cheese

softened

5

slices

bacon

cooked and chopped

2

green onions

thinly sliced
8

oz

cream cheese

softened

1/3

cup

bell pepper, any combination of colors

finely diced

1/4

cup

carrots

finely diced

2

green onions

thinly sliced

2

tbsp

fresh parsley

minced

2

tbsp

fresh dill

minced

1

pinch

kosher salt
Soften cream cheese on counter top for 30 to 60 minutes, until it is soft enough to whip with a hand mixer or in a stand mixer.

Whip softened cream cheese until smooth.

Stir in desired additions. Cream cheese can be kept refrigerated in an airtight container for up to a week.
**Cardinal Rule**  Blocks of cream cheese work better than the cream cheese in the tub for this.  The tub cream cheese is softer than block cream cheese, and will not hold up as well with the add-ins.
Vegetable cream cheese adapted from: The Comfort of Cooking
---