Mimosa Bar
Brunch.  I wish every meal could be brunch!  There is something so relaxing, so comforting about meeting friends for brunch on the weekend.  It has to be a combination of the following: the delicious marriage of breakfast and lunch foods you get to eat in the same meal, the drinks, the company, and the drinks!
Wait, did I say drinks twice? You bet I did!  I typically don't indulge in mimosas during the week, but they make the thought of Monday a little more manageable on Sunday mornings.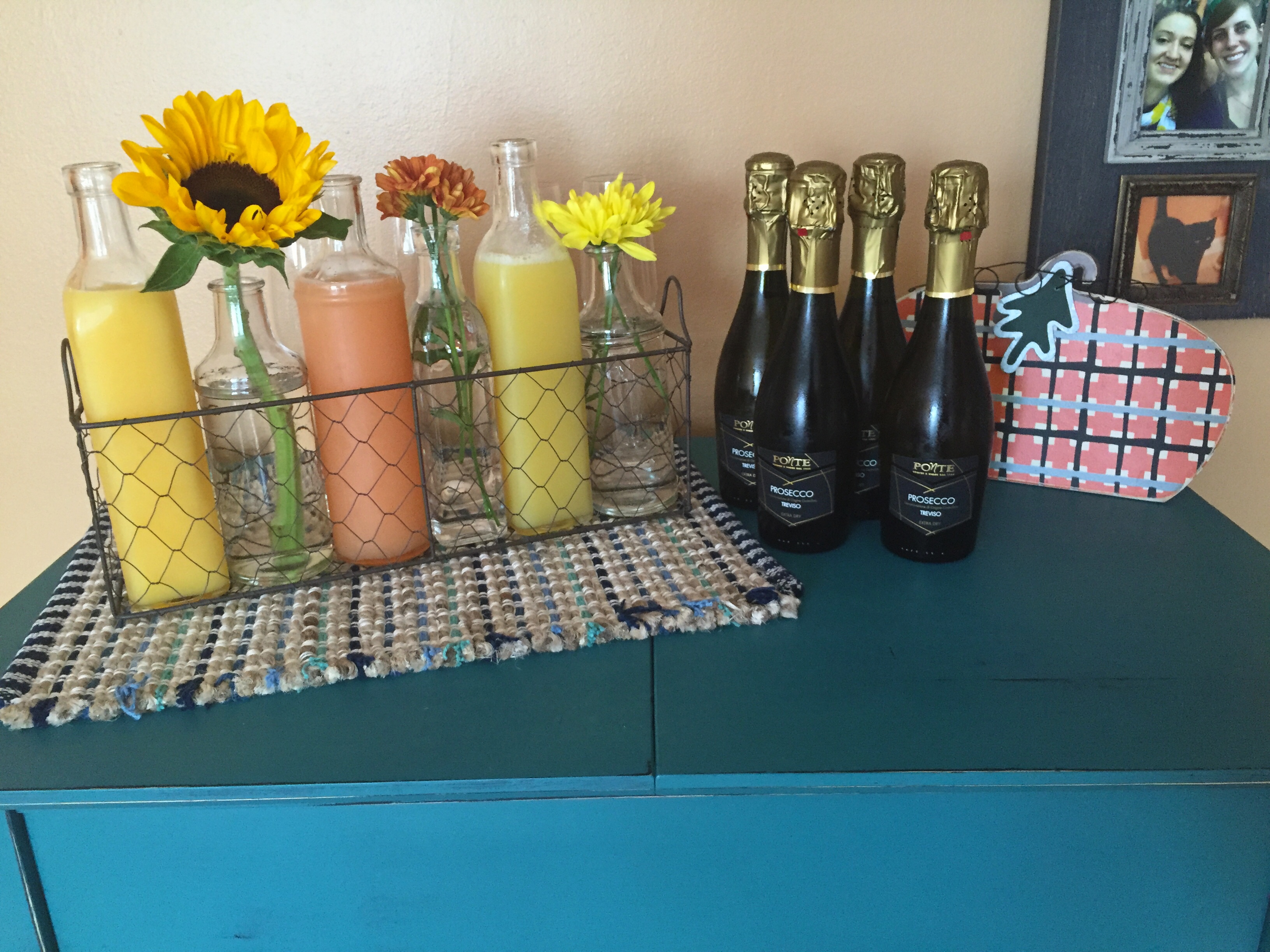 This past Sunday I hosted brunch for some wonderful friends of mine. I made us a fabulous meal (if I do say so myself) of a bacon quiche with a cheesy grits crust, a spinach and apple salad, pumpkin pound cake with a buttercream glaze, and a mimosa bar.  I will be sharing all of the recipes over the next 4 weeks, but I have to start this brunch series with the mimosa bar!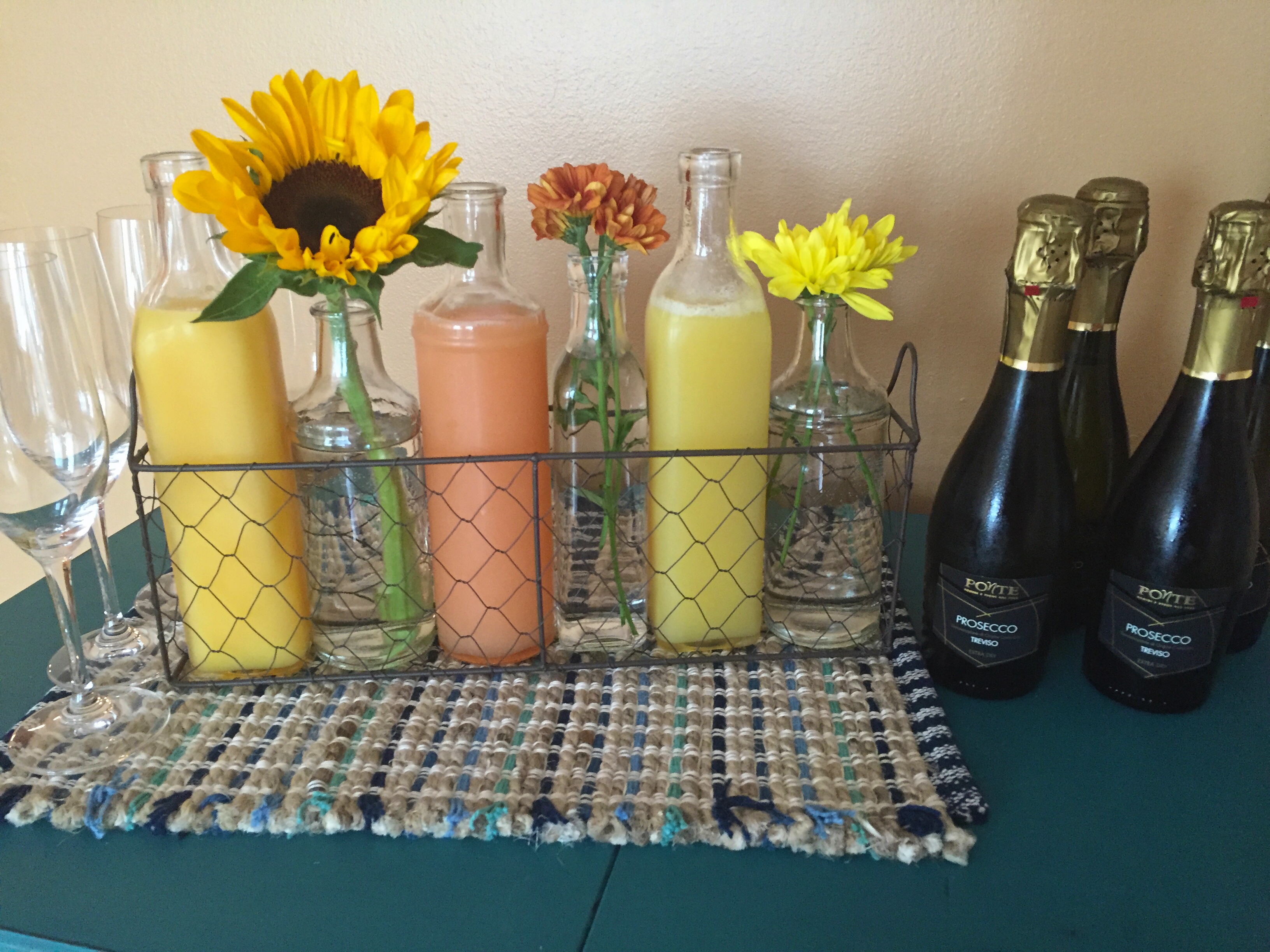 Typically, mimosas are made with champagne and orange juice.  To add some fun variety, I had three different juices to choose from: orange, grapefruit, and pineapple.  It was difficult to choose a favorite between those three! It's hard to beat the classic orange juice/sparkling wine combo, but the pineapple made it seem like a tropical, light drink that I could sip all day long.  I will admit, I was skeptical about the grapefruit juice, but my preconceptions about it could not have been more wrong!  It was definitely a tie between the pineapple and grapefruit for my favorite.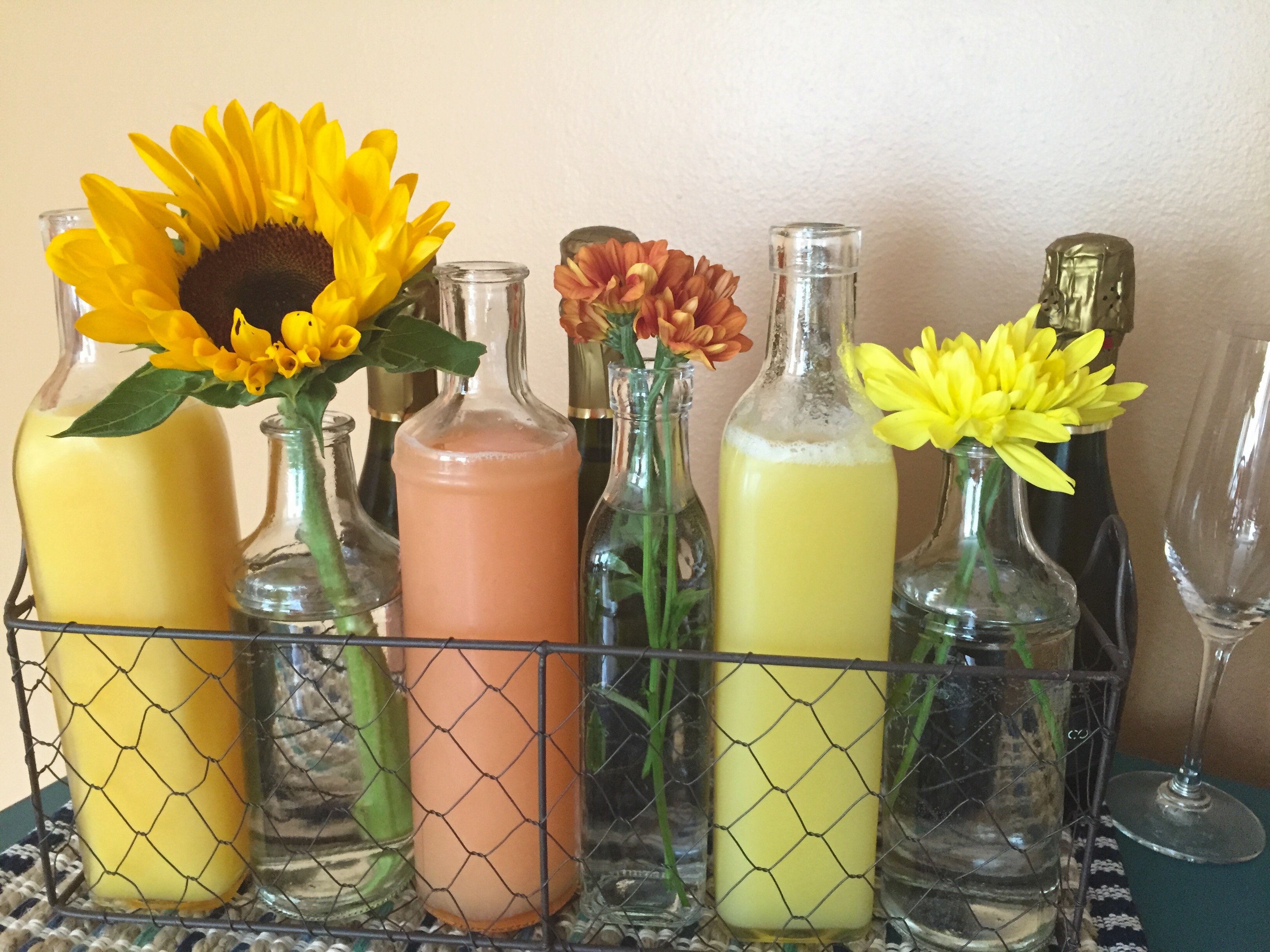 Now, let's talk about those cute little bottles of bubbly!  I did not use champagne, because I found some perfect (adorable) smaller bottles of Prosecco (a dry Italian sparkling wine).  It was so much fun for everyone to have their own individual bottle of sparkling wine to make their drinks; plus it's a great way to make sure everyone gets their fair share!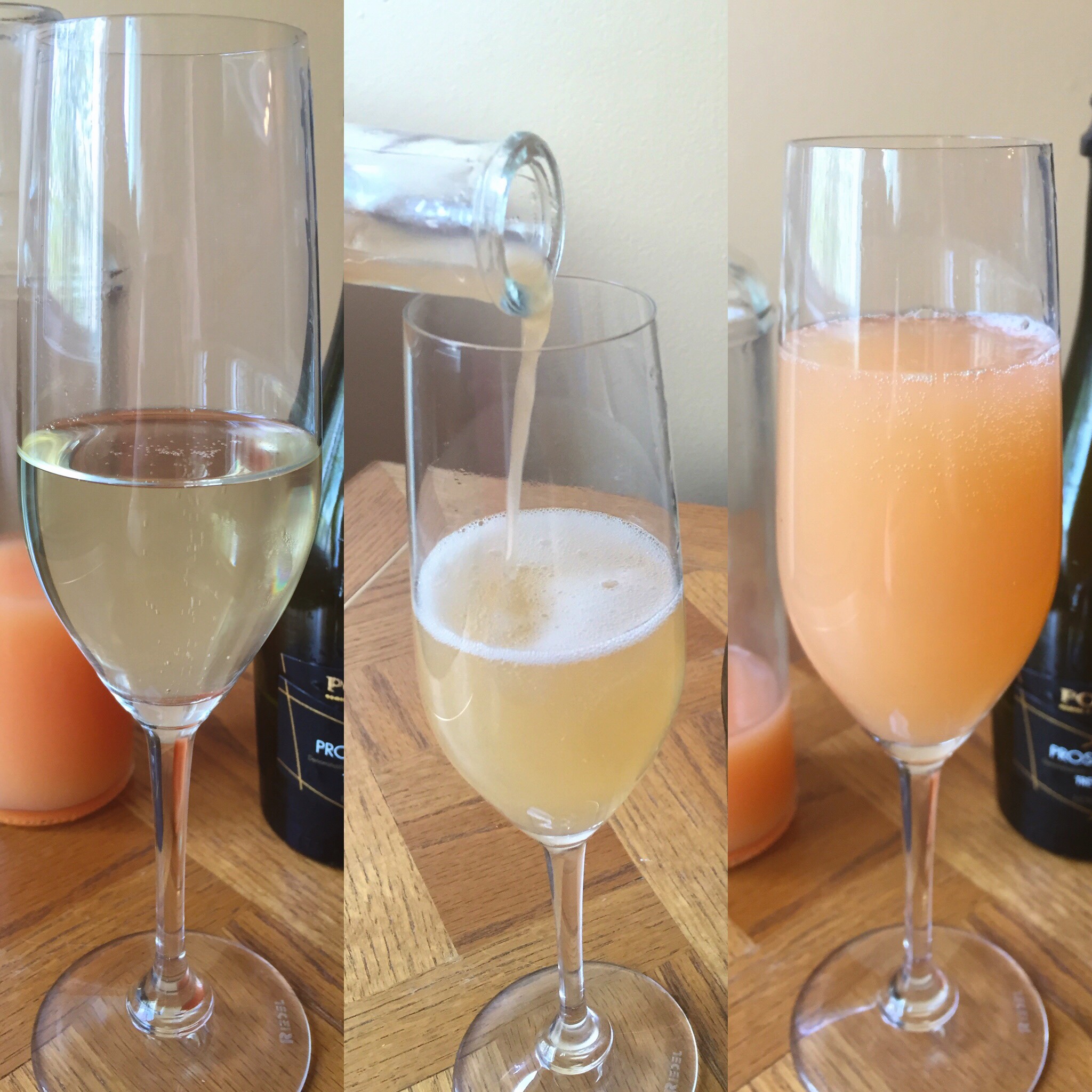 Mimosas are made by combining equal parts of sparkling wine and juice – how easy is that?  It seems silly to have a whole post just about that, but it was an incredibly fun set up, and everyone got their chance to be a mixologist for the day.  Brunch menus vary widely across the country, but one thing that is a constant wherever you are is the Mimosa.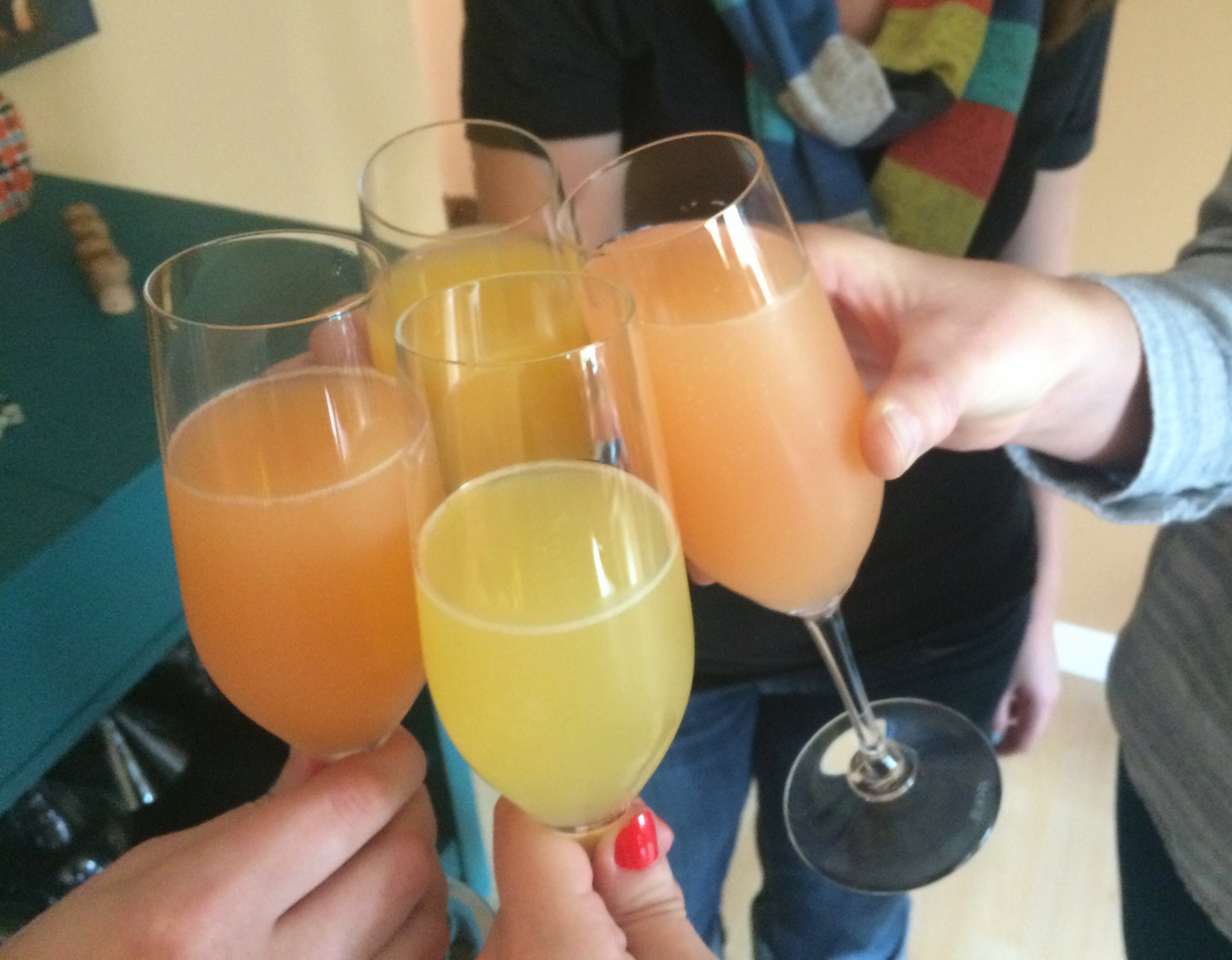 So grab some great friends, get yourself a drink, and toast the day!  Cheers!

3432 Total Views
2 Views Today
1

bottle

sparkling wine

or an individual, small bottle for each person

1/2

gallon

juice

orange, grapefruit, pineapple
Combine equal parts sparkling wine and juice in a champagne flute
**Cardinal Rule** Be careful when opening sparkling wine - grip the cork with one hand, turn the bottle slowly with the other, and pull the cork up gently. If you are worried about the cork flying, you can put a towel over it and hold the cork under it.
---
---