Grandma Vi's Moist Banana Bread
When I started my blog, I made a commitment to myself to try my hardest to post once a week.  It is an attainable goal, and I wasn't going to set myself up for failure by being too ambitious.  Last week I failed at that goal, but for a good reason: I was busy traveling around New England with a good friend of mine.  We mainly stayed in Connecticut, but visited several other states as well.  There was a day trip to Rhode Island that got the better of us (included in that excursion was arriving at our sightseeing destination just as it was closing for the day, going to a lighthouse that was not open to the public, and getting a parking ticket…); we spent two busy days in NYC; and went whale watching in Plymouth, Massachusetts.
The trip was a good combination of exploring, sightseeing, counting the number of different Dunkin Donuts we saw, and relaxing with some Game of Thrones.  There was also good food to be had!  A friend of mine suggested (ok, demanded) that we eat at La Lanterna di Vittorio in New York, and try the lasagna.  I was more than happy to oblige, and am very please to say it lived up to her hype.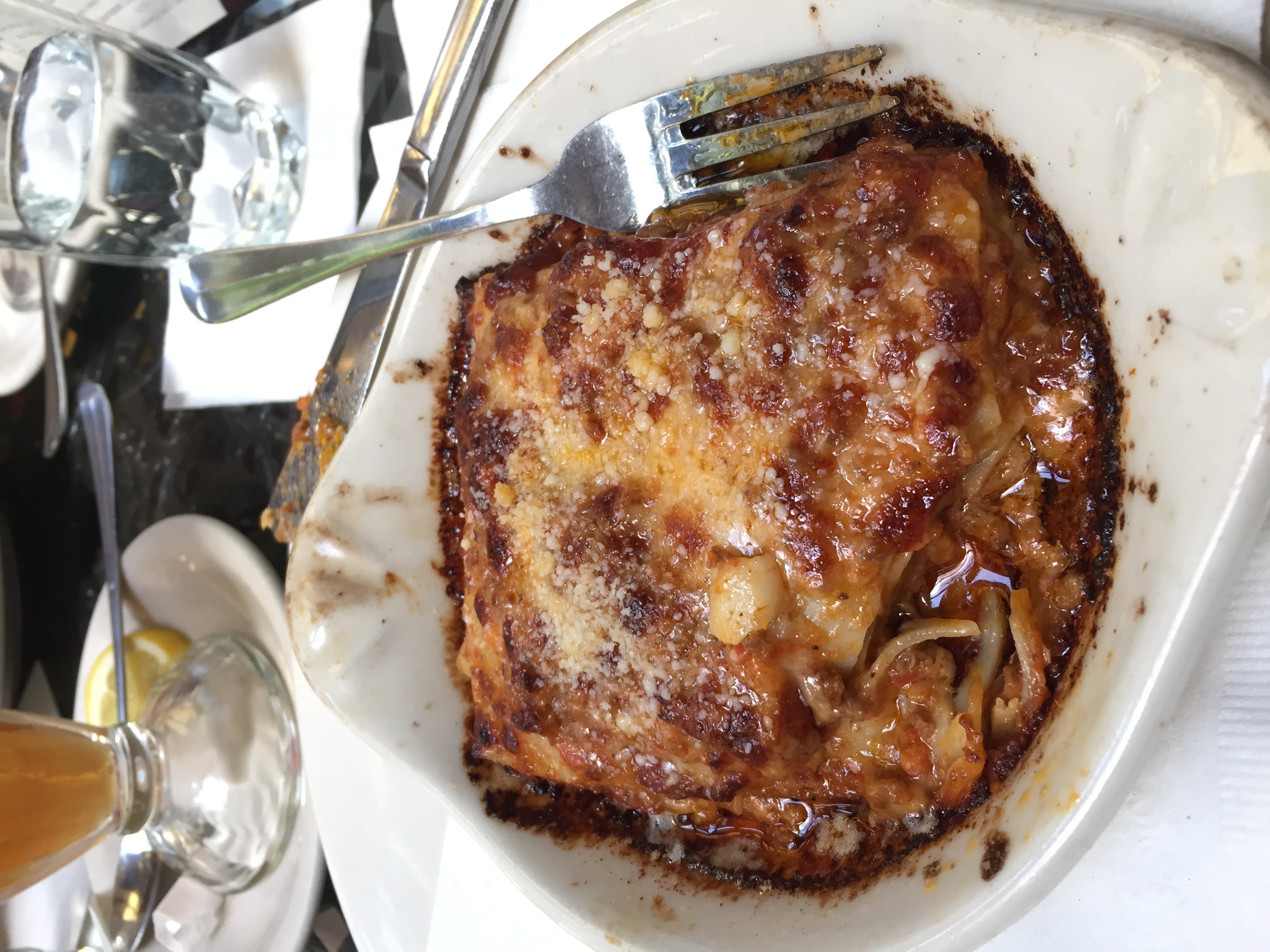 On the last day of our trip, we went whale watching in Plymouth, MA, and I had an absolute blast!  We saw about 9-10 different humpback whales, which was amazing!  I couldn't leave Massachusetts without trying some clam chowdah (that's chowder for us Minnesota folks), and thoroughly enjoyed some at Lou's Tavern.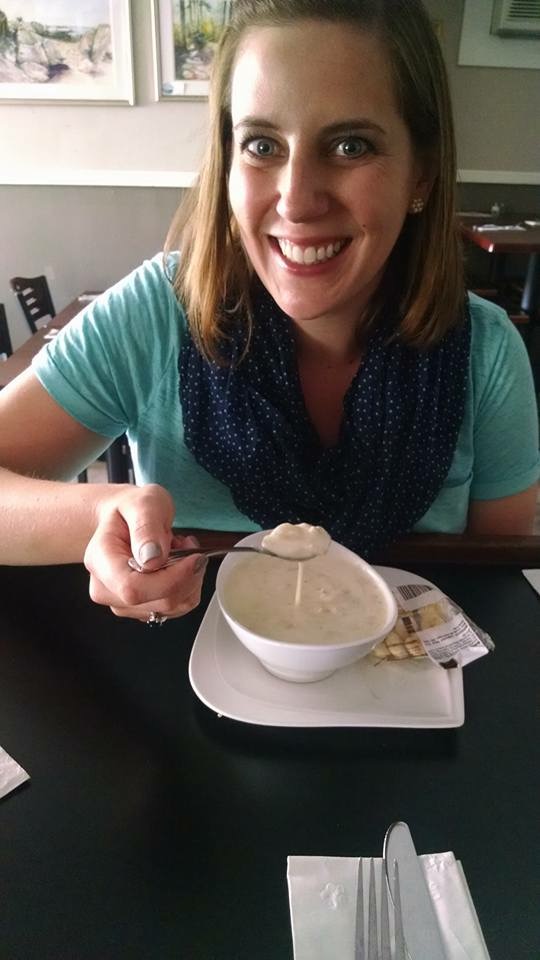 It was all around a wonderful trip, but I was happy to arrive home safely after a week away.  My little buddy Richmond was happy to be home as well, vacations are hard for cats!  He has been zonked out since he got home.
Before I left for vacation, I made the silly decision to by a bunch of bananas.  After a week on the counter, they were predictably over-ripe; which also means they were perfect for banana bread.  The best recipe I have ever used for banana bread is my grandma Vi's, it has even been published (in my elementary school cookbook, but that counts, right?).  Here is the recipe card from her box, you can tell from the stains that she liked it too!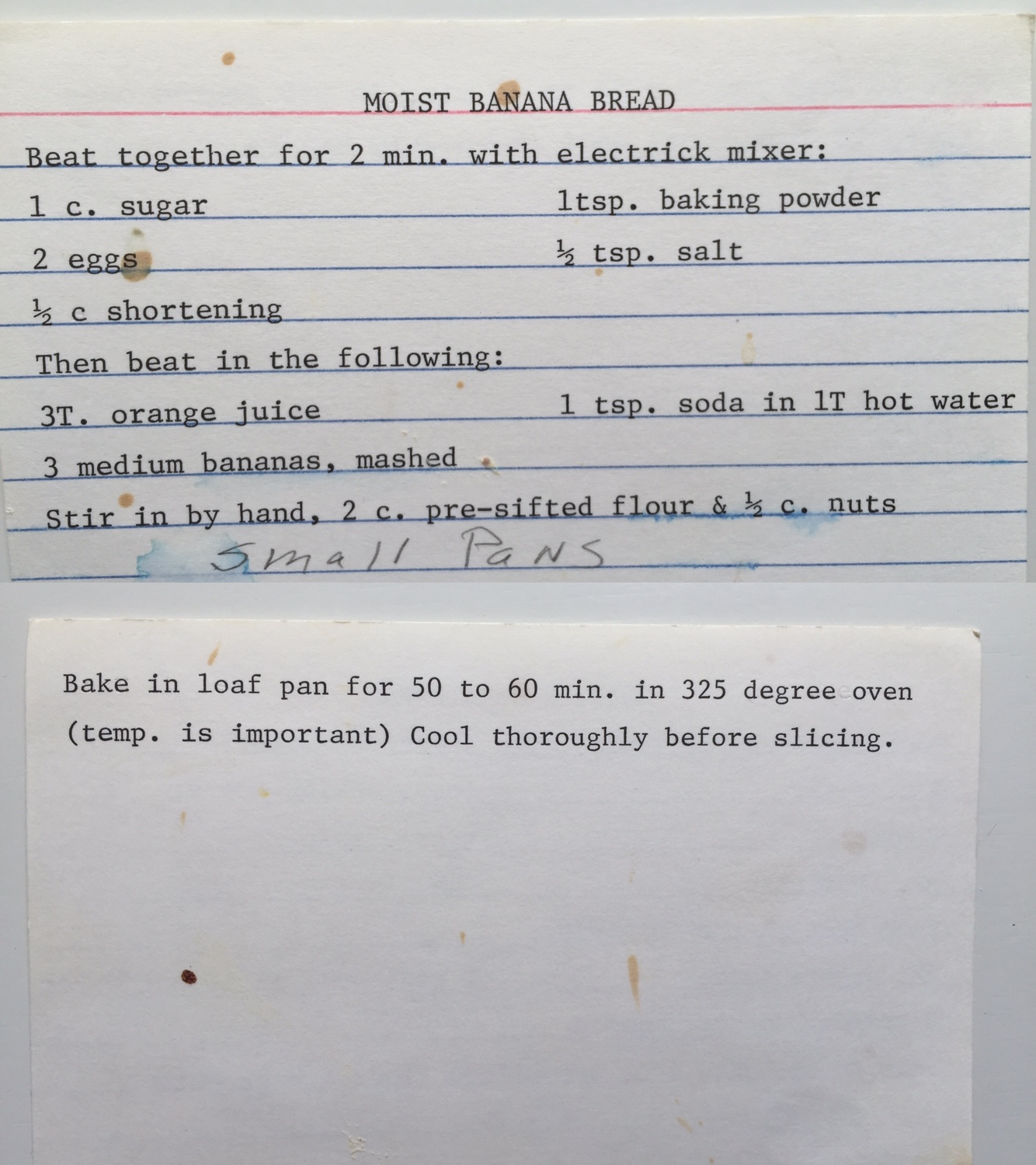 I don't think I have ever been disappointed after baking this banana bread.  It is equally good with or without nuts in it, and you could certainly add chocolate chips if that's the way you roll.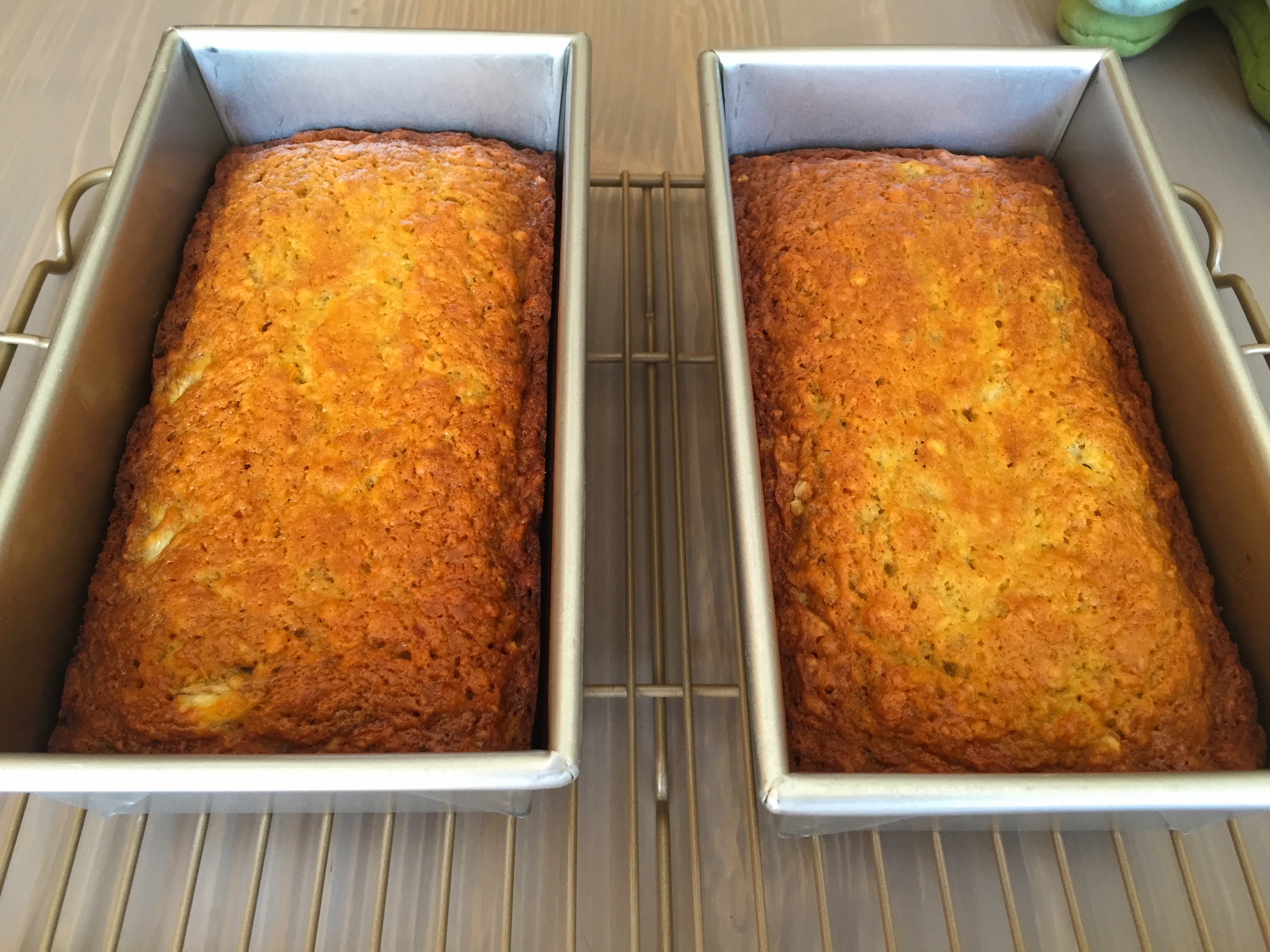 The bread is incredibly simple to make, and lives up to its name – it is very moist and tender.  The only way to make it better is to spread on some soft butter (never margarine), and enjoy it while it's warm.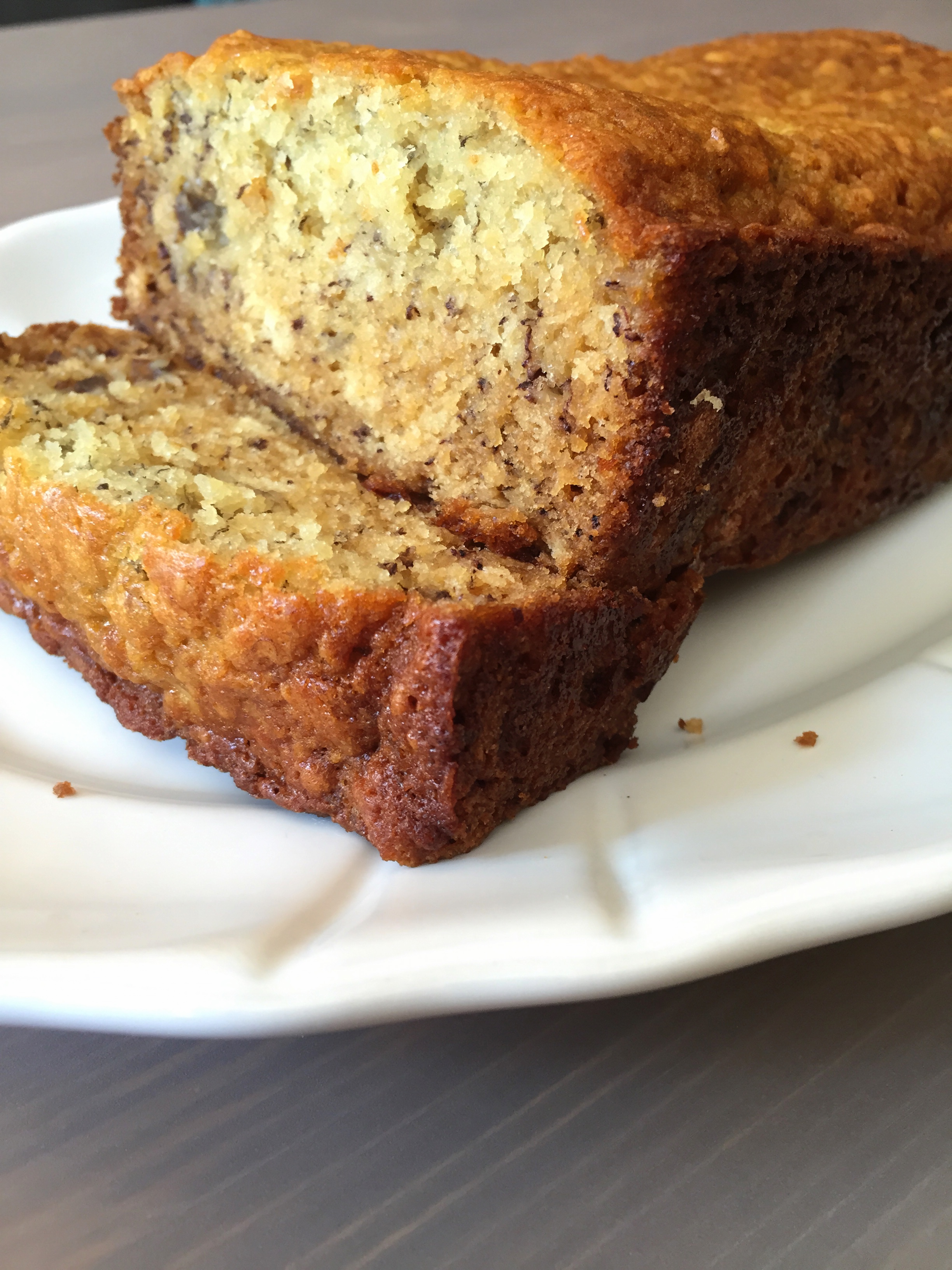 This bread was a perfect homecoming treat, and I think Grandma would be proud!

2964 Total Views
3 Views Today
1

cup

sugar

1/2

cup

shortening

I use softened butter

2

eggs

1

tsp

baking powder

1/2

tsp

salt

3

tbsp

orange juice

1 tsp

baking soda

mixed with 1 tbsp hot water

3-4

bananas

mashed

2

cups

flour

1/2

cup

chopped nuts

optional
Heat oven to 325F, and grease 2 small loaf pans (can use 1 large pan, if desired)

Beat sugar, shortening, eggs, baking powder and salt together for 2 minutes. Mixture will be light and fluffy once done beating.

Add orange juice, bananas and baking soda with water and beat until combined.

Stir in by hand the flour and nuts (if using).

Bake in greased loaf pans for 50-60 minutes, a toothpick inserted into the top of the loaf will come out clean once done.

Let cool in pan for 10 minutes, then turn out onto a wire rack to finish cooling.
**Cardinal Rule** If you prefer larger pieces of banana in the bread, mix in the mashed bananas by hand.  Using an electric mixer will result in smaller banana pieces (or none at all).
---
---