Fideuà
My blog baby is one year old now, and it's hard to believe how fast the time flies!  It seems like it was just yesterday that I was registering for my domain name and writing my first post.  There was a lot to learn about writing a food blog – like how to take food photos (I don't have a fancy camera and take all of my pictures with my phone); I had to determine what my blogging style was going to be (how many pictures to include, what to write about, how long the posts should be, etc.); I've had to deal with the challenges of using an outdated computer (which I fixed today when I treated myself to a brand new laptop!); and I am still learning how to overcome "writers" block (since I am in no way a writer).  But through all of the challenges, I have learned how much I enjoy sharing the food I make with the people of the world wide web!
The support from my friends and family has helped me through my lulls when I haven't been inspired to cook or write about anything.  I am excited to see what the next year has in store for The Cooking Cardinal!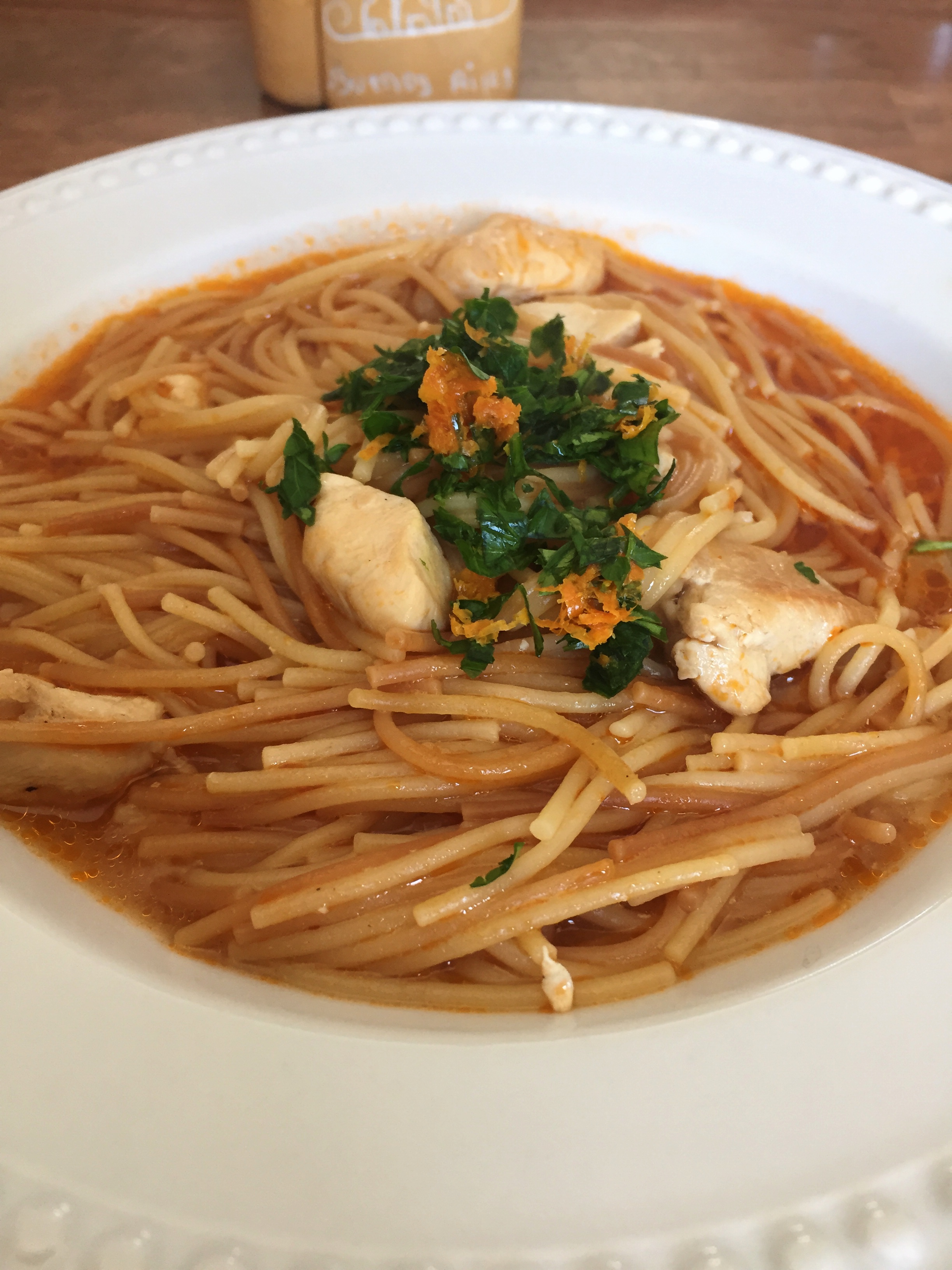 Enough thinking about the future, it's now time for a trip down memory lane to the time I spent in Argentina.  As I have mentioned before, I spent a semester in Buenos Aires when I was in college; and it definitely pushed me out of my comfort zone in the best way.  I got to travel around the country, met some amazing people, and learned that I was capable of surviving in a foreign country where I didn't know anyone. Friends were made quickly the first few weeks there, and I will be forever grateful to have met them.
I lived with a host family while I was there, and they were the sweetest people I could have been placed with.  We did most of our bonding over dinner (which we had around 9:30/10:00 each night); and most times we could figure out what each other was talking about using mostly Spanish, sometimes English, and once French.  I don't speak French, but I've watched plenty of cooking shows and know some French food vocabulary 😉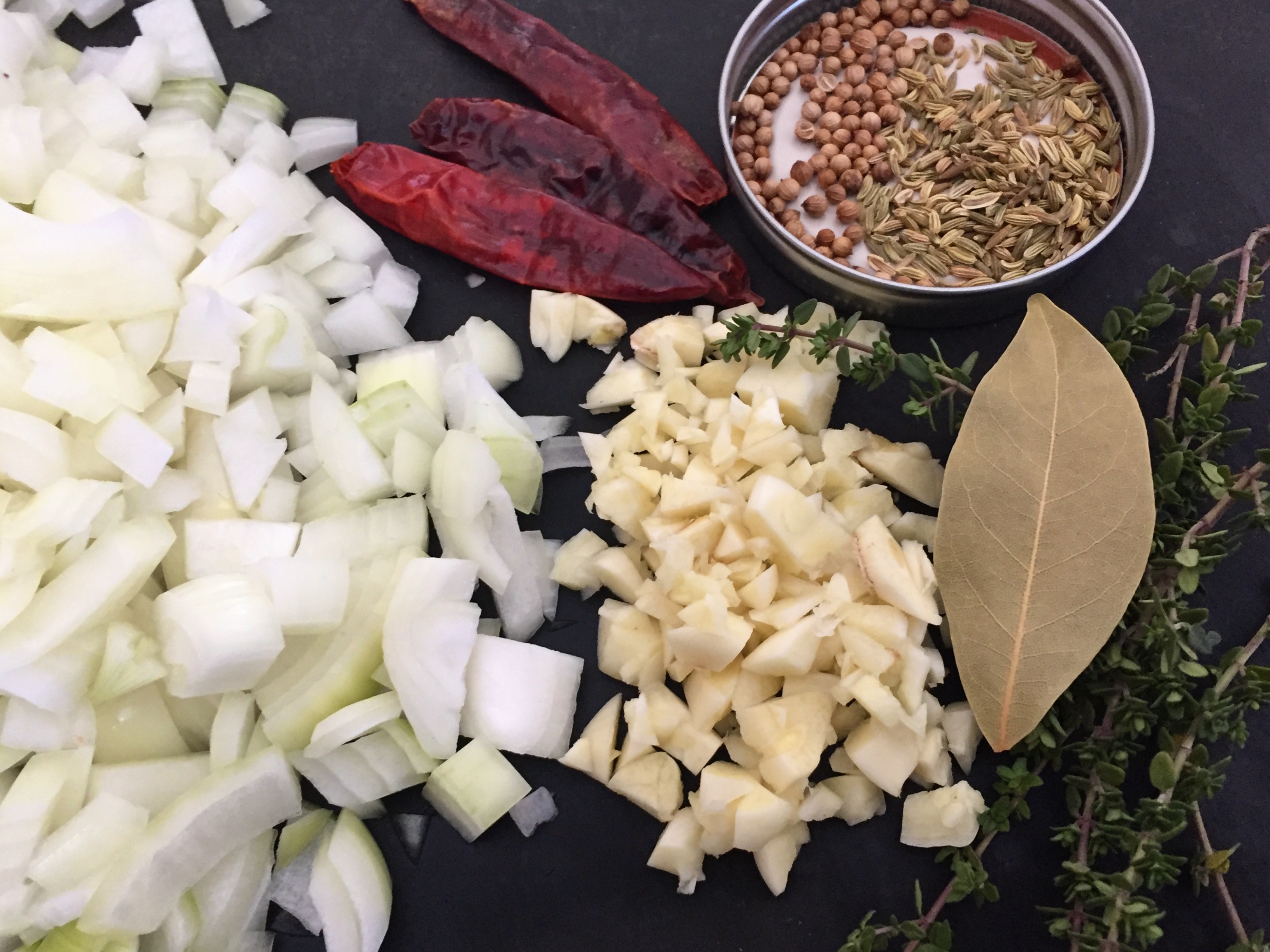 This dish I'm sharing is not one I ate with my host family; rather it was passed on to me from my mom's coworker, Gustavo, who is from Buenos Aires.  He submitted the recipe for a cookbook their company did, and I knew it was something I had to make once she told me about it!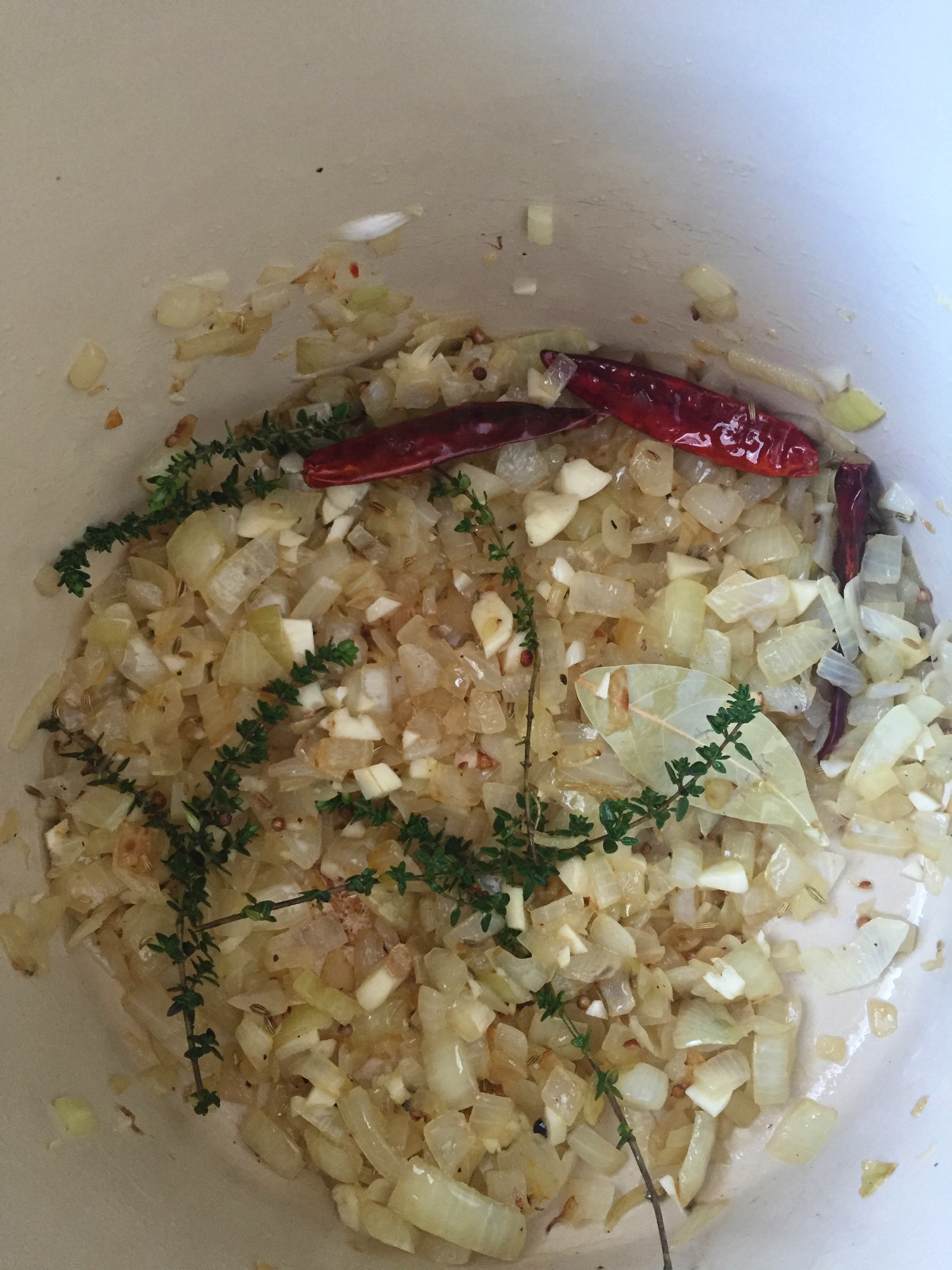 Fideuà is a noodle dish that starts with a homemade chicken broth.  Don't let that intimidate you, it's really very simple to make.  The best part about the broth is you don't have to worry about having good knife skills, since all the vegetables/spices/herbs are strained out when the stock is all done. Just rough chop some onions and saute them until they soften and start to brown; then add minced garlic, coriander and fennel seeds, a few sprigs of thyme, and dried red chili peppers.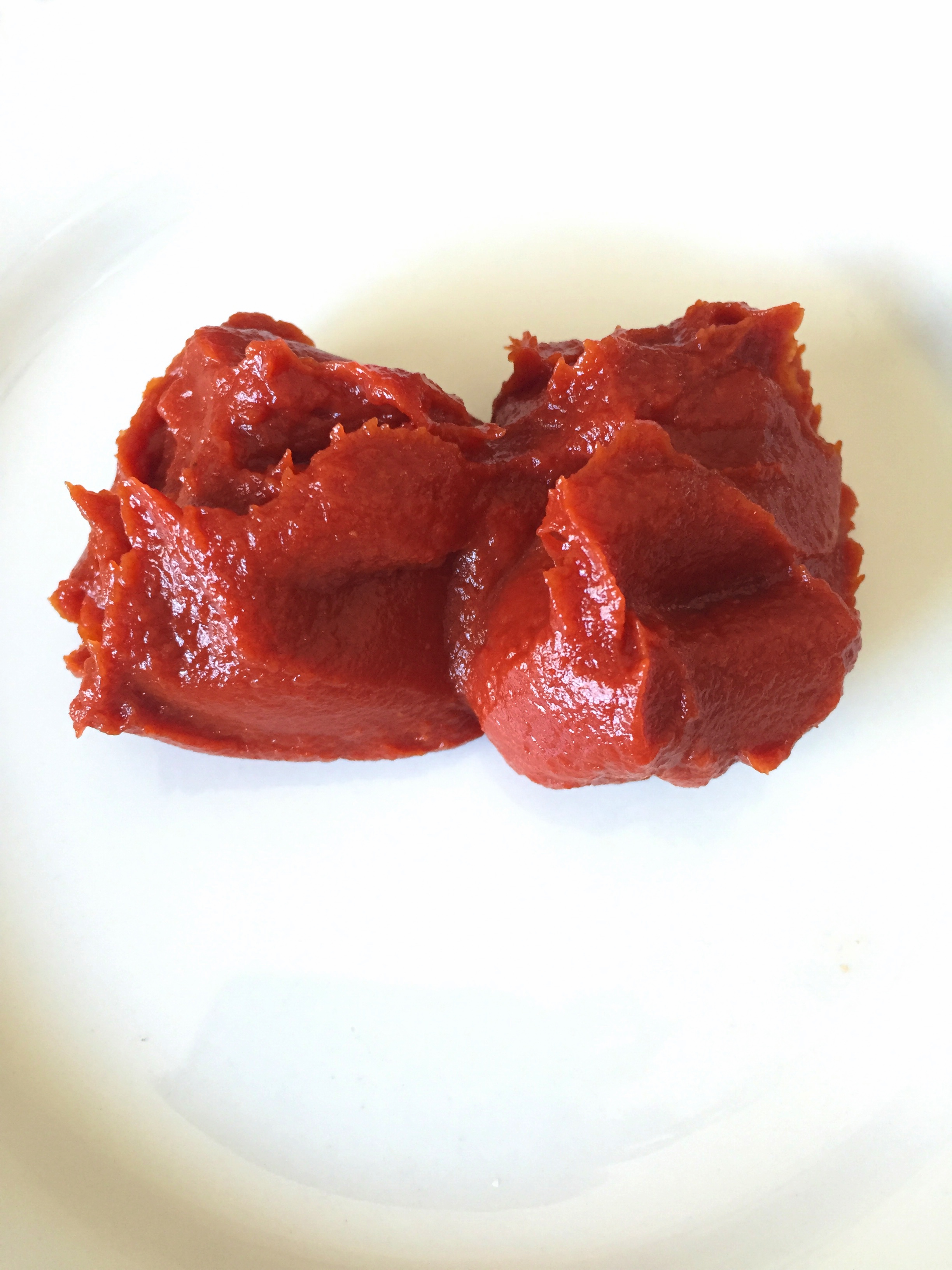 After those cook together for a couple minutes, you'll add some tomato paste. Stir until it's all combined, then add chicken bones.  I don't know about you, but I don't typically have a whole, uncooked chicken carcass sitting in my fridge.  To solve that problem, I bought a pack of bone-in chicken breasts and removed the meat from the bones. Then I placed the bones in the stock pot, and used that to make the broth (along with the onion mixture and 8 cups of water).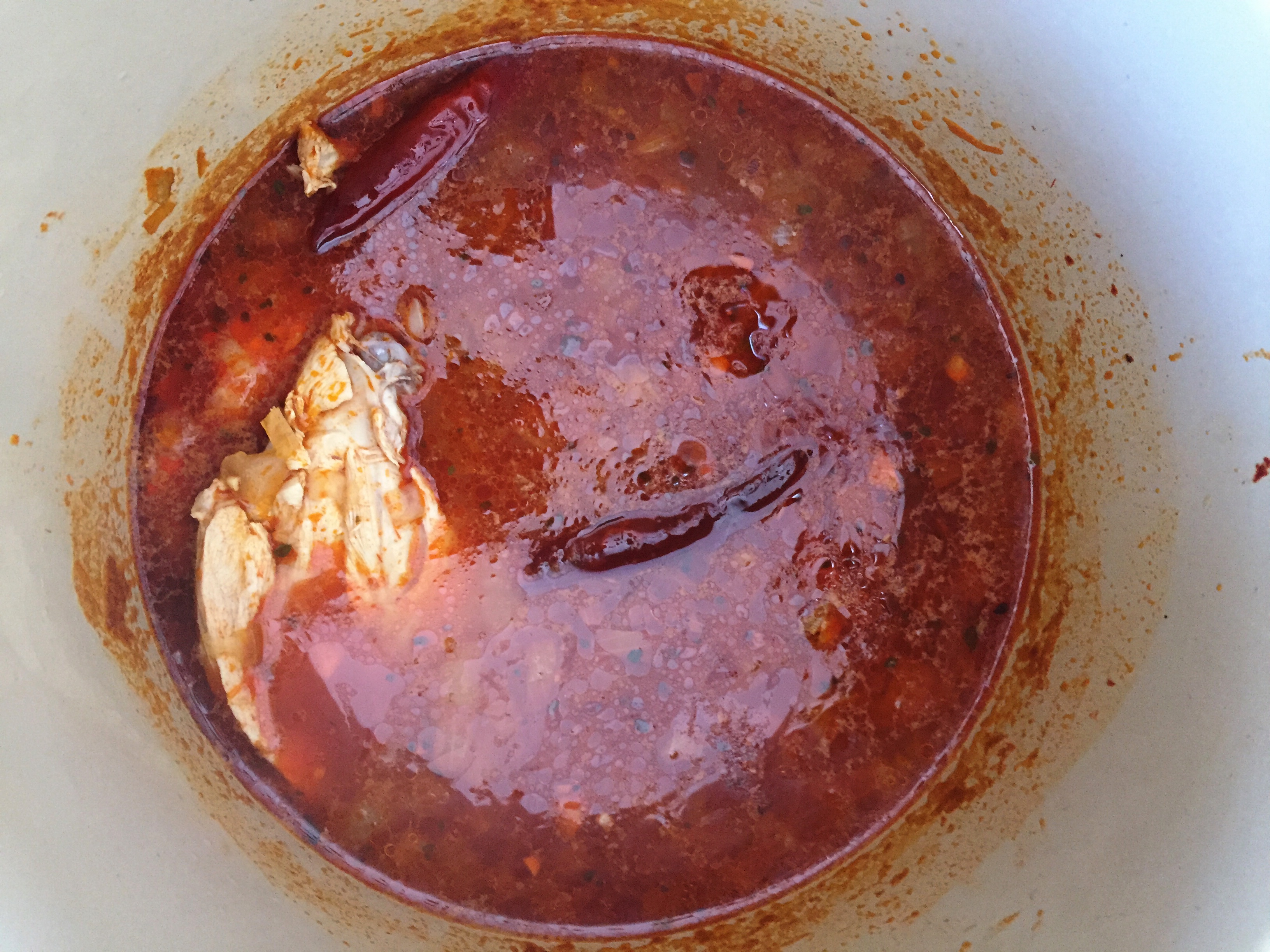 The broth simmers for 45 minutes; then it is strained through a fine mesh sieve into a bowl, discarding the solids.  While that was cooking, I cut the chicken breasts (previously removed from the bones) into bite sized pieces, and prepared the noodles for the rest of the dish.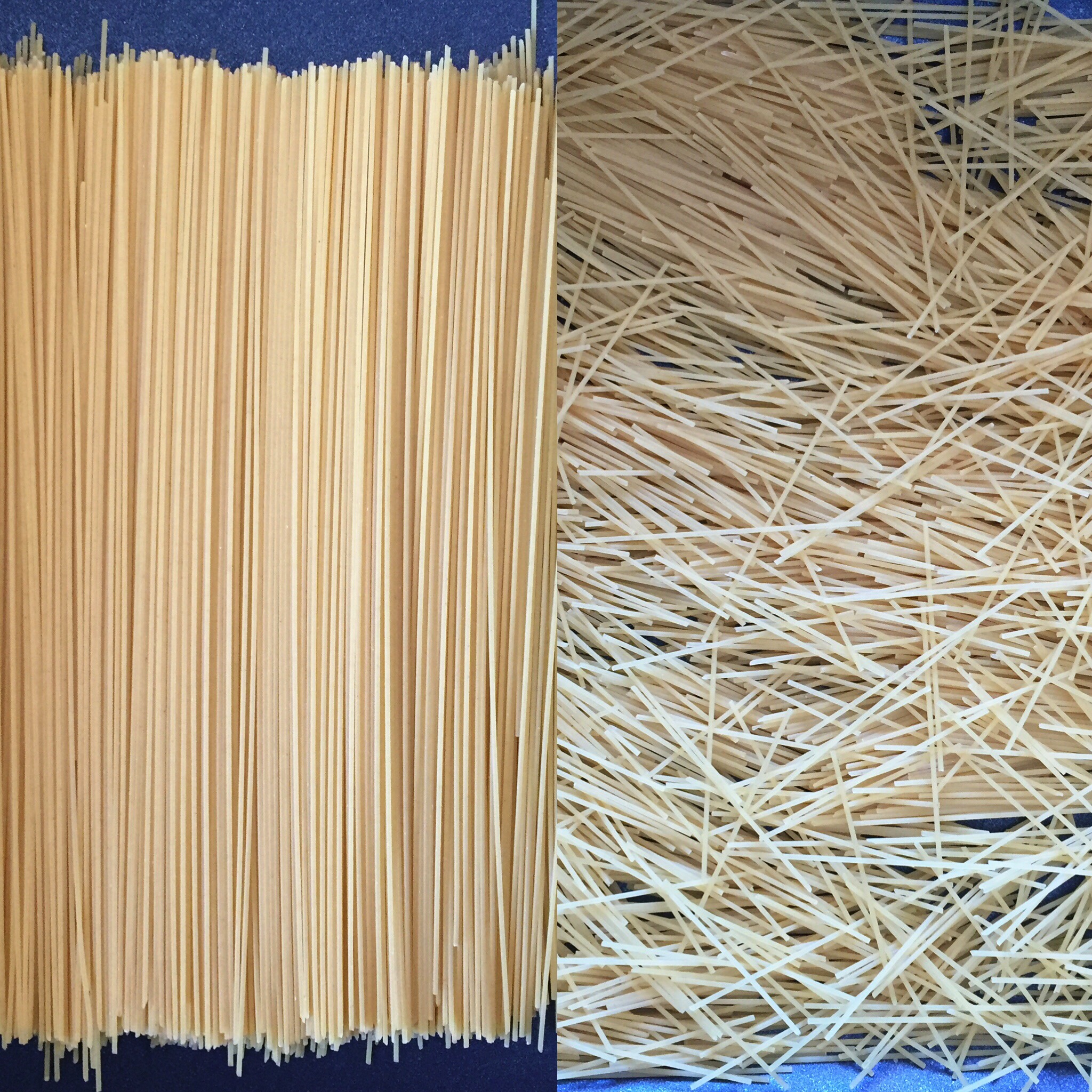 I'm not sure about your grocery store, but my local chain store doesn't carry fideus (noodles) that are in 2 inch pieces.  So I improvised with some vermicelli and broke those up.  Once you have your noodles broken into 2 inch pieces, toss them with some oil and bake until they are golden brown.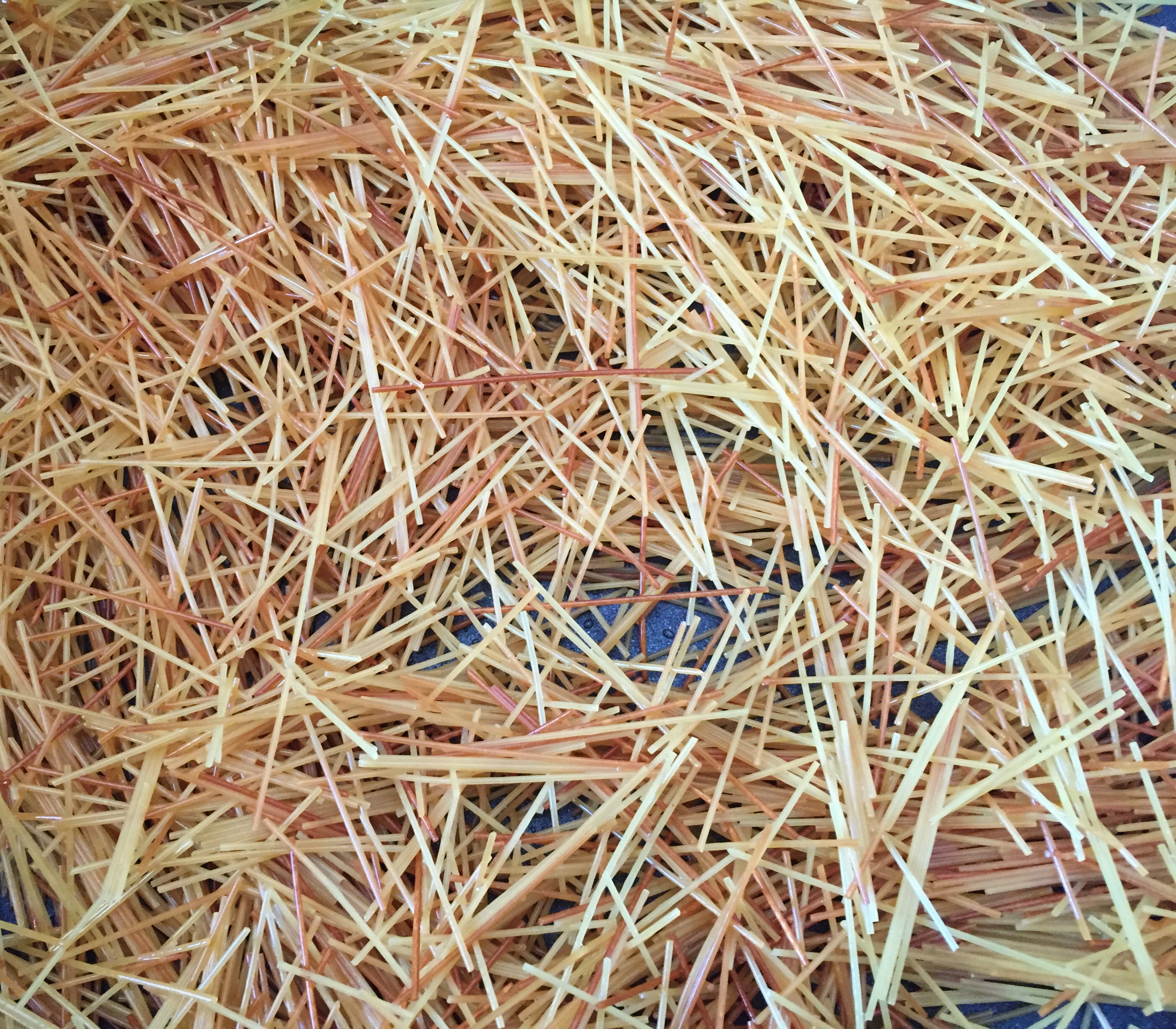 I had to cook mine for 10-15 minutes, and I kept a close eye on them so they didn't burn.  Toasting the noodles gives the dish another layer of flavor, and a nice nuttiness.  While the noodles were toasting, I started cooking the chicken pieces in a large dutch oven.
When the chicken is browned, you can add the toasted noodles and about 3 cups of the chicken broth.  Cook for a few minutes, pushing the noodles down into the broth as they soften.  The rest of the broth can then be added to the pot to finish cooking the noodles.  There should be enough liquid added to cover the noodles by an inch, and you can add water if there is not enough broth.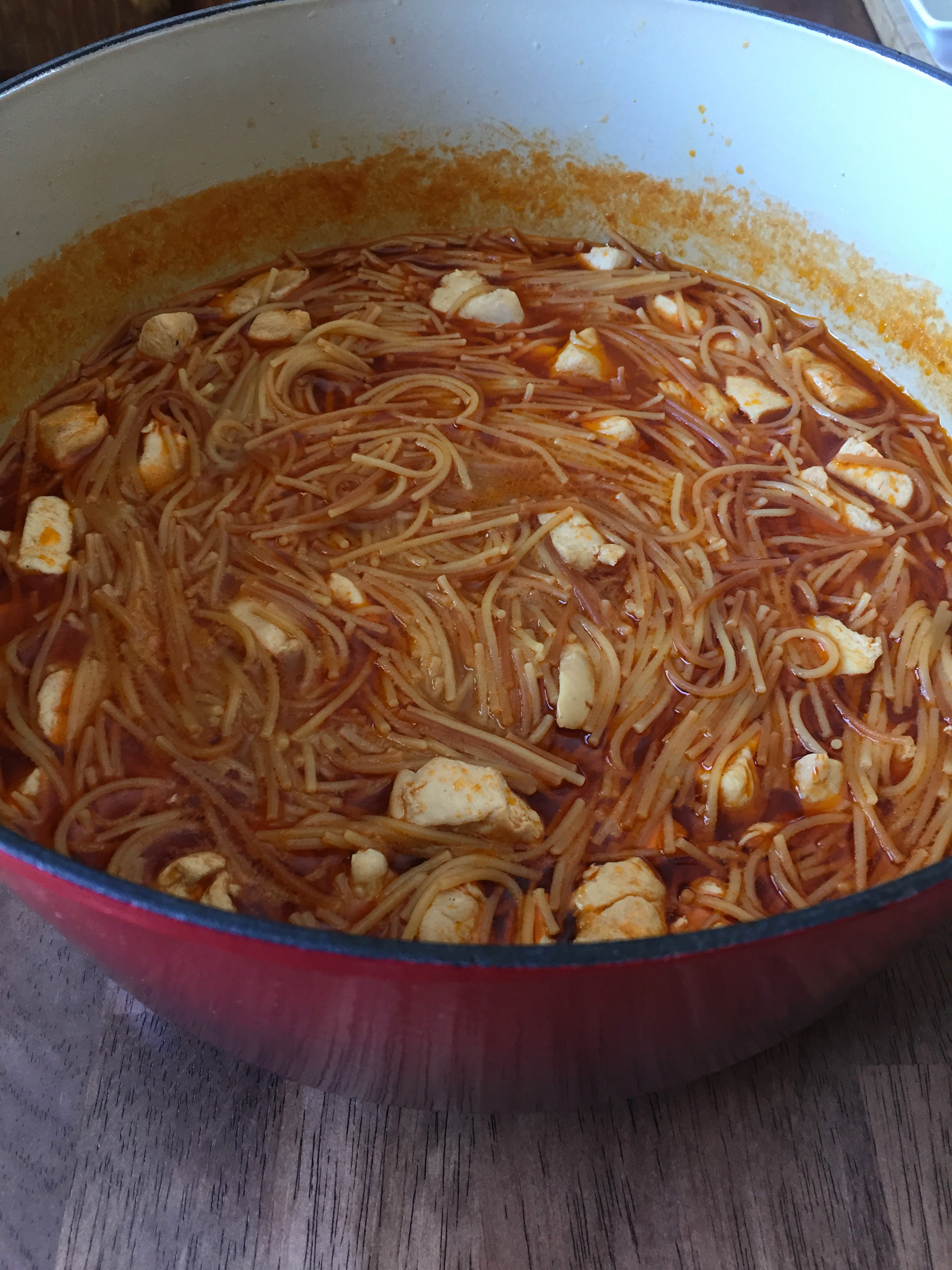 After 8-10 minutes, you'll end up with a glorious pot of chickeny noodles.  The final step of the meal is to mince some parsley and zest an orange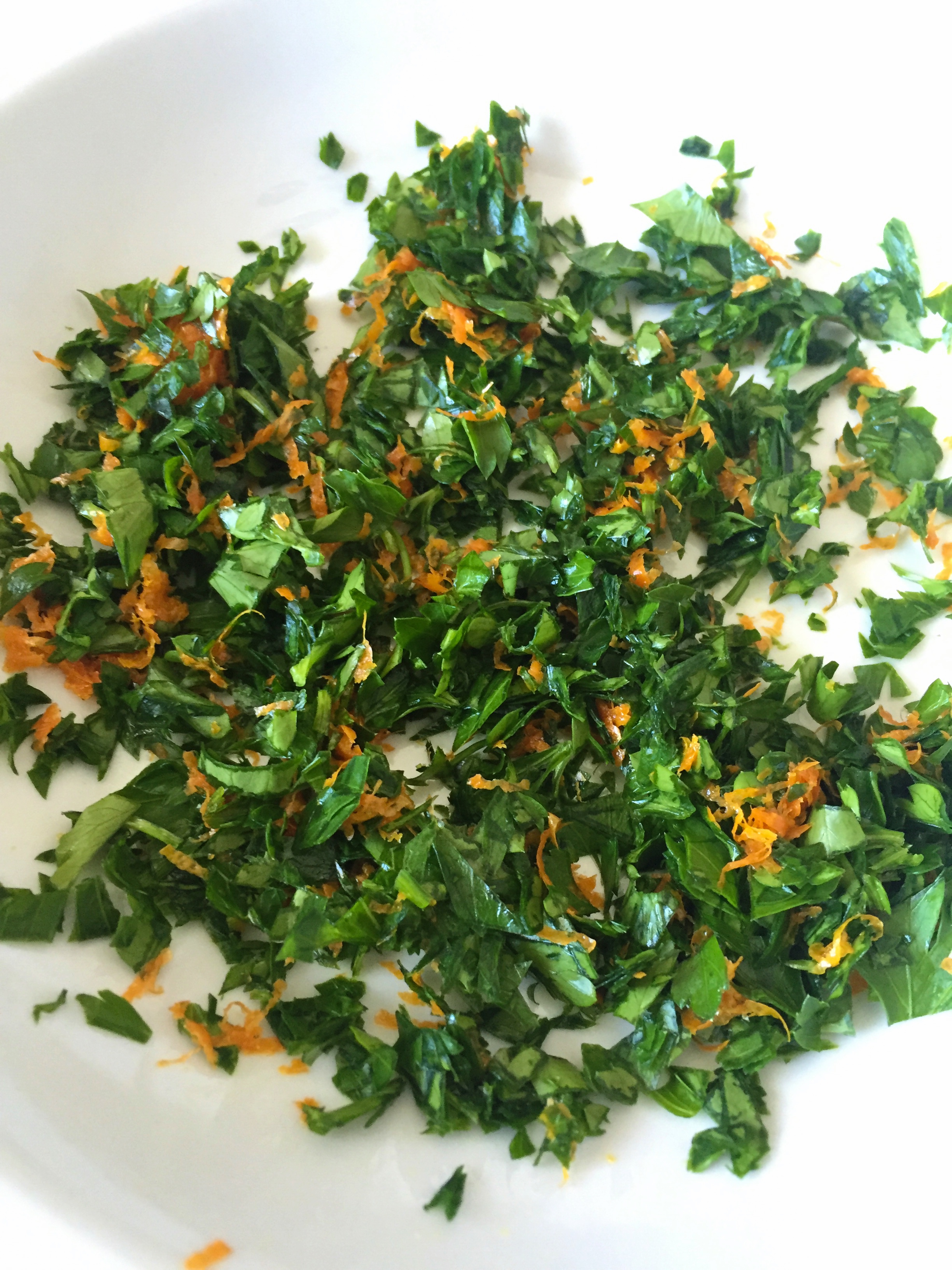 The orange zest really takes the dish to the next level; the citrus flavor and fresh herbs bring a bright, fresh flavor that rounds out the meal.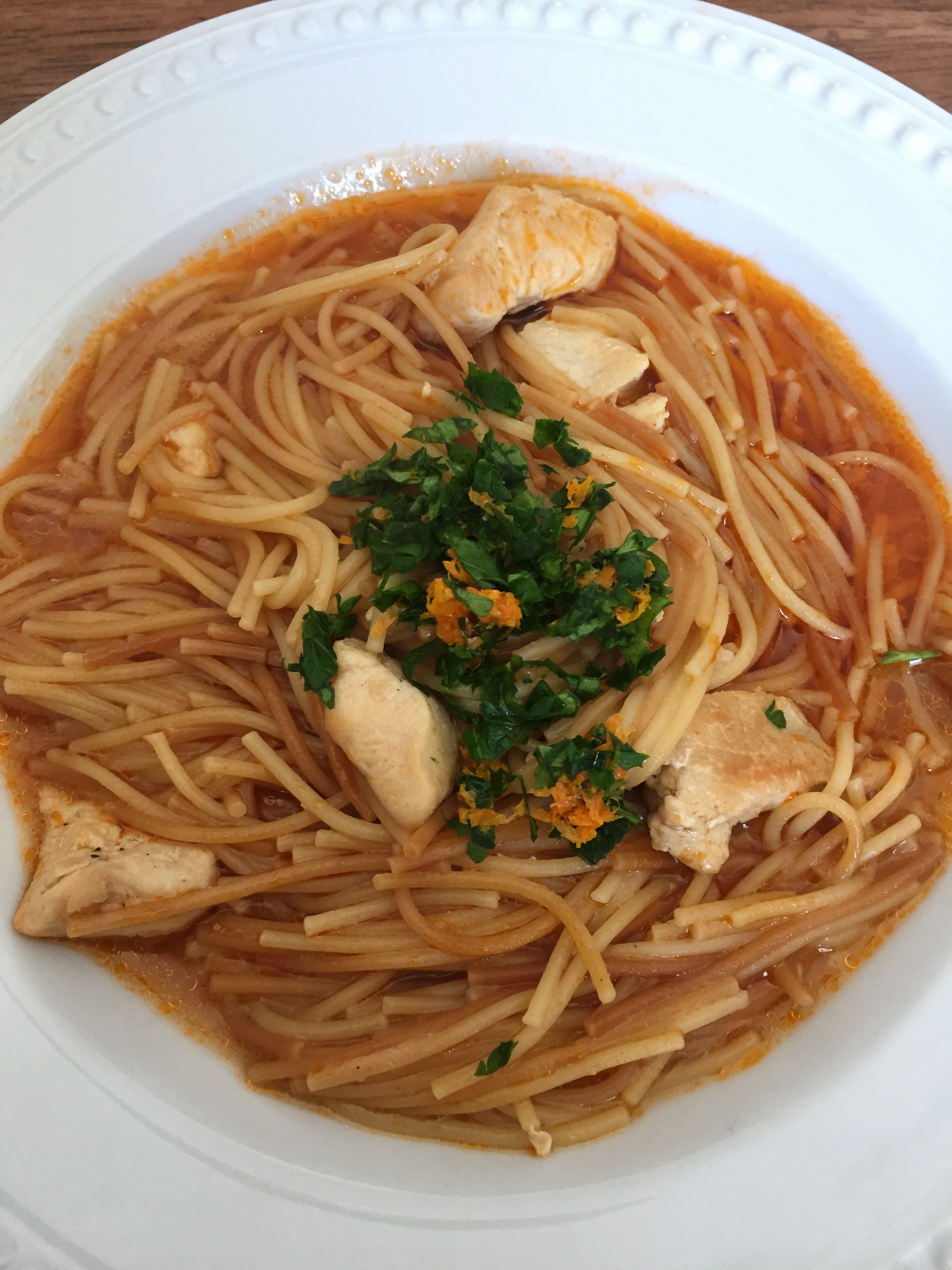 If you are feeling under the weather or need a comforting, cozy, carb-loaded dish, this is a great alternative to the typical chicken noodle soup.  Fideuà will definitely have a place in my rotation of meals.  I can't wait to make it again – thanks for sharing Gustavo!

1913 Total Views
1 Views Today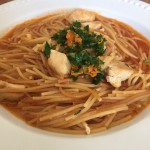 3

tbsp

olive oil

2

onions

chopped (about 2 cups)

3

bone-in chicken breasts

meat removed from the bones (save meat for Fideuà)

4

large

garlic cloves

roughly chopped

2

small

dried hot red peppers

or use 1 pinch cayenne

1/2

tsp

fennel seed

1/2

tsp

coriander seed

1

large

bay leaf

salt and pepper

2

tbsp

tomato paste
1

pound

fideus (noodles)

or use Vermicelli or thin spaghetti

3

tbsp

olive oil

divided

1

pound

chicken breast

(or meat removed from bones from broth)

3

tbsp

fresh parsley

chopped

zest of 1 orange
Put 3 tablespoons of olive oil in a heavy soup pot set over medium-high heat.

Add onions and saute until softened and lightly browned, about 10 minutes.

Add garlic, dried hot pepper, fennel, coriander, bay leaf, and thyme. Season generously with salt and pepper, and cook for 2 minutes.

Stir in tomato paste and cook for 5 minutes, until mixture begins to look dry.

Add the chicken bones and 8 cups of water; cover and bring to a boil.

Uncover pot, reduce heat to a simmer, and cook for 45 minutes.
Put the noodles in a large roasting pan or baking sheet. (If using vermicelli or thin spaghetti, break it into 2-inch pieces first)

Pour 2 tablespoons of olive oil over noodles and toss with hands to coat. Bake noodles for 10-15 minutes, turning with tongs half-way through, until noodles are golden brown.

Place a wide, heavy pot on the stove over medium heat, add 1 tablespoon olive oil and pieces of chicken breasts. Season with salt and pepper.

Saute chicken for 3 minutes, turn piece over and cook for additional 3 minutes.

Add toasted noodles, pressing down a bit. Ladle 3 cups hot broth over the noodles and bring to a boil. Push down on the noodles with a wooden spoon as they soften into the broth.

Add enough of the remaining broth to cover the pasta and chicken by 1 inch (add water if necessary to have enough liquid).

Lower heat and cook at a simmer for 8-10 minutes, stirring occasionally. Add more broth if mixture dries out.

Mix the parsley with the orange zest; then top noodles with parsley/zest mixture and serve.
**Cardinal Rule** Traditional fideuà is made with saffron-infused water. If you have it on hand, steep a pinch of saffron in 1/4 cup of water.  Add the saffron-water to the chicken and noodles when they are cooking.
---
---