Sun-dried Tomato Quinoa
This was an exciting week for me – I finally had a dishwasher installed in my apartment!  I've lived in the same apartment for a little over two years now, and when I first moved in I was told by the apartment manager that they were going to be installing dishwashers "soon".   They must have been using a different dictionary than I was, because apparently "soon" = 2 years for them.  Nevertheless, the time has finally come 🙂
I raced home from work Tuesday night (after making a quick pit-stop at the store to by dishwasher detergent), and marveled at the beauty.  Of course I ran it that night, even though it might not have been exactly full.  For me it was love at first sight; Richmond, on the other hand, wasn't so sure of it.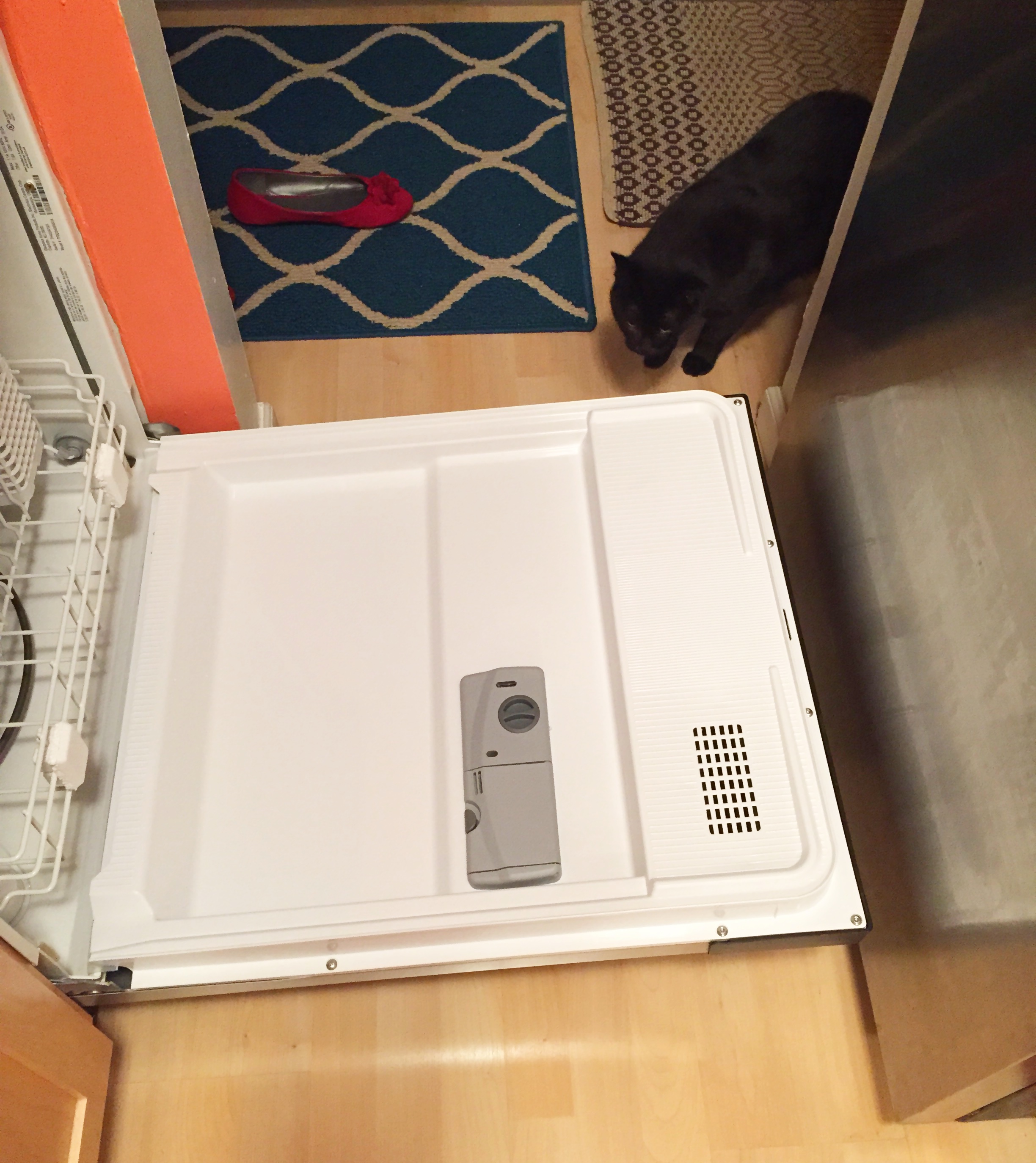 It is with mixed feelings that I welcomed the newest addition to my kitchen.  As someone who cooks and bakes very frequently, I have a full kitchen.  Whether it be foodstuffs or pots/pans/utensils/bowls/plates/etc, my cupboards are packed.  So, while having a dishwasher will cut down drastically on the time I spend on clean-up, it also means losing precious cabinet space.  I have made peace with that, however, and am thoroughly enjoying not washing every plate, glass, and utensil that I use!
I was able to tear my gaze away from the dishwasher long enough to make a delicious sun-dried tomato quinoa dish this weekend.  Like rice, quinoa is a very versatile ingredient and works great as a side dish.  Instead of water, I used vegetable stock with a 2:1 ratio of liquid to quinoa to add a little boost of flavor to the dish.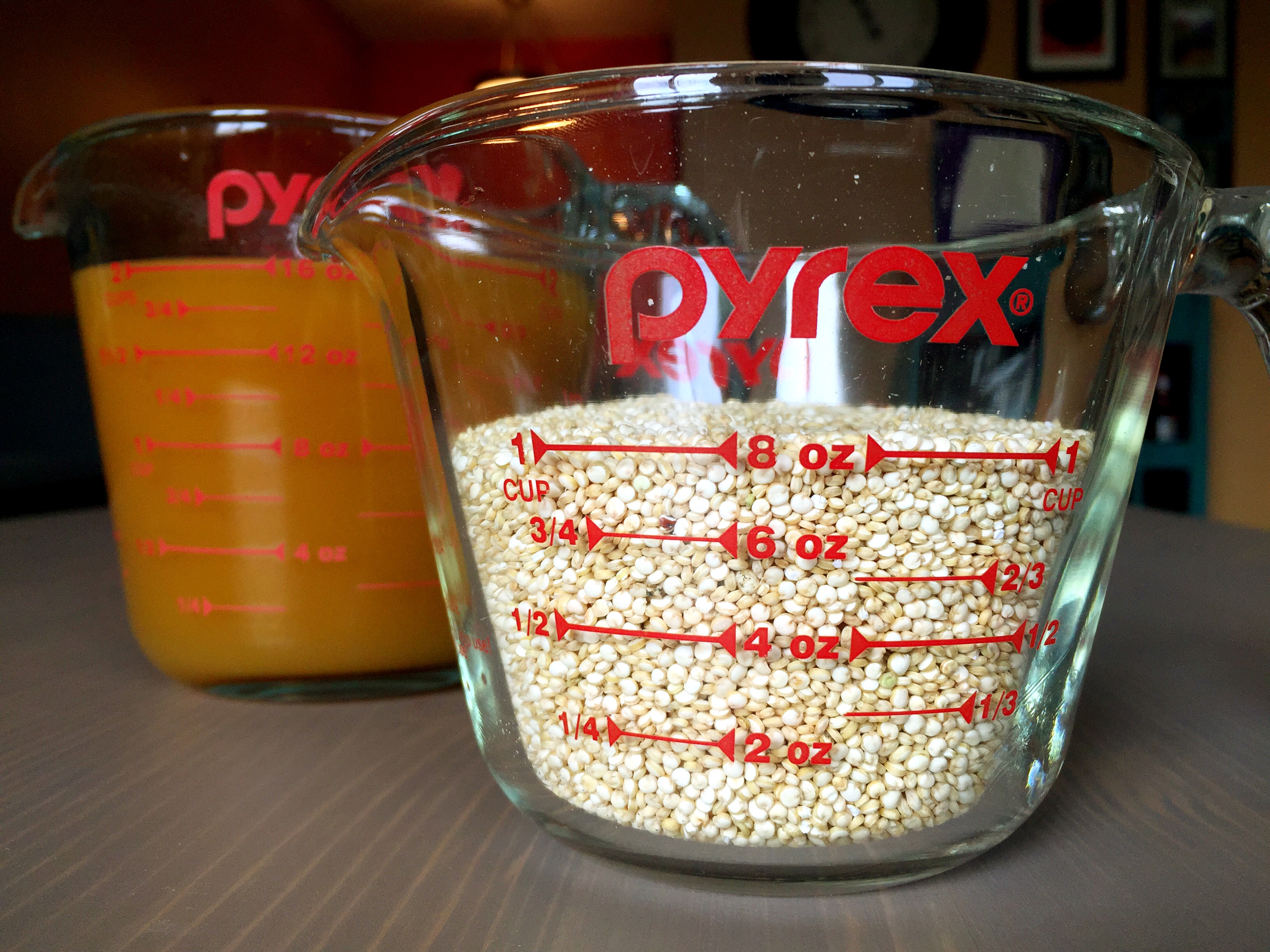 While the quinoa simmered, I diced half an onion and minced some garlic that was sauteed in a little olive oil.  Once the quinoa was cooked, I added some chopped sun-dried tomatoes, the cooked onion and garlic, and toasted pine nuts for a little texture.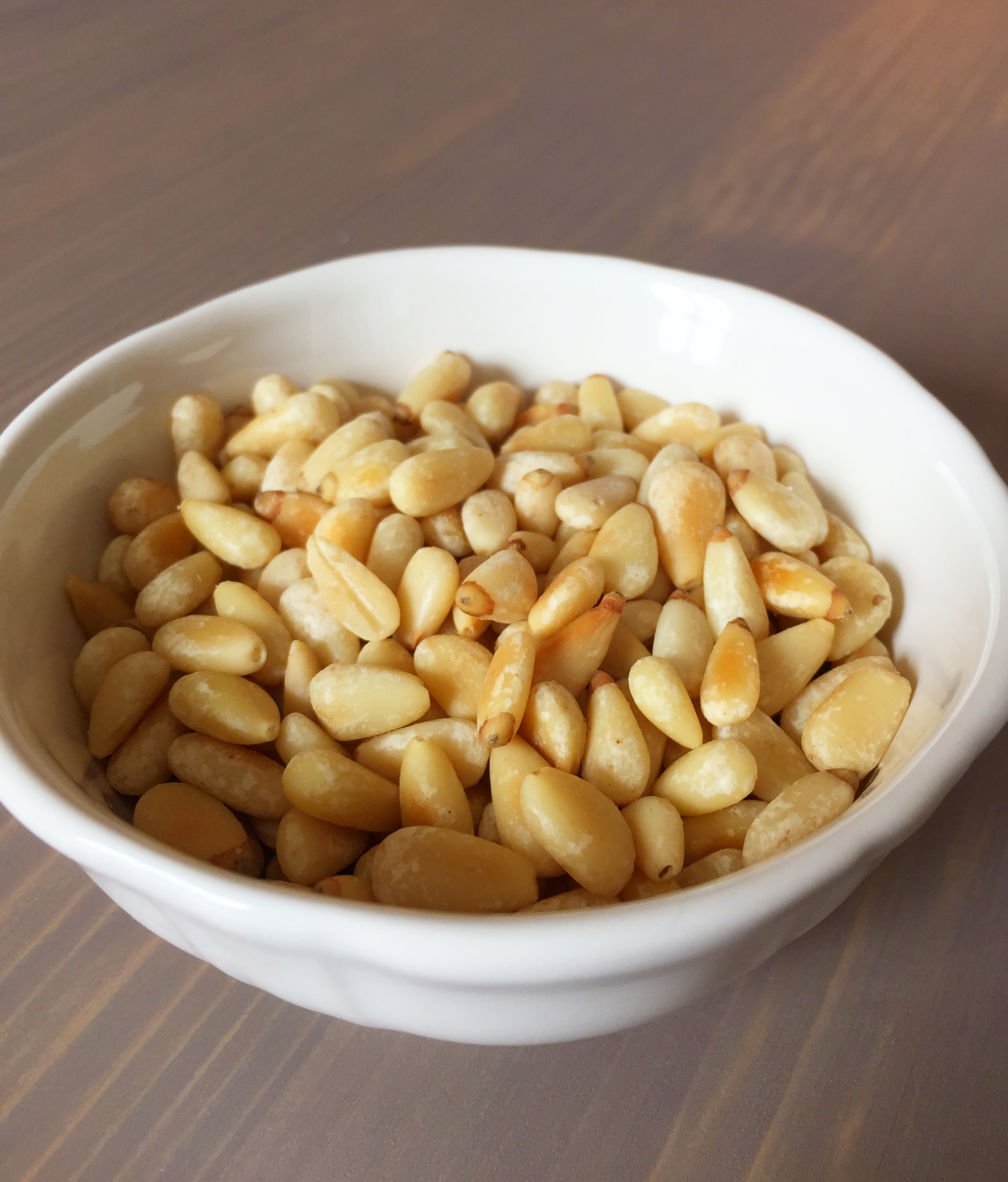 I wanted to add something that would give a little bulk to the dish, but I wanted to keep this dish meat-free.  I had some quartered artichoke hearts, so I heated a little olive oil in a pan, coated the artichoke hearts in a couple pinches of whole wheat flour and lightly sauteed them until they were warmed through.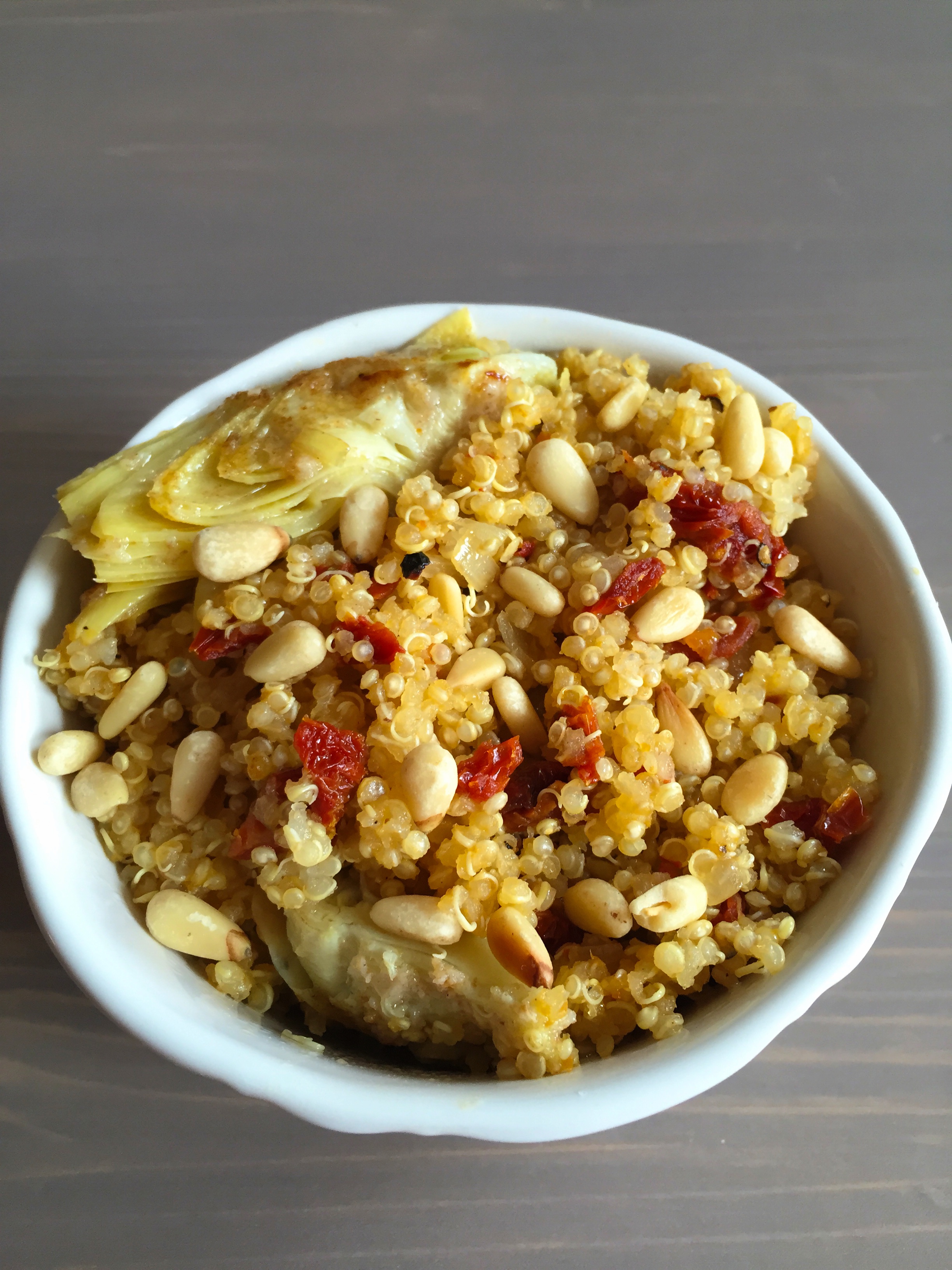 This would be a perfect side dish for the chicken with creamy herb sauce I posted a few weeks ago.  But really, it would go well with most chicken, beef or pork dishes you make.
Now, if you don't mind, I'm going to go admire my dishwasher a little more…
2540 Total Views
1 Views Today
2

cups

vegetable broth

1

cup

quinoa

2

tbsp

olive oil

1/3

cup

sun-dried tomatoes

chopped

1/2

large

onion

diced

1

clove

garlic

minced

2

tbsp

pine nuts

toasted

15

oz can

quartered artichoke hearts

well drained

1

tbsp

flour

all purpose or whole wheat

Salt and black pepper

to taste
Lightly toast the pine nuts in a skillet over medium heat. Pay close attention as the pine nuts can burn easily. Once lightly browned, remove from heat and put pine nuts in a bowl, set aside.

In a medium saucepan, combine the quinoa and broth, and bring to a boil.

Reduce heat to low, cover, and lightly simmer for 15 minutes or until the liquid is nearly absorbed and the quinoa is tender.

Meanwhile, heat 1 tbsp olive oil in a skillet over medium-high heat. Add the onions and cook, stirring occasionally, until the onions are soften and become translucent, about 5 minutes.

Add garlic to the onions and saute until fragrant, but not brown.

In a separate pan, heat the remaining oil over medium-high heat. Lightly coat the artichoke hearts with flour, and gently saute them until they are golden brown and heated through.

Fluff the quinoa with a fork, and stir in the cooked onion, garlic, artichoke hearts and pine nuts.

Season with salt and pepper, and serve.
**Cardinal Rule**  Like rice, do not stir the quinoa while it is cooking.  Leave the pan covered and allow the liquid to be absorbed in to the quinoa while you prepare the other ingredients.
Recipe adapted from Earthly Choice
---
---