Spinach Apple Salad with Maple Vinaigrette
There are so many things to love about fall, but one of the best parts (in my food world at least) is that honeycrisp apples are once again available.  Cultivated by the University of Minnesota, honeycrisp apples are the best apples.  That's not just an opinion, it is a fact.
A great way to feature these apples is in a salad.  In addition to the bacon quiche with cheesy grits crust I made for brunch a few weeks ago, I also made this spinach salad that was chock full of delicious goodies.  It had slices of crisp, tart-but-sweet honeycrisp apples, crumbled bacon, chunks of blue cheese, chopped pecans, slightly sweet dried cranberries, and a little bite from sliced red onions.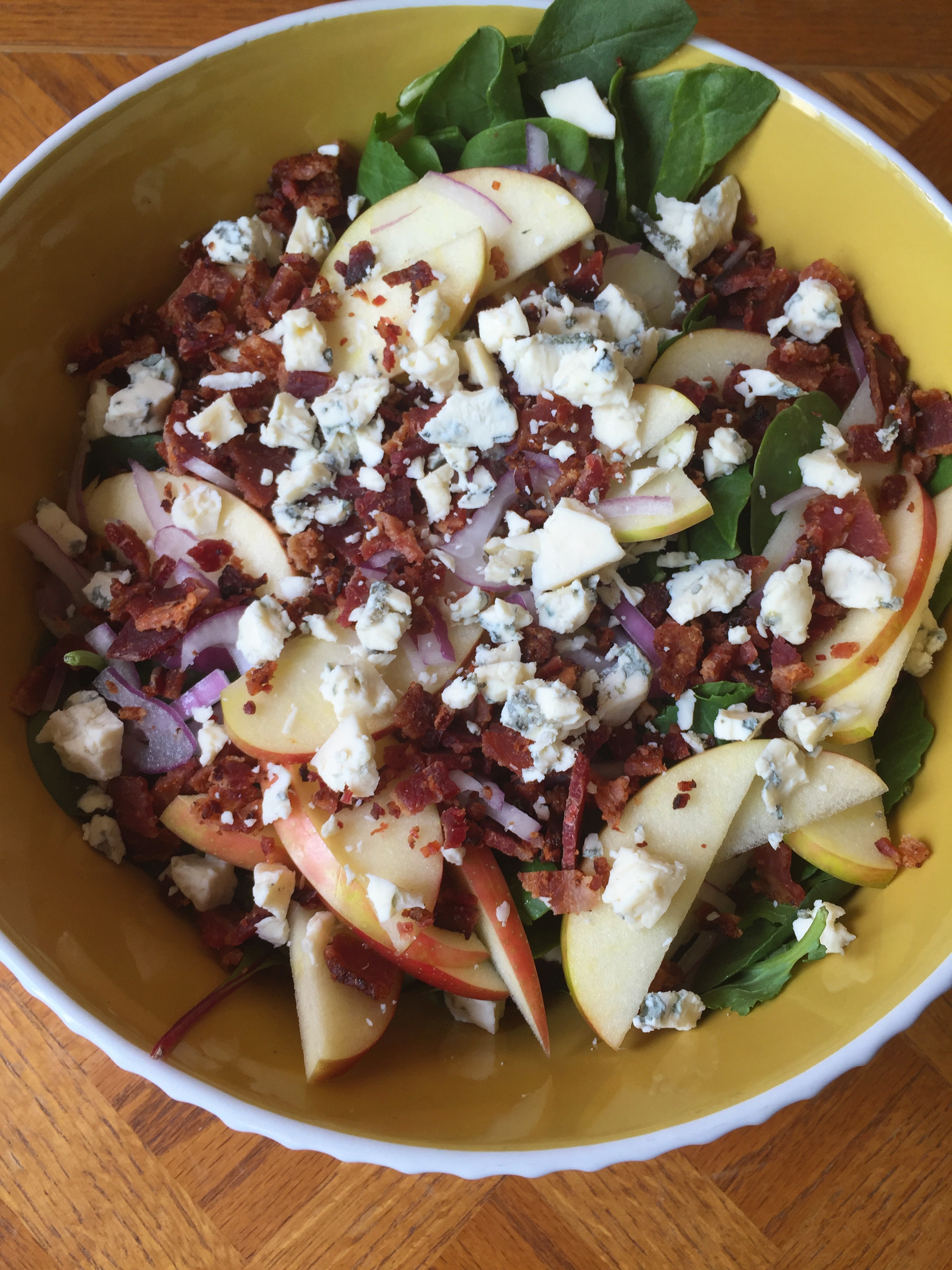 The apple slices help cut through the richness of other ingredients, like the bacon and cheese.  I cored and thinly sliced a honeycrisp for this salad, and tossed all the fixings together with a leafy "power blend" of baby spinach, baby kale, and baby chard.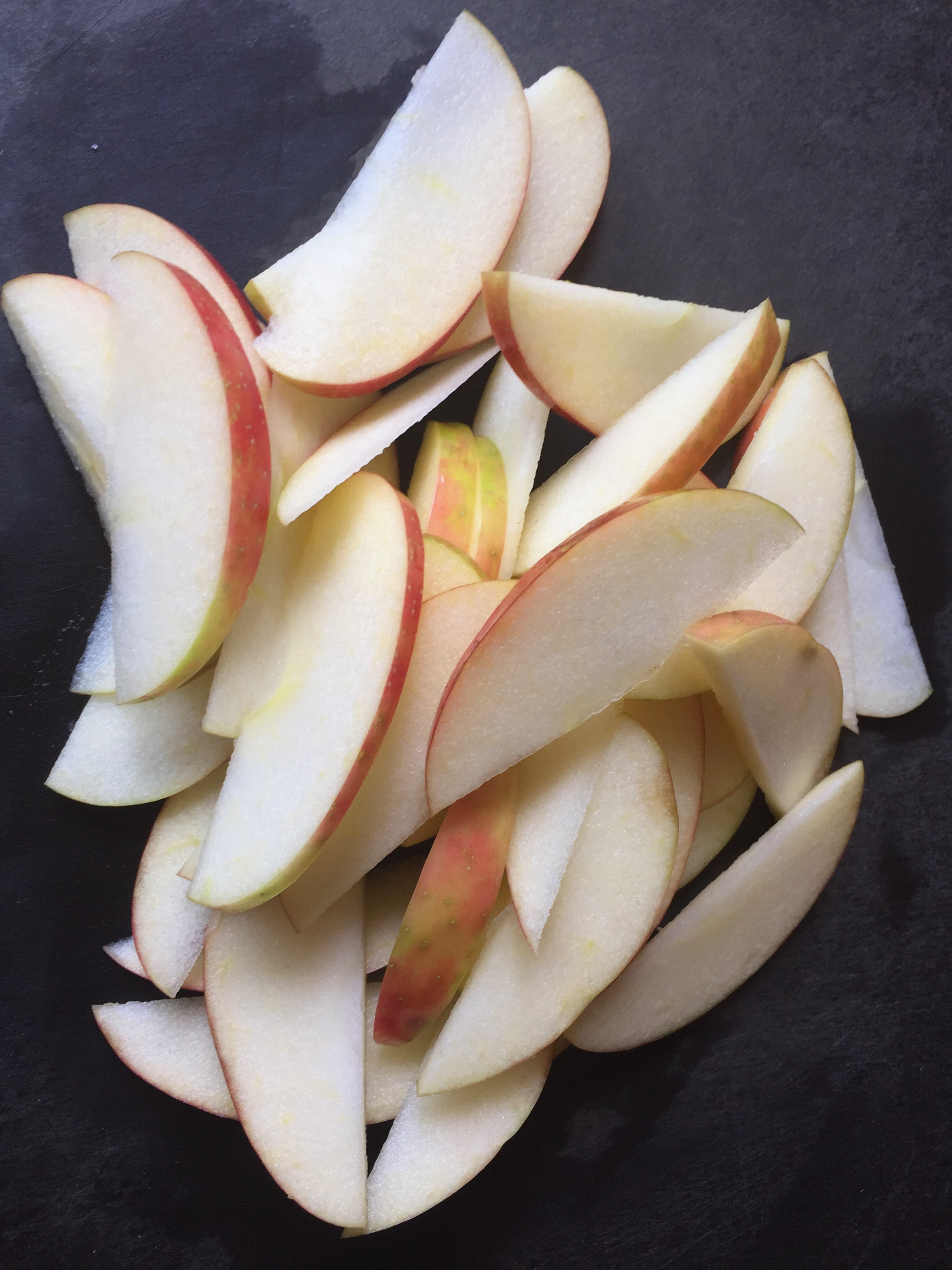 The salad blend was a lovely, hearty mix that stood up fantastically with the other ingredients.  And let's face it, having all those healthy greens makes it a little easier to justify adding bacon and blue cheese to a salad!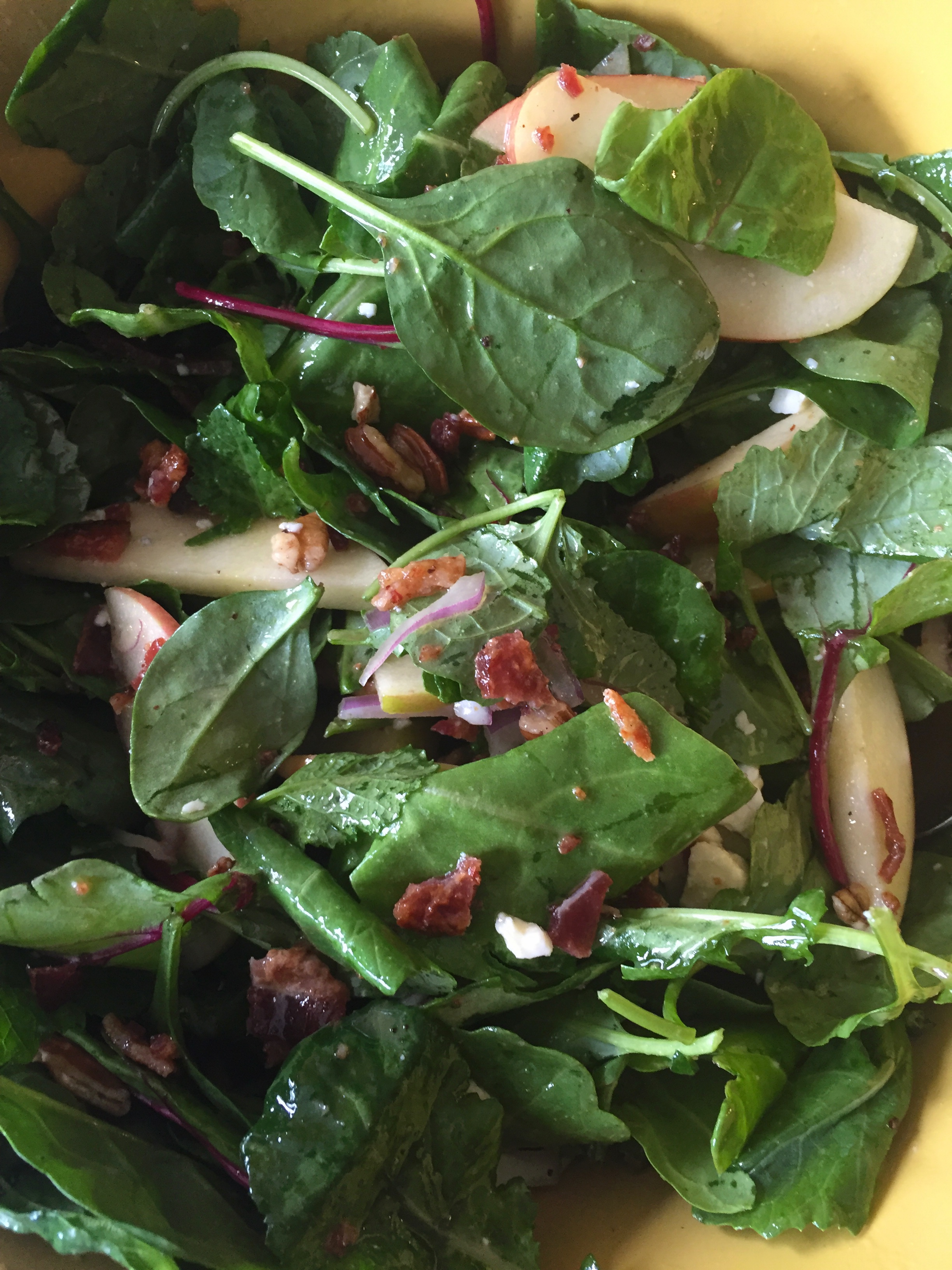 The dressing for the salad is a quick, simple maple cider vinaigrette.  There is a smoky sweetness from maple syrup (please do yourself a favor and use real maple syrup for this vinaigrette, not the imitation kind in the plastic microwaveable bottles), and the acid base of the dressing is tangy apple cider vinegar.  I used to be extremely impressed and mesmerized by vinaigrettes, the word just sounds fancy!  Truth is, they could not be easier to make – simply dump all the ingredients into a mason jar, shake, and pour over your salad.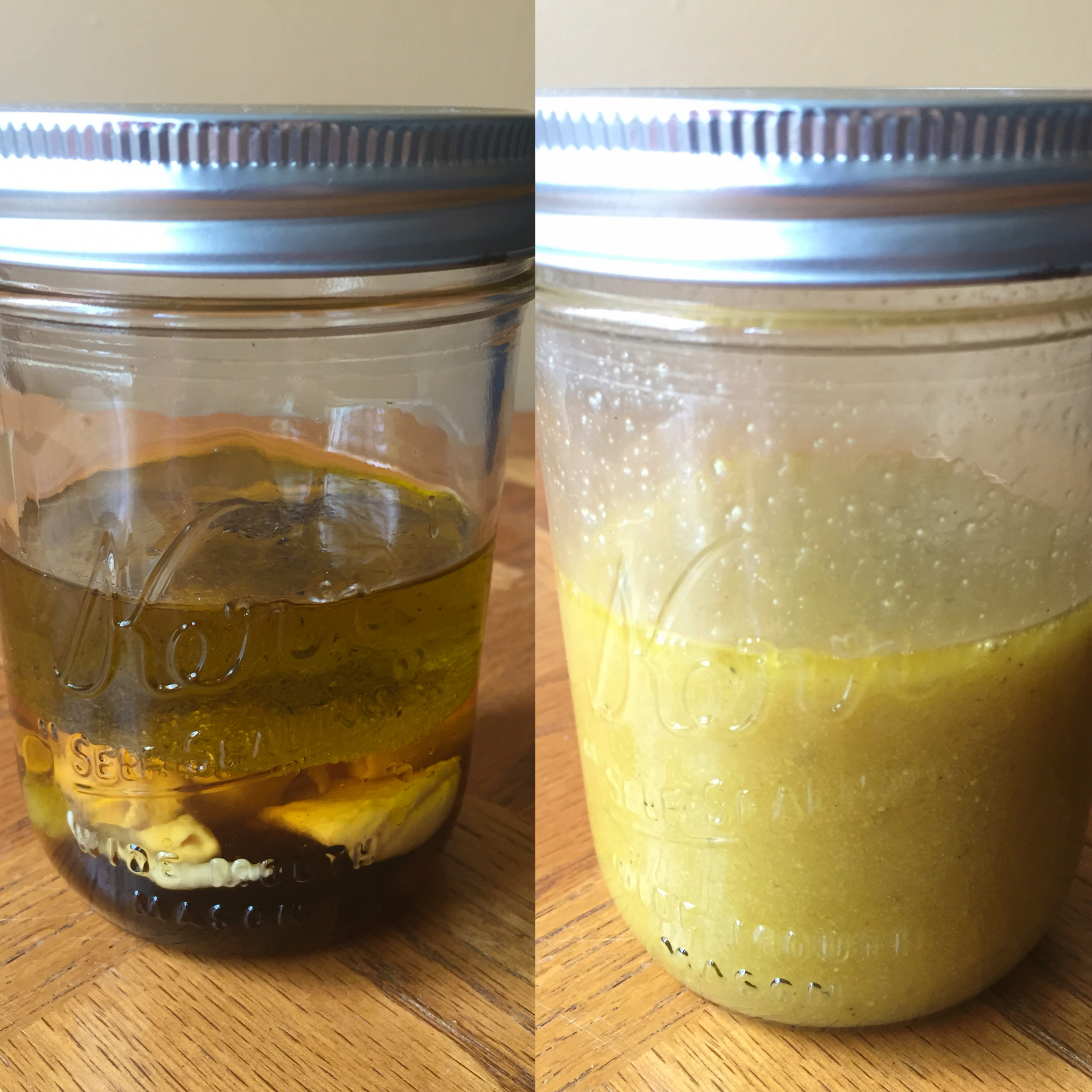 In terms of brunch, this salad definitely makes up the the "lunch" portion, and it was the perfect accompaniment to the quiche "breakfast" component.  I would confidently call this restaurant worthy, and I am pretty sure I have paid $12-$15 for a similar salad before.  The best part about it is that it's so simple you can make it too!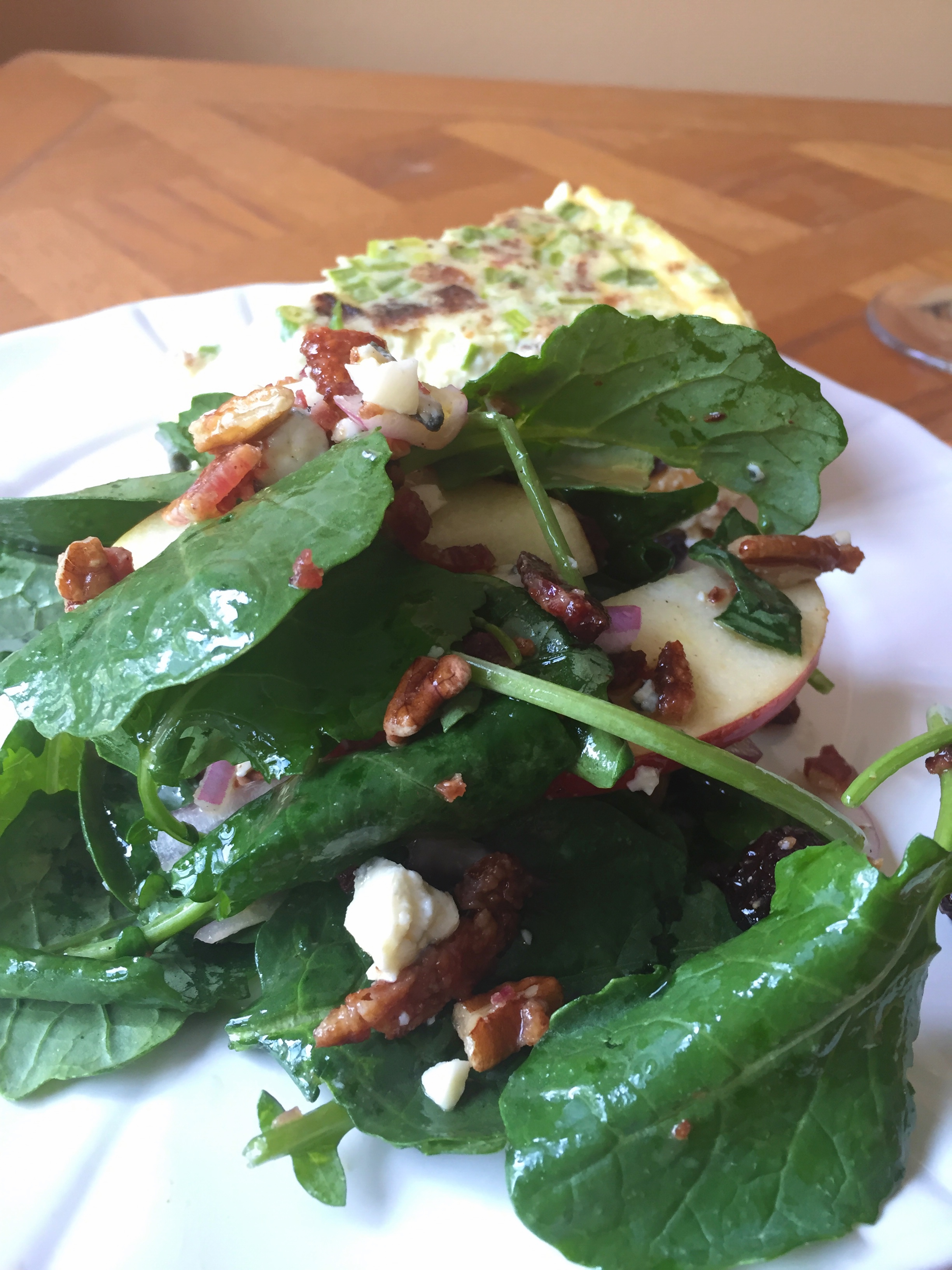 This weekend would be the perfect time to stop at an apple orchard, pick up some apples, and toss together this salad!

2085 Total Views
3 Views Today
10

oz

baby spinach

if you can find a power greens blend, use that

1

medium

honeycrisp apple

cored and thinly sliced

1/2

cup

chopped pecans

1/2

cup

dried cranberries

4

oz

blue cheese

crumbled

12

oz

bacon

cooked and crumbled

1/2

small red onion

thinly sliced, see note below
1/2

cup

olive oil

1/4

cup

apple cider vinegar

2

tbsp

pure maple syrup

2

tsp

Dijon mustard

1/4

tsp

salt

1/4

tsp

fresh cracked black pepper
In a large bowl combine spinach/greens with the rest of the salad ingredients (apple slices, pecans, dried cranberries, blue cheese, bacon and red onions)

Drizzle salad ingredients with desired amount of dressing (I used about half of the dressing). Gently toss to evenly coat.
Add all the dressing ingredients into a medium mason jar, cover with lid and shake vigorously to blend well.

The salad dressing can also be made by whisking all the ingredients together in a bowl.
**Cardinal Rule** To take a little of the bite out of the onion that can be off-putting to some people, place the sliced onions in a small bowl and cover with warm (not hot) water.  Soak onions for 30 seconds, drain, and repeat 2-3 times.  This helps mellow out the strong flavor of the onions.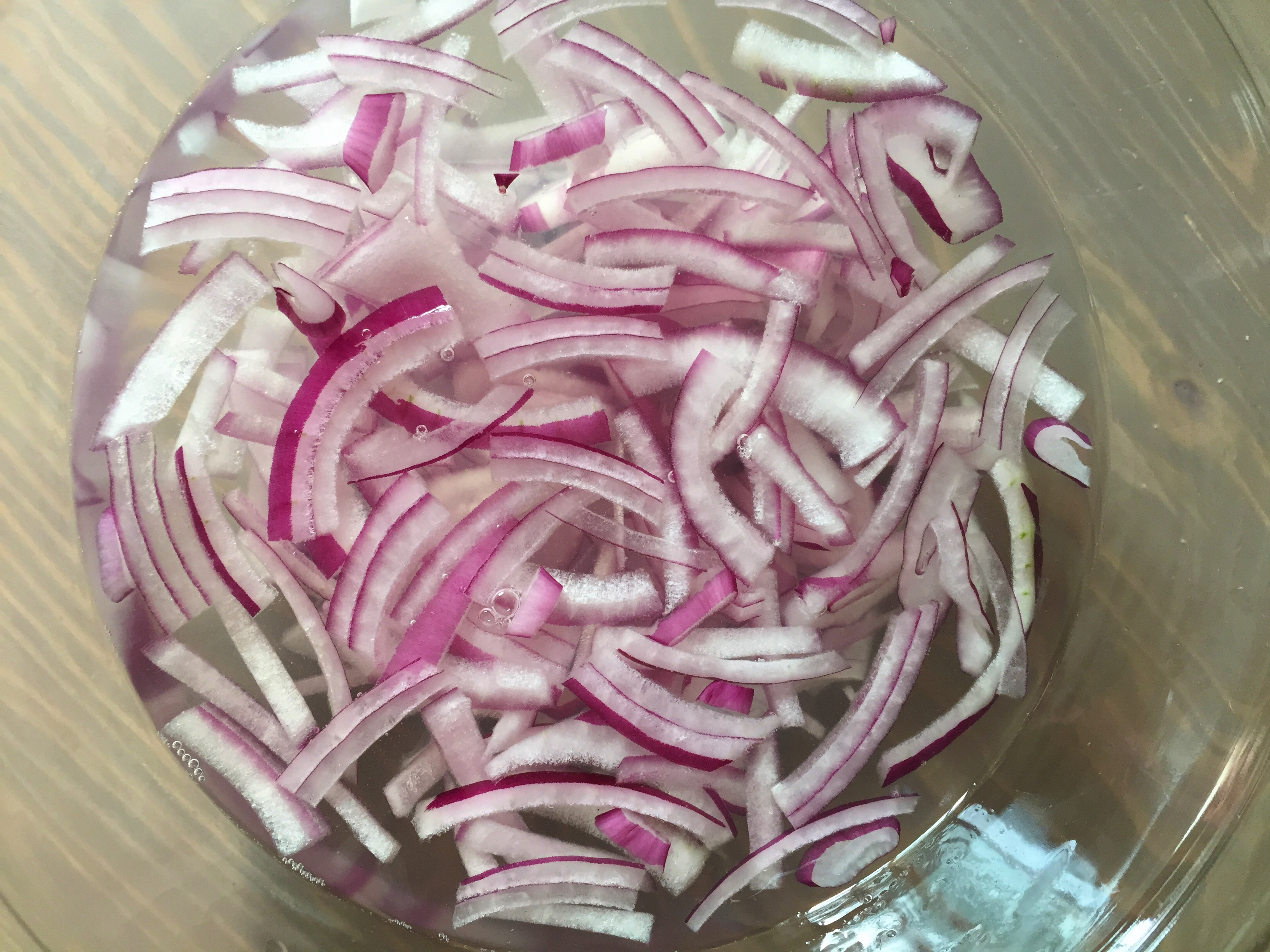 Recipe Source: Cooking Classy
---
---