Spaghetti Squash
At the end of May I went to the St. Paul Saints' opening game in their new stadium.  It was my friend Julie's birthday, and she got tickets to the game from her work.  I was fortunate enough to go with, and it was a TON of fun (complete with an odd little parade at the beginning).  The new stadium was very cool, and the company was fantastic!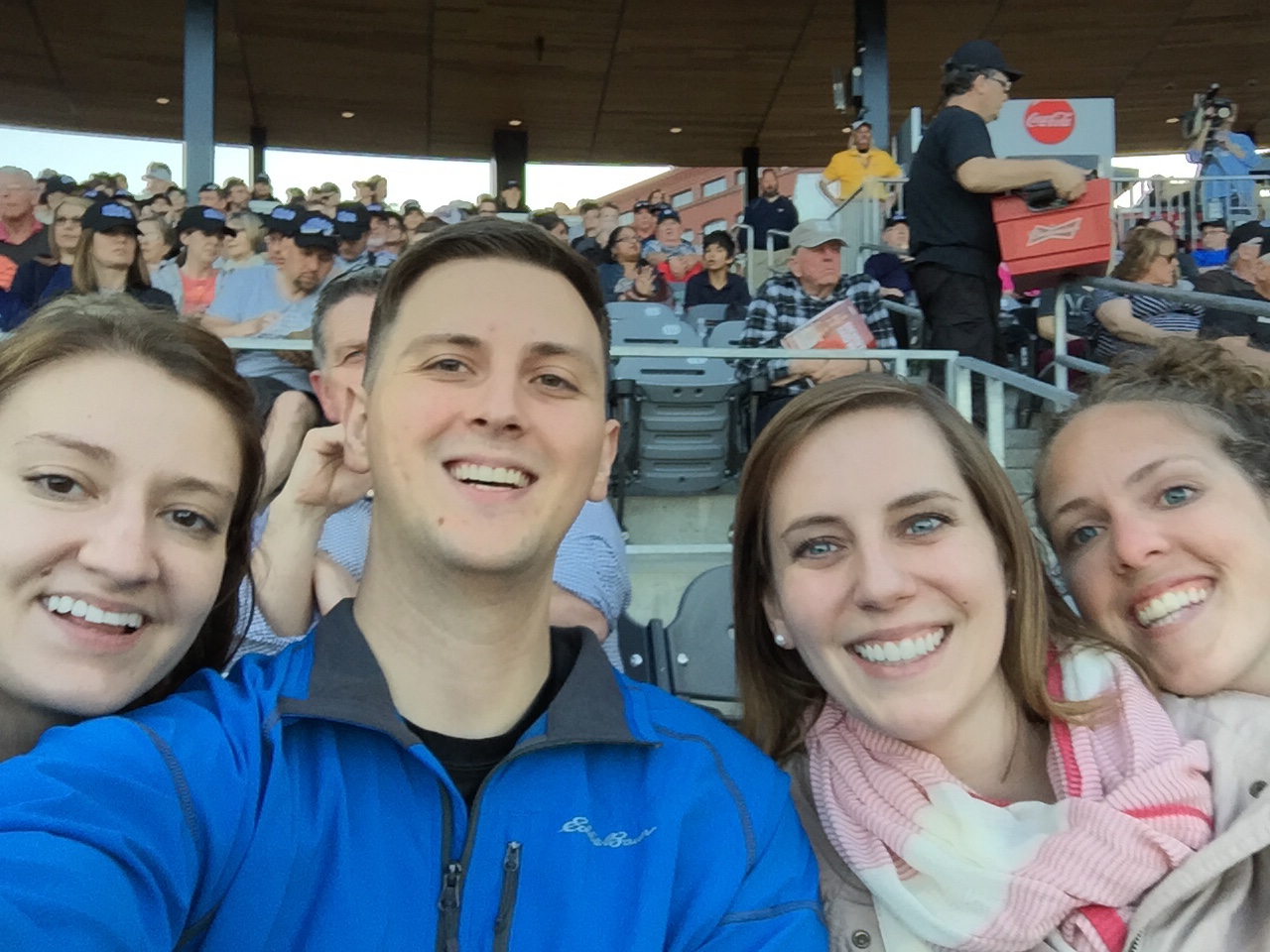 On the way to the game, we chatted a bit about my blog, and Katie asked if I had any tips for making spaghetti squash.  I hate to admit, but I have never really been successful at making spaghetti squash.  I was up for the challenge, though, and I told her I'd give it a shot and blog about it (I'm all about making sacrifices for friends!).  I've tried different recipes and various methods of cooking the squash, and it's only really turned out well one time.  That is, until now!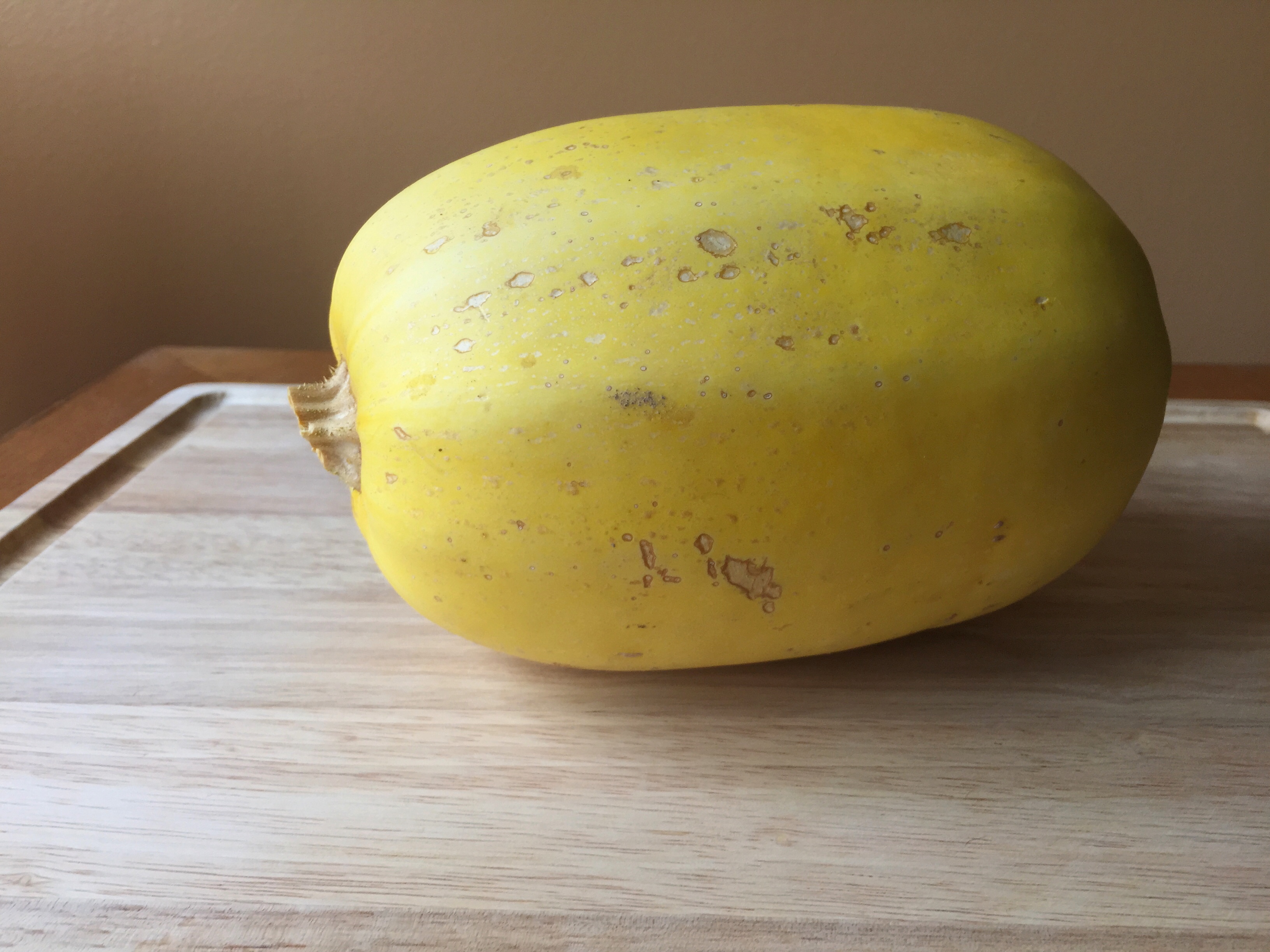 The approach I took this time was to cook it whole.  I made sure to stab pierce the squash all around it so the steam could escape while cooking, put it on a baking sheet, shoved it in the oven and let it cook away!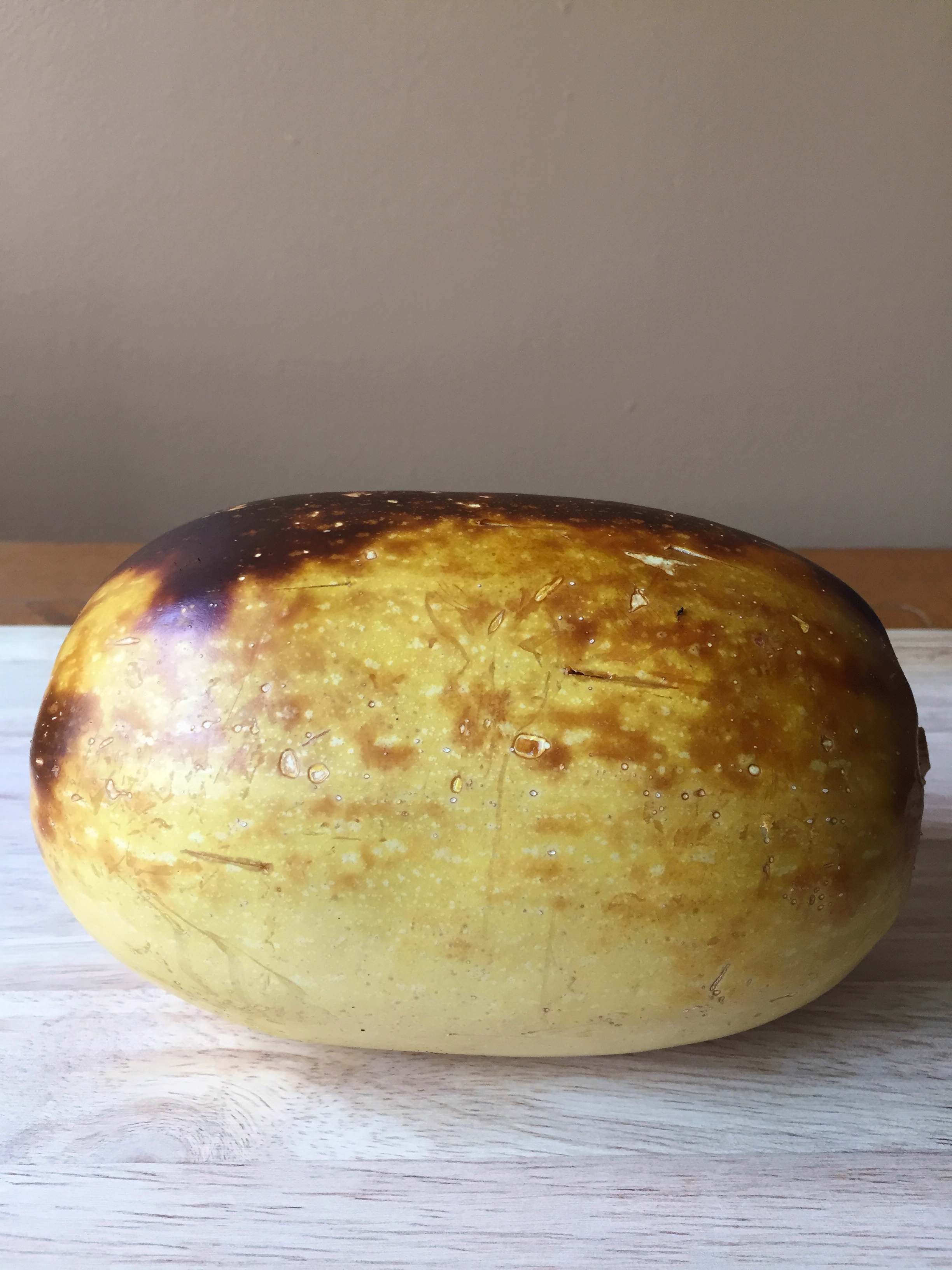 I cooked the squash until I could insert a pairing knife into the flesh with relative ease.  The skin on spaghetti squash is tough, so there will always be a little resistance when trying to pierce it.  The outside will darken as it cooks, and I recommend lining the baking sheet with foil so any liquid that escapes doesn't cook on the pan.  In total I cooked the squash for 1 hour and 15 minutes.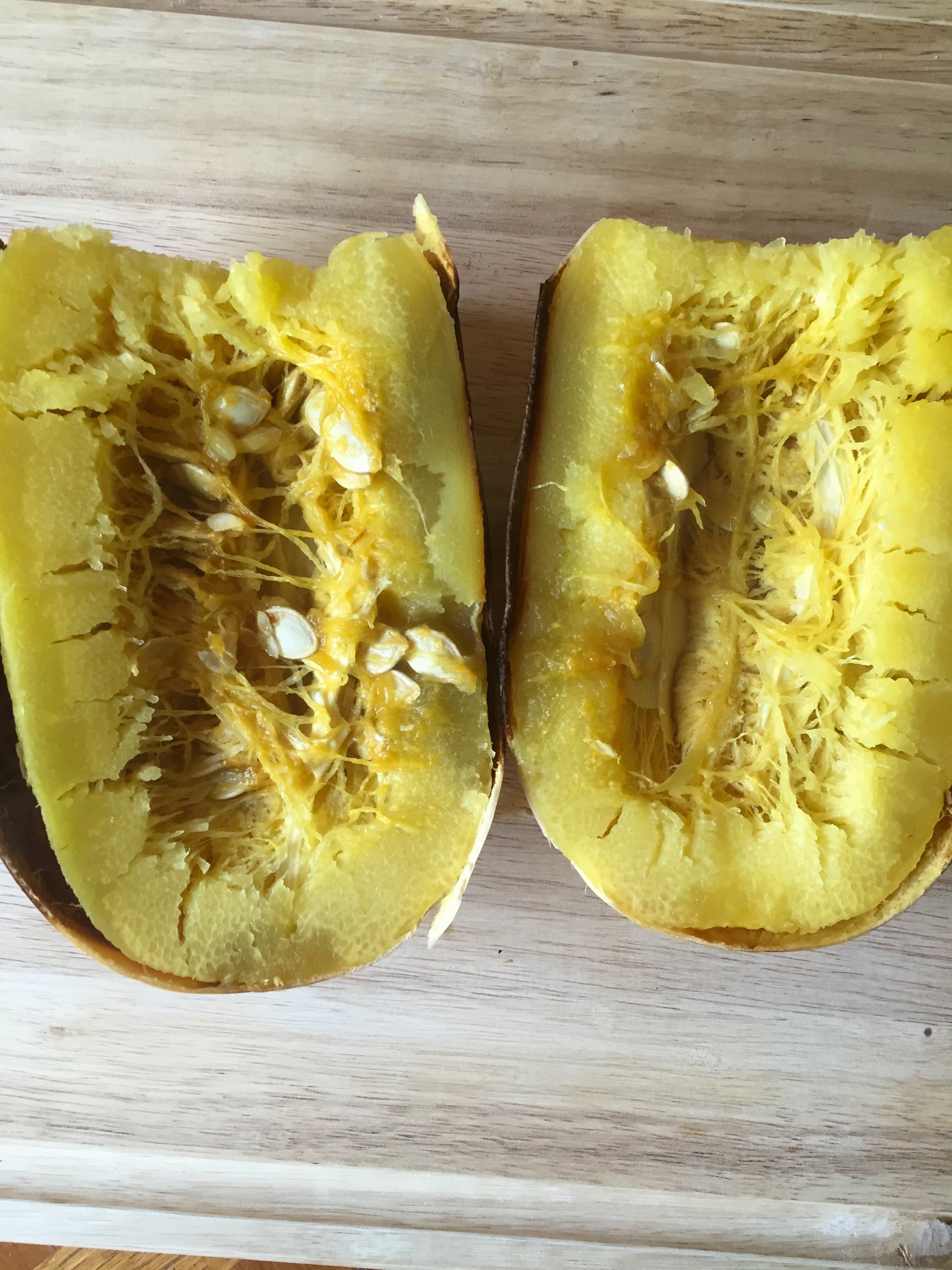 Let the squash cool for 10 minutes, then slice it in half lengthwise.  Scoop out the seeds and then use a fork to scrape the squash into long, noodle like strings.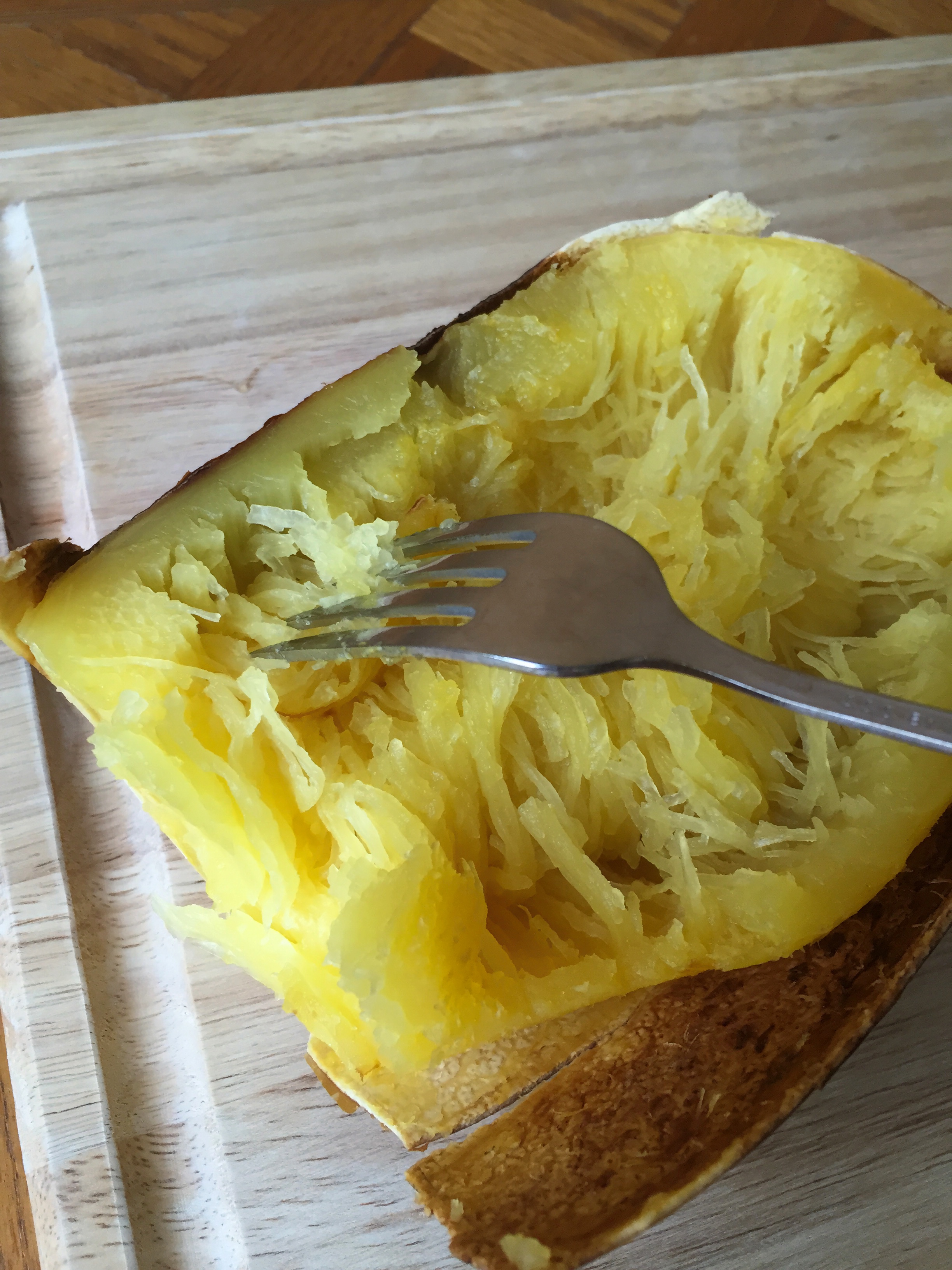 The main problem I've had in the past when making spaghetti squash is I never quite cooked it long enough.  I'd always struggled to get nice strands from the squash; but not this time 🙂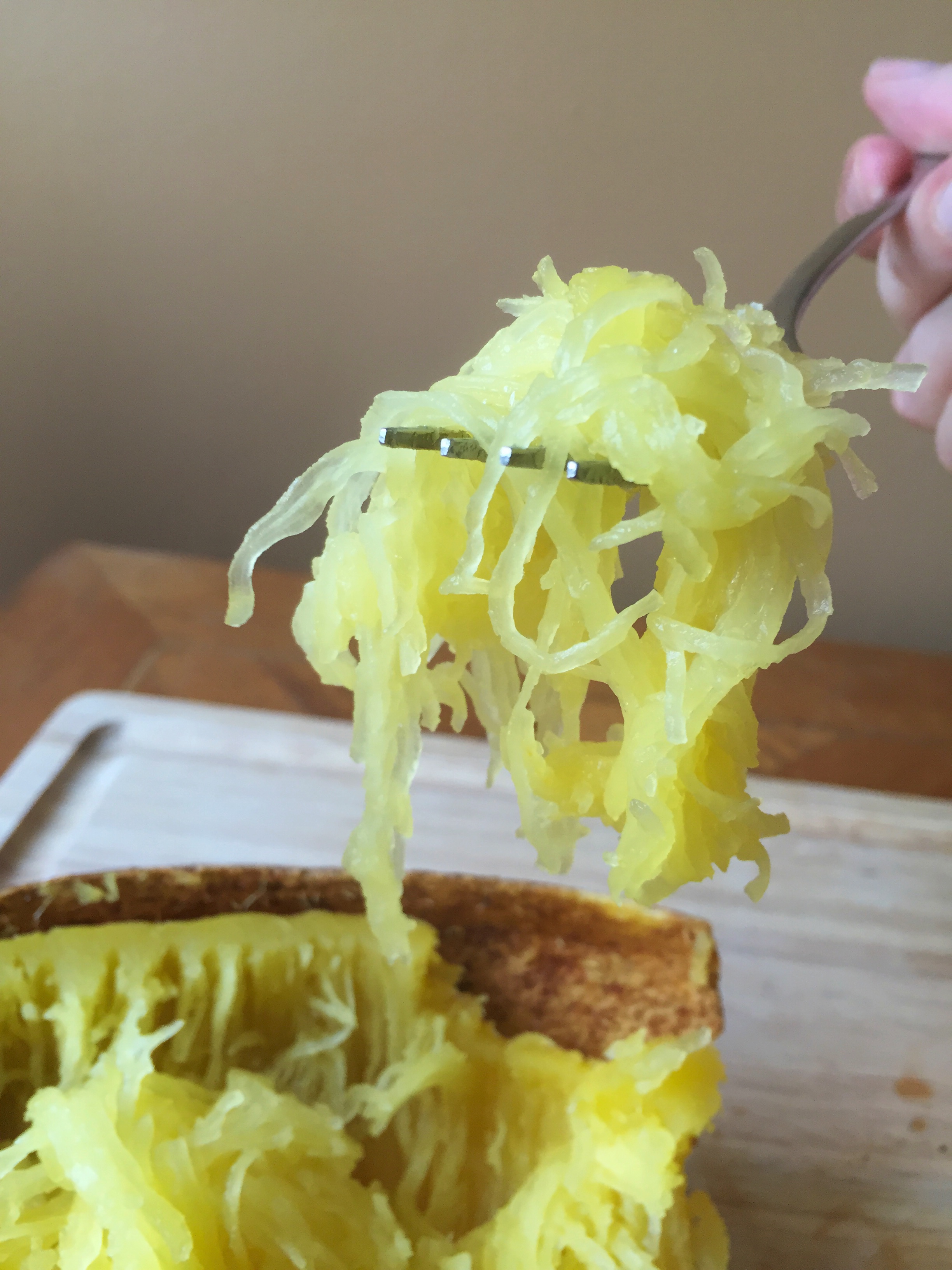 Now, this doesn't taste like noodles, it tastes like squash.  But it has a mild flavor, and you really can use it like you would with real spaghetti noodles.  It pairs well with a garlic-butter sauce, you can top it with marinara, or even try it out with pesto!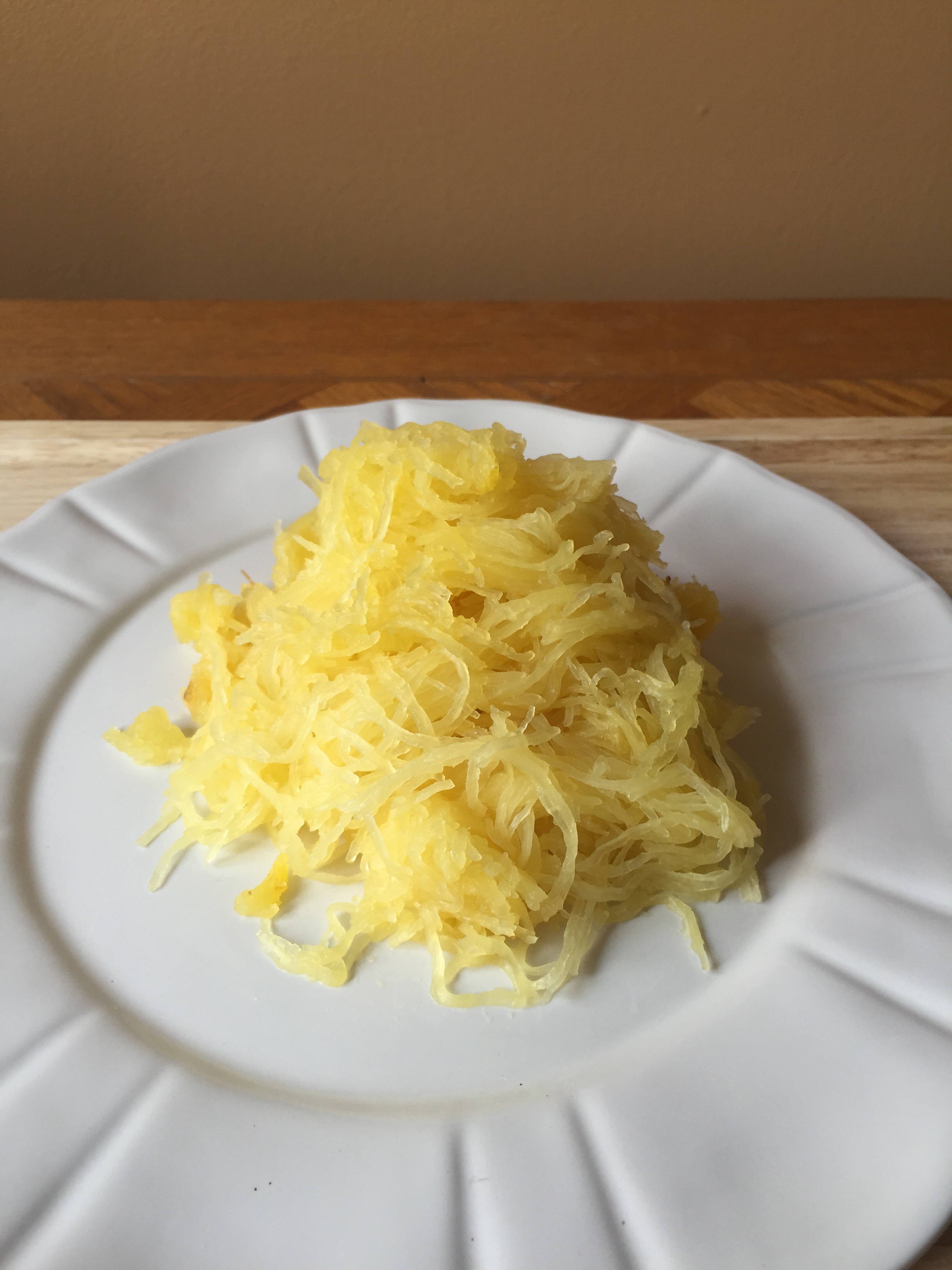 I'll be sharing a recipe soon that goes extremely well with spaghetti squash; but in the meantime, I encourage you to give this squash a try and let your creative juices flow!

1807 Total Views
5 Views Today
1

3-4 pound

spaghetti squash
Pierce squash with a pairing knife all around the squash. This lets the steam escape while it bakes.

Bake spaghetti squash for about 1 hour and 15 minutes, or until you can easily insert a knife with little resistance.

Let squash cool for 10 minutes.

Cut squash in half lengthwise.

Use a spoon to scoop out the seeds and the strands of squash surrounding the seeds.

Use a fork to scrape the flesh of the squash to get long, noodle-like strands.
**Cardinal Rule**  The skin of spaghetti squash is very tough.  Cooking the squash whole makes it easier (and safer) to cut in half after it bakes.  If you are going to cut it in half before baking, be very careful and make sure you have a good, sharp knife.
---
---