Roasted Seasoned Eggplant
This summer I once again signed up for a CSA (community supported agriculture, you can read more about it here); my company partnered with a farm in the area, and organized it so the boxes are delivered right to work!  I am getting a half share this year, so I get a box of produce every other week.
It can be a challenge to use all the produce I get each time, especially when there are multiples (like 4 eggplants in one box).  Since everything is so fresh and straight from the farm, some of the foods don't last as long compared to grocery store produce.  So I needed to find new recipes, and fast!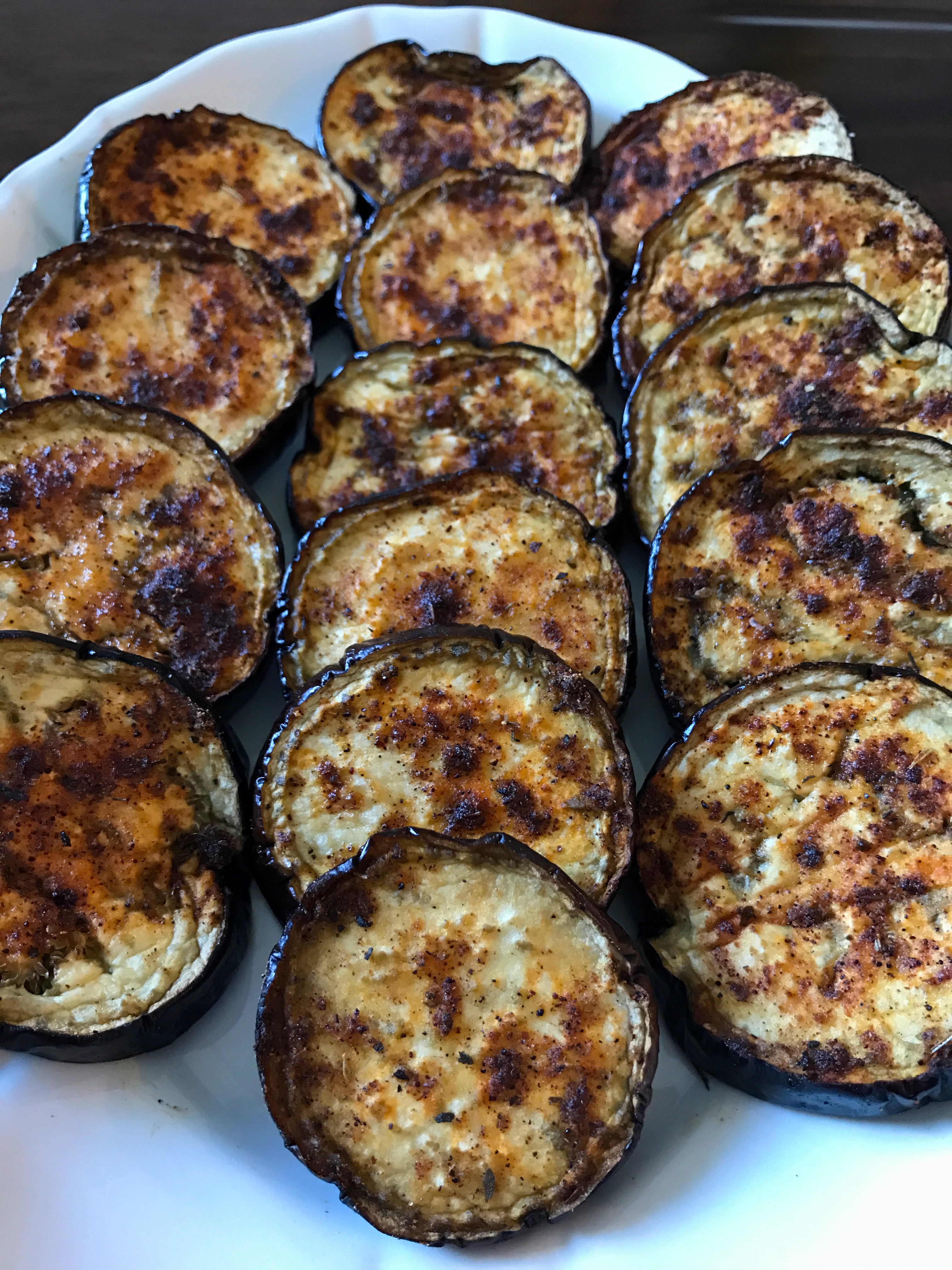 Eggplant is a food that I forget whether I like or not.  In my mind I think, "I love eggplant, it's great!" But when it comes time to actually cook it, I'm at a loss of what to make with it and usually end up just sauteing it with other veggies.  I knew I had to find something different to do with it, so I set out on Pinterest for inspiration.  I stumbled upon a recipe for roast eggplant that is seasoned with garlic powder and other spices, and it looked so simple I had to try it!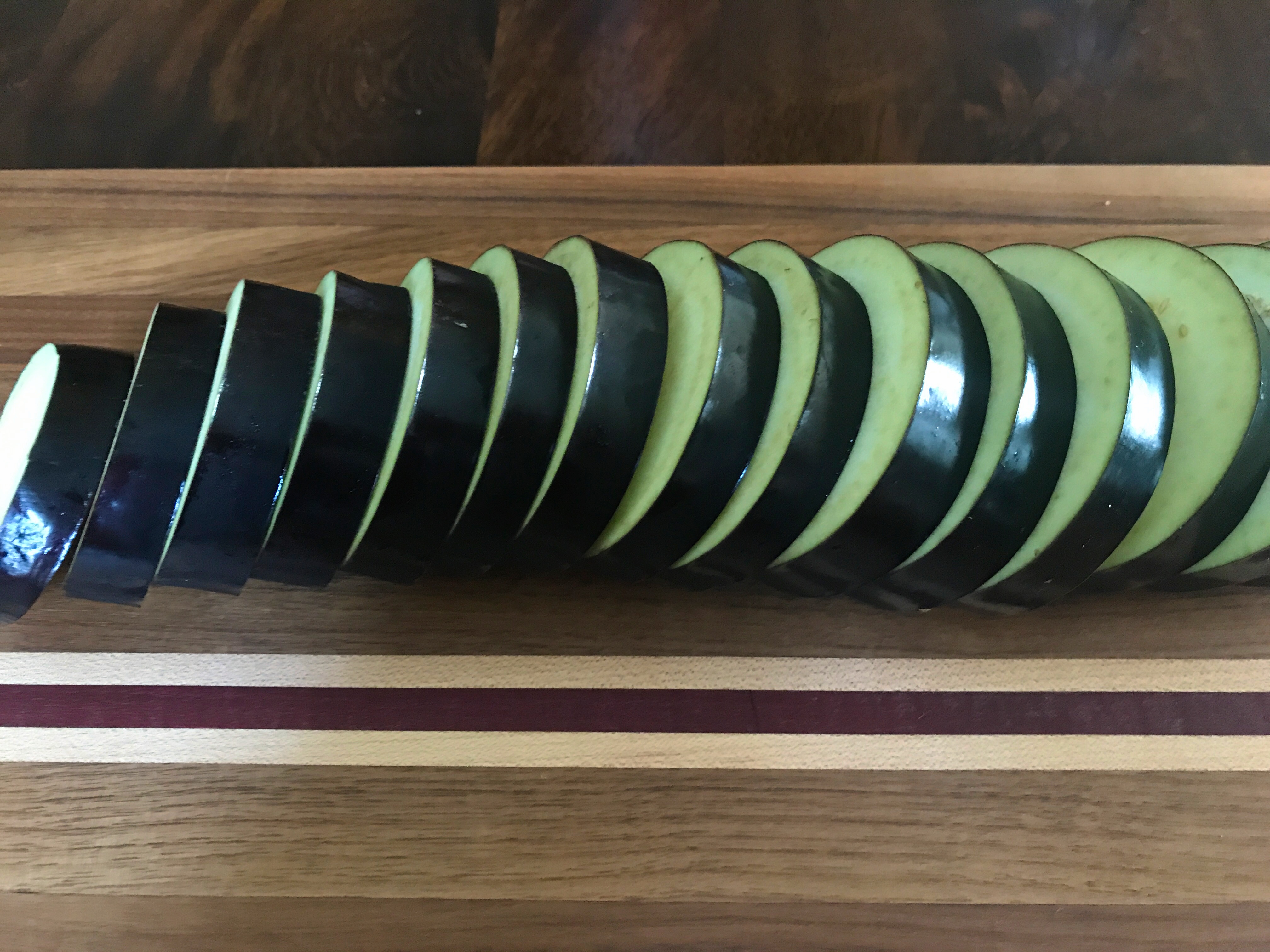 I added some additional flavorings to make things more interesting, and the outcome was these delicious eggplant medallions.  I started with an eggplant that was about 6-8 inches long, and sliced those into 1/2 inch rounds.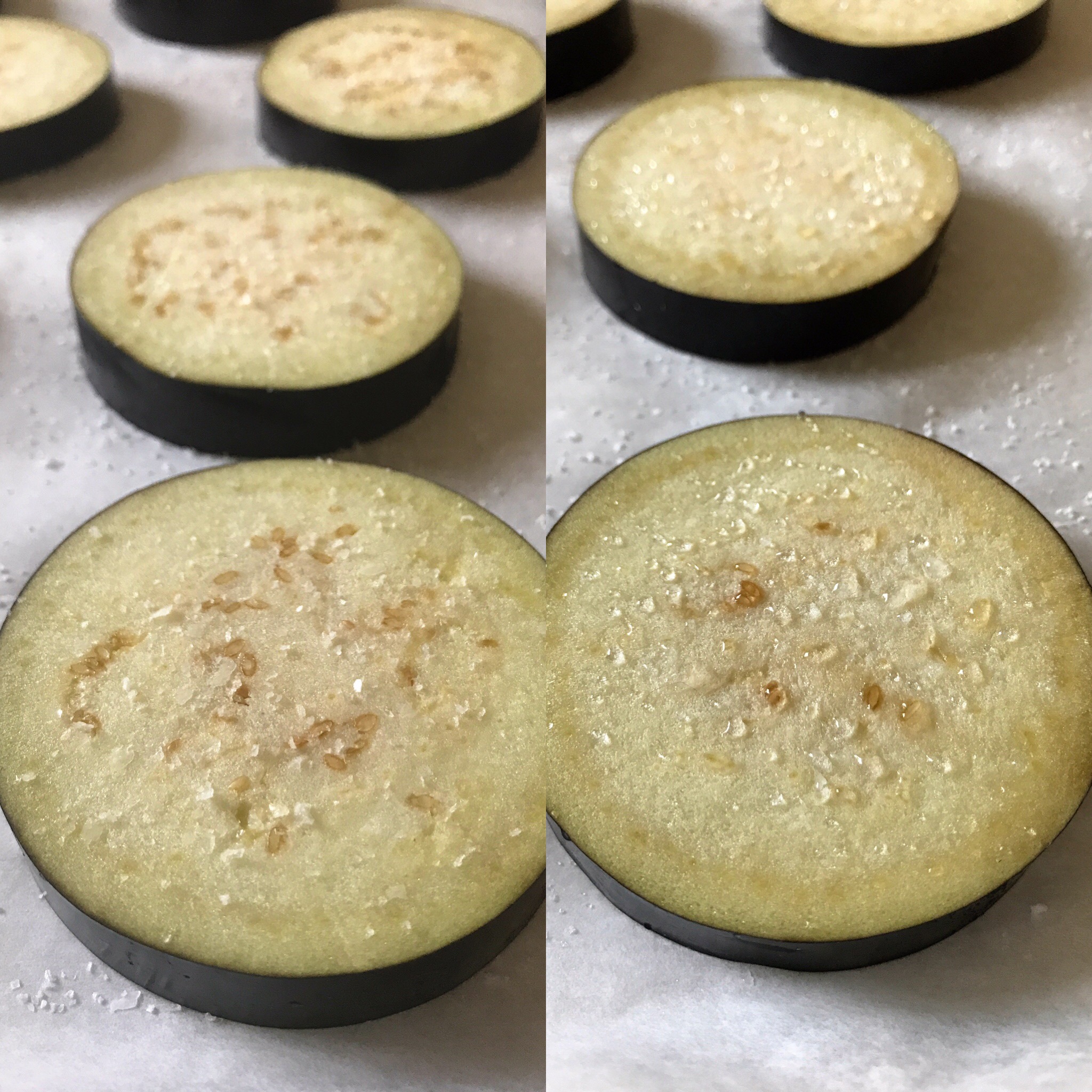 I placed the eggplant discs on a large baking sheet that was lined with parchment paper, and then sprinkled salt on both sides of the discs and let them sit for 20 minutes.  This pulls out some of the excess moisture from the eggplant, and makes them better for roasting.  You can see the beads of water forming on the right side of the picture above.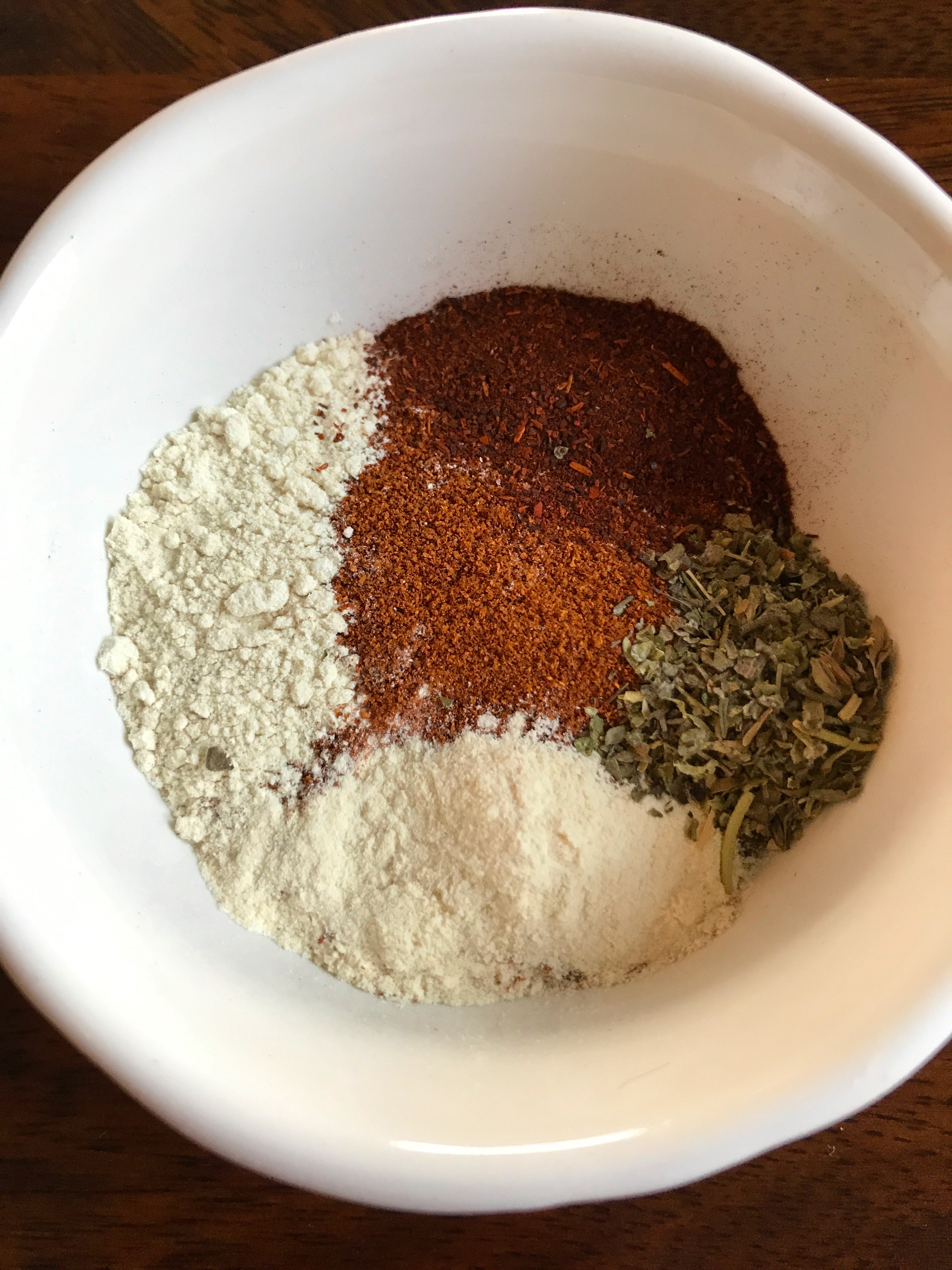 While the eggplant rested,  I mixed together my spices for the seasoning.  It's a simple combination of onion powder, chili powder, Italian herb blend, garlic powder, and sweet paprika.  Stir them together to combine, and set aside.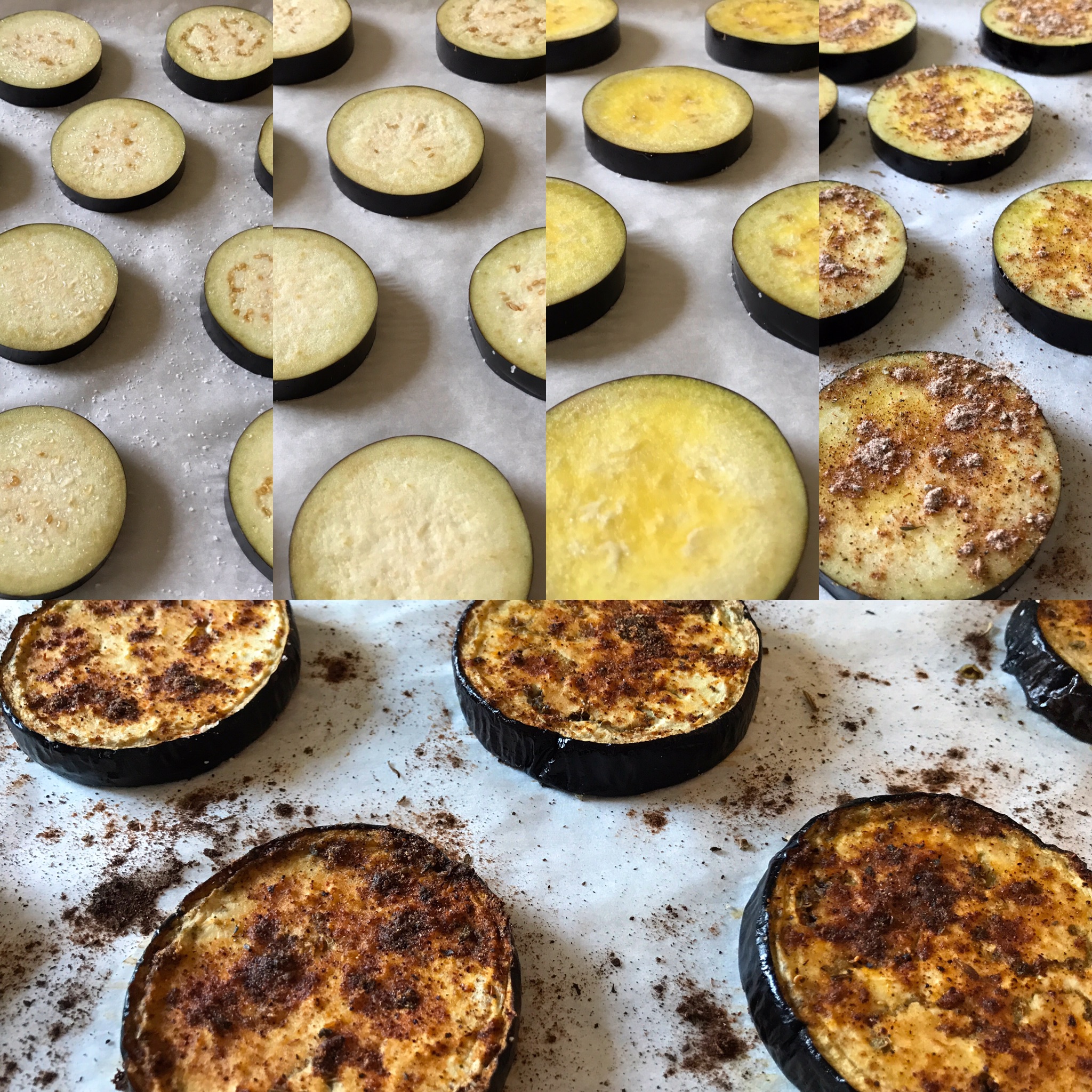 After the eggplant sat for 20 minutes, I used a paper towel to wipe off the excess liquid.  Then, I brushed each side with some olive oil and sprinkled the spice mixture on both sides, and threw them in the oven.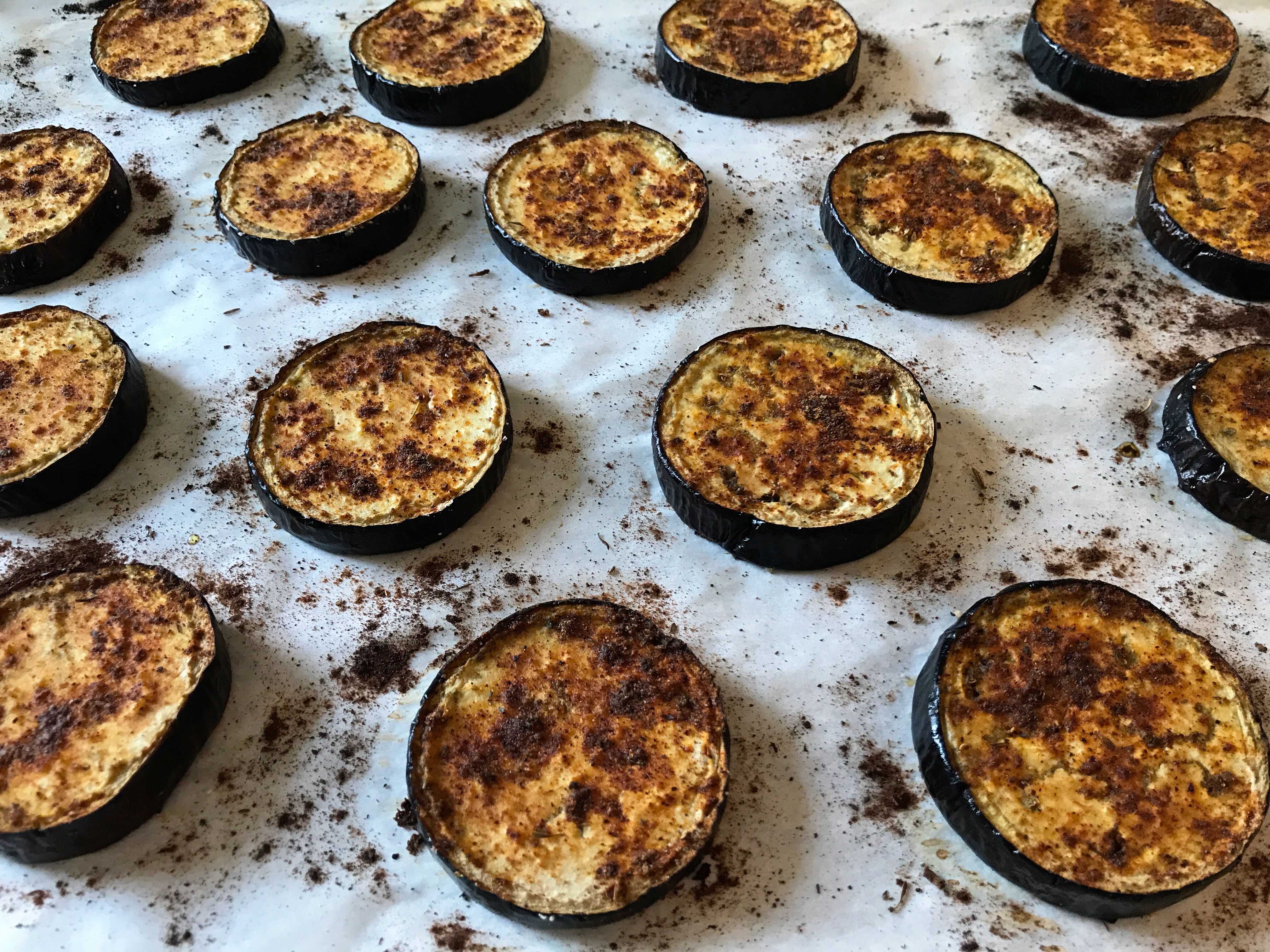 The eggplant roasts at 425F for 20-25 minutes.  Once it's done you can serve it either hot or cold.  They make a great side dish to have with steak or chicken, or you can toss them into a salad.  I put them into an awesome salad that I will share with you at a later date!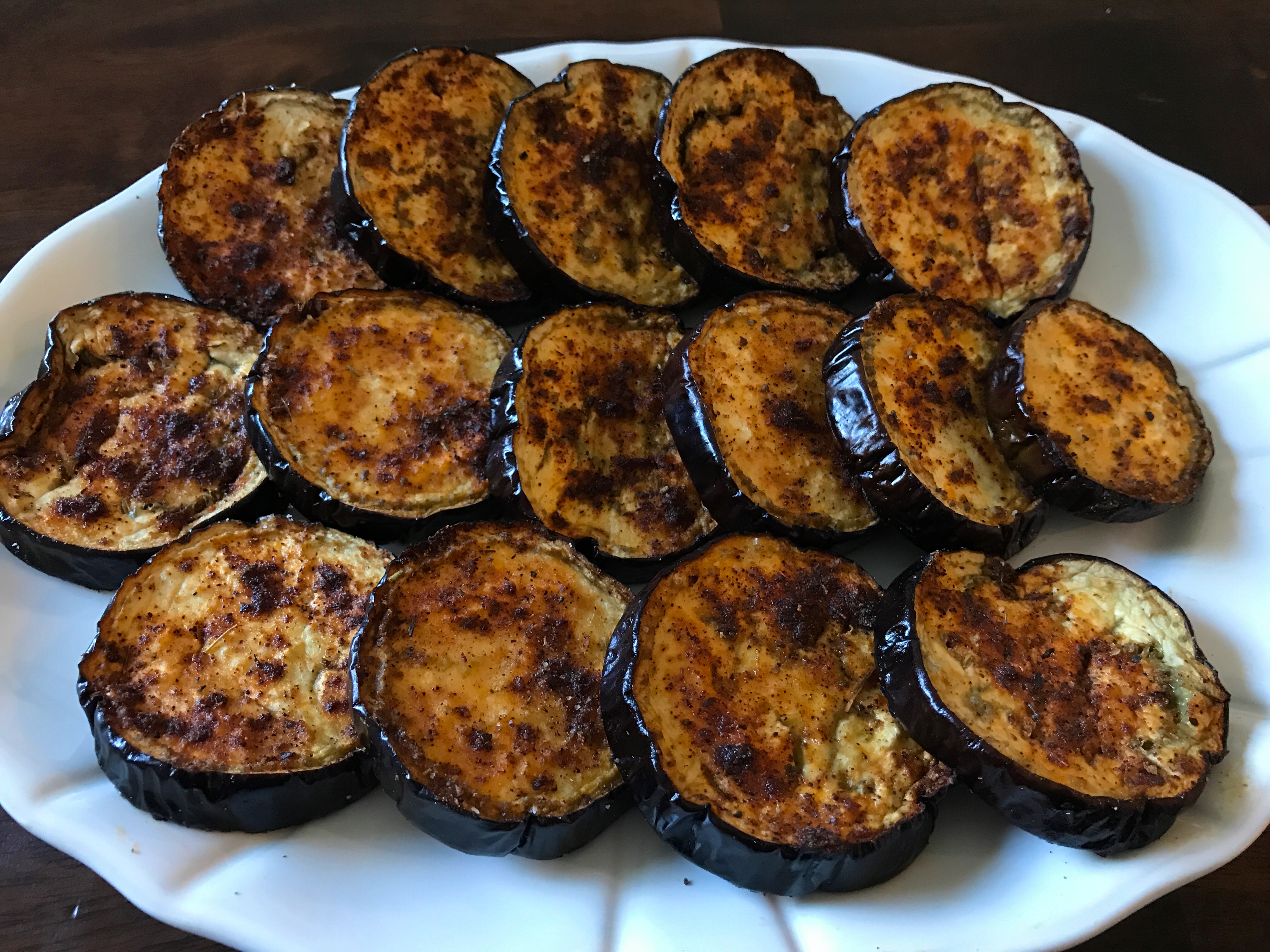 This is a super easy recipe for a simple ingredient that can sometimes seem daunting to make.  If you're like me, and can never quite remember if you actually like eggplant, give this dish a try and it'll make you realize how good it is!
2186 Total Views
2 Views Today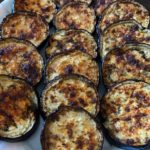 Cook Time

Passive Time

25

minutes

20

minutes
Cook Time

Passive Time

25

minutes

20

minutes
Cook Time

Passive Time

25

minutes

20

minutes

Cook Time

Passive Time

25

minutes

20

minutes
1

eggplant

2

tbsp

olive oil

1

tsp

onion powder

1

tsp

garlic powder

1

tsp

chili powder

1

tsp

sweet paprika

1/2

tsp

Italian herb seasoning

2

tsp

salt

divided
Preheat oven to 425F, and line a baking sheet with parchment paper.

Slice eggplant into 1/2 inch rounds, and place on the baking sheet in a single layer.

Sprinkle 1 tsp of salt over both sides of the eggplant slices, and let sit for 20 minutes.

In the meantime, mix together the onion powder, chili powder, paprika, Italian seasoning, garlic powder, and remaining 1 tsp salt.

After resting for 20 minutes, use a paper towel to remove the excess moisture from the eggplant rounds.

Brush both sides of the eggplant with olive oil, and sprinkle the seasoning mixture on each side of the eggplant.

Roast in oven for 20-25 minutes, until golden.
**Cardinal Rule**  If you have tried eggplant before and not liked it because it tasted bitter, salting it and letting it rest can help with that!  The salt not only pulls out excess moisture, it can also help minimize the bitterness some people experience.
Recipe Source: Melanie Cooks
---
---