Pumpkin Sausage Pizza
I know it's not exactly "pumpkin season"; but for a woman who has a folder saved on her computer that solely contains pumpkin recipes, any time is pumpkin time!  I have been toying with the idea of a pumpkin pizza for a while, but I wasn't sure exactly how I wanted to approach it.
I have fond memories of a pasta dish with a pumpkin cream sauce, so I decided to go along that route and make a pizza with pumpkin sauce that was topped with sausage and cheese.  Once I made up my mind about how I was going to use the pumpkin, my next challenge was to choose a cheese.  I thought about fresh mozzarella, but it didn't seem right for the overall flavor of the dish.  Then it hit me – goat cheese.  The slightly tart taste of the goat cheese goes well with the pumpkin sauce, and can stand up to the sausage.
With the idea mapped out, I embarked on the journey this past weekend.  I found some pre-made pizza dough at the grocery store, so I didn't have to make it from scratch (some times it is nice getting help from the store).  Were I to do this all over again, I would roll the dough thinner, like a flatbread, as the dough over powered the rest of the flavors a little.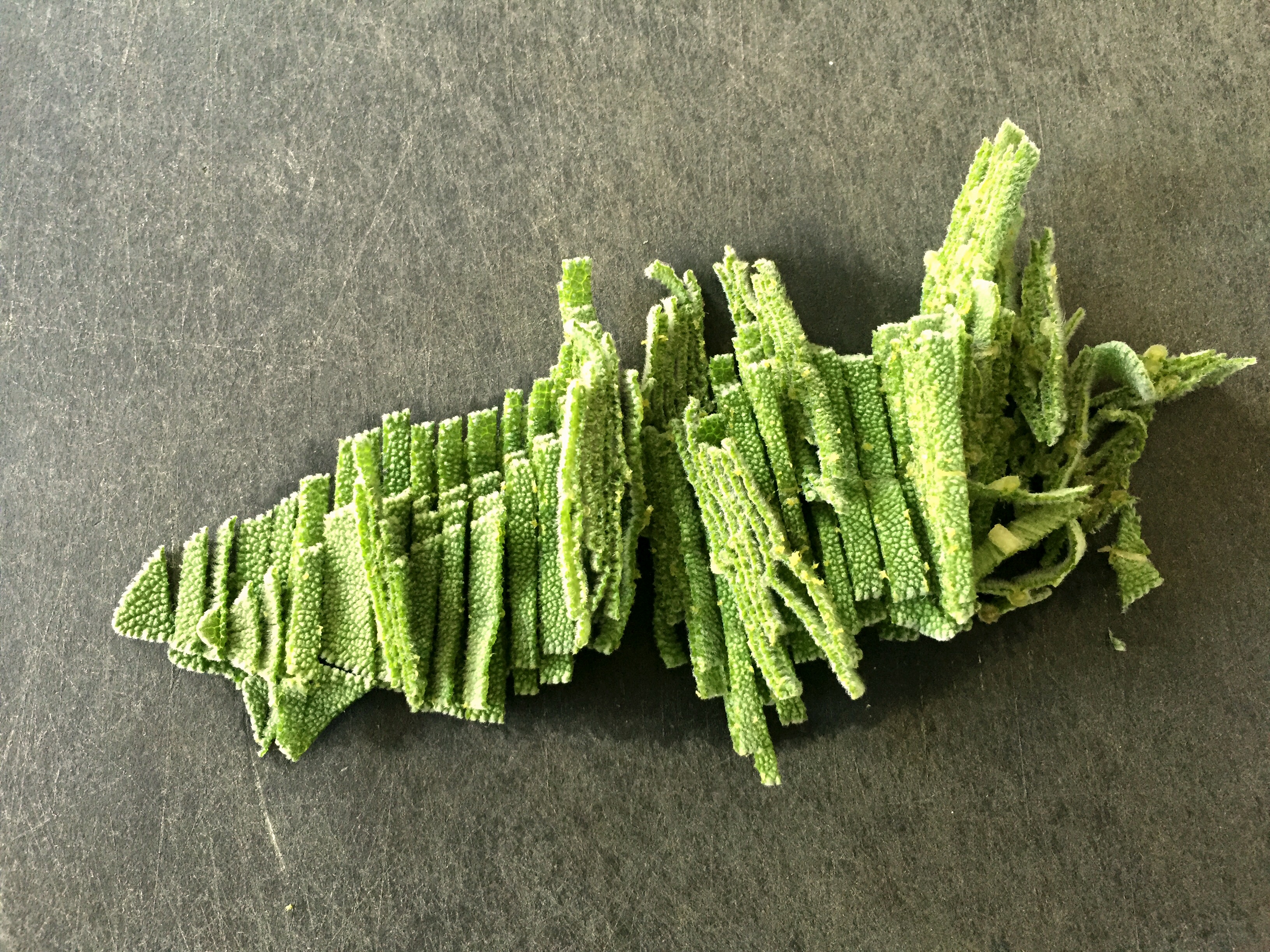 The sauce starts with sliced sage that is lightly fried in some olive oil.  To that you add pumpkin puree (be careful when adding the pumpkin to the hot oil, it will make a LOT of noise), heavy cream, chicken stock and some spices.  When making the sauce, there was something off about it – it tasted too pumpkin-y.  I know what you're thinking: It's pumpkin sauce, shouldn't it taste like pumpkin? The simple answer is yes, of course; but it tasted too much like raw pumpkin puree.  In order to mellow out that raw taste, I added one teaspoon of sugar, just enough to round things out but not make it sweet.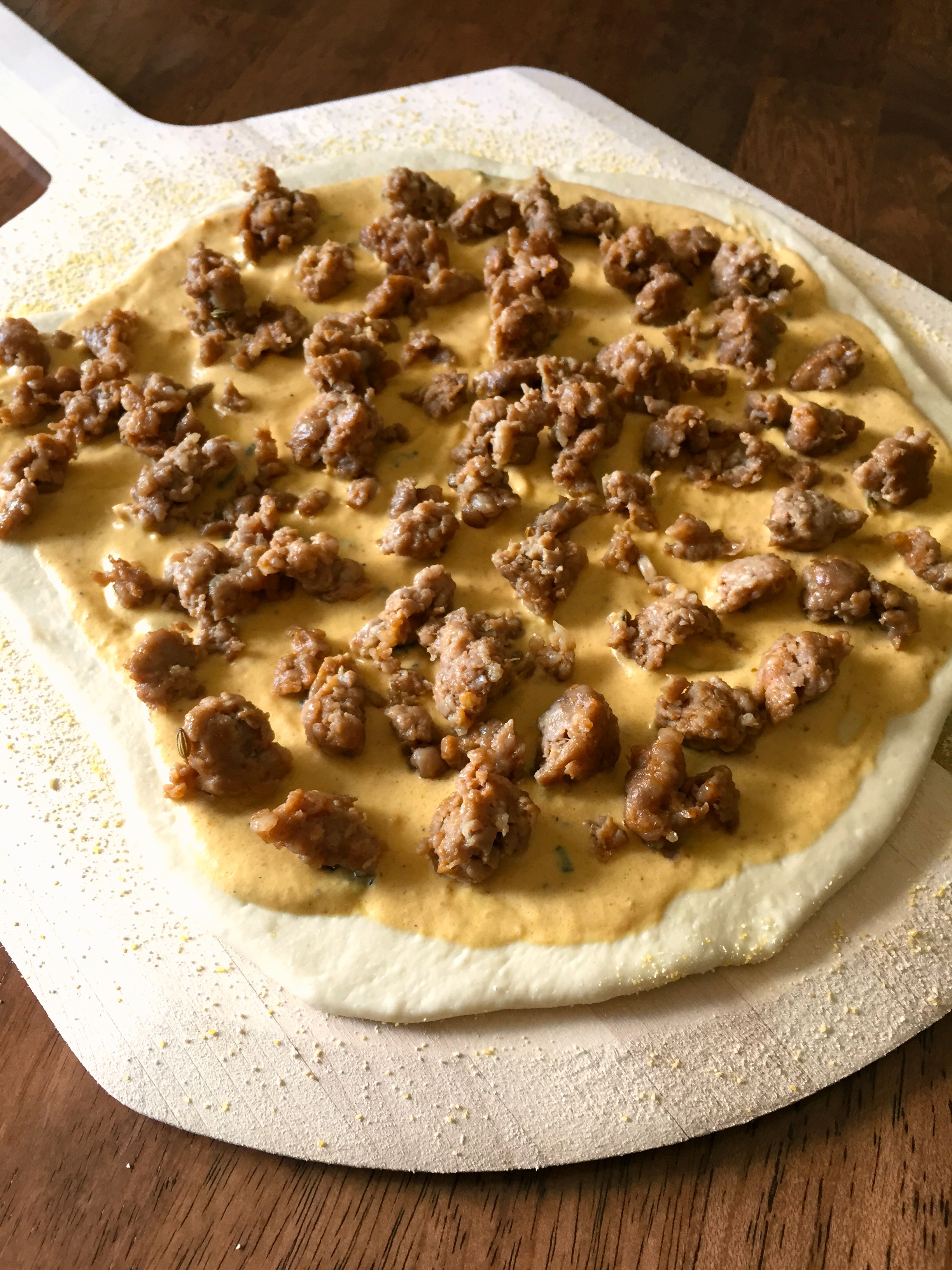 The sauce simmers for a good 10-15 minutes for it to thicken; and while that was doing its thing, I browned the sausage and then rolled out the pizza dough.  Again, I would recommend rolling the dough out as thin as you can without it tearing.  When the sauce was finished I spread a layer on the dough, topped with the sausage and baked it for 7 minutes.  After that initial time in the oven, I took the pizza out and added crumbled goat cheese and grated Parmesan cheese.  Then I baked it for another 10 minutes.
The end results were very good, and wonderful way to end the weekend!

2649 Total Views
1 Views Today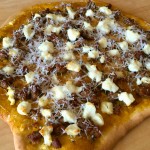 Servings

Prep Time

8

slices

20

minutes
Servings

Prep Time

8

slices

20

minutes
Servings

Prep Time

8

slices

20

minutes

Servings

Prep Time

8

slices

20

minutes
1

ball

pizza dough

pre-made

2

tbsp

fresh sage

sliced

2

tbsp

olive oil

1/2

cup

pumpkin puree

1/2

cup

heavy cream

1/4

cup

chicken stock

1

tsp

salt

1/2

tsp

black pepper

1

tsp

sugar

1/8

tsp

ground nutmeg

1/2

lb

Italian sausage

2

ounces

goat cheese

crumbled

1/4

cup

Parmesan cheese
In a medium saucepan, heat olive oil over medium heat. Add the sage leaves and fry until lightly browned.

Add the pumpkin puree, cream and chicken stock. Stir until combined, then add salt, pepper, sugar and nutmeg.

Gently simmer mixture until slightly thickened, about 10-15 minutes.

While sauce simmers, brown sausage in a large frying pay over medium heat. Once browned, remove from pan onto a paper towel lined plate.

Roll the pizza dough into a thin circle (does not have to be perfectly round). Top dough with a thin layer of sauce and sausage.

Place pizza on a pan (I used a pizza stone) and bake for 5-7 minutes, then add crumbled goat cheese and half of the Parmesan cheese. Return to oven and bake for another 10 minutes.

Remove from oven and add remaining Parmesan cheese and serve.
---
---