Pumpkin Pound Cake
It feels like just yesterday I sat down to write my first post for the brunch series I've been doing (in case you missed it, see: mimosa bar, bacon quiche, and spinach apple salad).  It has been over a month since I cooked brunch for my friends, and we have now, finally, come to the dessert portion of the meal!
Things have a been a little busy for me this month; between bonfires with friends and trips up north with family, I have to admit the blog has been slightly neglected.  While all the activities have been different each weekend, they have all had a very autumnal feeling to them.  That fall feeling definitely puts me in the mood for this dessert: a pumpkin pound cake with buttermilk glaze.  The cake is pumpkin spice-y and moist, and the glaze (mine turned out to be more like frosting than a glaze) isn't too sweet and rounds out the flavors of the cake.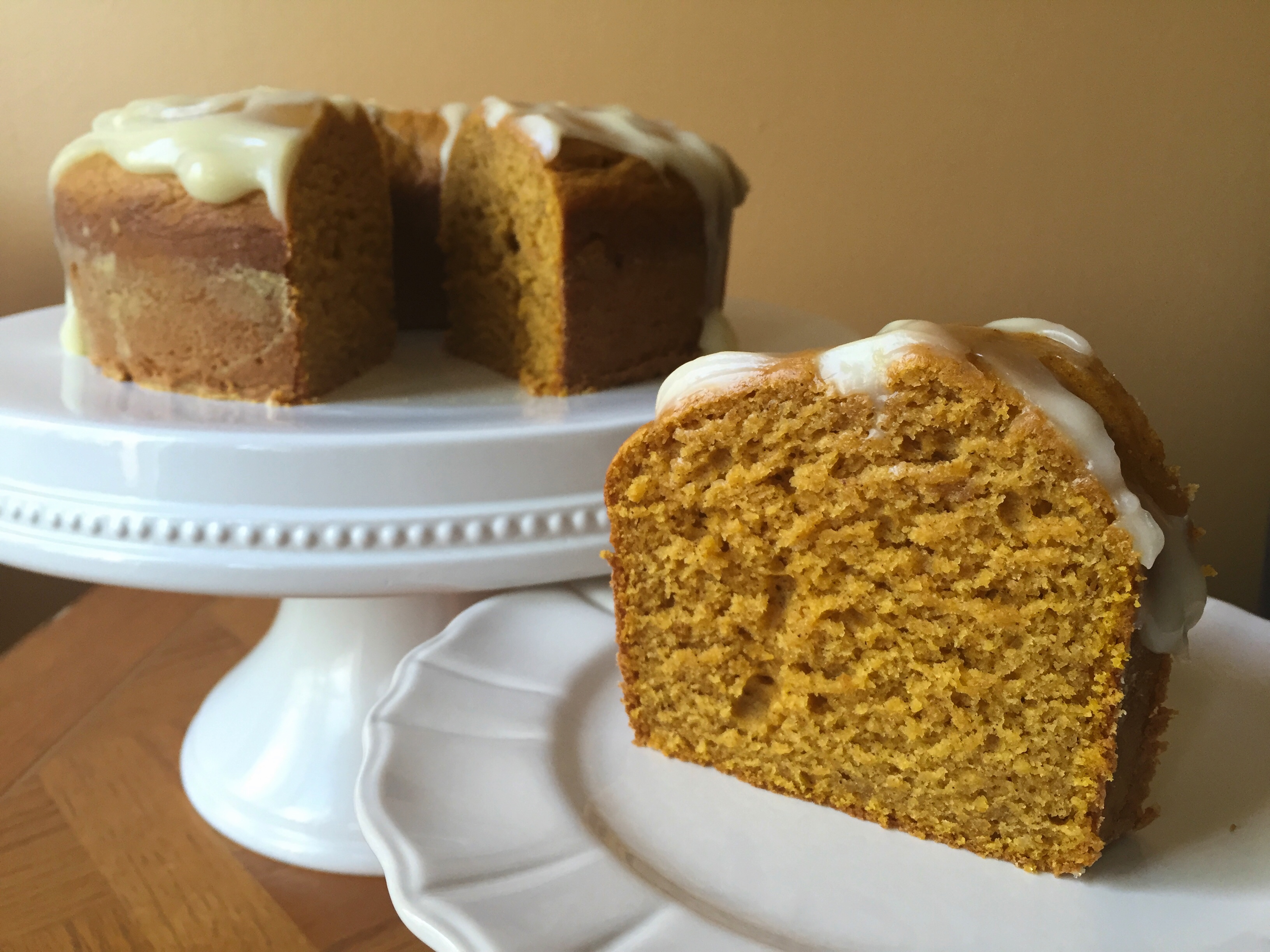 Having been gone for the last few days, I'm finding it hard to concentrate on typing as I currently have a cat laying on my arms.  But I digress, let's get back to the cake!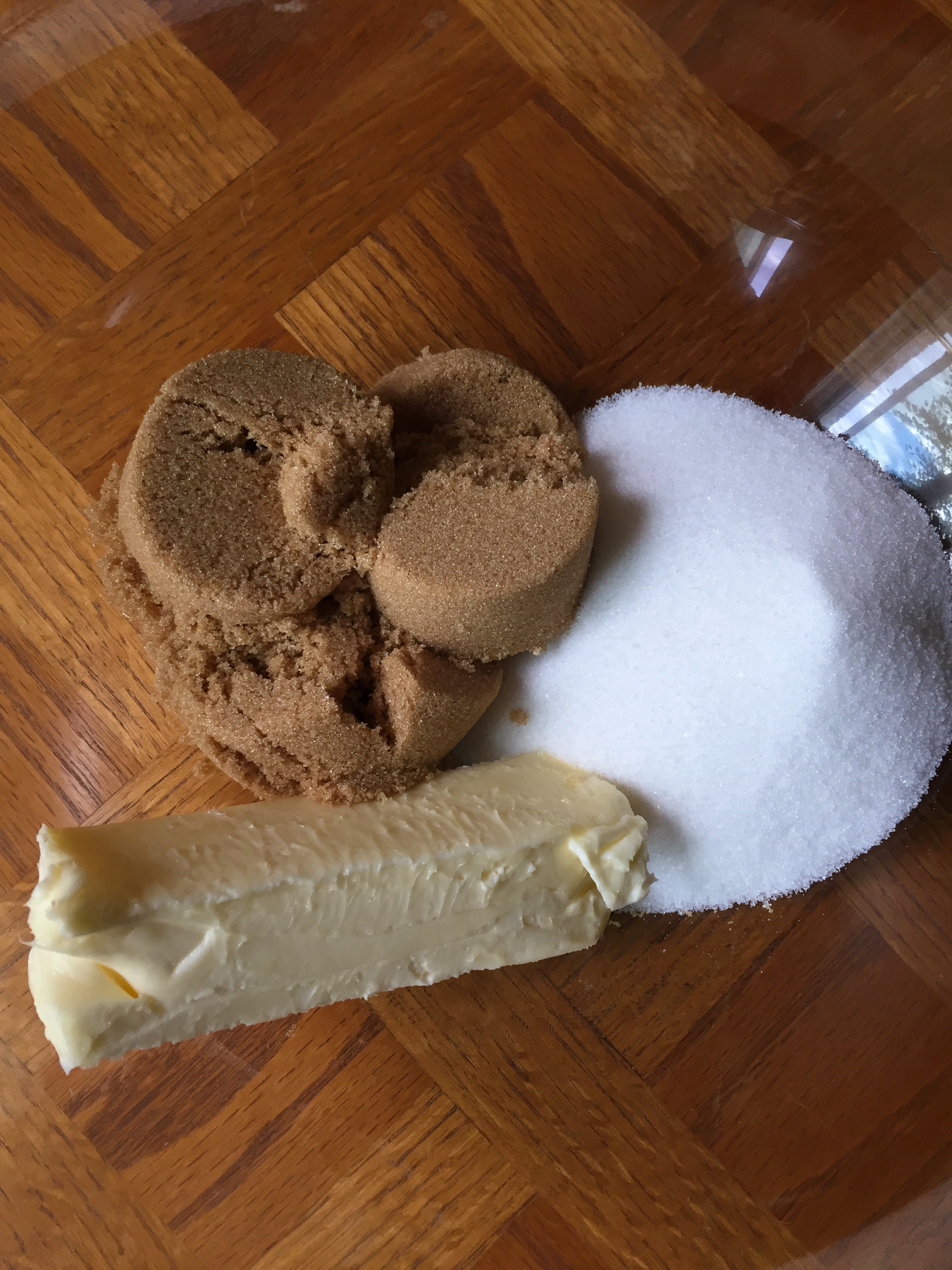 The cake starts with creaming together a stick of butter and some white and brown sugar.  Beat them together until the mixture is light and fluffy.  To that you'll add 4 eggs, pureed pumpkin, and vanilla extract.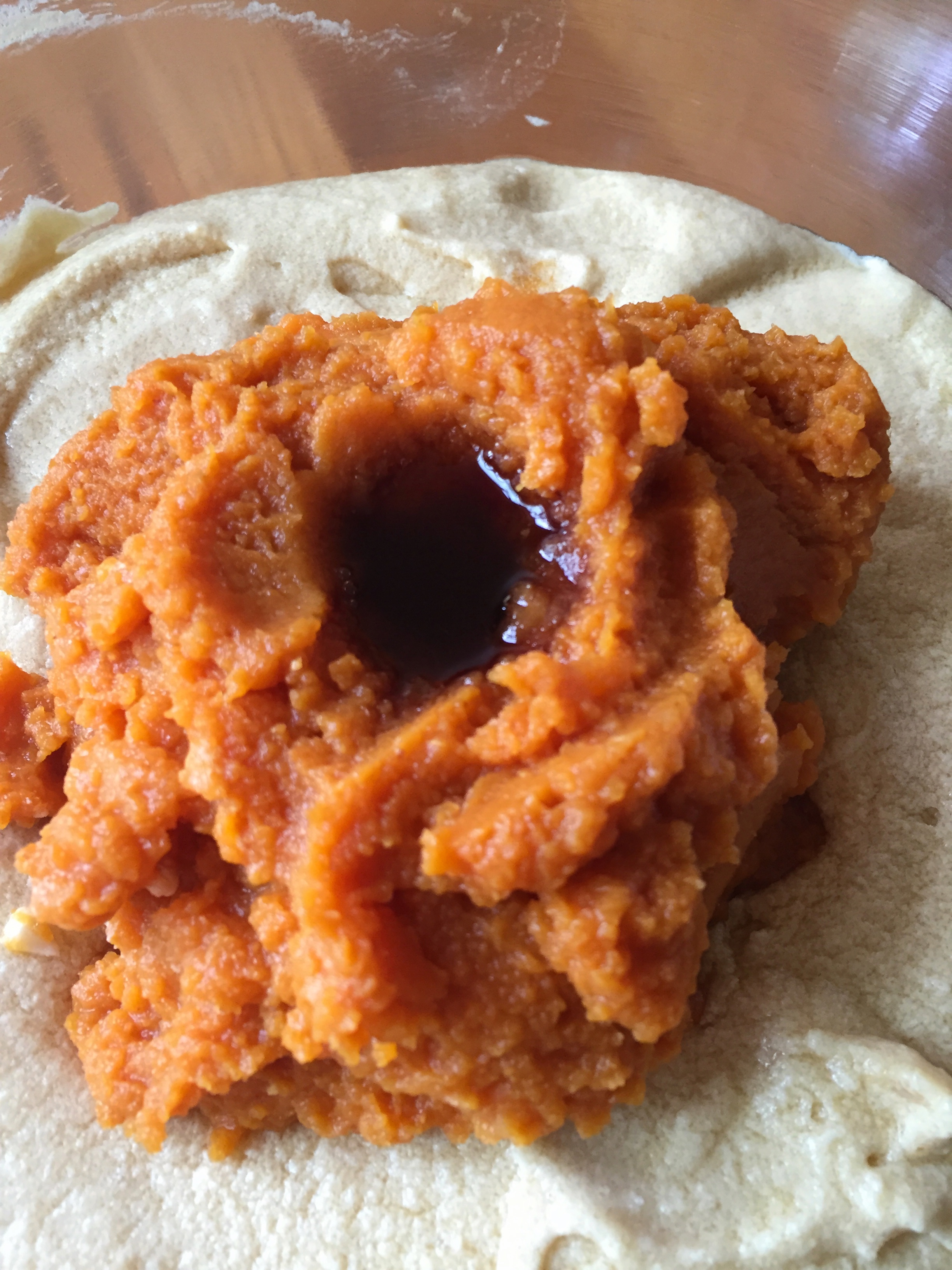 The next step to the cake is to mix together the dry ingredients: flour, pumpkin pie spice, baking powder, baking soda, and salt.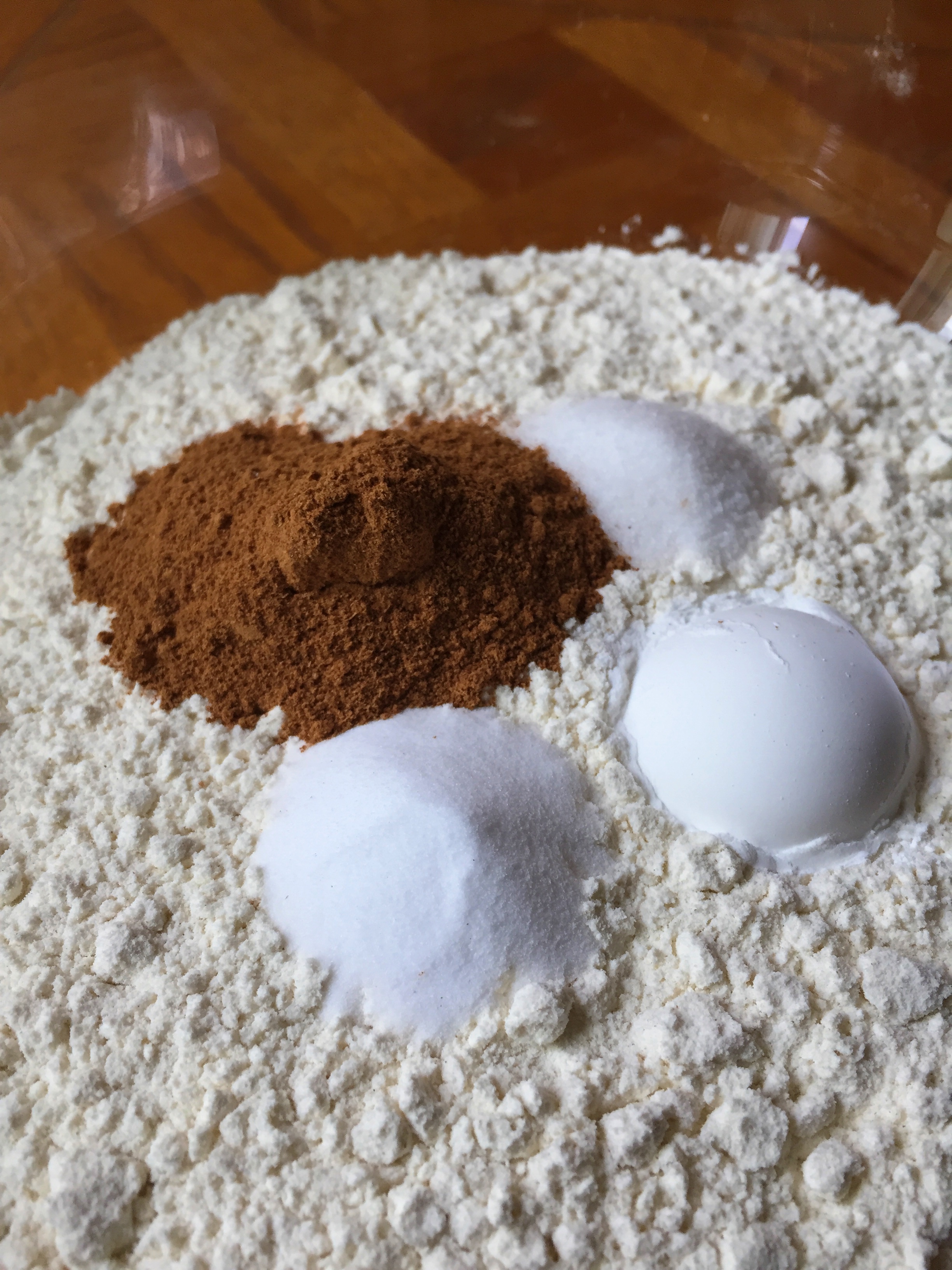 The final step of this pound cake is to mix in the dry ingredients and buttermilk with the wet ingredients.  For this step, you want to alternate the flour mixture and the buttermilk, starting and ending with the flour mixture (i.e. 1/3 flour, 1/2 buttermilk, 1/3 flour, 1/2 buttermilk, and last 1/3 of flour).
Alternating the flour and buttermilk helps incorporate all the ingredients without over mixing them.  After everything is mixed together, the batter is poured in a greased and floured tube pan, and then heads to the oven to bake.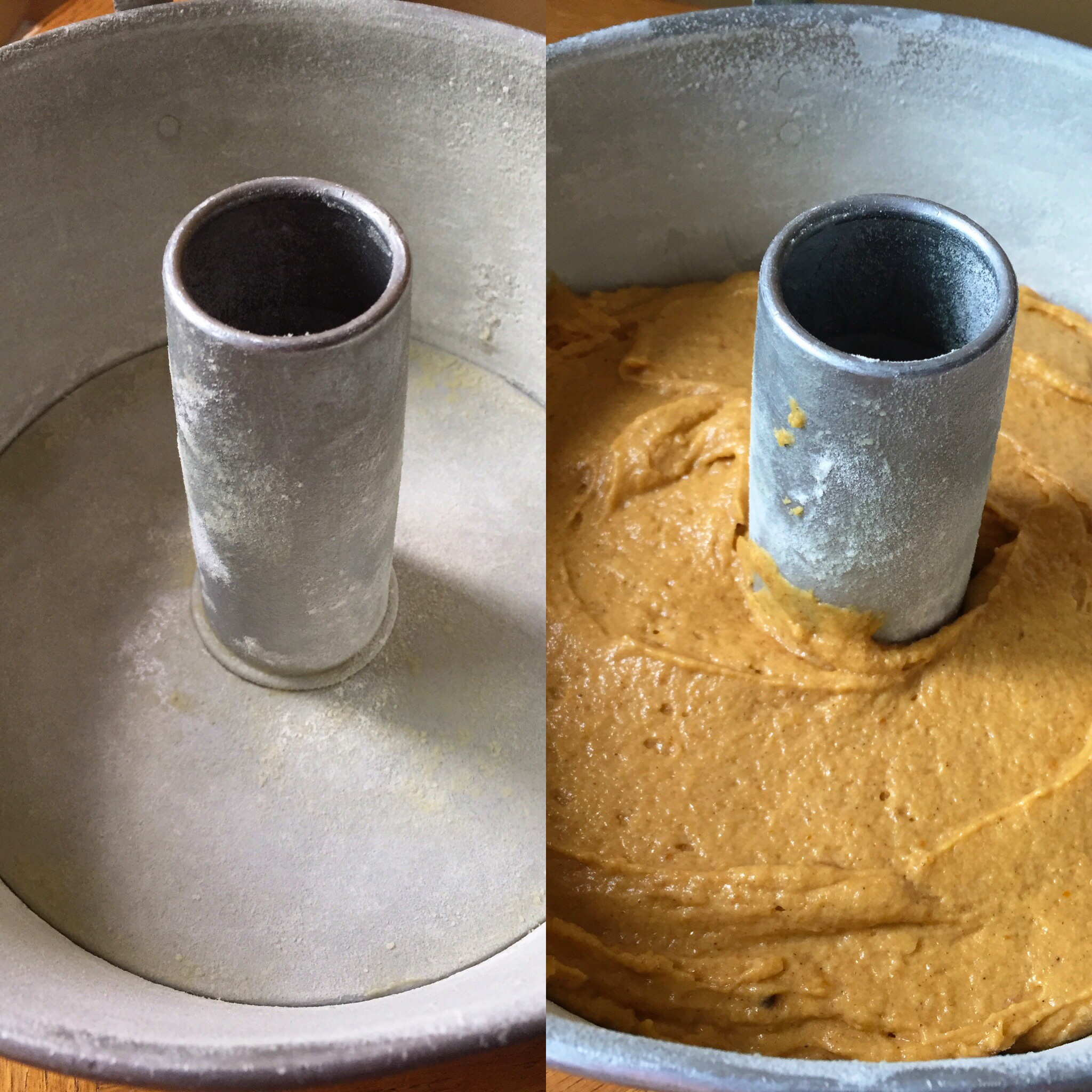 The cake cooks for 55-60 minutes, until a toothpick inserted into the cake comes out clean.  Once done, the cake cools in the pan for 10 minutes, then it's removed and placed on a wire rack to cool completely.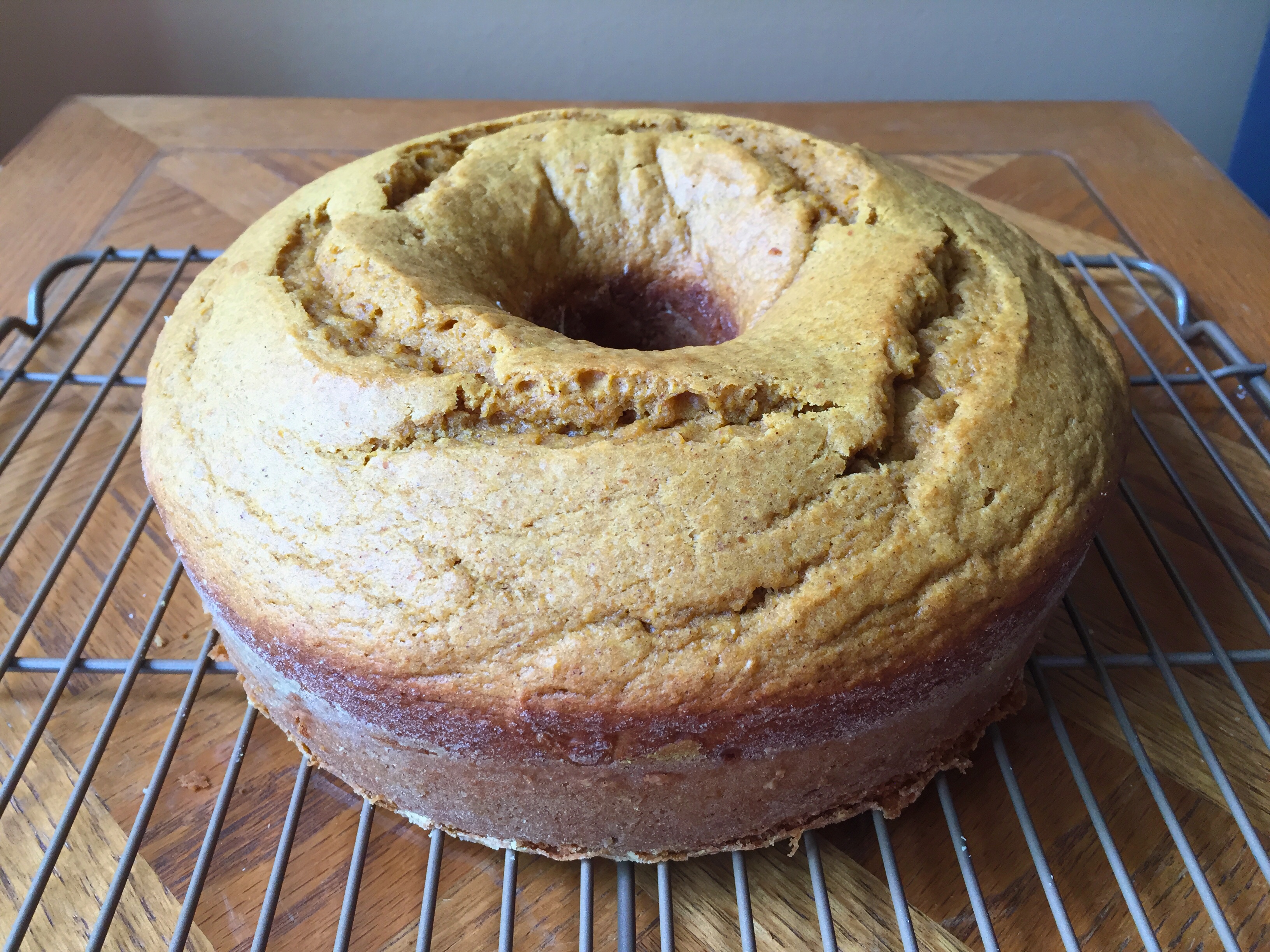 Once the cake is cooled, it is time to make the glaze.  In true Cassie fashion, I did not read this recipe all the way through before brunch day, and didn't realize the glaze is cooked.  Fear not!  It is so simple to make, that it didn't even matter that I had to cook it.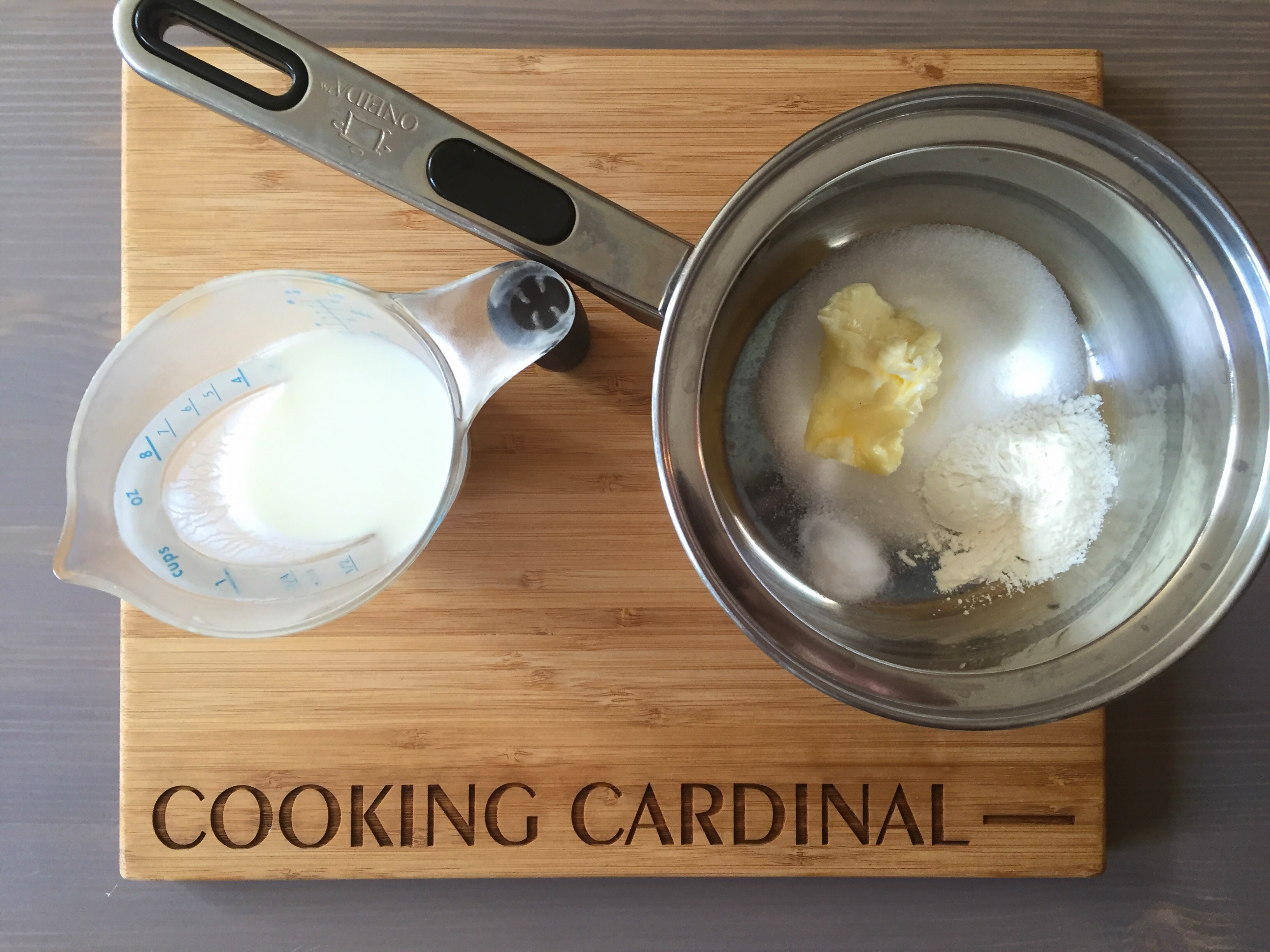 Sugar, butter, cornstarch, baking soda and buttermilk are combined in a small sauce pan.  The mixture is brought to a boil, and then cooked for 1 minute. Once cooked, it is drizzled over the cake.
My glaze cooked a little too long, and was quite thick when I poured it on the cake.  I realized while typing this post that the reason my glaze became so thick was because I used 2 tablespoons of cornstarch instead of 2 TEASPOONS! Never fear, I persevered and just used a spoon to push the "glaze" over the sides of the cake.  I may write a blog about cooking, but I never said I am able to make everything perfectly – sometimes I mess up and just have to go with the flow!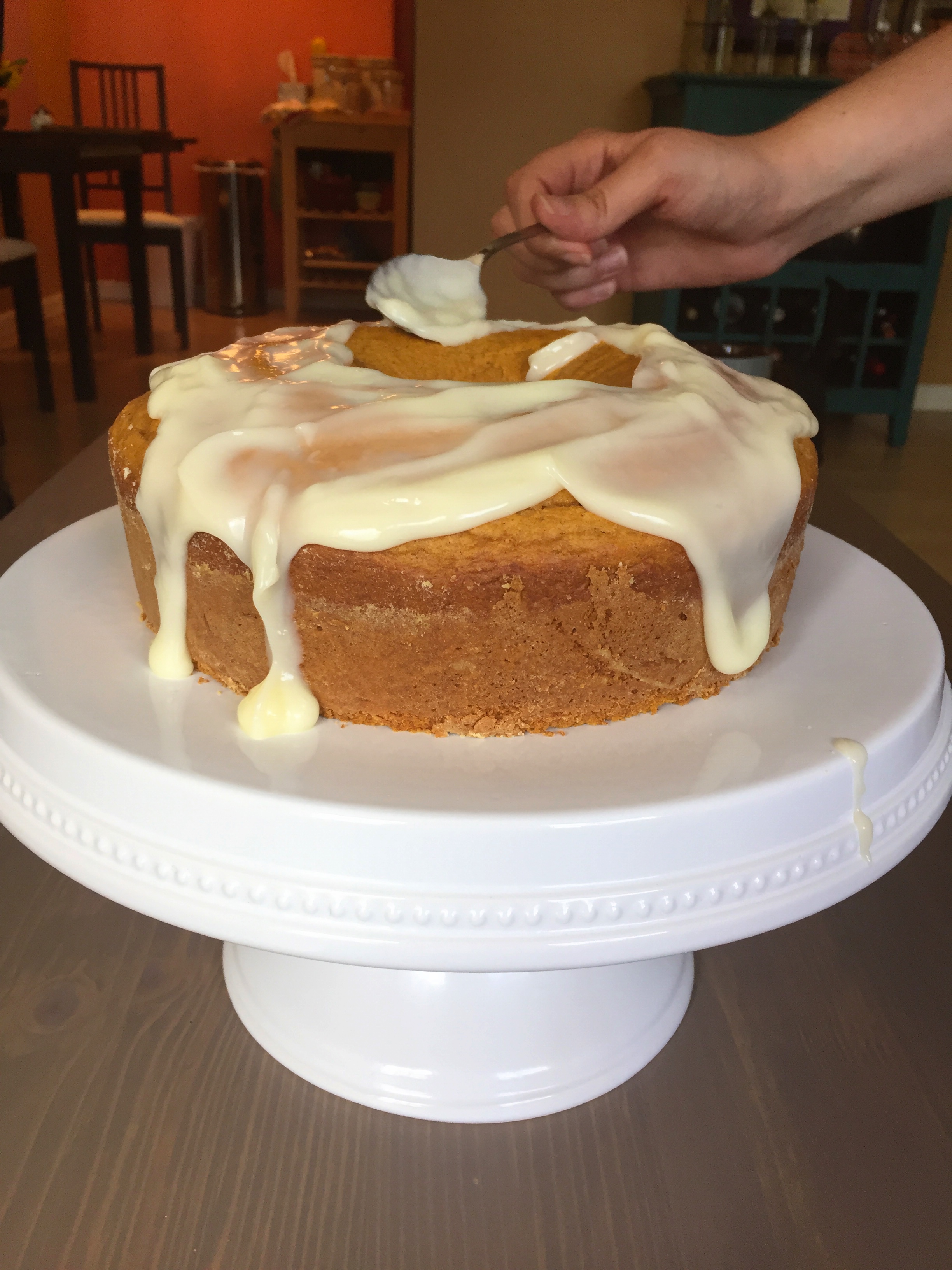 This cake was a delight for both the eyes and the taste buds!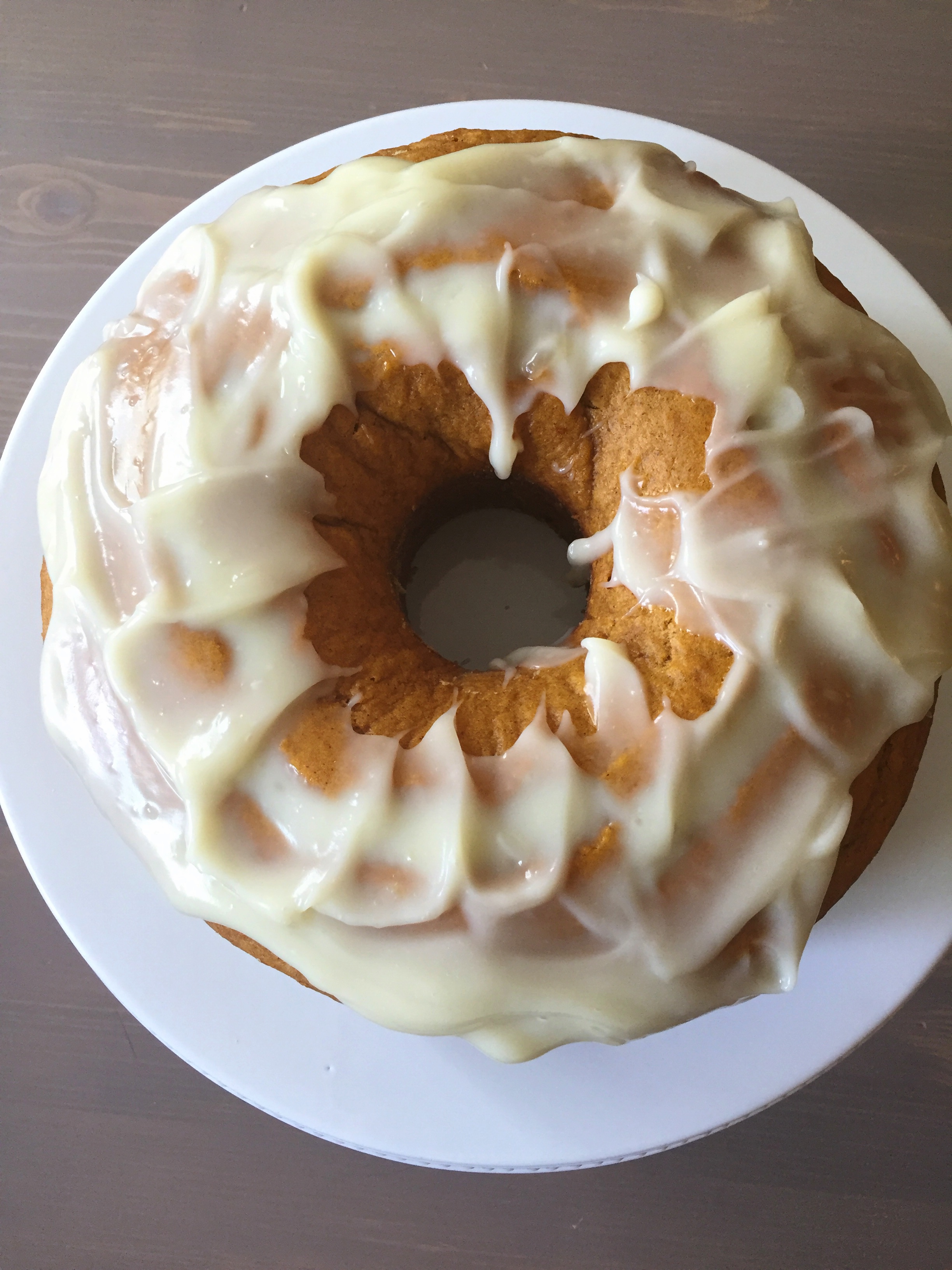 Bake up one for yourself and let me know what you think!

3348 Total Views
2 Views Today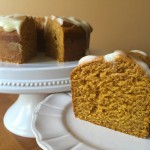 Servings

Prep Time

16

slices

15

minutes
Servings

Prep Time

16

slices

15

minutes
Servings

Prep Time

16

slices

15

minutes

Servings

Prep Time

16

slices

15

minutes
1

tbsp

all purpose flour

15

oz can

pumpkin puree

3/4

cup

granulated sugar

3/4

cup

brown sugar

packed

1/2

cup

butter

softened

4

large

eggs

1

tsp

vanilla extract

3

cups

all purpose flour

1 1/2

tsp

pumpkin pie spice

1

tsp

baking powder

1/2

tsp

baking soda

1/2

tsp

salt

3/4

cup

buttermilk
1/3

cup

buttermilk

1/4

cup

granulated sugar

2

tbsp

butter

2

tsp

cornstarch

1/8

tsp

baking soda
To prepare the cake pan, lightly coat a 10-inch tube pan with cooking spray; dust with 1 tablespoon flour. Turning pan to coat evenly with the flour.

For the pumpkin, line a mesh sieve with paper towel and put the pumpkin puree on top of the paper towel. Let stand about 10 minutes to drain.

Place granulated sugar, brown sugar, and softened butter in a large bowl; beat with a mixer at medium speed for 3 minutes (or until well blended).

Add eggs, 1 at a time, beating well after each addition.

Beat in pumpkin and vanilla until combined.

In a separate bowl combine the flour, pumpkin pie spice, baking powder, baking soda, and salt, stirring well with a whisk.

Add the flour mixture and 3/4 cup buttermilk alternately to sugar mixture, beginning and ending with the flour mixture (add 1/3 of the flour, then 1/2 of the buttermilk, another 1/3 of the flour, the rest of the buttermilk, and then final 1/3 of the flour mixture).

Spoon the batter into the prepared tube pan.

Bake at 350F for 55 minutes or until a wooden pick inserted into the center comes our clean.

Cool cake in the pan for 10 minutes; then remove from pan and cool completely on a wire rack.
Combine 1/3 cup buttermilk, granulated sugar, cornstarch, and baking soda in a small saucepan over medium heat; bring to a boil.

Cook for 1 minute (or until thick), stirring constantly; remove from heat.

Drizzle glaze over the cake.
**Cardinal Rule** Draining the pumpkin for 10 minutes before adding it to the cake batter helps the cake have a light texture.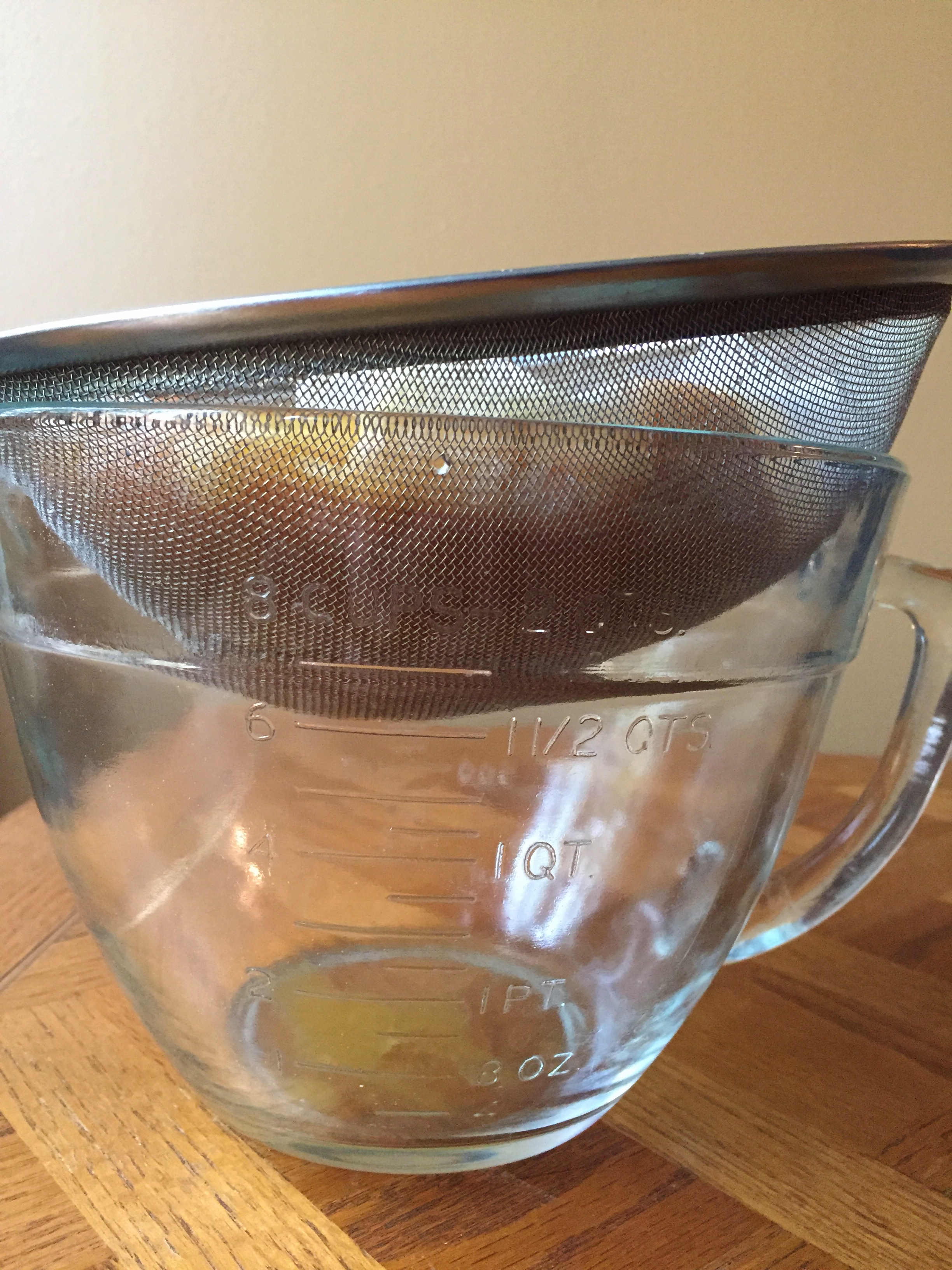 Recipe Source: MyRecipes.com
---
---