Orange Poppy Seed Cake
This past winter I had an unfortunate run-in with a mystery animal on the highway one night.  I'm not 100% sure what it was, but it was big enough to crack my front bumper and do some serious damage to the underside of my car.  I finally had it fixed this month, and just got my car back last week all shiny and pretty.  And then an even more disastrous event struck!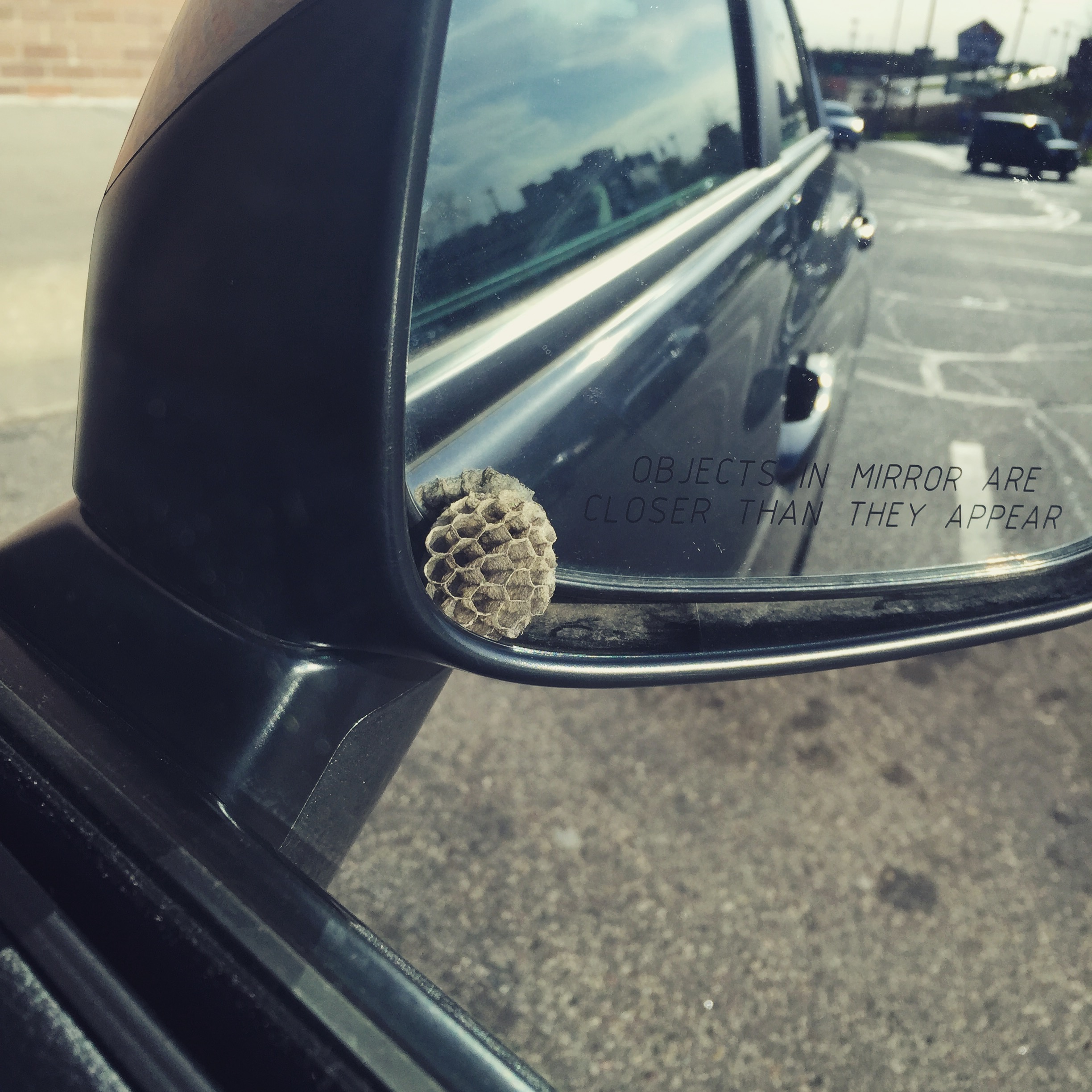 I noticed a wasp nest on my passenger side mirror as I was changing lanes on my way home from work, and my heart just about stopped!  I have a deep seeded fear of wasps, going back to an incident from daycare.  I've never been stung by a wasp, but the terror is there all the same. *Don't worry – car was not in motion when picture was taken*
I made a detour and got a huge can of Raid, and once I got home I sprayed it several times (just for good measure).  I tried to get it off the mirror, and only succeeded in pushing it along side the mirror and further out of reach.  After that mishap, I decided to just wait until the next morning to remove it from the car; however, the thought of it kept finding its way to the front of my mind and I could not rest easy with it still wedged in my mirror.  So around 8:30 that night, armed with a grapefruit knife and my tweezers, I braved nightmare and was finally able to extract it from the car! (and then I stomped on it several times)
I know that it wasn't a big nest, and I'm 100% sure there were no wasps in the vicinity, but I was still terrified.  Some people are afraid of snakes, others can't stand spiders, but for me my fear will always be The Wasp.
To get my mind of flying, stinging things, I am going to think of this Orange Poppy Seed Cake I made the other week.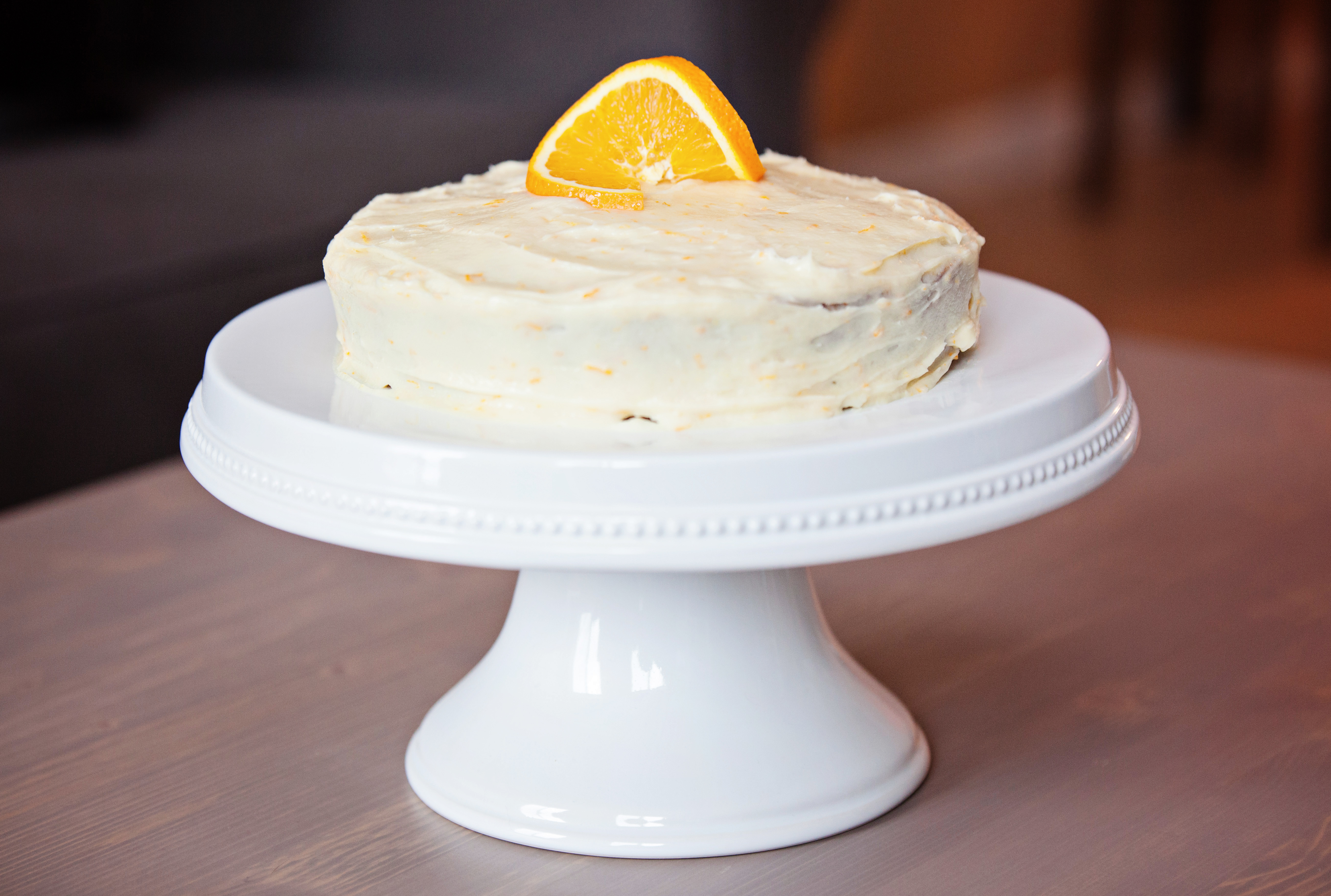 This was a dense, delicious cake that has the great pop of poppy seeds, a slight zing from plenty of orange juice and zest, and a delightful orange cream cheese frosting.  I imagine if tea time was a more prominent thing here, this cake would be served often.  It's not a light and fluffy cake, but that won't matter once you try it.  Also, let's be honest with one another – you could put cream cheese on a piece of cardboard and even that would be delectable!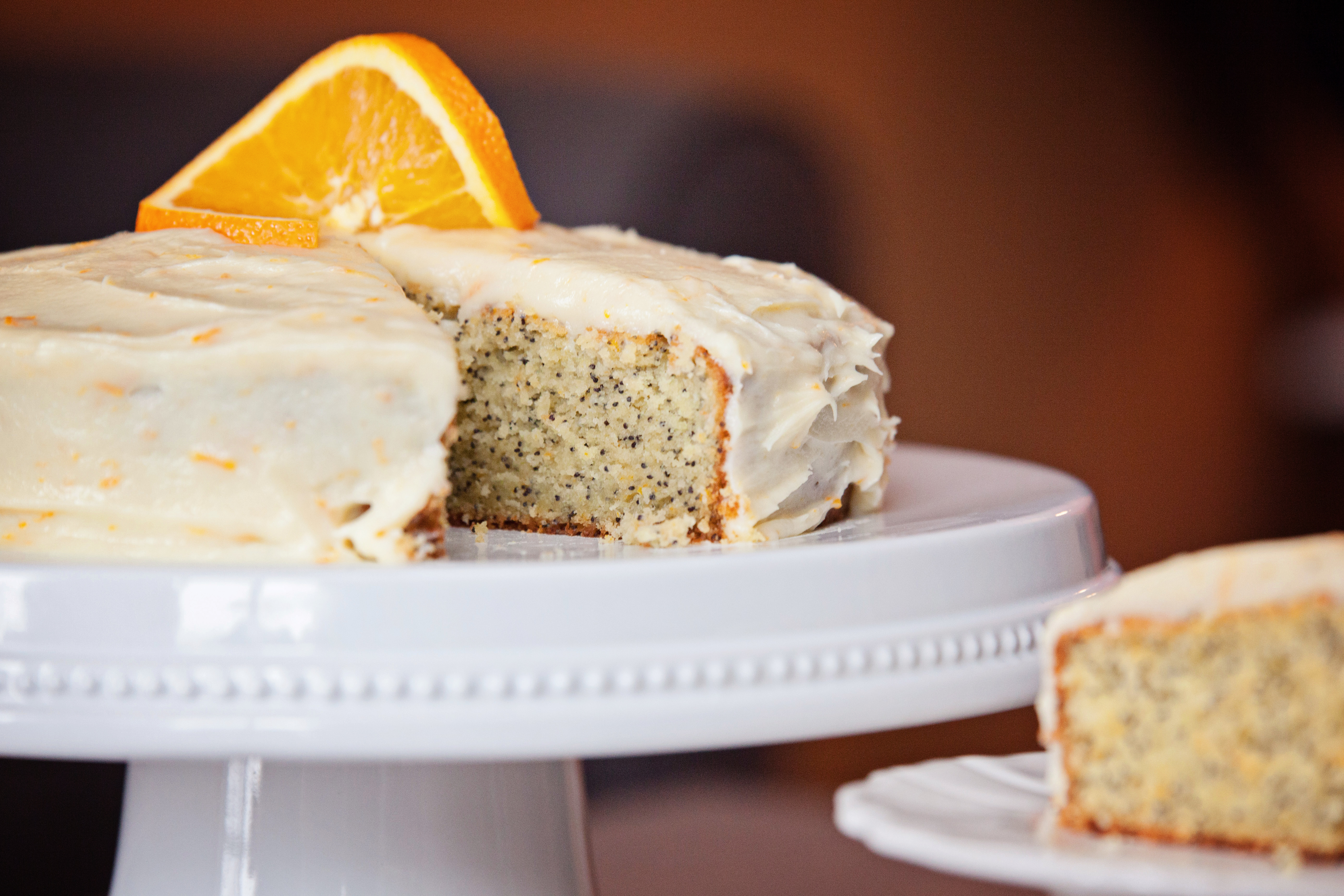 If you have a wasp nest that needs to be removed, I'm not your gal.  But, if you want someone to make you a fantastic cake like this one, I will do so gladly any time!

1919 Total Views
1 Views Today
1/4

cup

poppy seeds

3/4

cup

whole milk

1

cup

butter

unsalted

1-2

tbsp

orange zest

(the zest of one orange)

1/2

tsp

vanilla extract

1/2

cup

orange juice

3/4

cup

granulated sugar

3

eggs

2

cups

all purpose flour

1 1/2

tsp

baking powder
1

8 oz packages

cream cheese

softened

1/4

cup

unsalted butter

softened

1/2

tsp

vanilla extract

1 1/2 - 2

cups

powdered sugar

1

tbsp

orange zest
Preheat oven to 325F. Grease and flour an 8-in round cake pan.

Combine the poppy seeds and milk in a measuring cup, stir, and set aside while you prepare the other cake ingredients.

Place the butter, orange zest, vanilla extract and sugar in the bowl of a stand mixer, and beat until light, creamy and pale in color.

Add the eggs, one at a time, mixing well between each one.

Then add flour, baking powder, milk/poppy seed mixture, and orange juice - mix until ingredients are just combined.

Pour into the prepared cake pan and bake for 50-60 minutes, or until a toothpick comes out clean. Once done, cool completely before frosting.
Prepare the frosting while the cake is cooling.

Beat the cream cheese, butter and vanilla extract until smooth (in either a stand mixer or with an electric hand-held mixer).

Add the powdered sugar a 1/2 cup at a time (this will help avoid a sugar-covered kitchen).

Once enough sugar is added to the desired consistency, add the orange zest and beat until combined.
---
---