Mayonnaise
I cannot quite believe how quickly this summer has gone by.  One minute it was June, and then I blinked and it's September!  This summer was filled with a lot of new adventures and exploring, and I wouldn't change it for anything (even more time).
One such thing I explored, along with two friends of mine, was The Whole30 program.  Whole30 is an elimination diet that cuts out wheat, dairy, sugar, legumes, and alcohol, with the intention of "resetting" your gut.  I know, I know, this sounds like a fad diet with no real benefits, and I endured my share of nay-sayers during the experience; but truth be told,  I did feel a lot better while following the rules.  The intention is at the end of 30 days, you re-introduce the food groups you eliminated, one at a time, to see whether or not any of them have a negative impact on the way you feel.
At this point you might be asking yourself if I made it all 30 days, and the answer is no, I did not.  I had some prior commitments that I knew would not be Whole30 friendly, and I decided to do my best around those circumstances.  One of those events was the wedding of a friend of mine, and it was a night worth celebrating!  I have every intention of doing Whole30 again for a full 30 days, but will be more mindful of the month I pick to do it.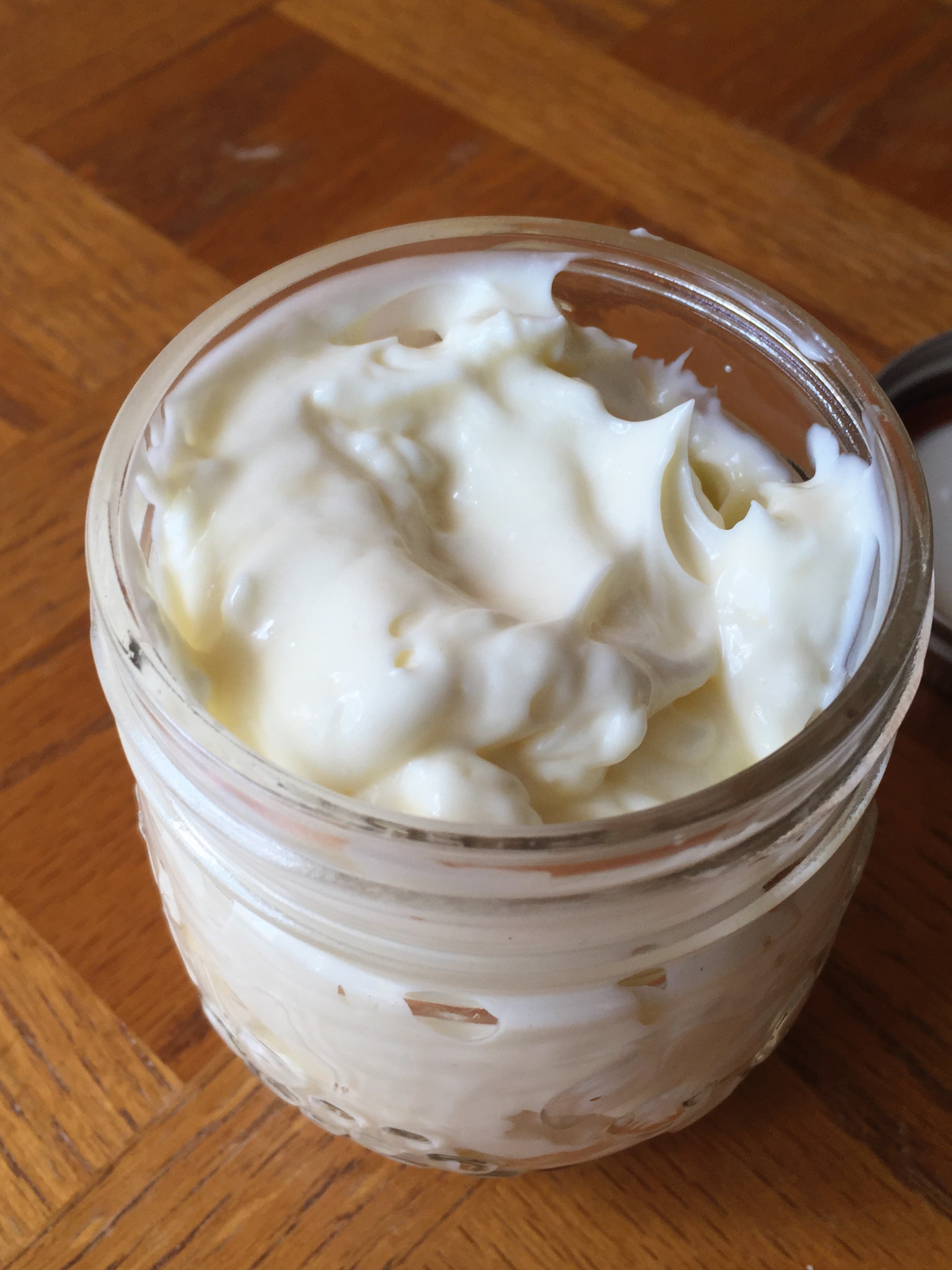 Whole30 did force me to stretch my cooking muscles and spend a lot of quality time with my kitchen.  Not being able to eat a lot of pre-made items was, admittedly, challenging; but it was also a lot of fun!  One of the staples for a lot of dips/sauces in this program is homemade mayonnaise.  I had always wanted to try making my own mayo, but was always a little intimidated by it.  However, it is really very easy to do.
There are only 5 ingredients, but there are two important things to know about them: 1. The egg and lemon should be at room temperature, leave them on the counter for 1-2 hours before making the mayo. 2. The olive oil needs to be Light olive oil.  Trust me on point number 2.  I thought it would be alright if I used normal olive oil the first time I made it, and I was very wrong.  The olive flavor completely overwhelms the dressing, and really ruins it.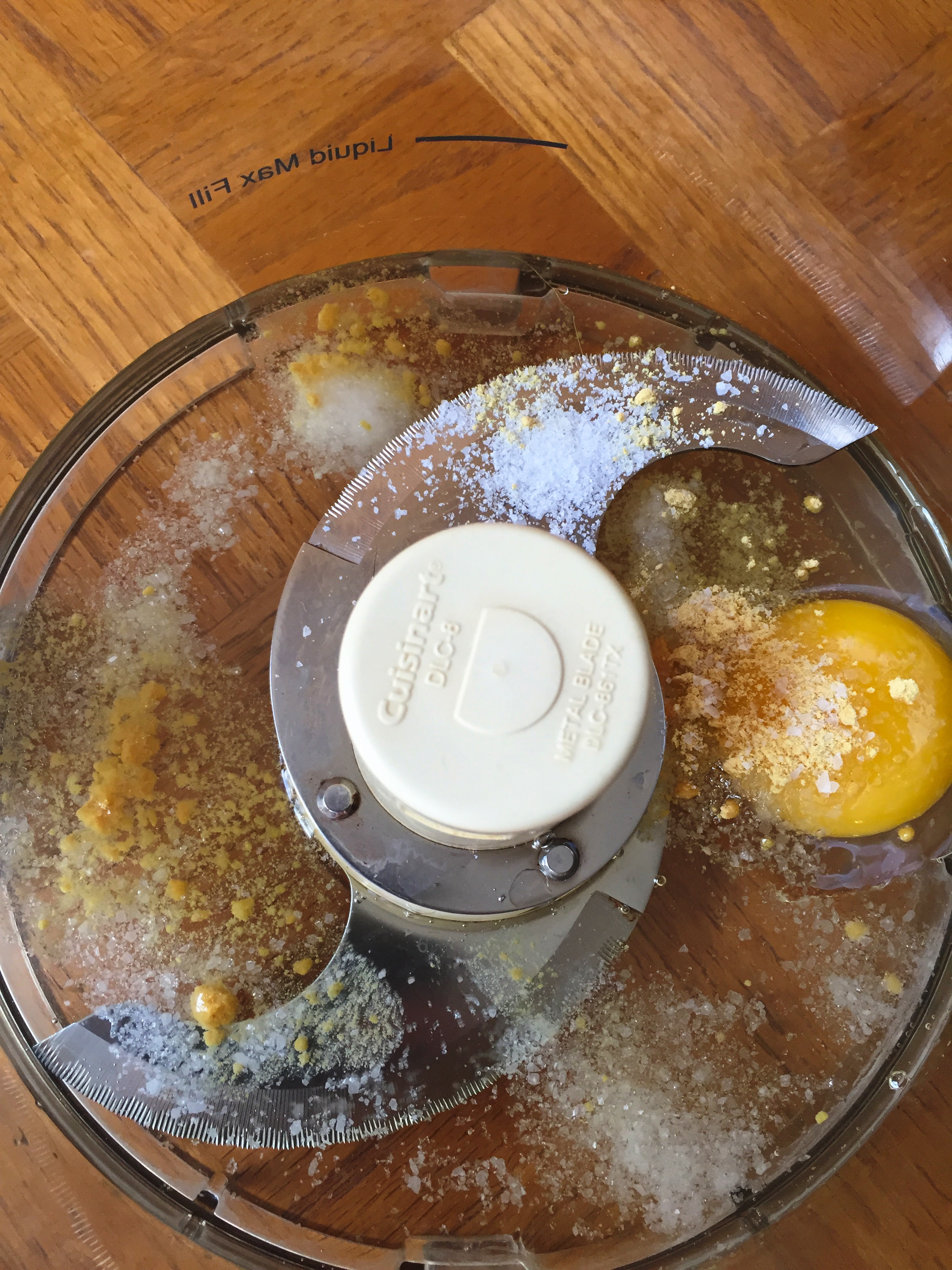 The first step is to put the egg, salt, dried mustard powder, and 1/4 cup of light olive oil into a food processor (or blender), and give it a whirl for 30-60 seconds, until it is a pale yellow color.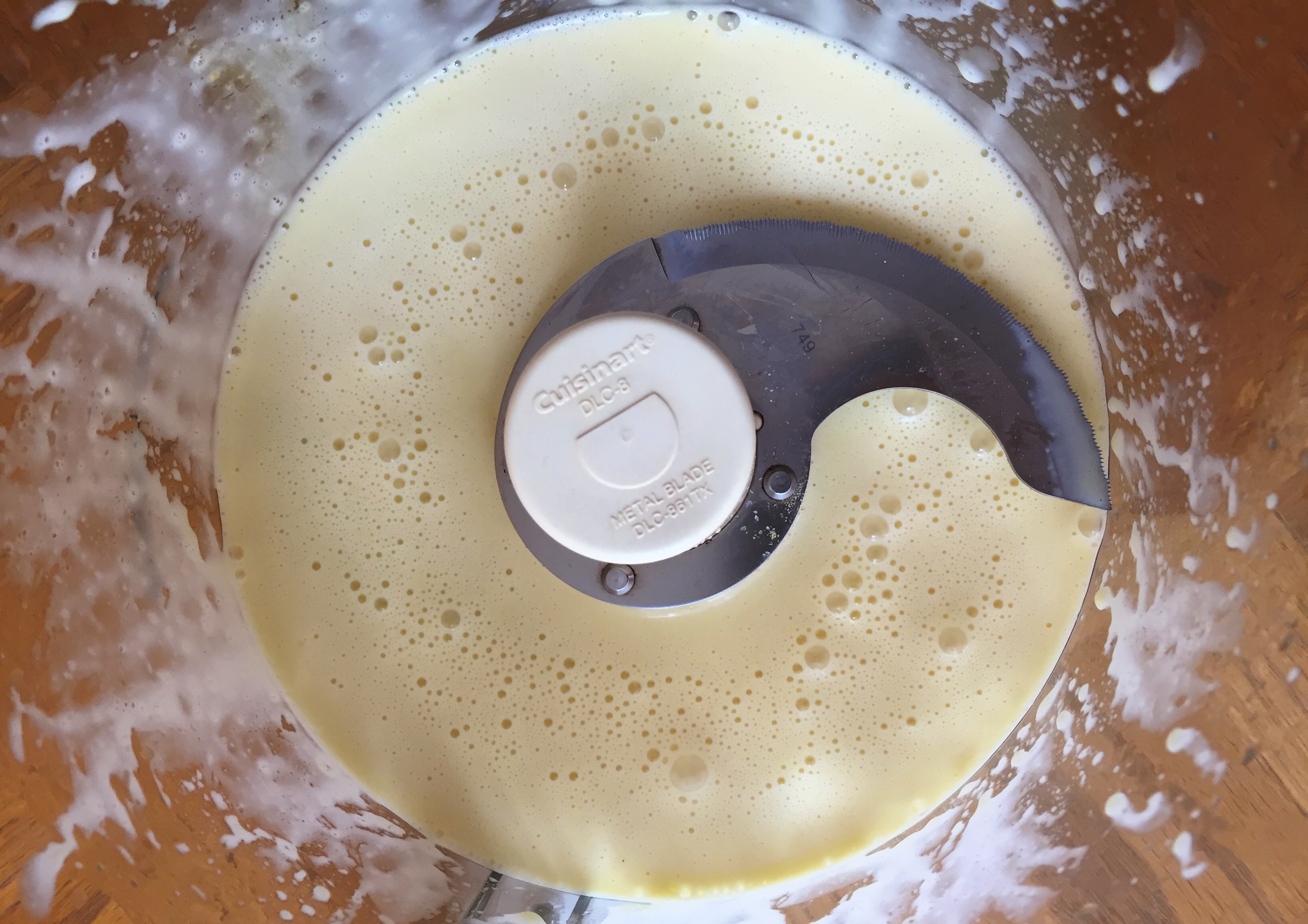 Once the egg and oil are all combined, I slowly streamed in a full cup of light olive oil.  The consistency will change during this time from the liquid egg/oil mixture above to a thick, spreadable consistency that is like any store-bought mayo you might have in your refrigerator at the moment.  The trick is to slowly stream in the oil so it has time to emulsify. (Click here -> Mayonnaise to see a video of the speed in which you should add the oil)
It will take about 2 minutes to stream in the oil.  Once all the oil is added, you will have an almost finished mayonnaise.  The final step is to squeeze in the juice of half a lemon, either pulse the food processor or stir by hand to combine.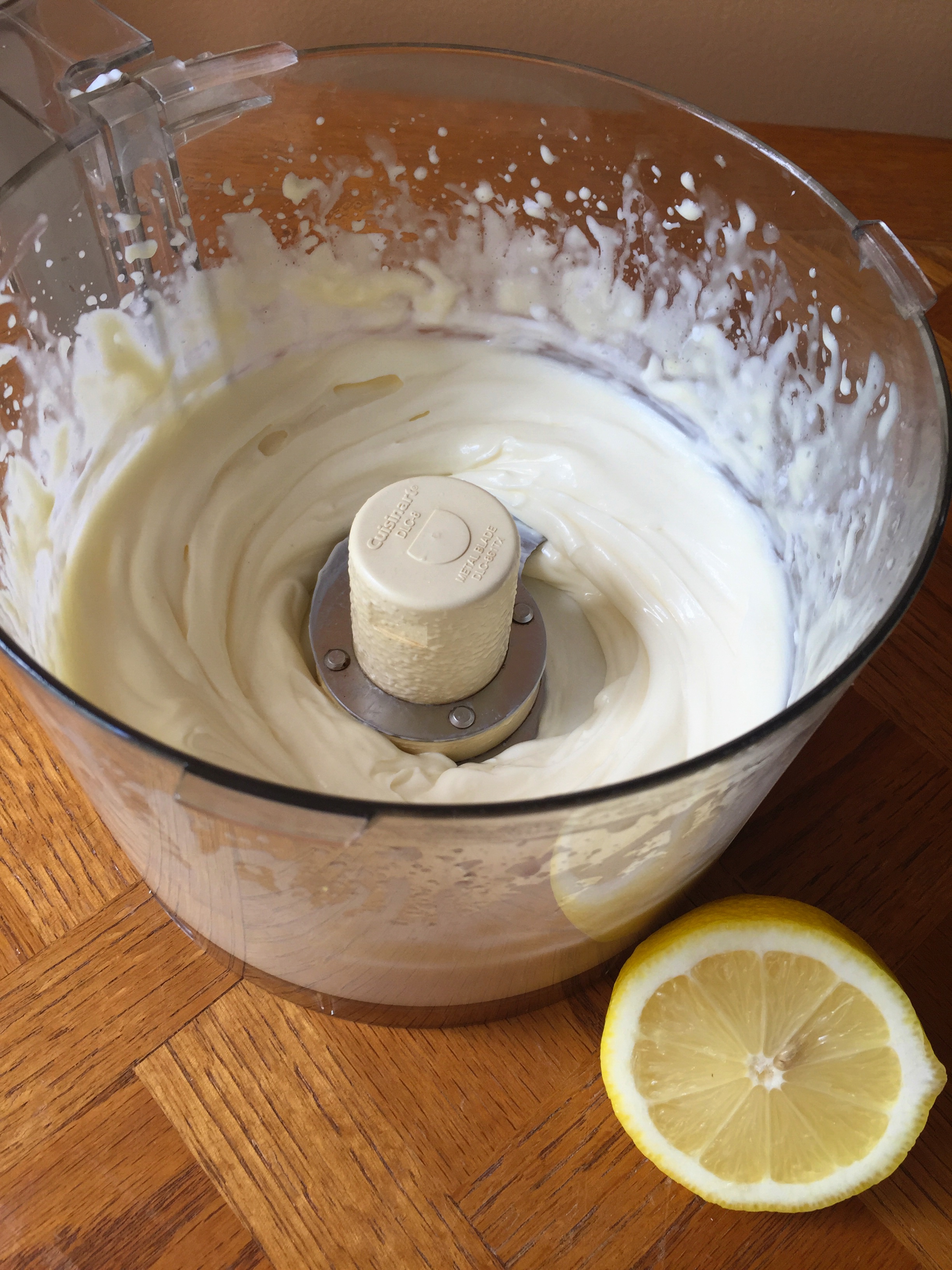 You are now ready to use this to make the most delicious sandwich of your life; or you can make flavored mayo such as cilantro-lime or pesto mayo.  One of my favorite uses is to make ranch dip with it, but that recipe will have to come at a later date!

2238 Total Views
1 Views Today
1

large

egg

room temperature

1 1/4

cup

light olive oil

divided

1/2

tsp

dry mustard powder

1/2

tsp

salt

1/2

lemon

juiced
In the bowl of a food processor (or blender), combine the egg, salt, dry mustard powder, and 1/4 cup of light olive oil. Pulse ingredients for 30-60 seconds, until all combined and pale yellow in color.

With the food processor running, slowly drizzle in the remaining 1 cup of light olive oil through the processor's food chute.

Once all of the oil is added and the mixture has emulsified, stir in the juice of 1/2 a lemon, either pulse the food processor or stir by hand to combine.

Keep refrigerated in an airtight container, up to one week.
**Cardinal Rule** Be careful when measuring the dry mustard powder.  Add too much, and you'll end up with a strong mustard bite to your mayo.  Also -- I was not kidding about the light olive oil; it is a necessity!
Recipe Source: Whole30 Cookbook
---
---