Lemon Supreme Pie
Another holiday has come and gone, and it was a darn good one!  Easter was yesterday, and my family had a relaxed, fun day at my mom's.  We don't usually do big family events any more; instead we opt for the quieter occasion, filled with great food and even better company.
Holidays are a wonderful time to remember those who are no longer with us.  My grandma Vi knew how to host a holiday meal, and none of us will ever live up to her – try as we might!  Her rolls and pies are held in the highest regard.
For the last two years I have made this lemon supreme pie for Easter dessert, and this year I used my grandma's pie crust recipe.  The original recipe calls for lard.  You read that correctly – lard.  I have made her pie crust many times with lard, and it makes a great crust; it's not something, however, I typically have on hand.  For the crust this time I used a combination of butter and shortening.  It was one of my best crusts to date – flaky, yet tender.  One key to any good pie crust is to cut the fat into the flour.  I prefer to use a pastry blender for this job, but you can use a food processor if you have one (I've never liked how it turns out for me in a food processor, but other people swear by it). You want to have pea-sized chunks of butter/shortening/lard in your flour before you add the wet ingredients.
Since the whole pie isn't baked in the oven, you need to bake the crust before you fill it.  Once that is baked and cooled, it is filled with two tasty layers.  The bottom layer is similar to a no-bake cheesecake, and the top is a tart, beautiful lemon glaze.  The lemon layer is chock-full of lemon juice and zest, making it a perfect balance for the cream cheese layer.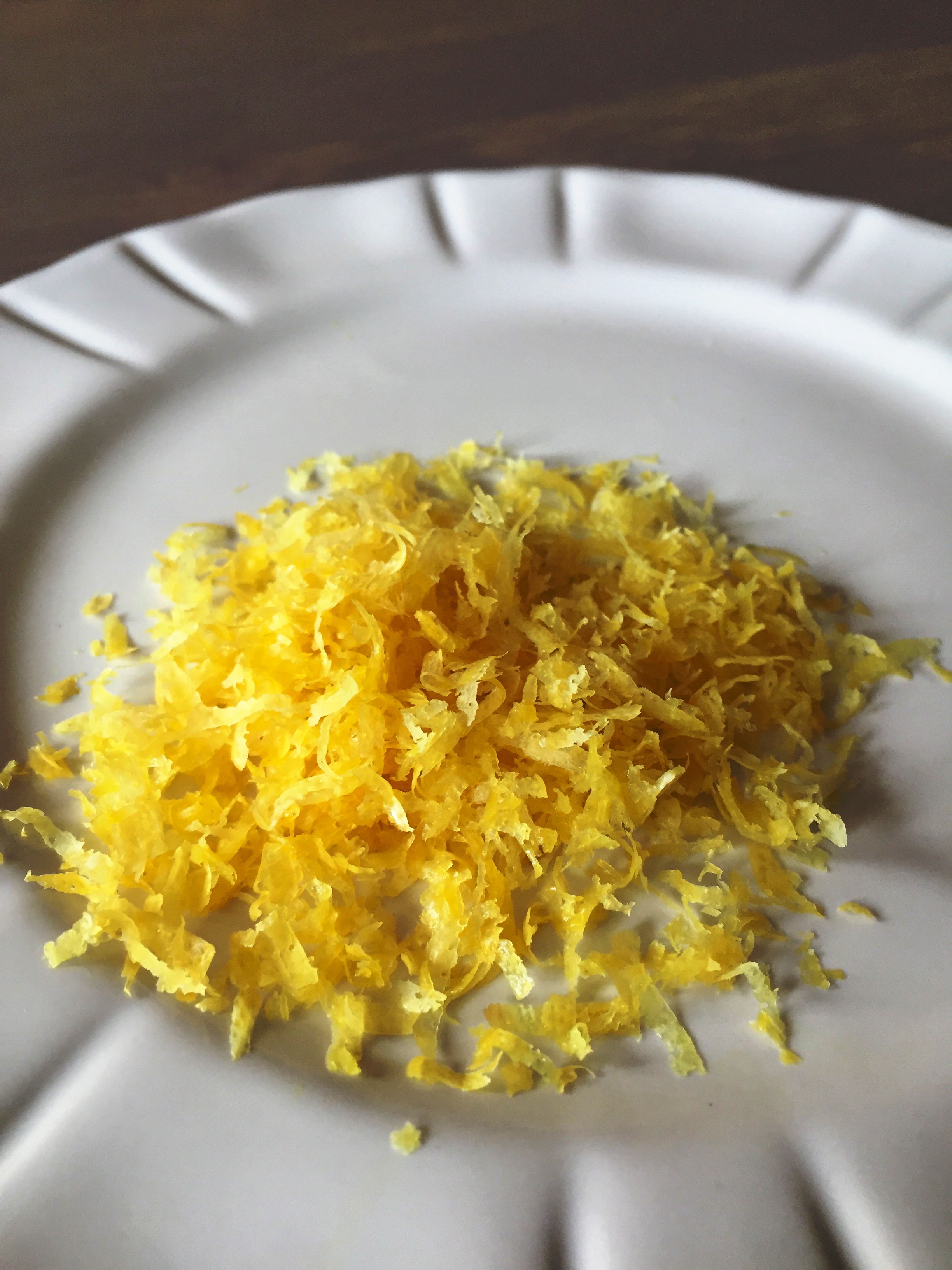 As we enjoyed this pie for the second year in a row, we were serenaded by the song of a cardinal coming through the open window.  At moments like that, when I'm together with my family and the cardinal starts singing, it is very clear to me that our loved ones never really leave us.  They are with us every day, be it in the song of a cardinal or the crust of a pie.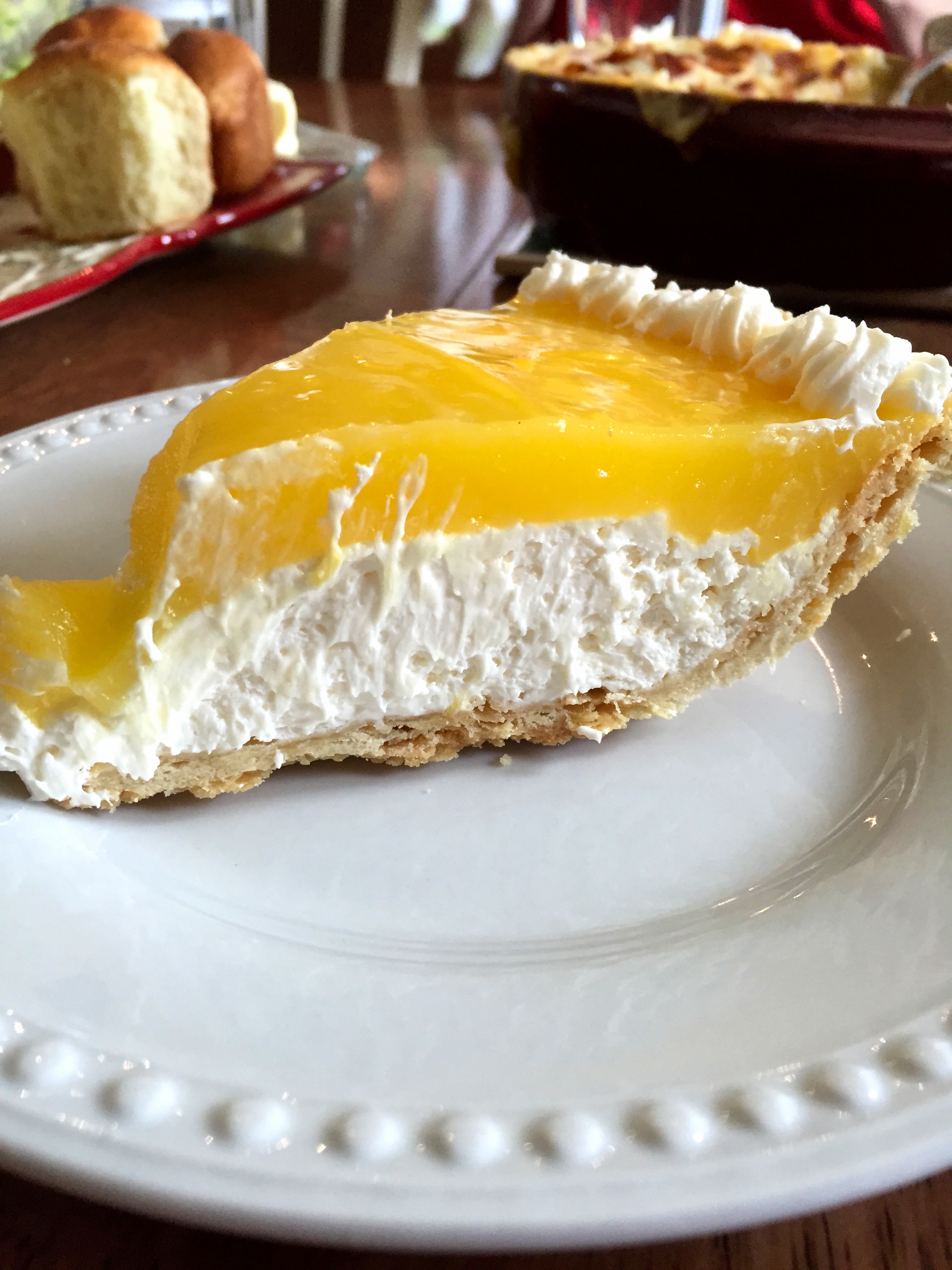 So go ahead, make some pie, and remember the important people in your life!
(If you want my recipe for homemade pie crust, leave a comment below or email thecookingcardinal@gmail.com and I will get it to you!)

2441 Total Views
2 Views Today
1

0.25 oz packet

unflavored gelatin

such as Knox

1 1/2

cup

warm water

2

egg yolks

slightly beaten, in a small bowl

1 1/2

cup

sugar

3

tbsp

corn starch

1

tbsp

butter

1/3

cup

lemon juice

(approximately the juice you get from 1.5 lemons)

2

tbsp

lemon zest

(zest from 1 large lemon)

1/2

tsp

salt

4-5

drops

yellow food coloring

if desired
2

8 oz packages

cream cheese

softened

1/4

cup

milk

1

cup

powdered sugar

2

cup

cool whip

2

tbsp

lemon juice

(juice from remaining half of lemon from lemon layer)
Bake crust according to directions on box for an empty pie shell.
Have all the ingredient measured, ready and accessible for the lemon filing. You will be stirring the lemon mixture the whole time so it doesn't clump, and you need the ingredients ready to avoid burning the filling.

Pour warm water in a medium bowl and sprinkle gelatin over the surface. Whisk together for a few minutes so the gelatin does not clump.

In a medium saucepan, whisk sugar, cornstarch and the gelatin mixture together over medium heat.

Whisk constantly until the mixture begins to boil and thicken. This will take about 10-15 minutes.

Pour a little of the sugar/gelatin mixture into the egg yolks and stir together for a moment. Then pour the egg mixture back into the saucepan with the rest of the sugar/gelatin mix.

Return to heat and simmer for 2-3 minutes, whisking constantly.

Add butter, lemon juice, zest and salt and whisk until smooth. If using, stir in food coloring.

Pour the mixture into a medium bowl and allow to cool completely while you prepare the cream cheese layer.
Place softened cream cheese into a large mixing bowl and beat on medium speed until smooth.

Add the milk, powdered sugar and lemon juice, mix until well combined.

Carefully fold the cool whip into the cream cheese mixture until incorporated.

Reserve 1 cup of the cream cheese mixture for garnish. Cover and keep in refrigerator until you're ready to decorate.

Spread the rest of the cream cheese mixture on the bottom of the cooled pie crust.

Pour the cooled lemon glaze over the cream cheese layer.

Chill for several hours. Once the lemon glaze is firm, decorate with remaining cream cheese mixture as desired; keep refrigerated until ready to serve.
**Cardinal Rule 1** Be sure to zest the lemon before juicing it.  It is a lot easier to zest a whole lemon than to try and zest two squeezed lemon halves.
**Cardinal Rule 2** The act of mixing a little of the hot ingredients in with the egg yolks is called Tempering.  This is done to avoid scrambling the eggs in the hot liquid and results in a smooth, luscious glaze.
Source: Two in the Kitchen
---
---