Kale and Quinoa with Cilantro Pesto
The summer after I graduated college, I moved back home and lived with my mom, while I worked as an international logistics intern.  We read about community supported agriculture (CSA), and decided to give it a try! Community supported agriculture allows us city-dwellers to receive fresh, local grown produce by buying a share in a farm.  Meaning you pay a local farm to receive a portion of the produce they grow.
Not wanting to get in over our heads, we purchased half a share and received a box of goodies delivered to our house every other week.  We had an idea of what we would receive in each box, but we were never 100% sure until we actually opened it up.  There was a variety of produce that summer – kale, strawberries (so dang delicious!), radishes, zucchini, summer squash (a lot of zucchini and summer squash…), green beans and much more!
Before the CSA, neither of us had really cooked with kale or other hearty greens, but we had success with the recipes we tried.  By the end of the summer, however, we had run out of creative ideas for the greens…  If only we'd had this recipe!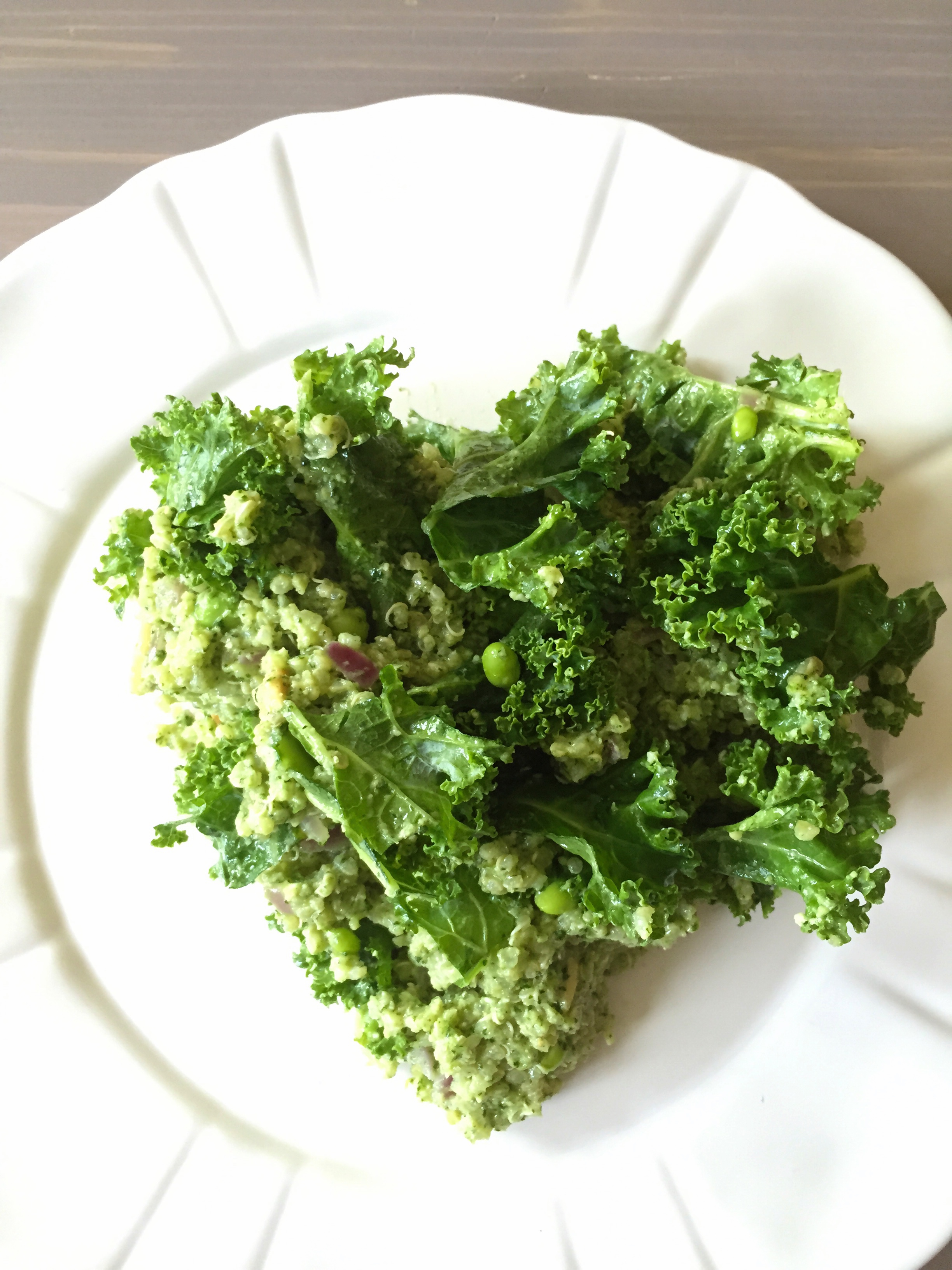 This was a dish my mom and I adapted from a recipe earlier this summer.  True to our style, we had almost all of the ingredients that the recipe called for.  So we improvised and made it our own, and it was delicious!  I made it again at home a few weeks later; and that time I spent more time thinking about what I wanted to put in it that would make it a complete dish with great flavors and textures.
The quinoa for this dish is cooked in a combination of almond milk and water.  I've never used almond milk to make savory quinoa, but I will consider it more in the future!  It played well with the toasted, slivered almonds that are part of the final product.  When the quinoa was finished cooking, I threw some diced red onion in with it, mixed it together, and let the onion warm up and mellow out while I made the pesto.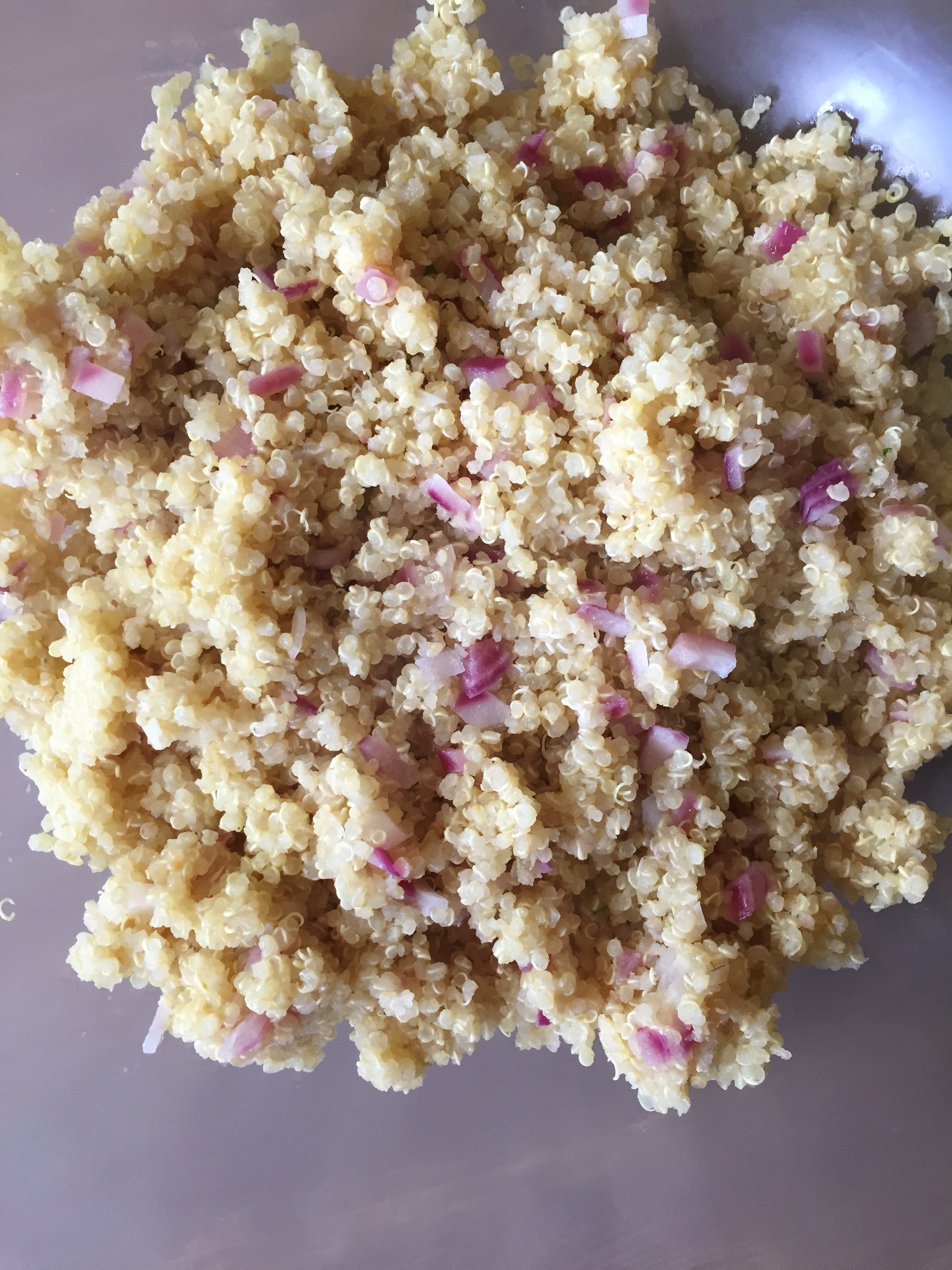 The pesto is not the traditional basil/pine nut pesto you might be familiar with.  This one uses cilantro instead of basil, and cashews in place of the pine nuts.  I put in half a jalapeno that gave it a gentle heat; and of course lots of garlic!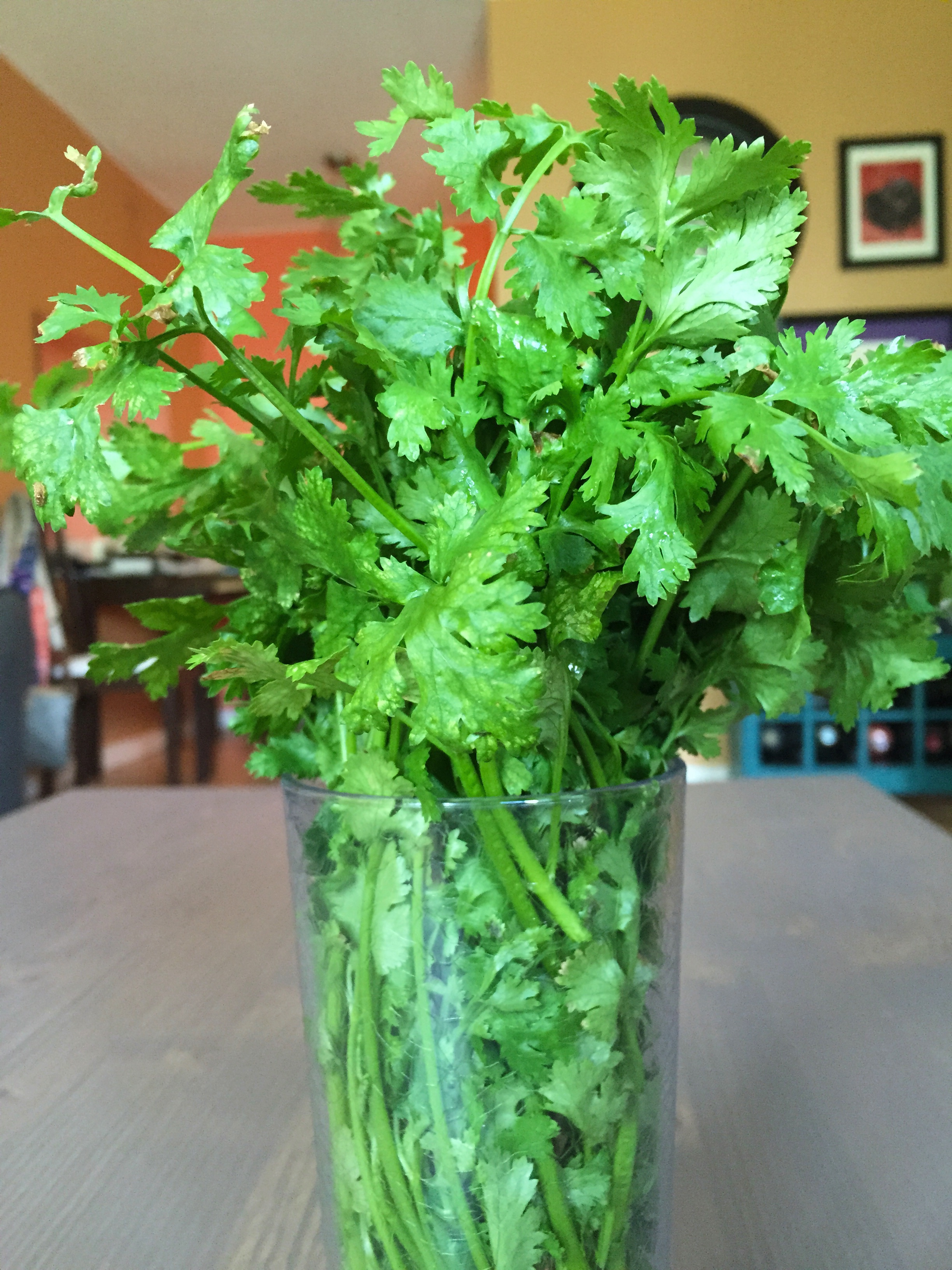 I'm not currently participating in a CSA, but I have my mom's garden to pick from now!  The cilantro was courtesy of her hard work, as were some gorgeous fresh peas.  They added a wonderful pop to the quinoa, and their sweetness offset the mild heat from the pesto nicely.  If you don't have access to fresh peas, frozen peas are a perfect substitute. Simply add the frozen peas to the quinoa at the same time as the red onion.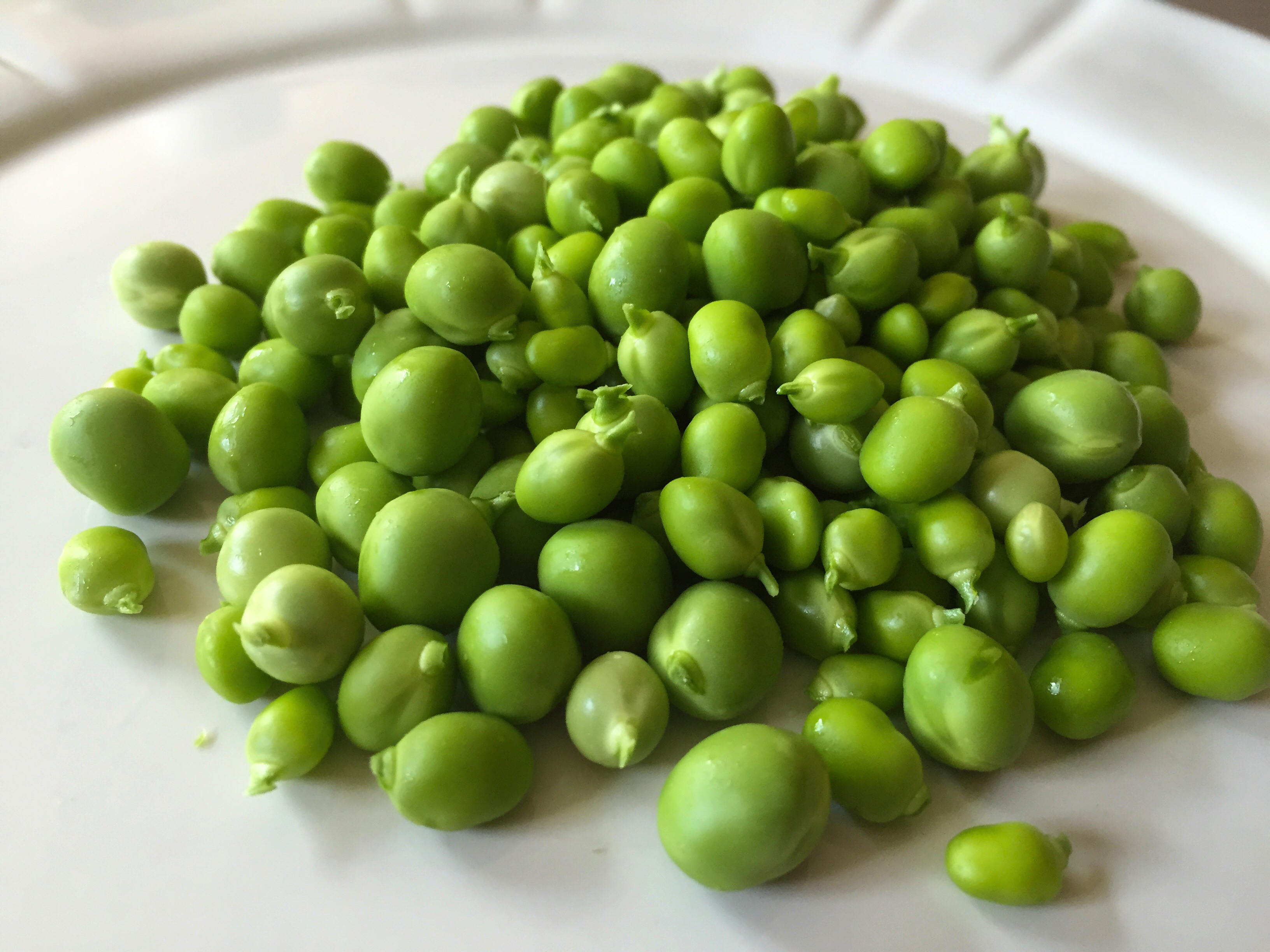 The final component of the dish is the kale.  I stripped the leaves of a small bunch of kale from the stems, gave them a good chop, and then salted and massaged the pieces.  You read that right – raw kale is best if you sprinkle about a teaspoon of salt over it and massage the pieces.  It helps tenderize the leaves, which can be tough and chewy when raw.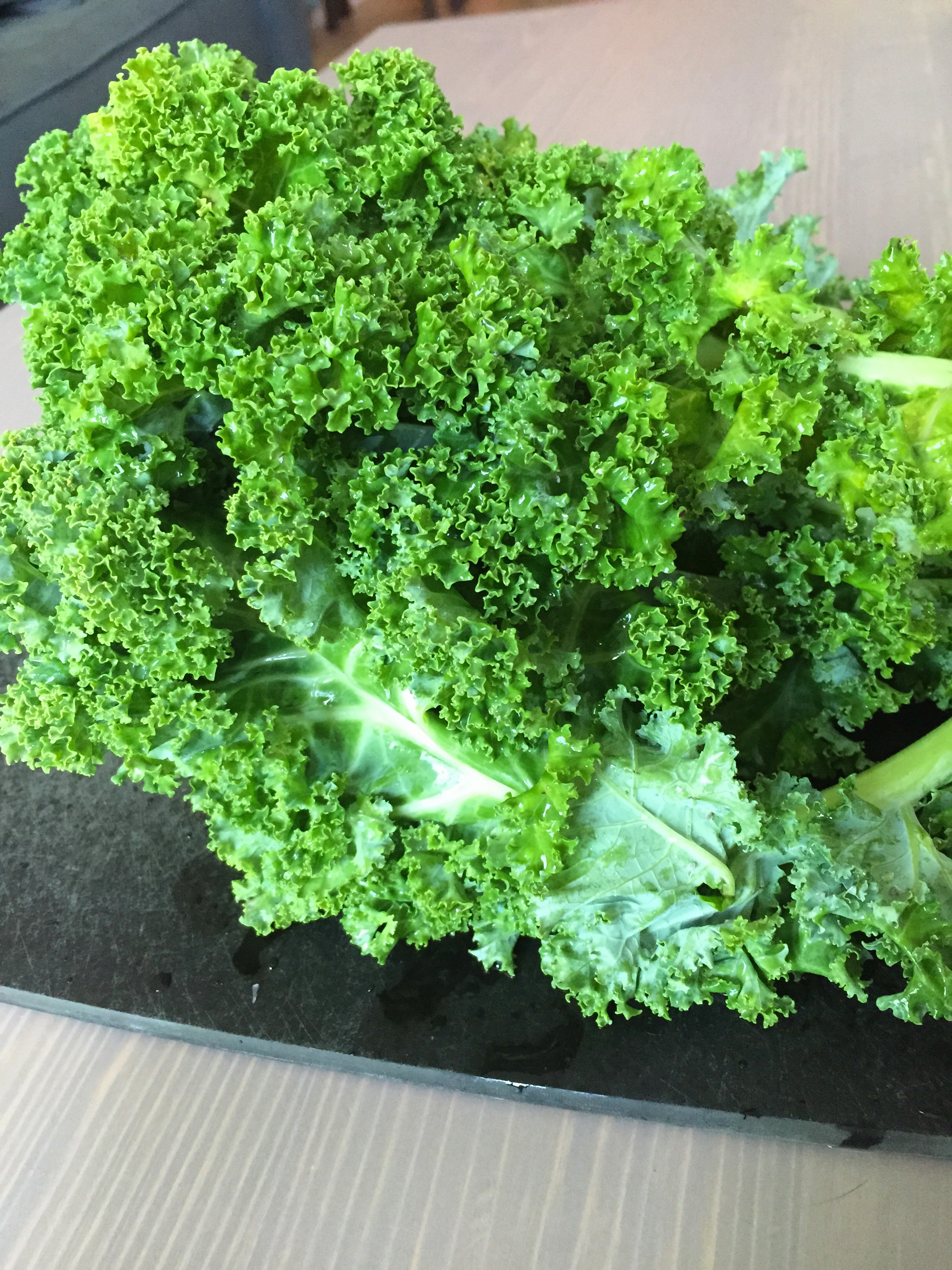 Once I had all the components ready, it was time to combine!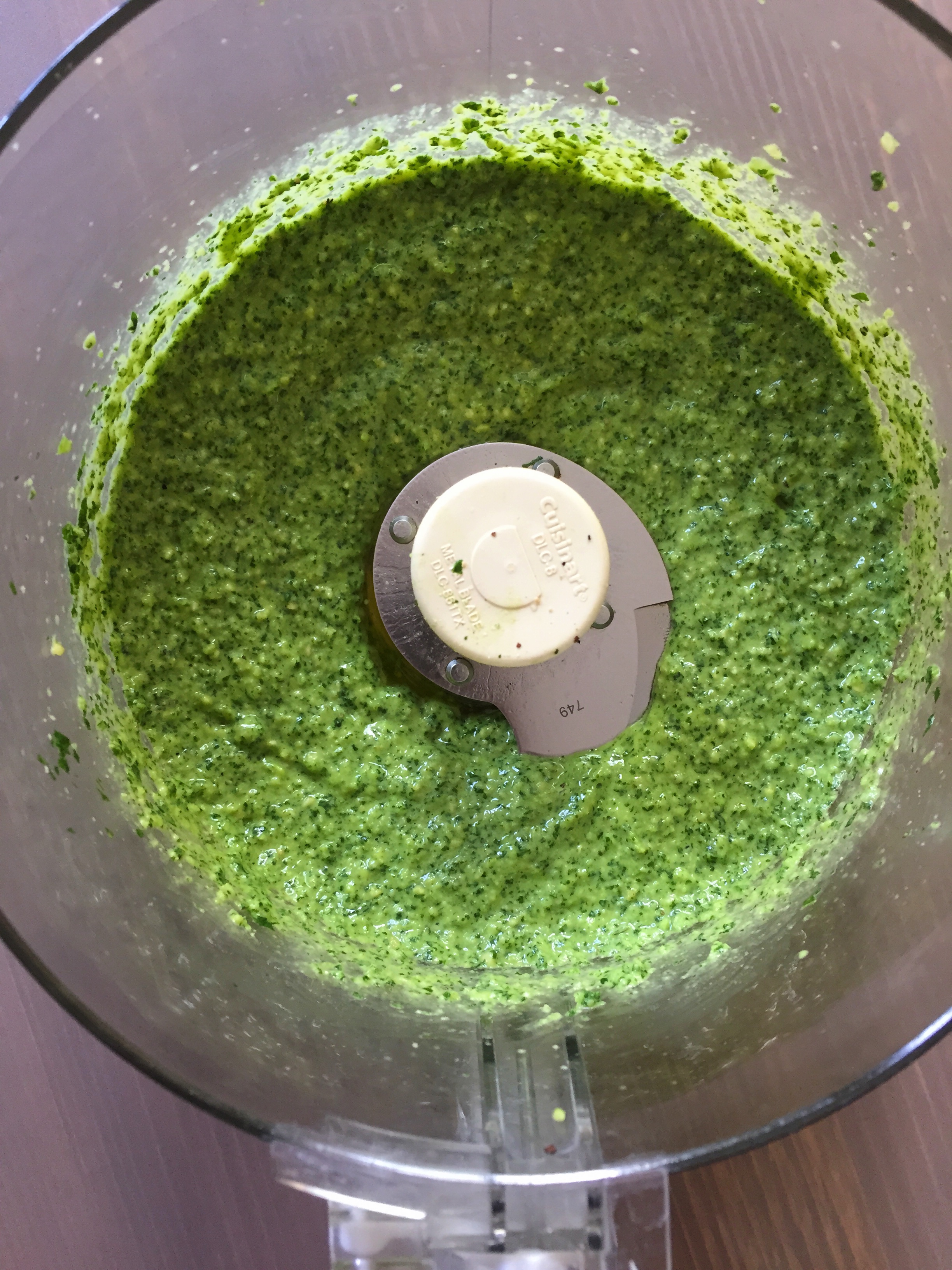 The pesto gets mixed with the quinoa, and to that I added the peas and some toasted slivered almonds.  Again, the peas and almonds add a crunchy texture that keeps the dish from being one note texturally.  The kale is then folded in to the quinoa, and it is time to eat!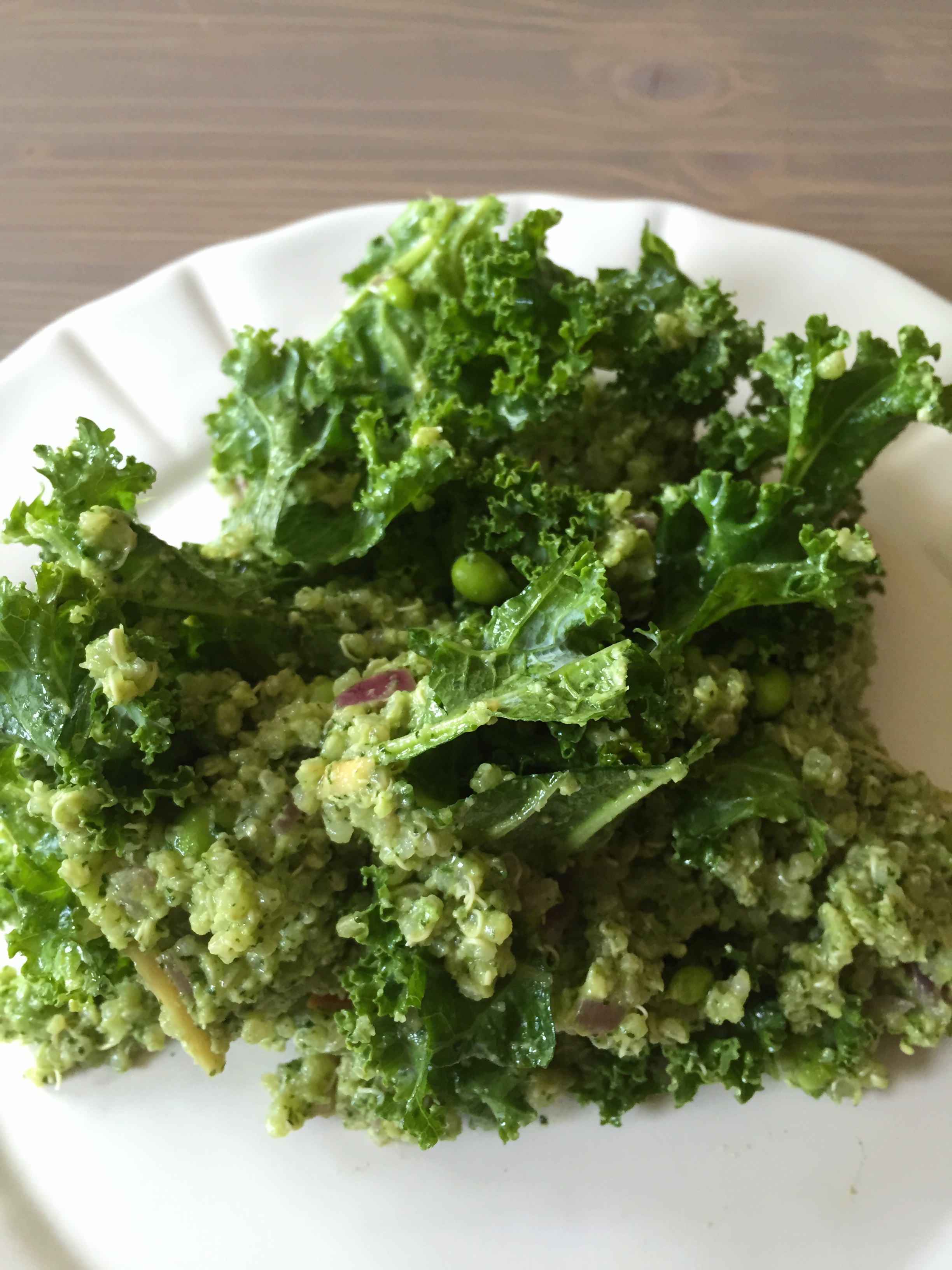 I have made this a couple times now to bring to work for lunch, and I am certain I will make it several more times before the summer is over!

2257 Total Views
1 Views Today
1

cup

quinoa

rinsed in a fine mesh seive

1

cup

unsweetened almond milk

1

cup

water

1

small bunch

kale

stems removed and leaves chopped (approx 4 cups)

1/2

small red onion

diced

1/4

cup

slivered almonds

toasted

1/2

cup

frozen peas
2

cups

fresh cilantro

1/2

cup

raw cashews

toasted

4

cloves

garlic

1/2

cup

olive oil

1/2

lime

juiced, can add more to taste

1/2

jalapeno

salt and pepper

to taste
In a medium saucepan, combine 1 cup almond milk and 1 cup water, and bring to a boil.

Add the quinoa and reduce heat to a simmer. Let cook for 15-17 minutes, until all the liquid is absorbed.

Remove from heat. Fluff quinoa with a fork and mix in red onion and frozen peas. Cover and set aside.

Remove kale leaves from the stems. Cut into small pieces and place in a bowl. Sprinkle 1 teaspoon of kosher salt over the kale, and massage the salt into the kale leaves.

In a skillet over medium heat, toast the slivered almonds until they are lightly brown. Watch the almonds carefully, as they will go from lightly toasted to burned quickly.
Place the cashews, garlic and jalapeno in the bowl of a food processor. Pulse until roughly chopped.

Add cilantro and turn on the food processor to being chopping the herb.

Slowly add the olive oil while the food processor is running.

Once the oil is well combined, add the lime juice, salt and pepper. Pulse the food processor until well combined.

In a big serving bowl, combine the quinoa mixture, kale, slivered almonds and pesto. Toss to combine, and serve warm.
**Cardinal Rule** When making this to bring to work for lunch, I keep the kale separate from the quinoa/pesto mixture.  After massaging the kale, I place  individual servings in zip-top bags.  I mix the kale and quinoa together as needed for meals.
Recipe source: Cookie and Kate
---
---