Honey Oat Wheat Bread
This weekend I got to spend some much needed time with my sister.  We had all the necessities for a perfect sister night – homemade guacamole, wine and, the highlight of the evening, the new Backstreet Boys movie to watch.
The first concert my sister and I went to was the Backstreet Boys, I was in 4th grade and it was magical.  We were able to relive the experience this past summer when they were on their 20th anniversary tour. It was so awesome, I don't think I've ever had that much fun at a concert!  So naturally, when we heard they were releasing a new movie about the 20 years they've been together as a group, we knew it was something we had to watch together.
With a fun packed Friday and Saturday, I decided to take things easier today and bake bread.  Now, I'm sure when you think of making bread, "relaxing" might not be the first thing that comes to mind.  In reality it can be quite a calming exercise.  In my humble opinion, baking bread from scratch is not difficult, it just takes time.
There are several steps for bread baking, but they are not complicated.  To get started, most recipes call for combining warm water, yeast, and some sort of sugar to help activate the yeast.  The bread I made today used molasses to feed the yeast and proof it.  This is what the water/yeast/molasses mixture looks like after you let it sit for 5-10 minutes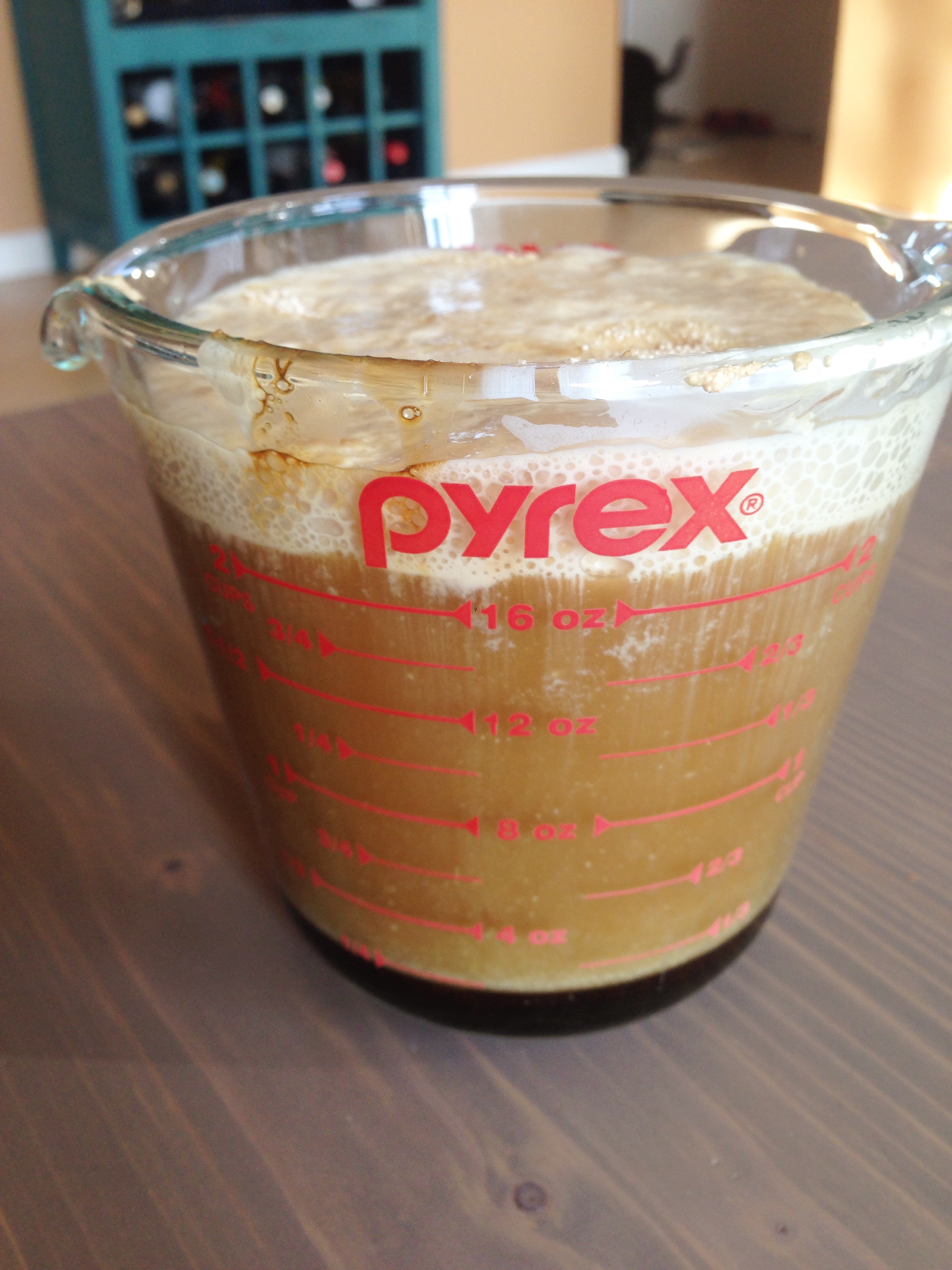 While the yeast proofed, I mixed the dry ingredients together – flours, oats and salt.  Most recipes for wheat bread call for a combination of all purpose flour and wheat flour.  The all purpose flour helps with the taste and texture.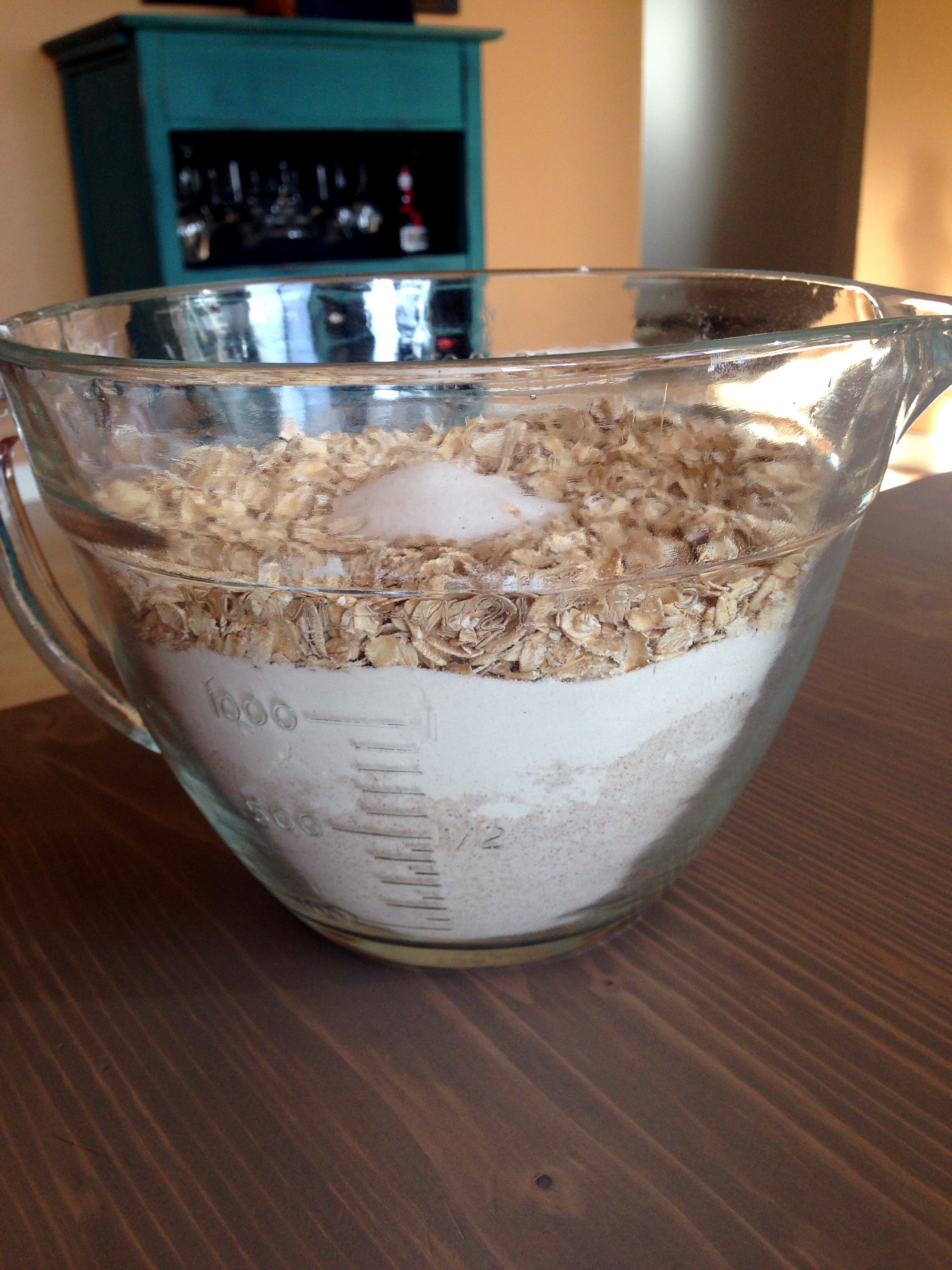 When the yeast was foamy, I poured the mixture into the bowl of my stand mixer, and added 1 cup of all purpose flour, honey, and olive oil (don't worry, you can't taste the olive oil; and yes, you can use vegetable/canola oil instead).  That was mixed until combined, then I began adding the dry ingredients pictured above. Once all the flour/oats are mixed into the yeast, the dough is turned out onto a heavily floured surface and kneaded for 8-10 minutes until it's smooth.  The dough then rises in a greased bowl for 1 hour until it has about doubled in size.  Then it is divided in half and formed into 2 loaves, left to rest/rise for another 45 minutes, and finally baked for 30-35 minutes.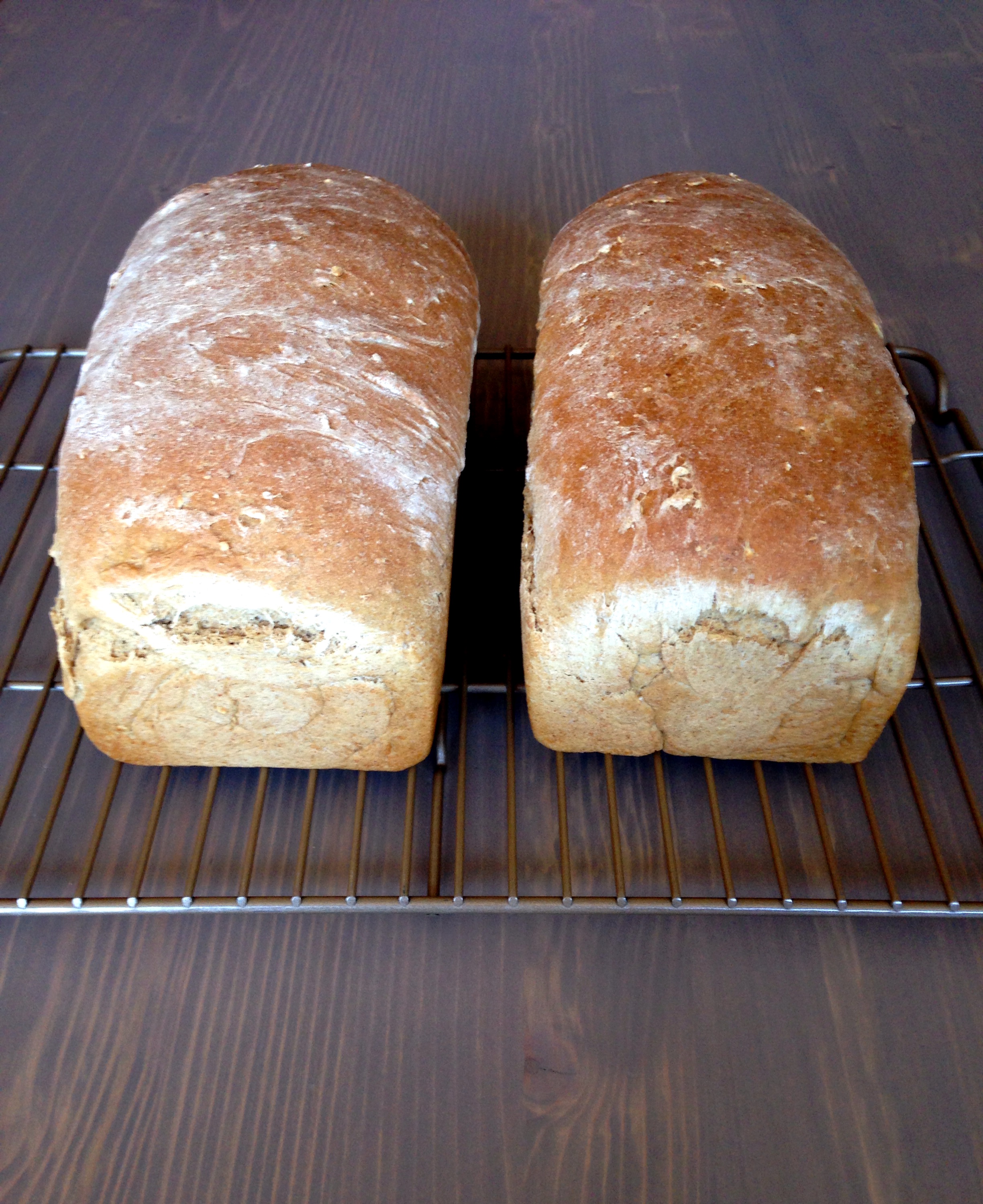 I will confess one problem I have with homemade bread – I am terrible at cutting even slices.  One end is always wider than the other, and I struggle with making similar sized slices for sandwiches.  It is my burden to bear, and I'll just have to find a way to make it through life as a bad bread slicer!

2356 Total Views
1 Views Today
2

cups

water

warm (100-110F)

3

tbsp

molasses

2 1/4

tsp

active dry yeast

3

cups

all purpose flour

2.5

cups

whole wheat flour

1

cup

uncooked regular oats

1

tbsp

salt

1/4

cup

honey

3

tbsp

olive oil

6

tbsp

all purpose flour

for kneading

Cooking spray
Combine water, molasses and yeast in a 2-cup glass measuring cup; let yeast mixture stand for 5-10 minutes.

Combine 2 cups all purpose flour, whole wheat flour, oats and salt in large bowl.

Beat yeast mixture with 1 cup all purpose flour, honey and olive oil at medium speed with a heavy-duty electric stand mixer until well blended. Gradually add the whole wheat flour mixture, beating at low speed, until a soft dough forms.

Turn out dough onto a well floured surface. Knead for 9 minutes, adding additional flour as needed (up to 6 tablespoons). Dough will be slightly sticky once done kneading.

Place dough in a large bowl that has been sprayed with cooking spray, turning once to grease top of dough.

Cover bowl with plastic wrap, and let rise in a warm place, free from drafts, for 1 hour or until doubled in bulk.

Punch down dough, divide in half. On a lightly floured surface, roll each portion of dough into a 13x8 inch rectangle. Roll up each rectangle, starting with the shorter side, jelly-roll fashion; pinch ends to seal.

Place loaves, seam side down, into 2 loaf pans that have been sprayed with cooking spray (8 1/2 x 4 1/2-inch pans).

Cover loosely with plastic wrap or a clean kitchen towel and let rise in a warm place, free of drafts, for 45 minutes or until almost doubled in size. Heat oven to 350F halfway through rising. Remove and discard plastic wrap.

Bake at 350F for 30-35 minutes, or until loaves sound hollow when tapped and the tops are golden brown. Cool in pans on wire racks for 10 minutes. Remove loaves from pans and let cool completely on wire rack.
**Cardinal Rule** 2 1/4 tsp yeast = 1 envelope of yeast (1/4 ounce).  I buy my yeast in a jar and store it in the freezer to prolong the life.
Source recipe: Southern Living
---
---