Honey Ginger Salmon in Foil
This week I must admit that I am having a hard time pulling myself away from the TV long enough to write a post.  I try not to watch an unhealthy amount of television, but there are some shows you start to watch and get completely sucked in.  That show for me this weekend was Orphan Black, which is available On Demand right now.  I'm not going to disclose just how much I watched, but suffice it to say it was a lot-ish…
Before you start to worry, I didn't spend the entire weekend watching tv.  I was still able to sneak in a movie, a concert (check out Sean Rowe!) and I had lunch with 3 of my closest friends from high school, which was an absolute blast!  Those crazy ladies are some of my favorite people in the world, and I wish we were able to spend more time together.  As it is, we are spread out over the state, so it takes a little coordinating to get together.  When it works out and we all get to catch up, it is more than worth the effort that's put into it!
You might be asking yourself, "What does one make when they are busy binge watching tv?"  The answer is this simple you make this honey ginger salmon that is baked in foil.  Not only is it quick to mix up the sauce, but the clean up is a breeze since the fish is cooked in a foil packet.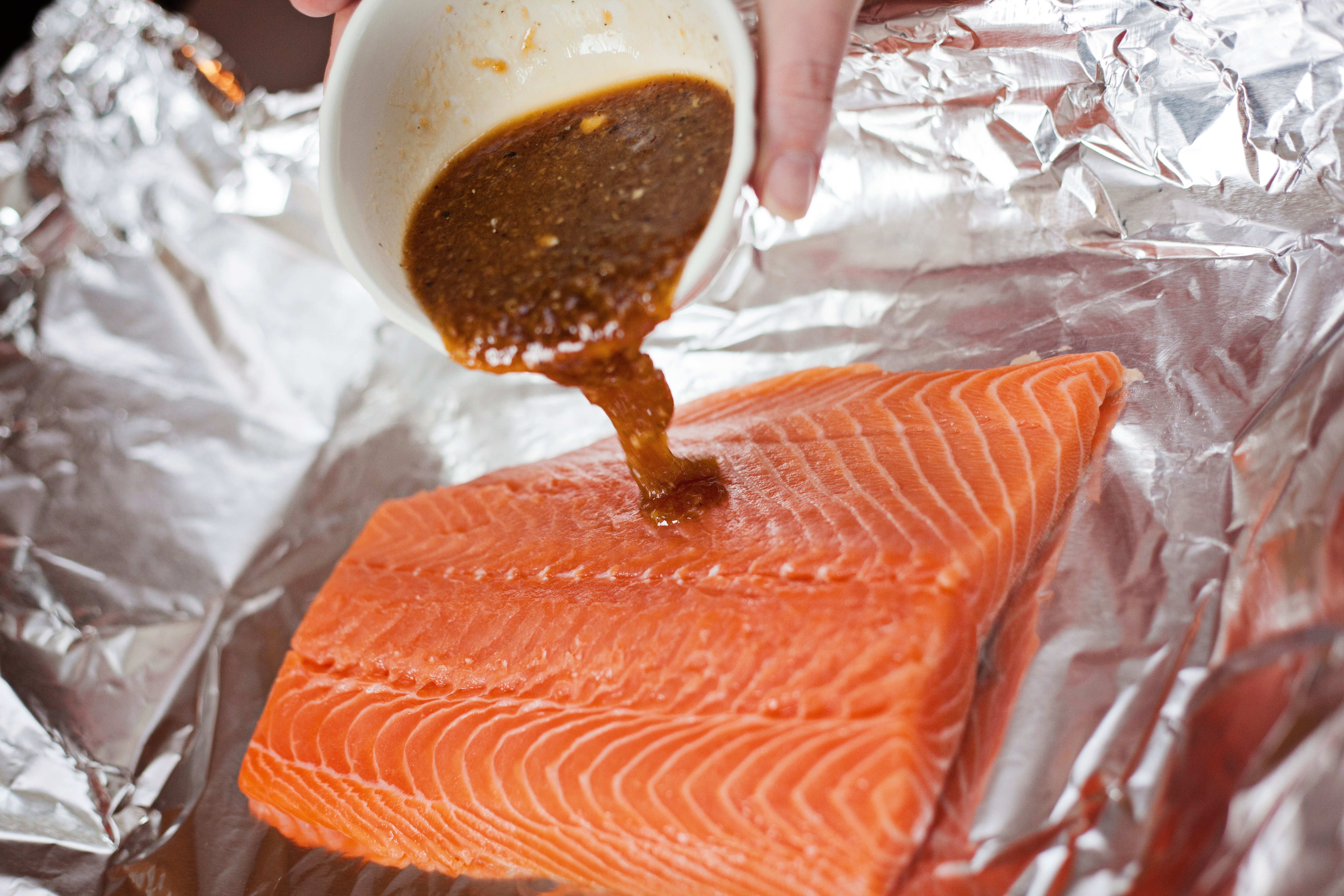 Salmon is another food that used to be intimidating for me to cook; but once you make it a few times and know how long to cook it, it becomes a lot less scary.  For this dish, you bake it at 375F for 15-20 minutes.  You can always test if the fish is done by flaking it apart with a fork and checking in the center to see if it's cooked. Be careful as well to not overcook the fish, as that can be just as unappetizing as when it's undercooked.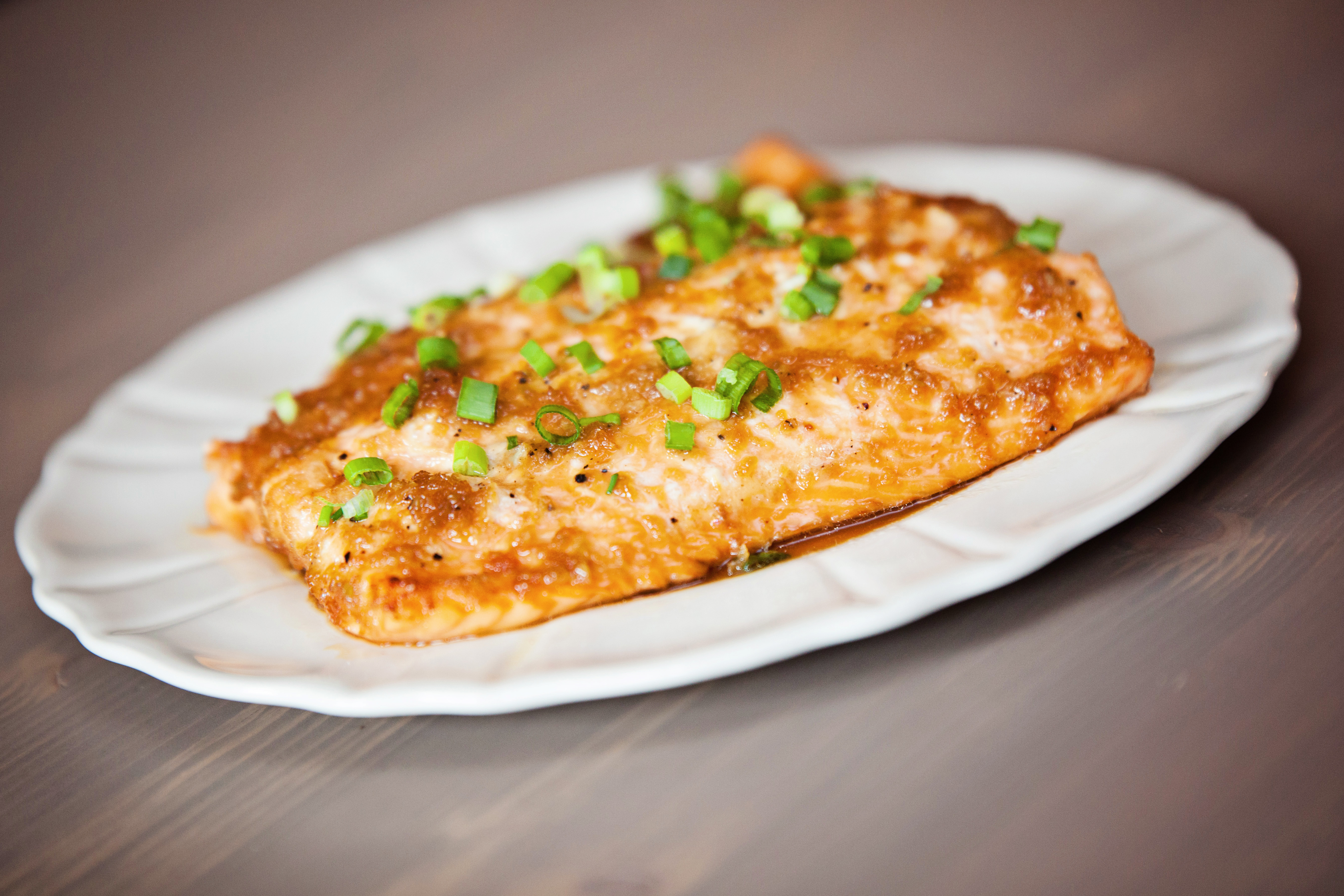 You can serve this dish with a variety of sides, including rice, roasted broccoli or asparagus, or even just a salad.

1949 Total Views
3 Views Today
1/4

cup

honey

1

tbsp

ginger

freshly grated

3

cloves

garlic

minced

2

tbsp

soy sauce

1

tbsp

rice vinegar

1

tbsp

sesame oil

1

tsp

Sriracha

optional

freshly ground black pepper

to taste

2

pounds

salmon

2

green onions

thinly sliced
Preheat oven to 375F. Line a baking sheet with foil.

In a small bowl, whisk together honey, garlic, soy sauce, rice vinegar, sesame oil, ginger, Sriracha and pepper.

Place salmon onto the foil lined baking sheet and fold up all 4 sides of the foil.

Spoon the honey mixture over the salmon. Fold the sides of foil over the salmon, making a sealed packet around the salmon.

Place into oven and bake until cooked through, about 15-20 minutes. Then broil for 2-3 minutes, or until caramelized and slightly charred.

Garnish with sliced green onions and serve immediately.
**Cardinal Rule** Try to buy a piece of fish that is an even thickness, this will help ensure it all cooks in the same amount of time.
Source recipe: Damn Delicious
Photos by Joseph Yetman Photography
---
---