Chicken and Artichoke Bake
I have a confession to make, some weeks coming up with something to write on here is hard.  I am not a writer, that is not what I studied in school.  I enjoy sharing my life with the few readers I have on this blog, but there are some days when the witty words and stories just don't come easily to me.
It's on those days where I feel like I am transported back to college, and I can find just about anything to distract myself.  In honor of the old college practice of procrastination, I will leave you with a simple poem for today:
How do I procrastinate, let me count the ways:
I procrastinate by washing dishes, drying every plate with care.
I procrastinate by cleaning, vacuuming up every piece of hair.
I procrastinate by grocery shopping, buying food for my next meal.
I procrastinate by online shopping, trying to find the best cute shoe deal.
I procrastinate by calling my family, asking about their day.
I procrastinate most expertly, in every single way.
One thing I have no problem writing about is the chicken and artichoke bake that I made a few weeks ago.  It is a favorite of mine, and is a dish I make once every few months.  Living alone, it's a perfect meal to make and take as leftovers for lunch or have again for dinner throughout the week.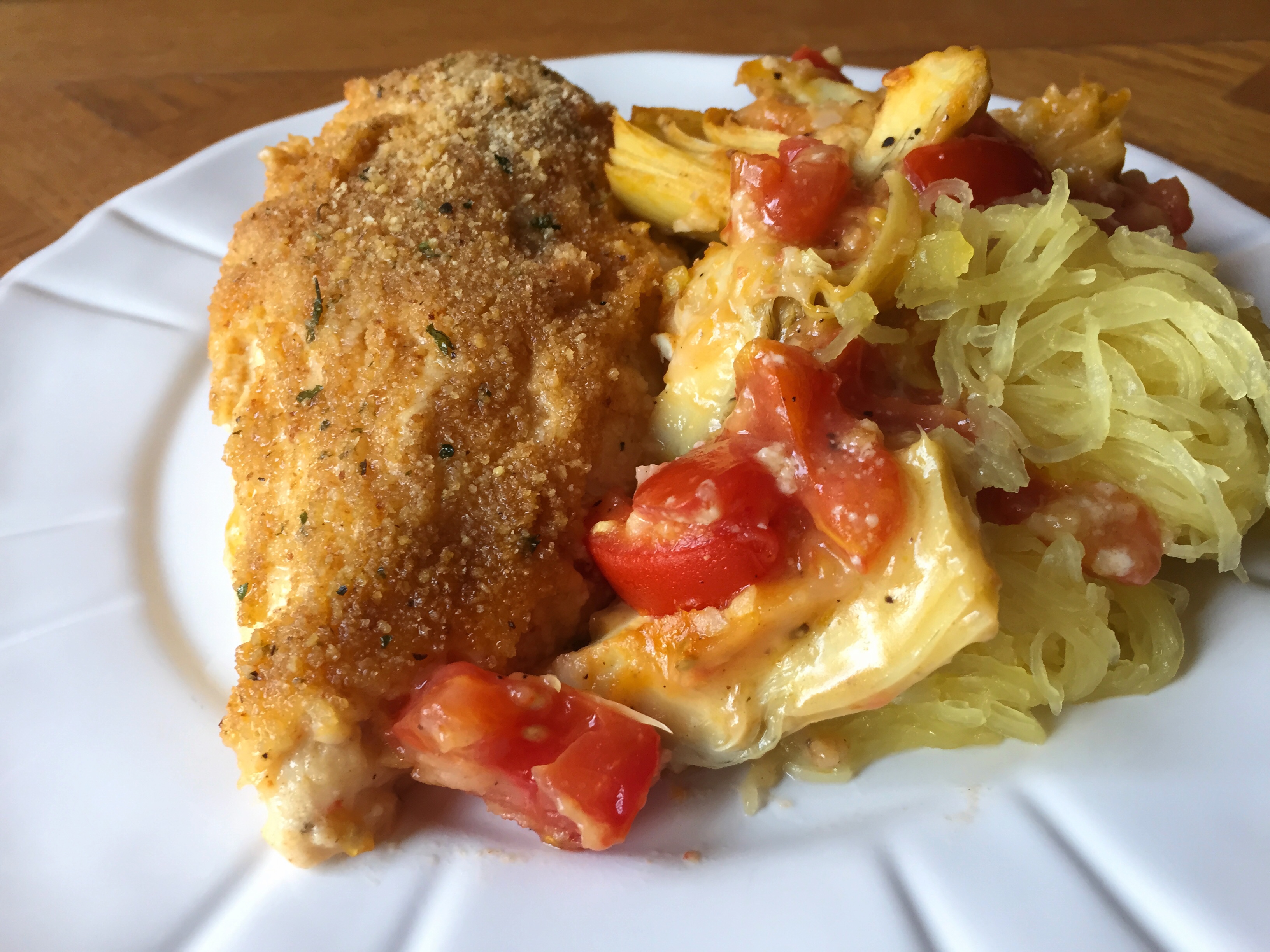 The base of this dish is a combination of artichokes, tomatoes, and garlic.  It is chock full of bright flavor from the tomatoes, has a little bite from the garlic, and artichoke hearts – what more can I say.  I am a big fan of artichoke hearts; sorry if you're not, you are really missing out!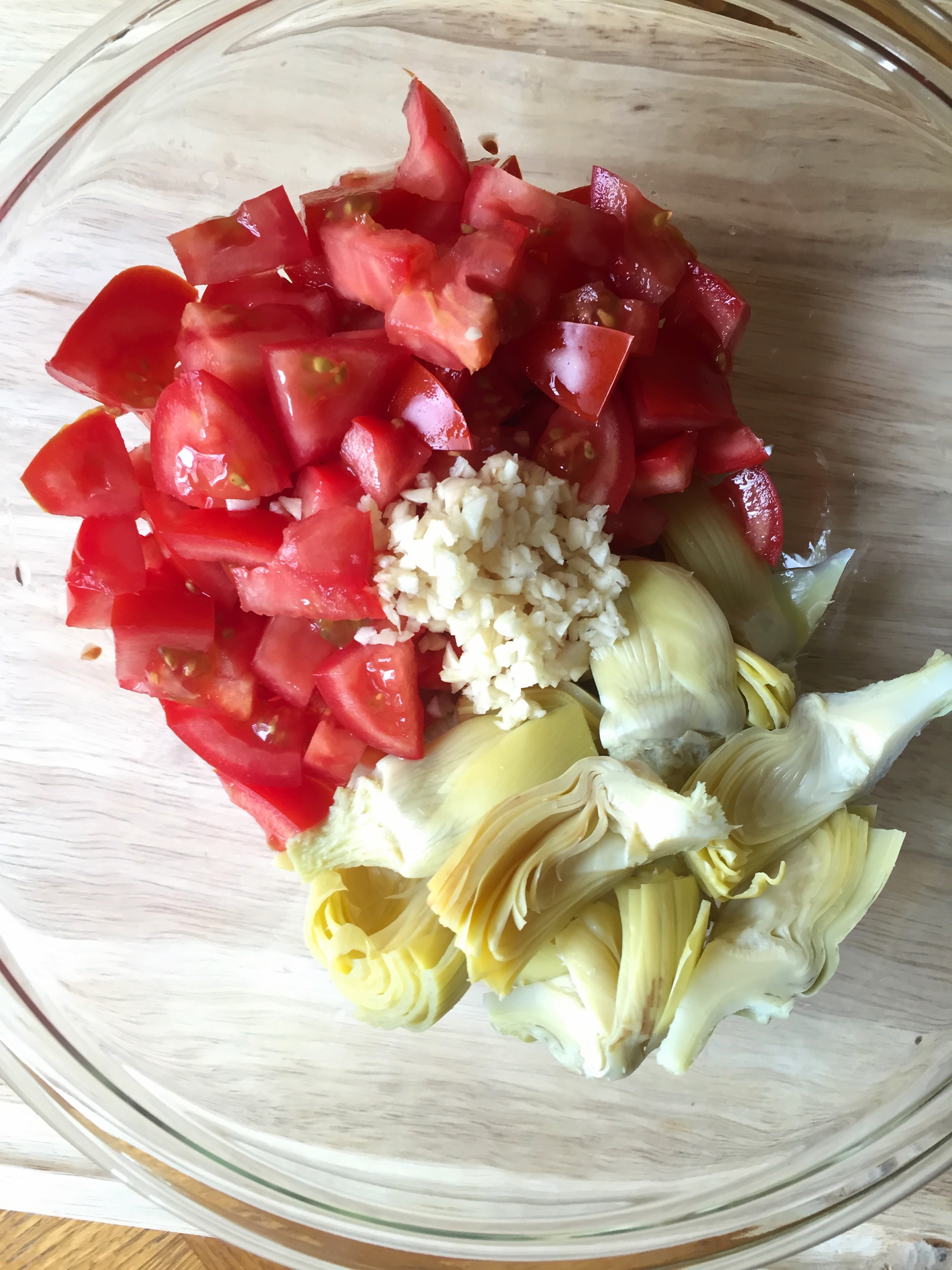 The vegetables are tossed with a couple table spoons of olive oil, flour (to help thicken the liquid from the tomatoes and chicken, which creates a bit of a sauce), a little sugar (it helps balance out the acidity of the tomatoes), and salt and pepper.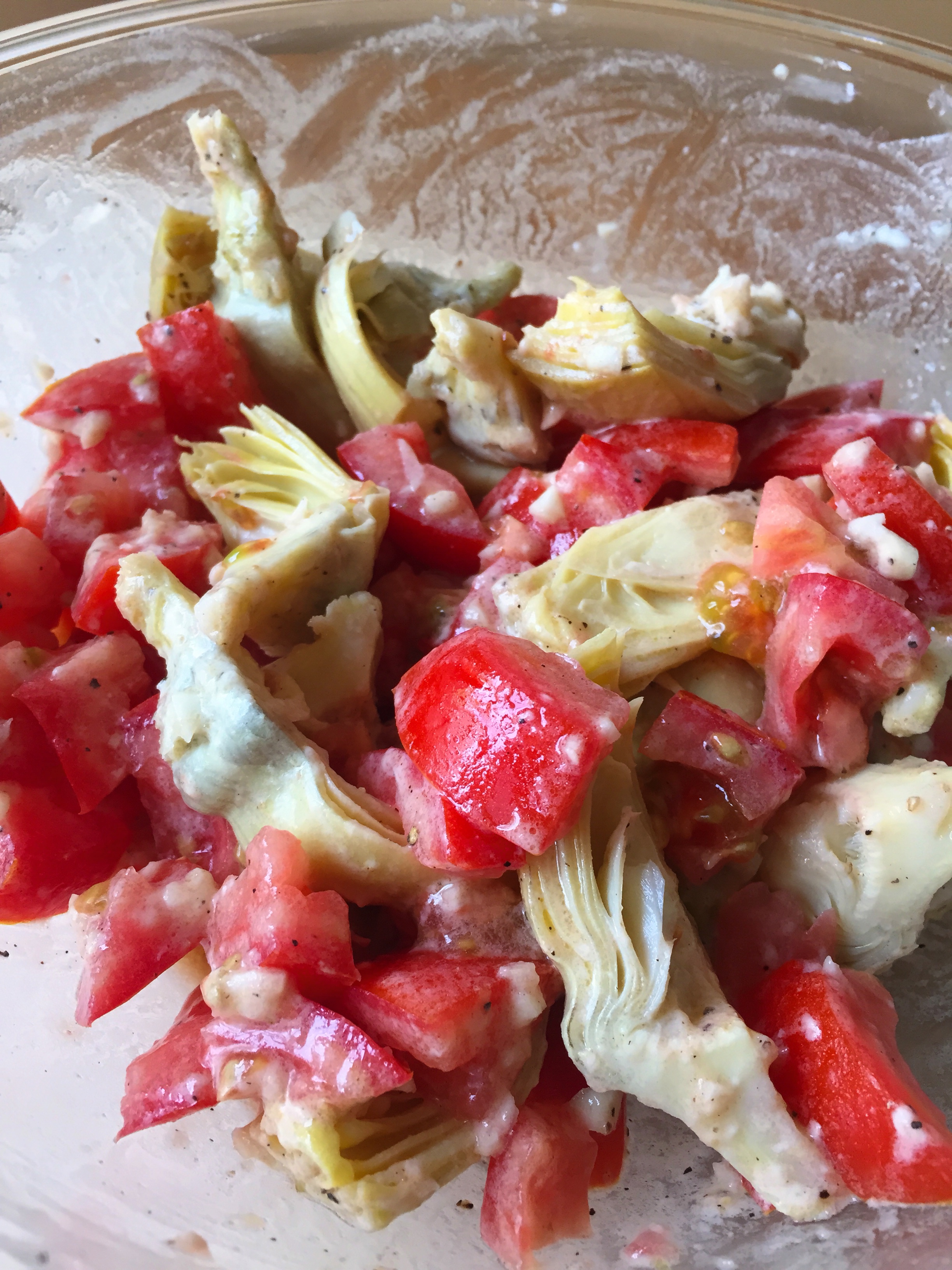 The artichoke/tomato mixture is then placed in a baking dish with the chicken. I had a package of 2 chicken breasts, so that's what I used; but there are enough veggies for about 4 servings.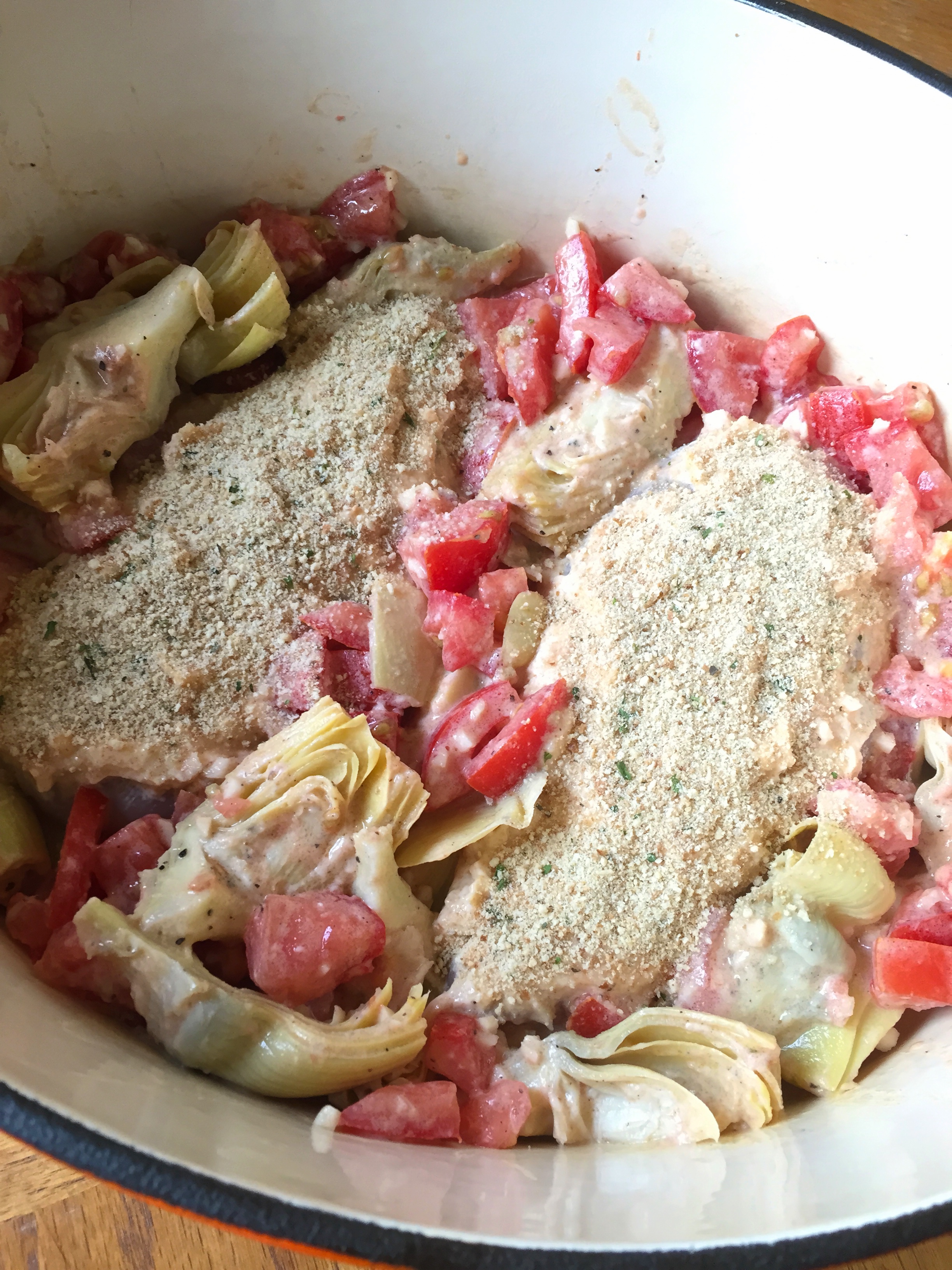 The original recipe calls for simply seasoning the chicken with salt and pepper, and then topping it with shredded mozzarella cheese during the last 5 minutes of baking.  Of course, the cheese was the one ingredient I didn't have on hand when I made this, so I improvised!  I used a method of cooking chicken that keeps it incredibly moist and makes it very flavorful.  The secret is mayonnaise.  I combined mayo with Parmesan cheese, garlic powder and smoky paprika, and spread that on top of the chicken.  A sprinkle of Italian bread crumbs completes the chicken, and the whole dish is baked together.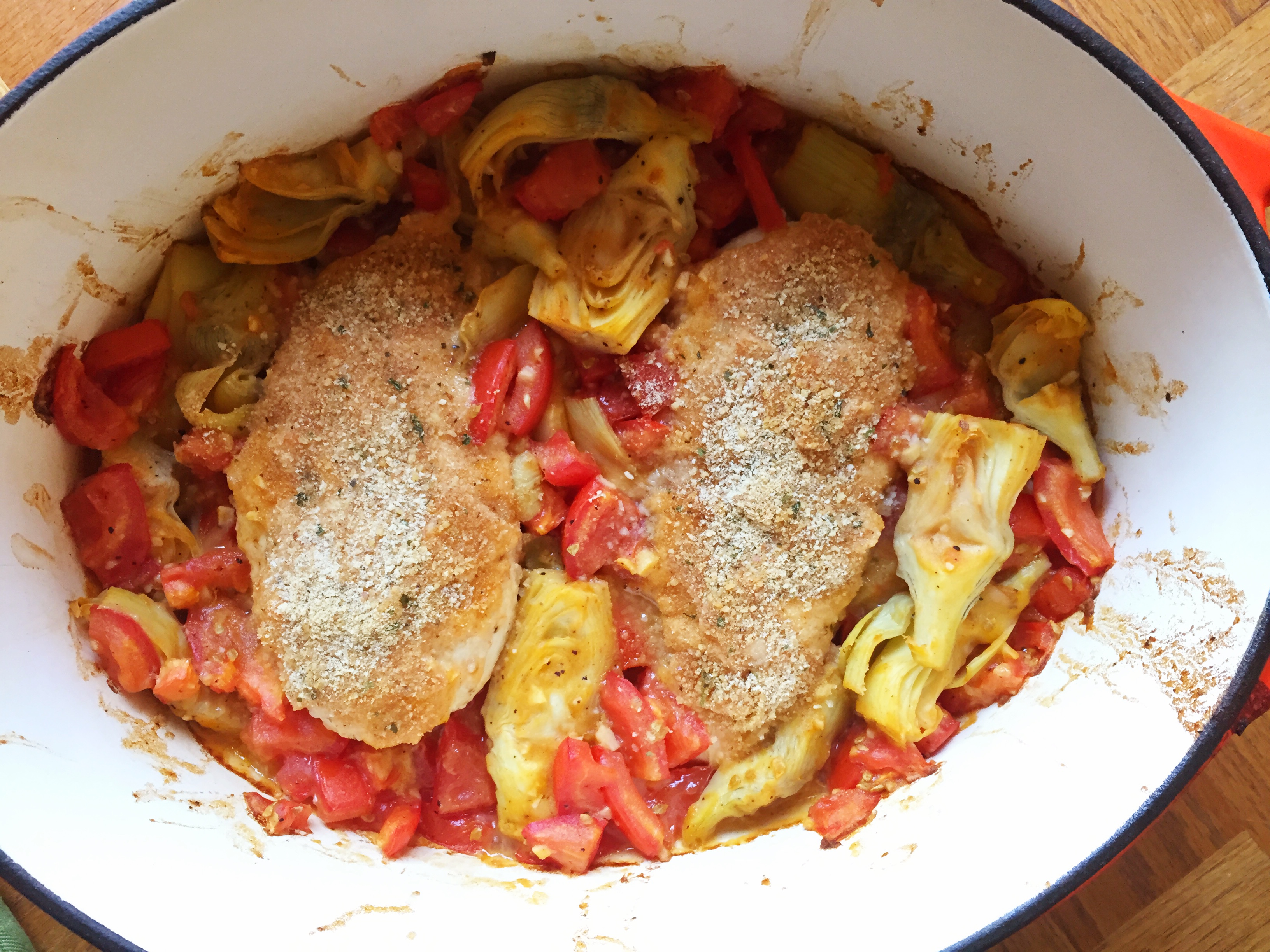 This is a dish that I love to serve with spaghetti squash, but it's equally as good with pasta, quinoa, rice, or by itself!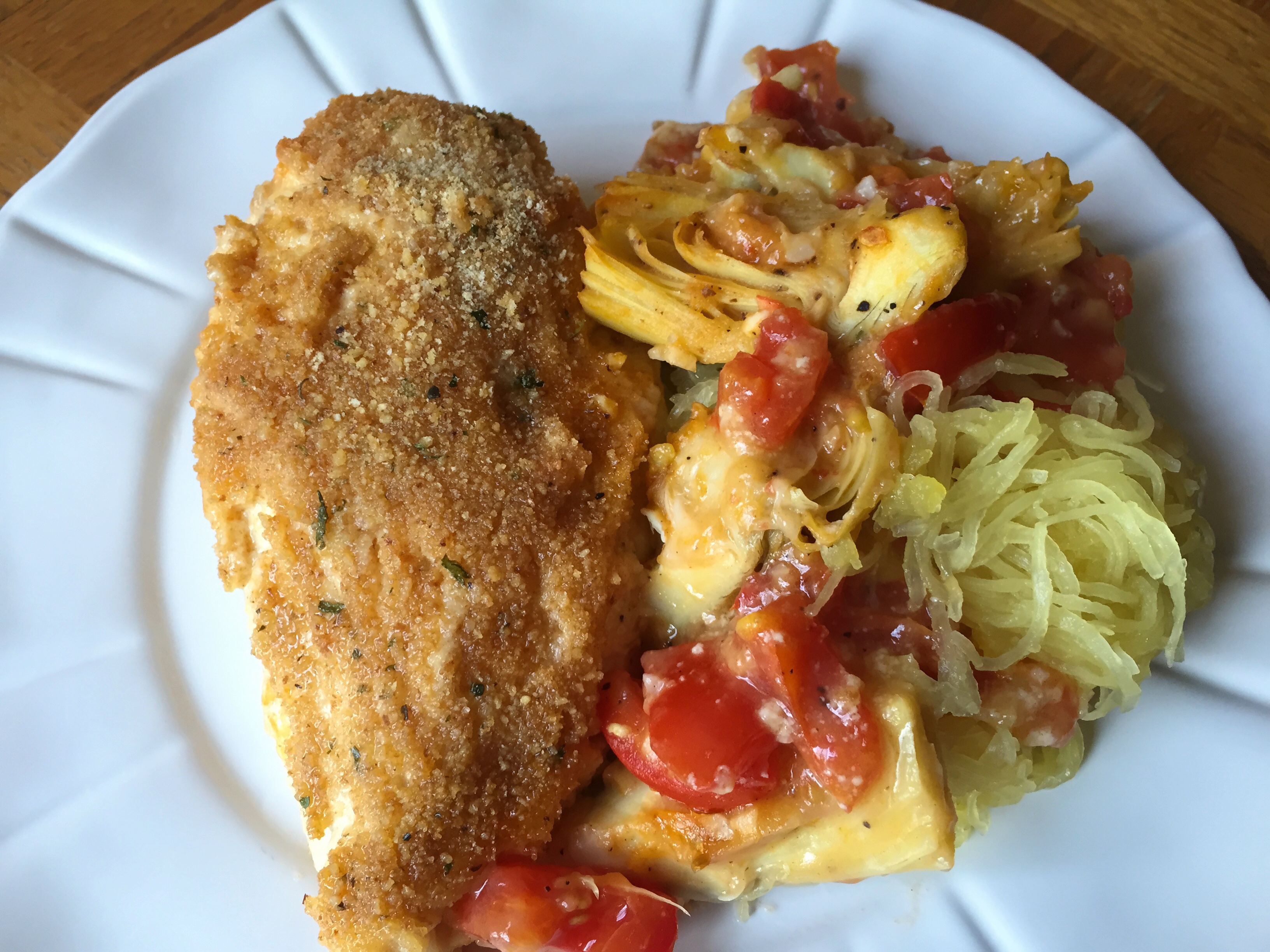 This dish is so simple to throw together, you won't need to procrastinate first!
1698 Total Views
2 Views Today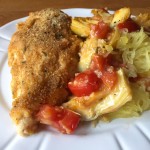 Servings

Prep Time

4

people

15

minutes
Servings

Prep Time

4

people

15

minutes
Servings

Prep Time

4

people

15

minutes

Servings

Prep Time

4

people

15

minutes
3-4

medium tomatoes

diced

1

16oz can

quartered artichoke hearts

drained well

2

cloves

garlic

minced

2

tbsp

olive oil

2

tbsp

flour

1

tsp

sugar

salt and pepper

to taste

4

chicken breasts

1/2

cup

mayonnaise

1/4

cup

Parmesan cheese

1

tsp

garlic powder

1

tsp

smoked paprika

4

tsp

bread crumbs

Italian seasoned
Place the diced tomatoes, artichoke hearts and minced garlic in a bowl.

Add the olive oil, flour, sugar and salt and pepper, stir until combined.

Place the artichoke/tomato mixture in a baking dish with the chicken.

Then, combine the mayonnaise, Parmesan cheese, garlic powder and paprika together in a small bowl.

Spread mixture on top of the chicken breasts, and sprinkle with bread crumbs (1 tsp per chicken breast).

Bake in 375F oven for 30 minutes.

Serve over spaghetti squash, pasta, or on its own.
**Cardinal Rule** This dish is best made in a shallow 9x13 baking dish so the vegetables are in a thin layer and can caramelize while baking.
Recipe source: Our Story: Italian Chicken
---
---