Caramel Marshmallow Swirl Brownies
I am cat sitting for a friend of mine this week, and it is a little disheartening to learn that you've raised a cat who doesn't get along well with others.  Things have progressively gotten better over the week, and both cats can now be within 3 feet of each other without growling or hissing at one another – yay for that!
In addition to refereeing cats, I have also been busy studying for a test I have to take to complete my AAPA (Associate, Annuity and Product Administration) designation for work.  To get the designation you have to pass 5 tests, and tomorrow I take my final one.  None of the tests have been too difficult, but it is a commitment to spend time studying for each of them.  I'll keep you posted on how it goes!
To take a break from studying and cat wrangling, I made some delectable brownies with marshmallow fluff and caramel swirled on the top.   The brownies themselves are made with dark chocolate cocoa powder and are loaded with chocolate chips.  Once they cooled, I spread a layer of marshmallow fluff on top, dolloped that with caramel sauce, and swirled that together to perfection.  To finish, I added a few more mini chocolate chips and called it delicious!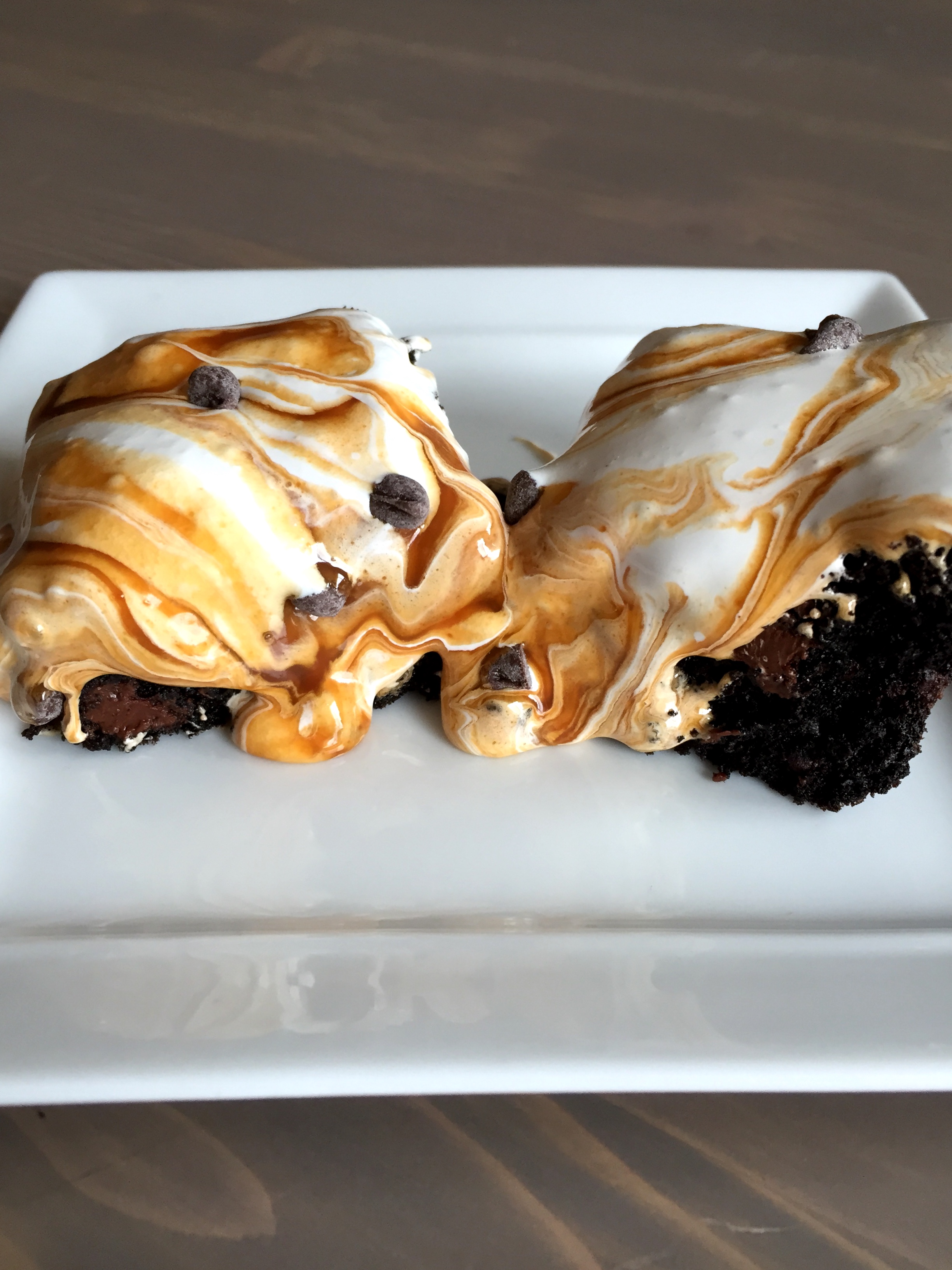 I'd recommend letting them chill a bit in the refrigerator before cutting them.  Otherwise you will have a gooey, sticky mess on your hands like I did.  I just couldn't wait, they were SO wonderful!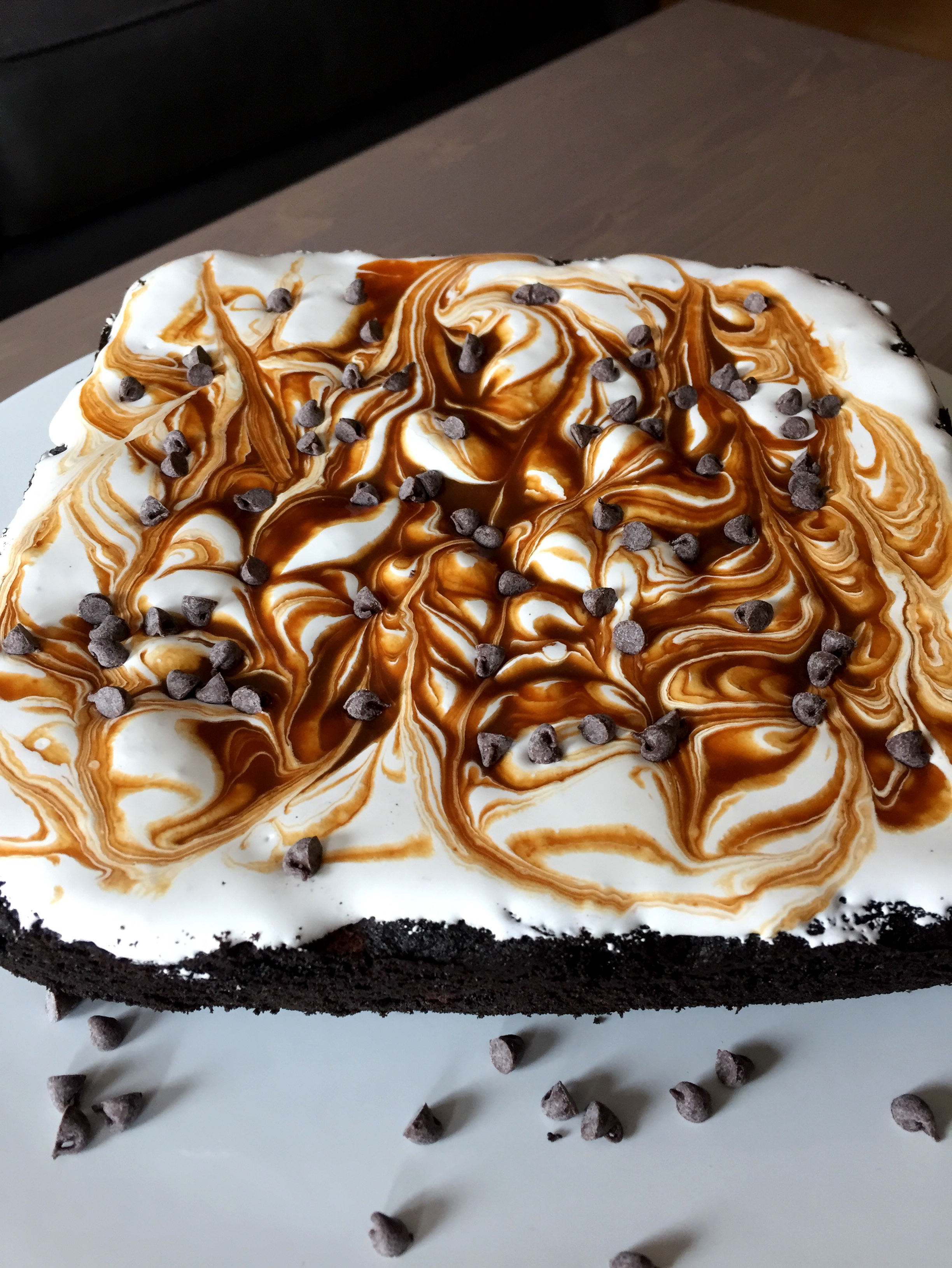 I suggest adding these into your brownie rotation (if such a thing exists in your life). They are extremely easy, and very well worth it!

2858 Total Views
2 Views Today
1/2

cup

butter

room temperature

1

cup

sugar

1

tsp

vanilla extract

2

eggs

1/2

cup

all purpose flour

1/2

cup

cocoa powder

I used Hershey Special Dark Chocolate

1/4

tsp

baking powder

1/4

tsp

salt

2

cups

chocolate chips or chunks

1

cup

marshmallow fluff

1/4-1/2

cup

caramel sauce
Preheat oven to 350F. Grease an 8x8 inch pan.

Beat together the butter, sugar, and vanilla in the bowl of a stand mixer.

Add the eggs one at a time, mixing well between each addition.

Stir together the flour, cocoa powder, baking powder and salt. Gradually add the dry ingredients to the butter mixture.

Mix in the chocolate chips with a spatula.

Mix just until combined (batter will be thick). Scrape into the prepared baking dish and spread evenly.

Bake 25-30 minutes, until brownies begin to pull away from the side of the pan and a tester comes out almost clean.

Once brownies are cool, evenly spread marshmallow fluff over the top.

Drop spoonfuls of caramel sauce over the marshmallow fluff, and swirl with a knife. Add additional mini-chocolate chips if desired.
**Cardinal Rule** Take the time to shift the cocoa powder. It tends to clump in the container, so sifting will help you avoid chunks of cocoa powder in your finished product.
---
---