Blue Velvet Cake
This weekend was full of babies! I was invited to two baby showers for some great friends, and both were wonderful in their own way.
One shower was for a friend I've known since middle school.  My close group of friends from high school was there, and it was SO much fun catching up with them.  It's like entering a time machine when we all get together – we've all changed and grown, but when we're around each other things just fall into place and it is like old times.
The other shower was for a friend and co-worker of mine; and it's always fun to get together with a group of ladies from work in a more relaxed environment.  It was nice to chat with them all without job duties getting in the way! For her shower, I volunteered to make the cake.  Since she is having a boy, I decided to make a blue velvet cake, using one of my favorite red velvet cake recipes.  There is a good amount of liquid in this cake batter, which is like an insurance policy against dry cakes.  One problem with all that liquid though, is it makes it more likely for the cake to stick to the pan.  To help prevent the bottom of the cake from sticking, you can line the bottom of your cake pan with a circle of greased parchment paper.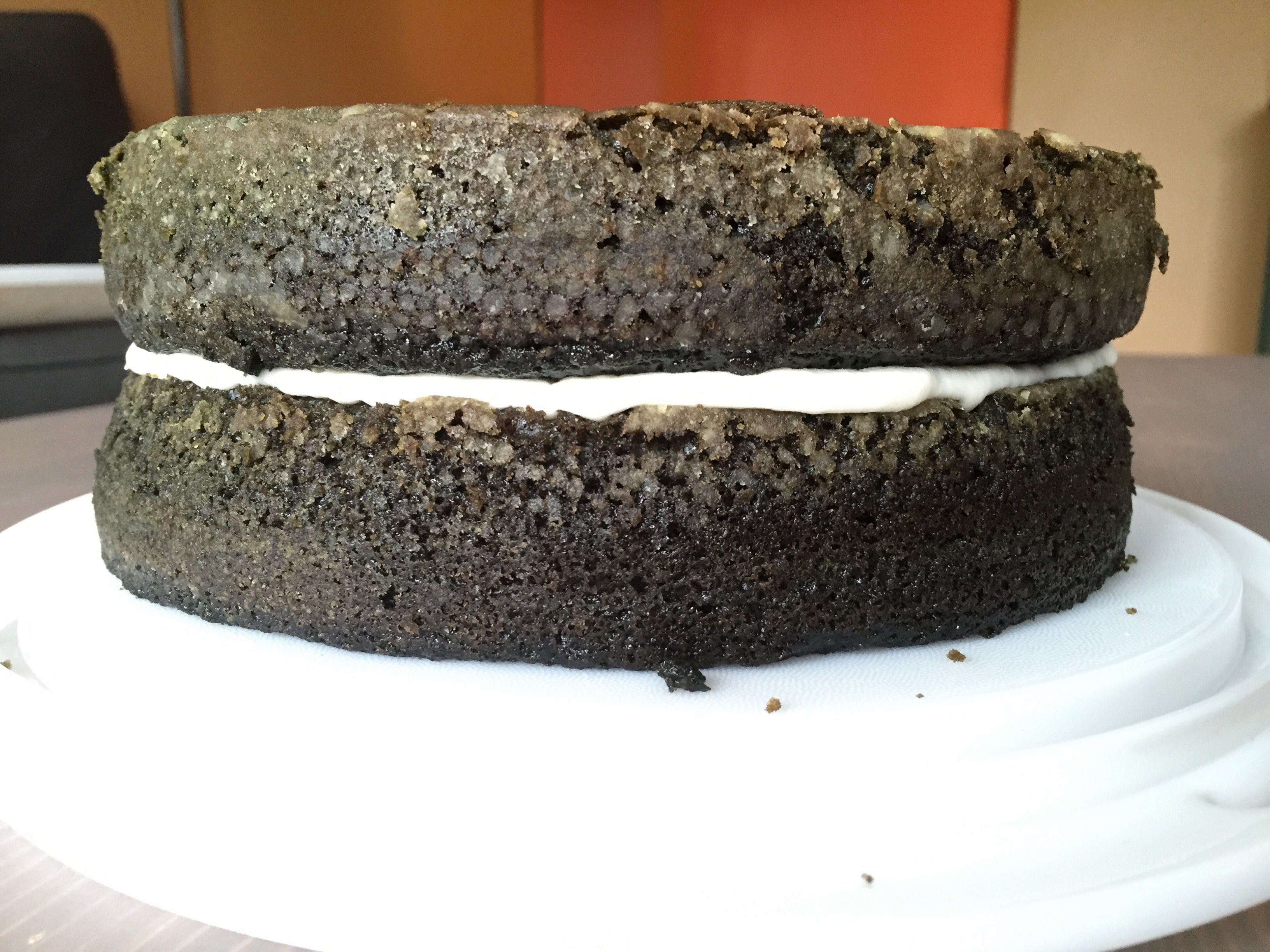 Now, a word of caution – be careful with adding your blue food coloring.  I got a little heavy handed on it, and it turned out to be closer to black than blue.  Nevertheless, it tasted fantastic, but what wouldn't taste good covered in cream cheese frosting?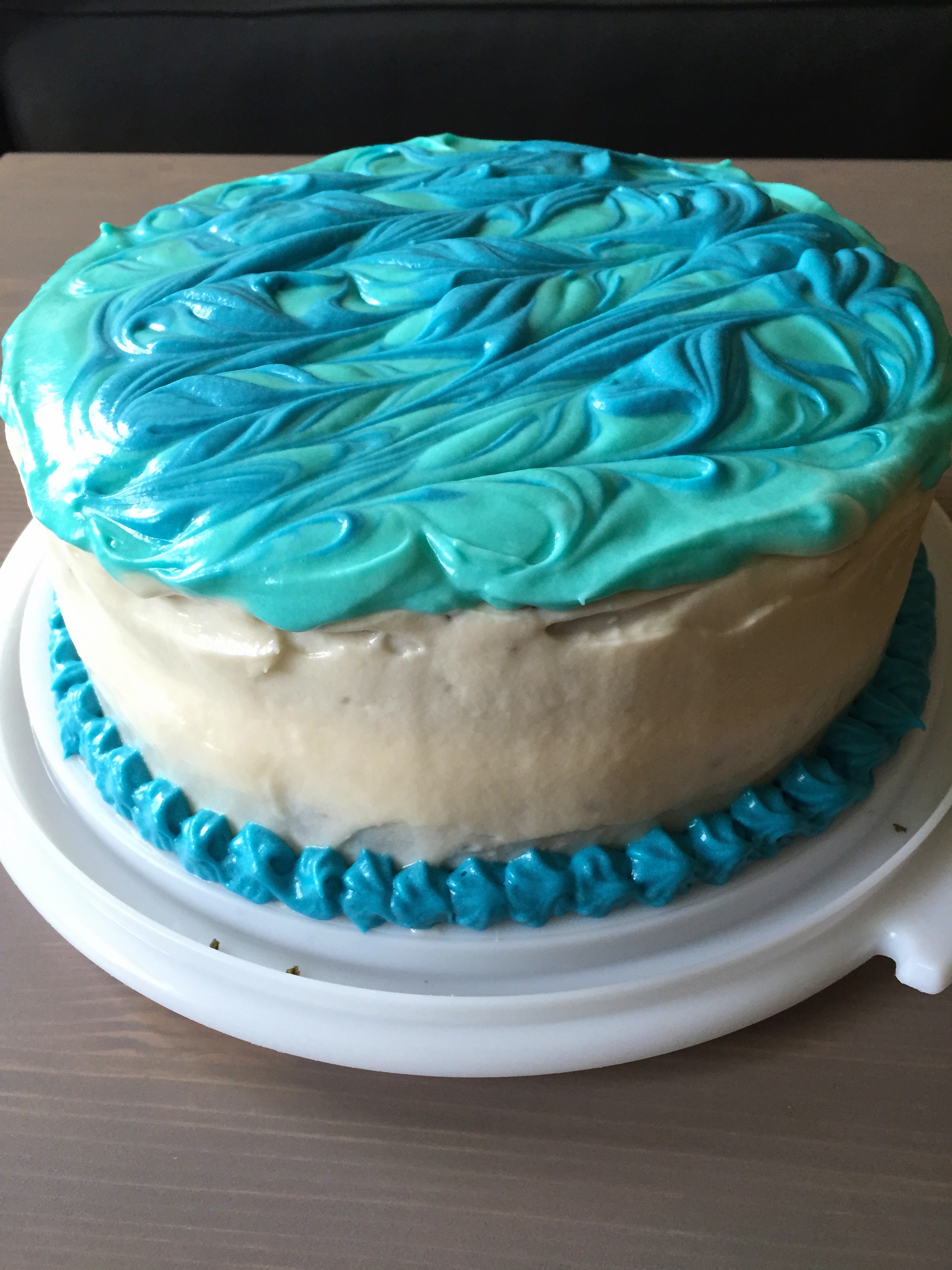 This cake does need to be kept in the refrigerator so the frosting won't spoil, so remember to clear a space for it.  Cream cheese frosting also doesn't pipe that well, but that won't stop me from trying!  To get the blue frosting, I used a combination of teal gel food coloring and dark blue gel coloring.  Feel free to experiment and make your own colors.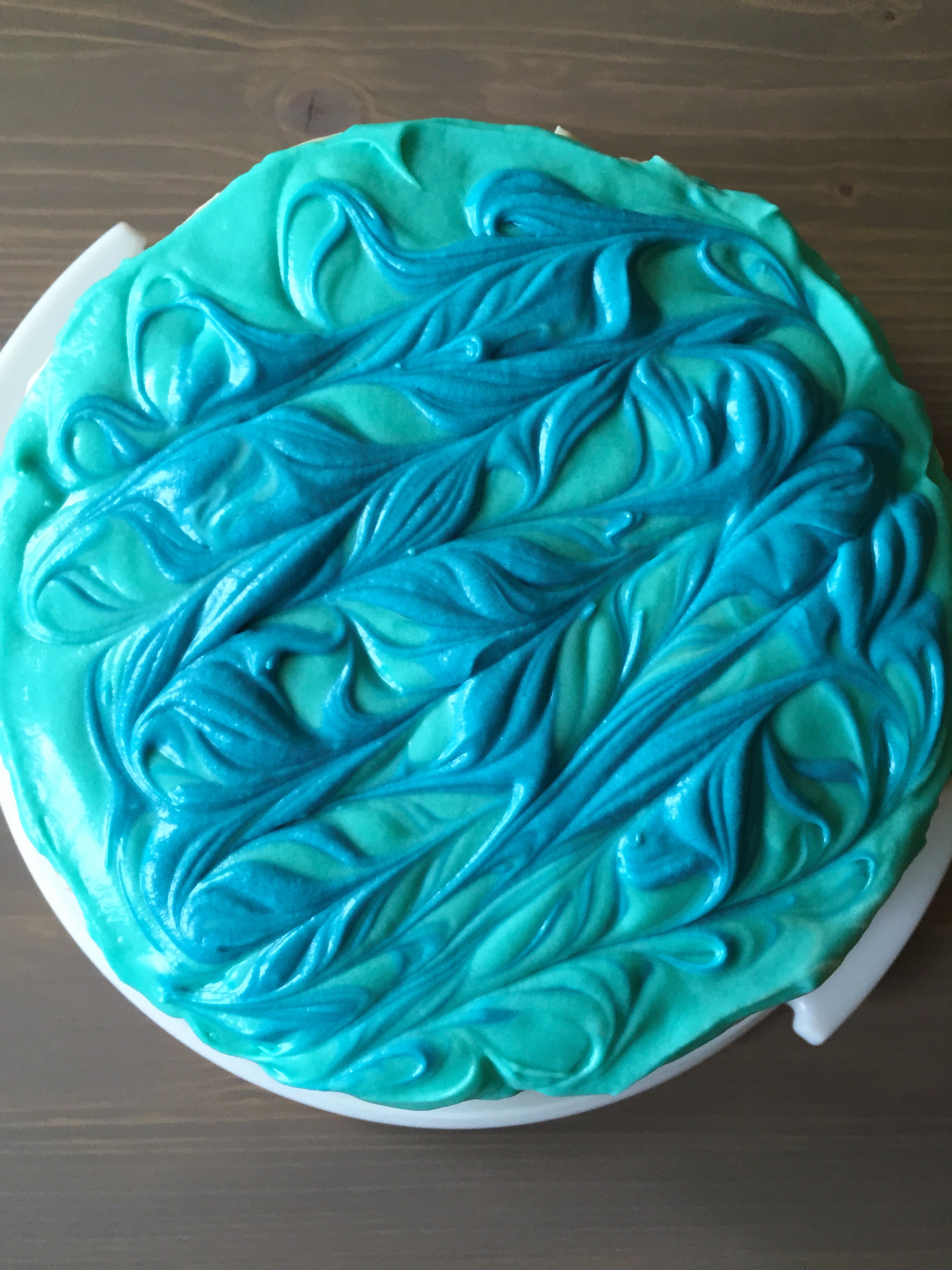 If you know a pregnant woman (or just someone who needs a cake) go ahead and make this one, no one will be disappointed!

4606 Total Views
1 Views Today
2

cups

all purpose flour

1

tsp

baking soda

1

tsp

baking powder

1

tsp

salt

2

tbsp

cocoa powder

2

cups

sugar

1

cup

vegetable oil

2

eggs

1

cup

buttermilk

1-2

oz

liquid food coloring

can be red or blue

1

tsp

white distilled vinegar

1/2

cup

hot black coffee
2

8 oz pkg

cream cheese

softened

1/2

cup

butter

softened

1/4

cup

milk

2

tsp

pure vanilla extract

4

cups

powdered sugar
In a medium bowl, whisk together the flour, baking soda, baking powder, salt and cocoa powder. Set aside.

In a large bowl combine the sugar and vegetable oil, stir until combined.

To the sugar and oil, add the eggs, buttermilk, vanilla and food coloring. Carefully stir to mix together.

Combine the coffee and vinegar, then add to the rest of the wet ingredients.

Gradually add the dry ingredients a little at a time to the wet ingredient, mixing after each addition. Stir just until it is all combined.

Generously grease and flour two 9 inch round cake pans. Optionally, you can line the bottom of each pan with a circle of parchment paper (grease top of paper in pan).

Pour the batter evenly into each pan, and bake for 30-40 minutes, until a cake tester inserted into the center of the cake comes out clean.

Let pans cool on a rack for 10-15 minutes. Run a knife or offset spatula around the edge of the cake to loosen it from the pan.

Remove the cakes from the pan and leave on rack until completely cooled. Frost cakes once cooled.
In the bowl of an electric mixer, beat cream cheese and butter until smooth.

Pour in milk and vanilla extract, and mix until well combined.

Add half the powdered sugar and mix until all incorporated.

Add the remaining powdered sugar and continue beating until smooth and fluffy.
**Cardinal Rule** If the frosting is too thick, add more milk, one teaspoon at a time, until it is the desired consistency.  Alternatively, if it is too thin, add more powdered sugar until it is thick enough to frost the cake.
Recipe Source: Divas Can Cook
---
---