Baked Lentil Fritters
I have been seeing all sorts of macro bowls and Buddha bowls all over the internet and restaurant menus for a while now.  I've always wanted to make them at home, but have never had the right vessel to craft it in.  I have been searching for the right dish to use, and this summer I finally found it at the Minneapolis Farmers Market!
There is a stand at the market called Evla Pottery, and I would buy all their creations if I could!  The pieces are beautifully crafted, yet I don't feel afraid to use them.  You can tell they are made to last.  What I love about the bowl I got, besides from the lovely orange color, is that it is wide and shallow, making it perfect for salads or thick stews.   I'll admit that the day I bought this bowl,  I ate every meal out of it (washing it in between each one, of course).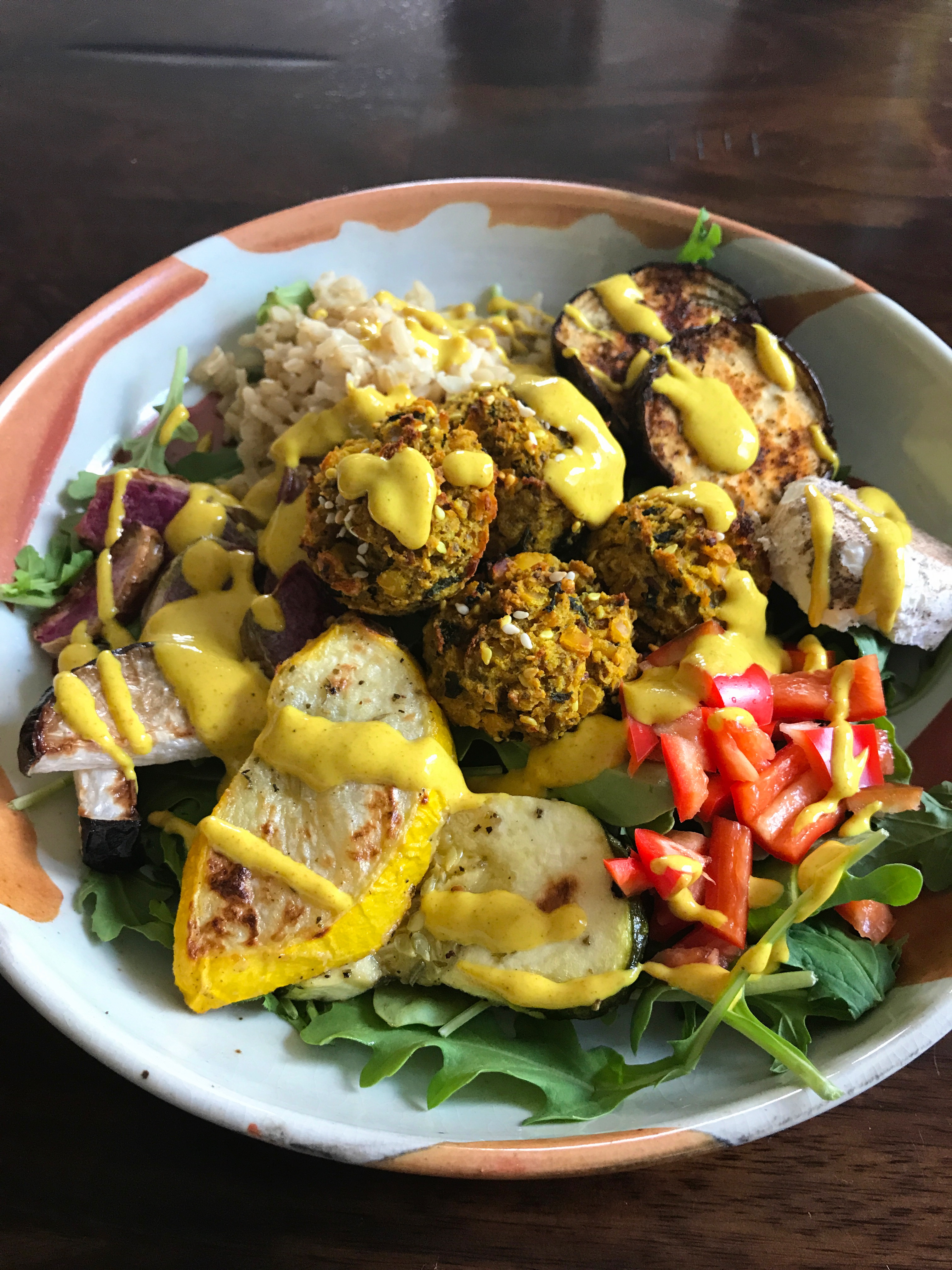 I'll be honest, I don't really know what the difference is between a macro bowl/Buddha bowl/delicious bowl of fresh food.  What I do know is that I could (and did) eat this for lunch every day.  It is hearty, full of veggies, and will keep you satisfied without weighing you down.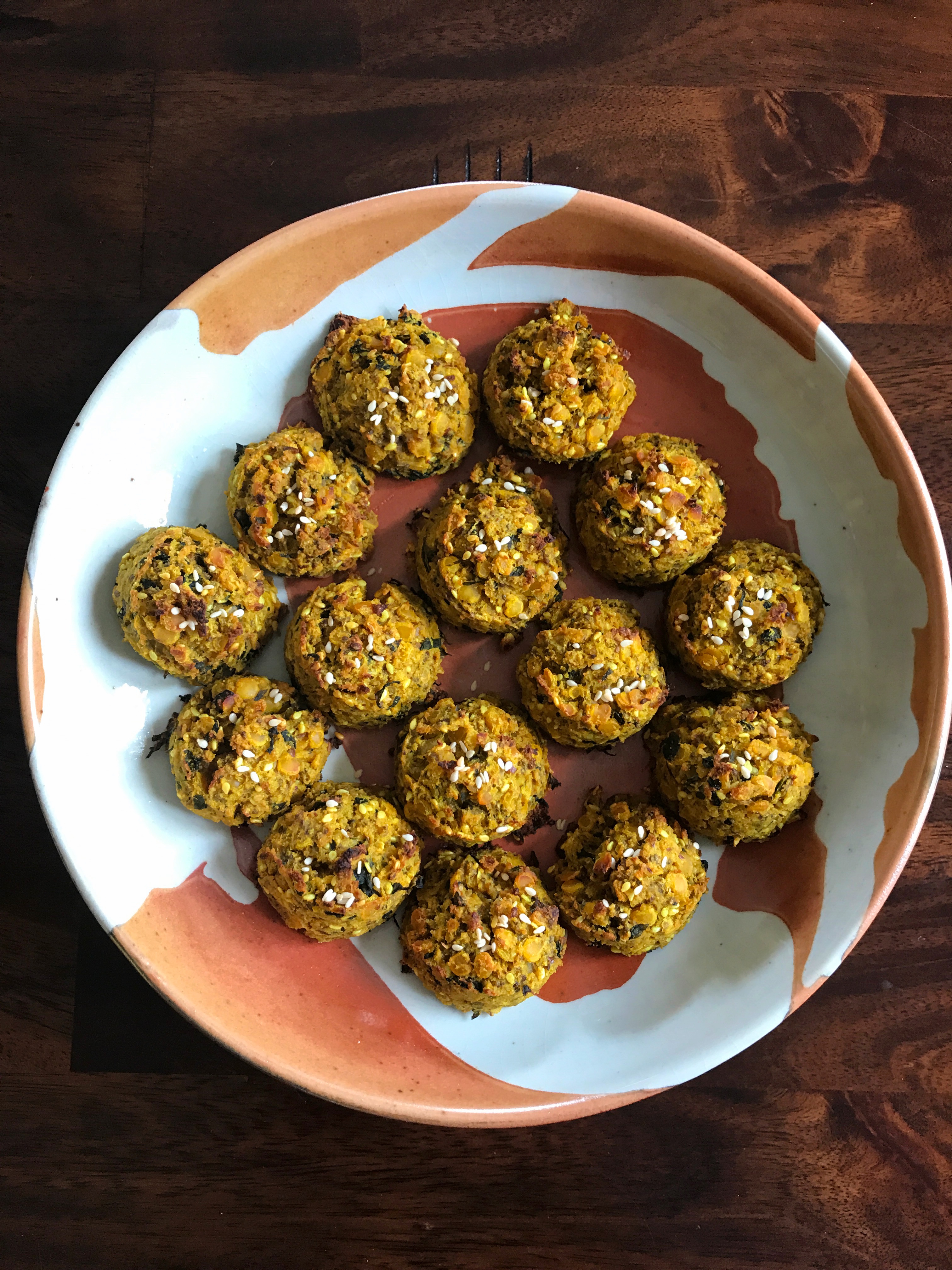 These baked turmeric lentil fritters are the perfect meat-free star for this bowl.  They are dense without being heavy, and have a nice kick of heat from cayenne pepper.  There are a lot of ingredients, but they are still simple to make.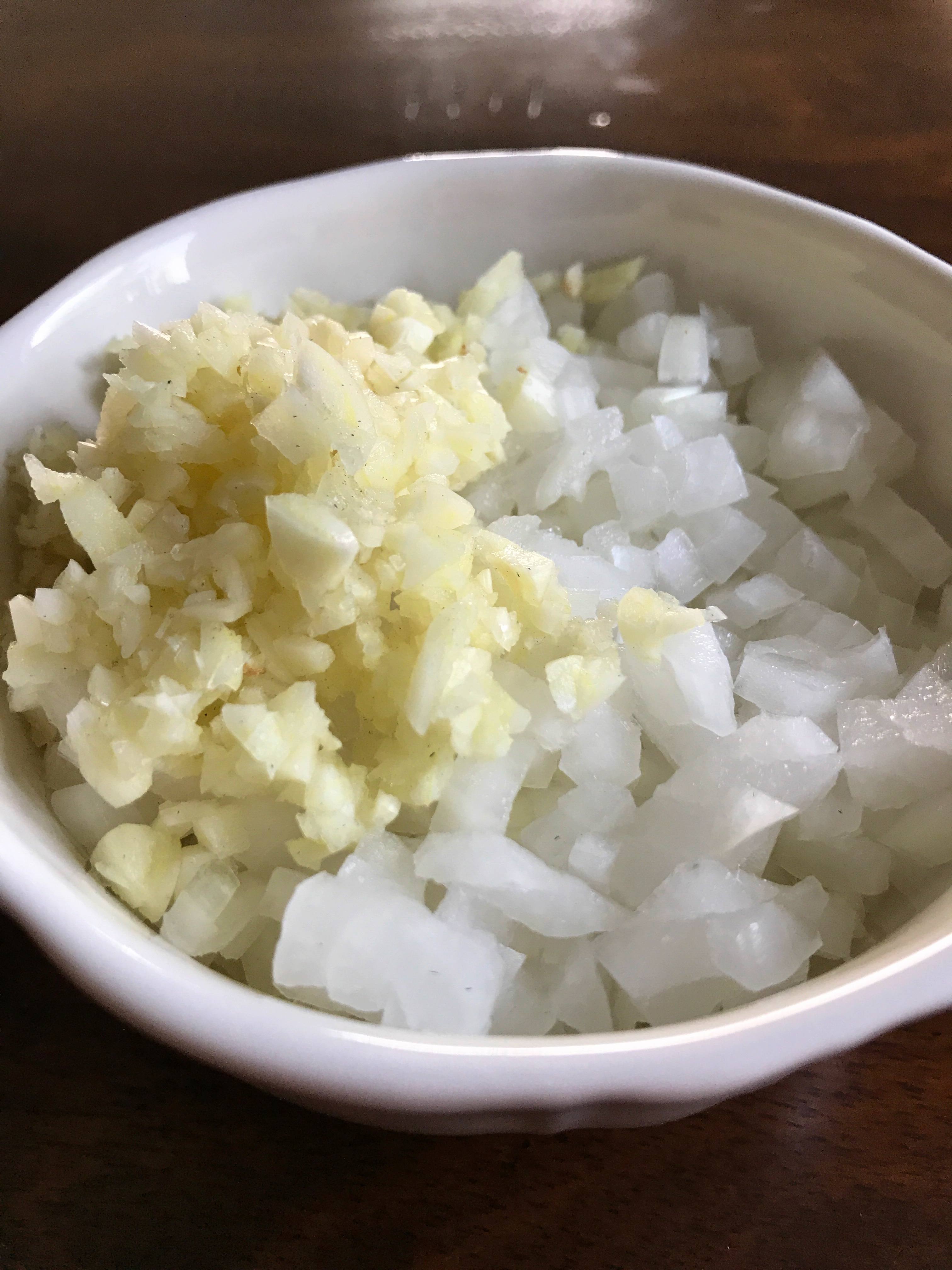 To start, I sauteed some onion and garlic in oil for several minutes until they were tender.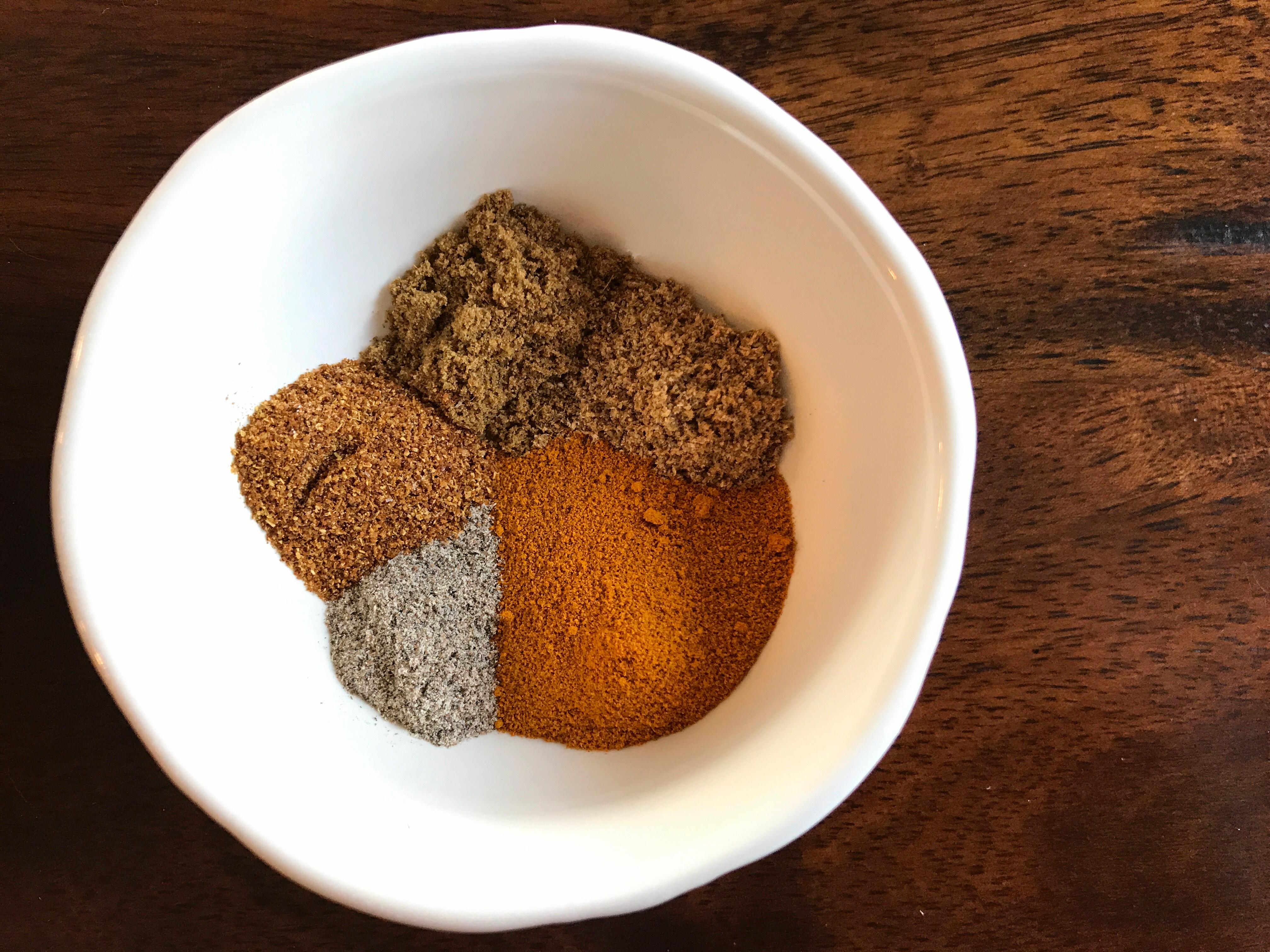 While the onion and garlic cook, mix together some spices.  These fritters have a combination of cumin, ground coriander, turmeric, cardamom, and cayenne pepper.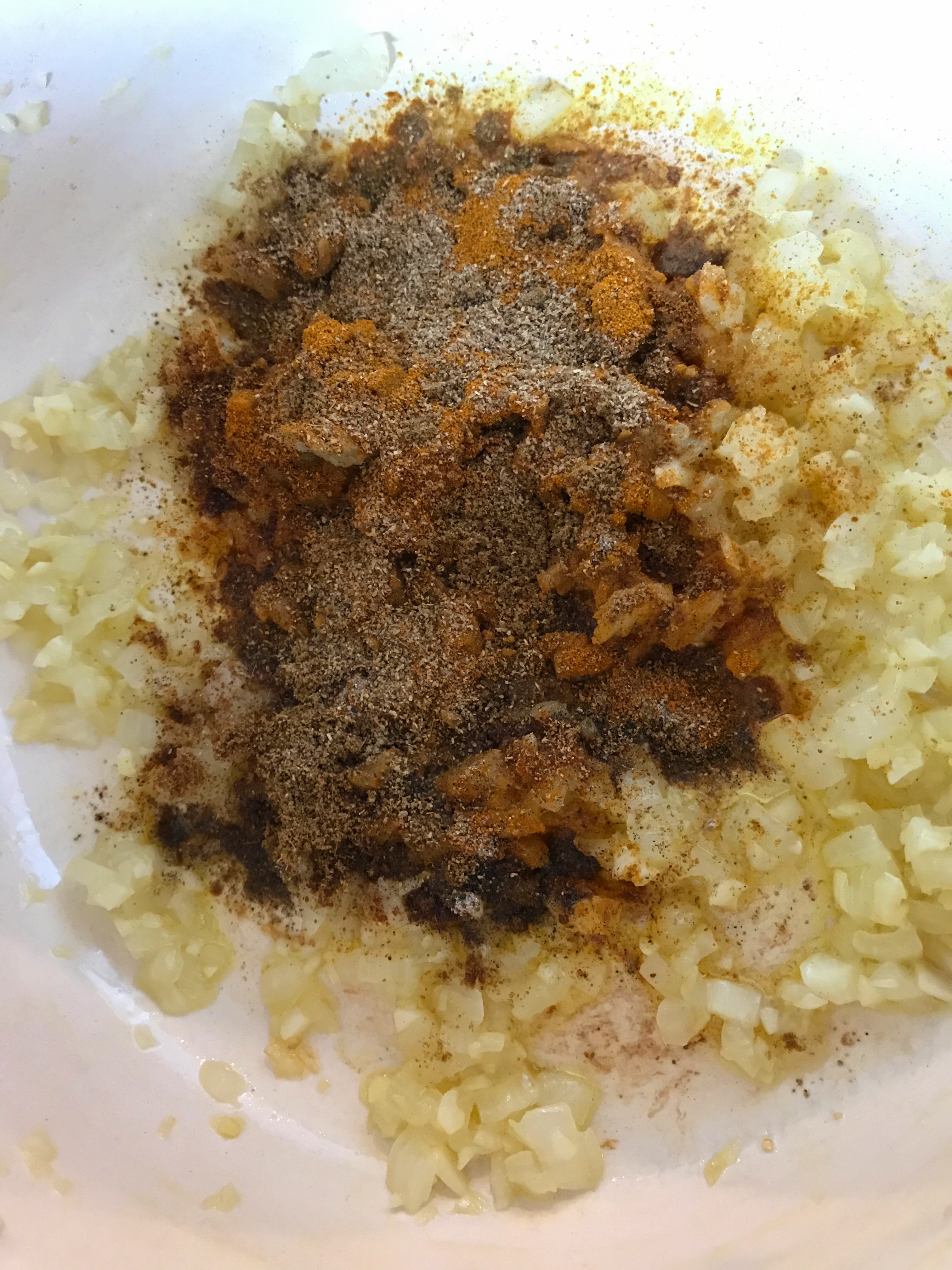 Stir the spices into the cooked onion, and toast them for a minute to help cook out the raw spice taste.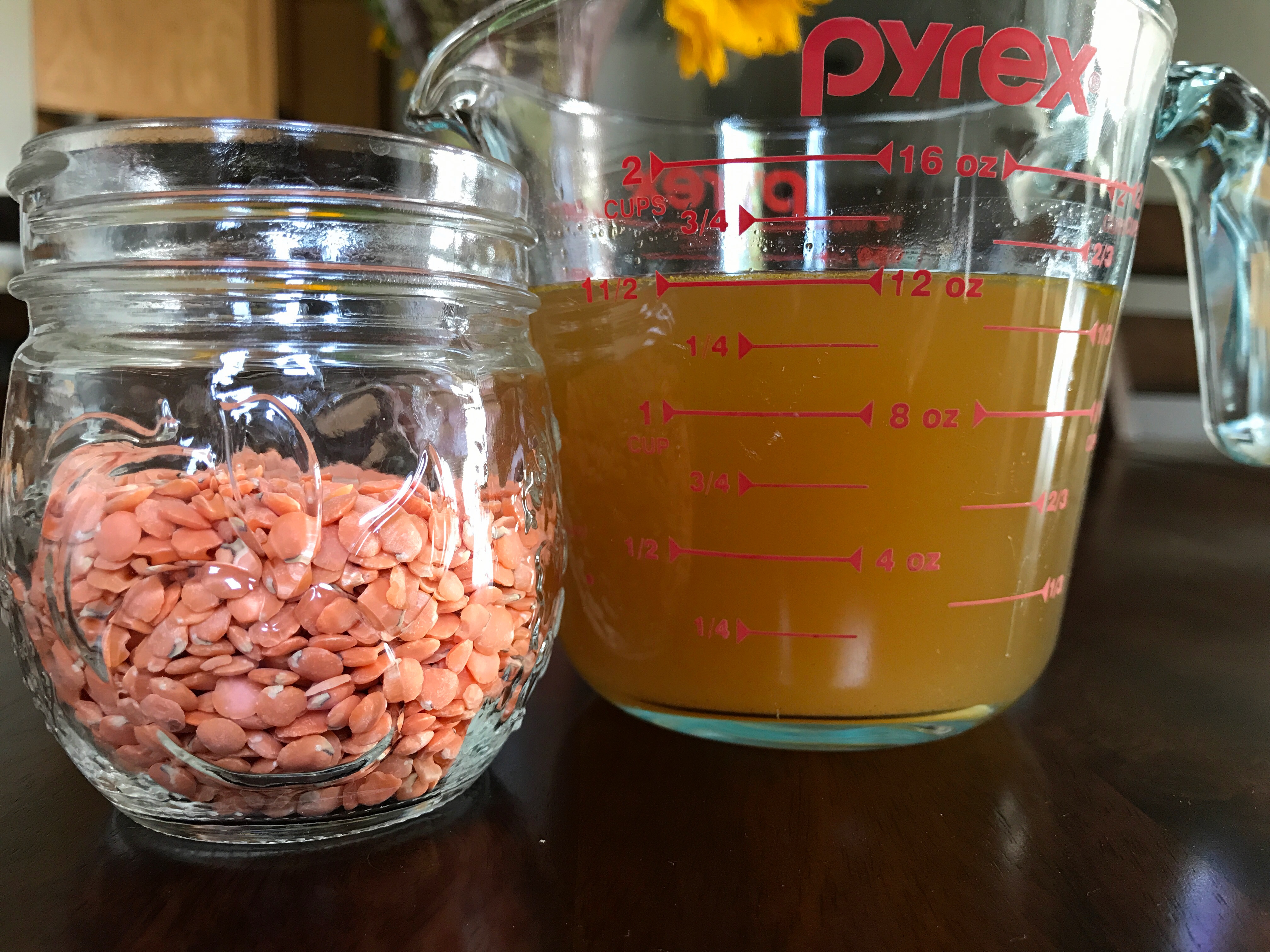 After the spices have been mixed in with the onions and garlic, it's time to add the red lentils.  You'll want to rinse off the lentils in cool water before adding them to the pot.  I like to cook the lentils in vegetable stock instead of water, it adds another layer of flavor to the fritters that you wouldn't get if you just used water.  Bring the broth to a boil, and cook for 10 minutes.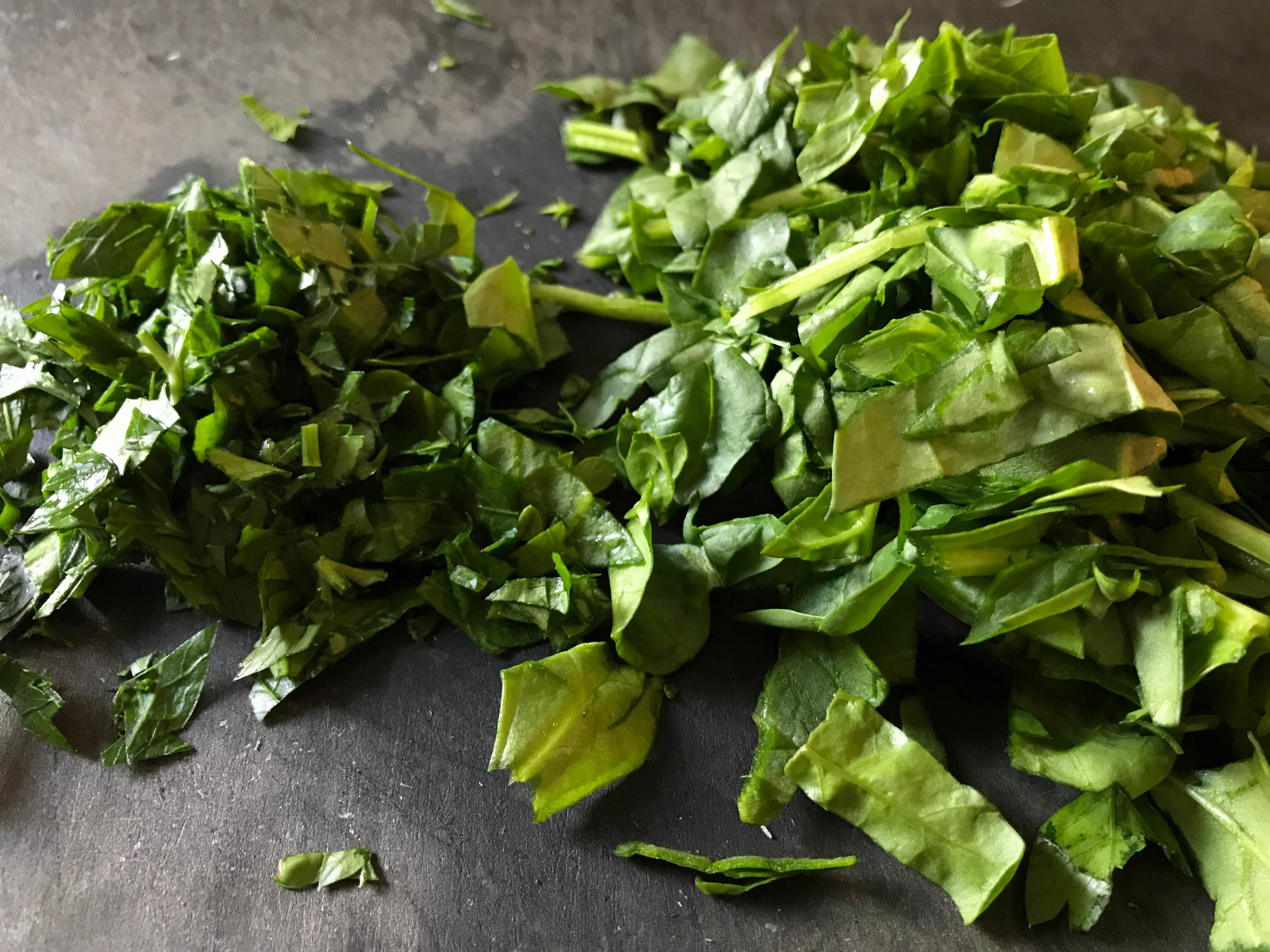 While the lentils cook, you can get started chopping up some parsley (left) and spinach (right).  You'll need about 2 tablespoons of chopped fresh parsley, and 1/2 cup of spinach (measure the spinach before cutting it up).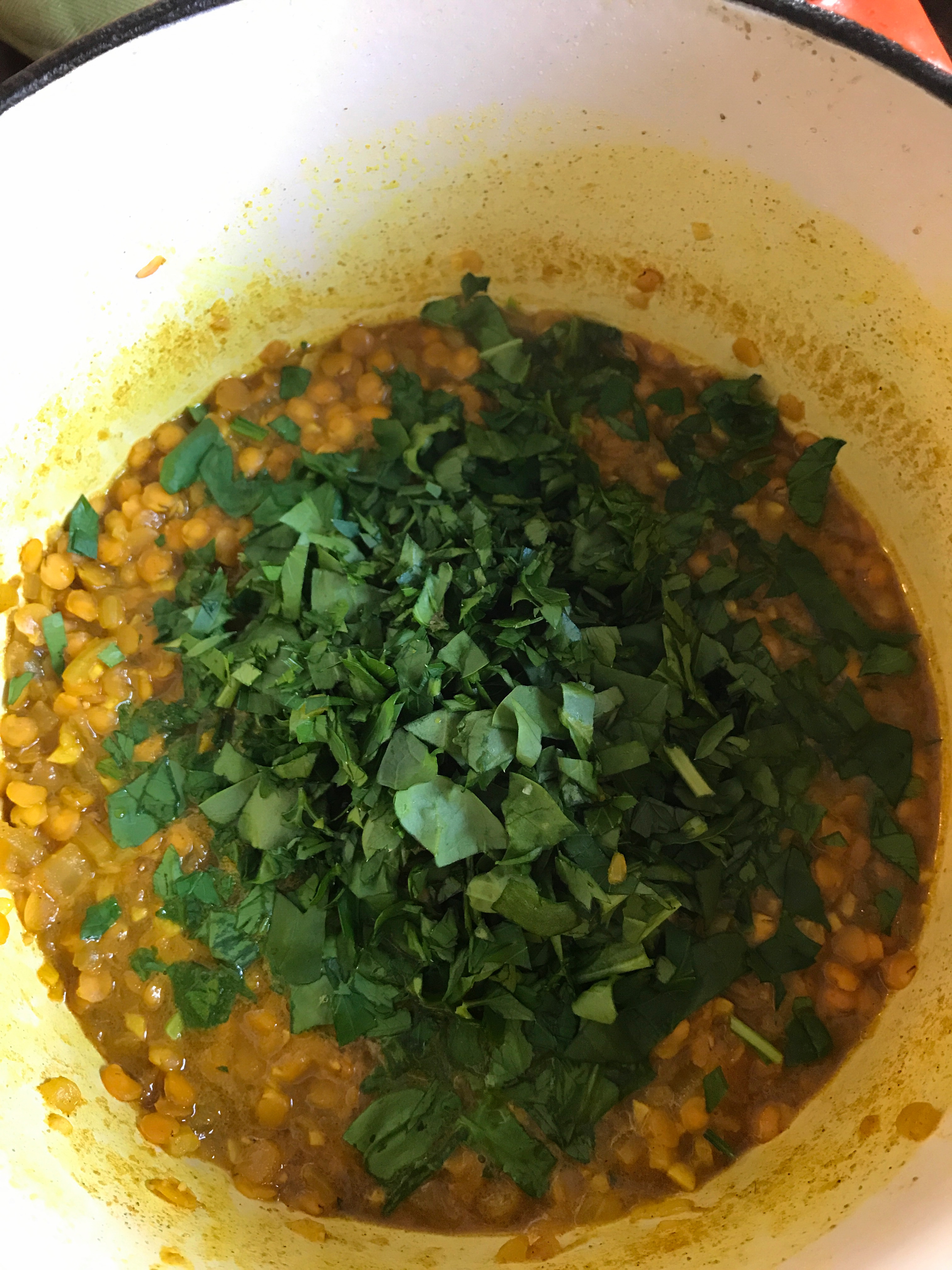 Add the spinach and parsley to the cooked lentil mixture, and let it cook for another 5 minutes.
To bump up the nutritional factor EVEN MORE, these fritters also contain protein packed chia seeds, ground flax seed, and toasted sesame seeds.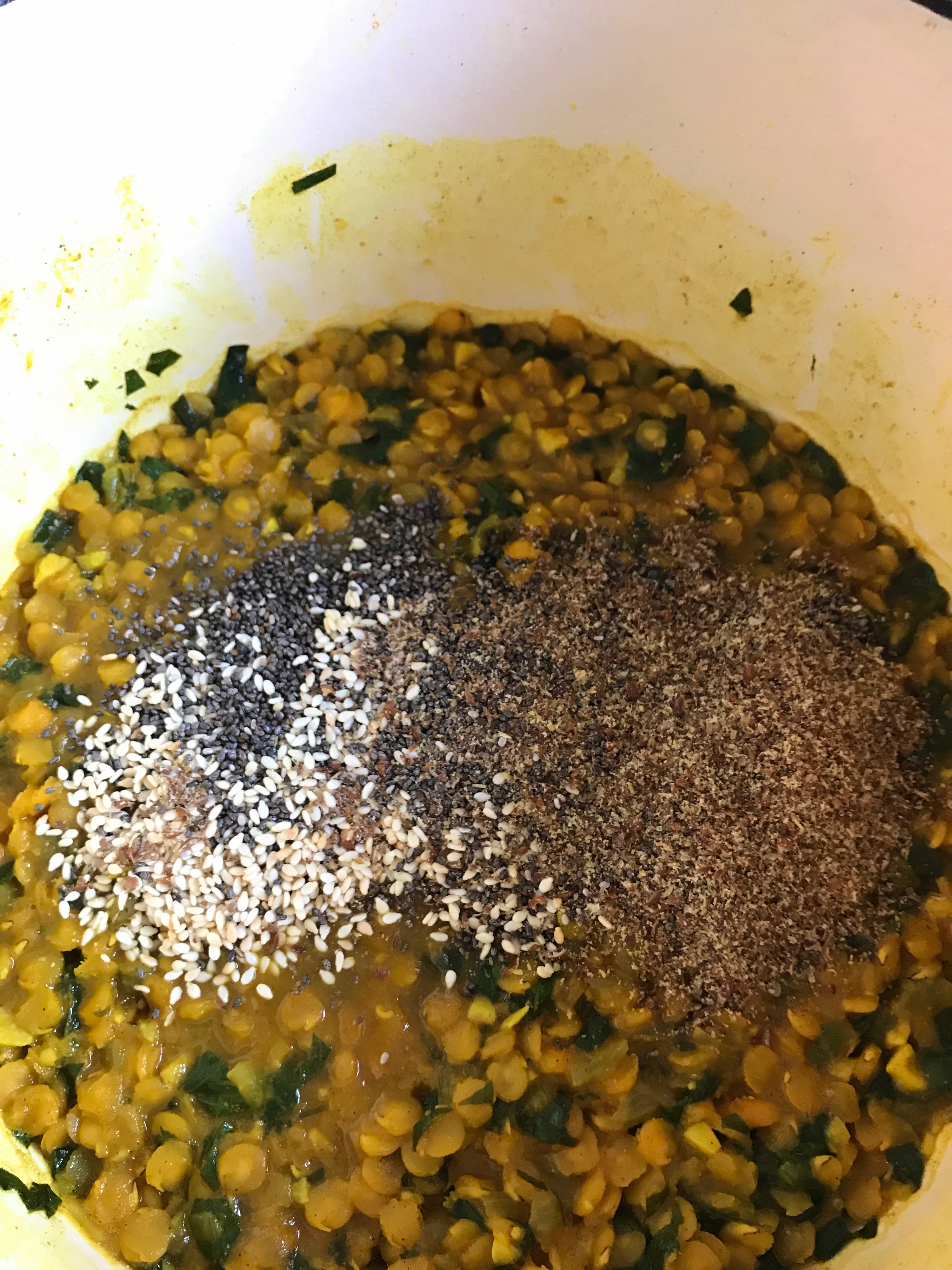 Stir the seed mixture into the lentils, and then let it all chill for 30 minutes to firm up.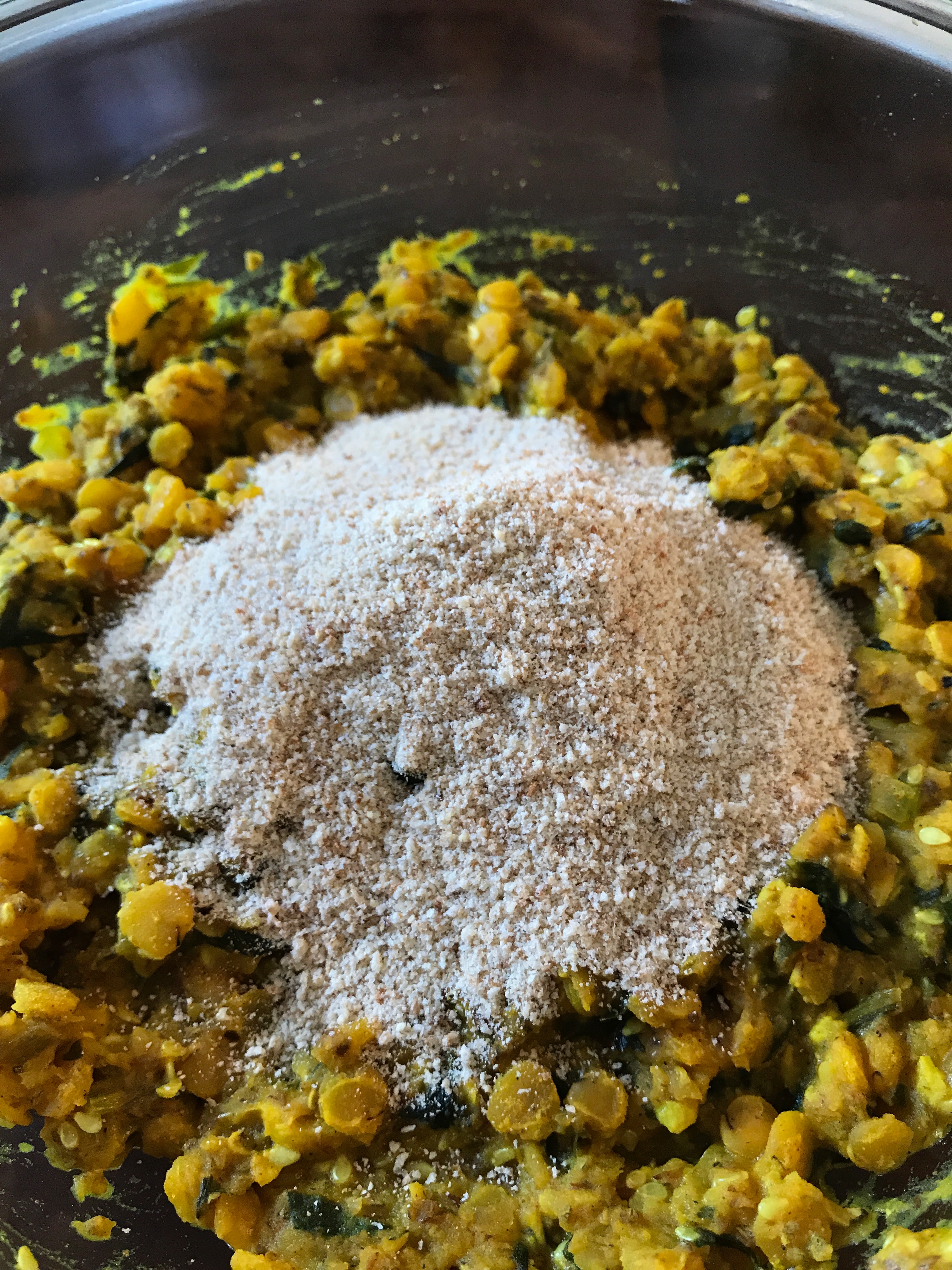 The fritter mixture will still be a bit wet after chilling, so you'll want to add some plain bread crumbs to bring everything together.  The bread crumbs will make the mixture (dough? batter?) perfect for scooping into fritters for baking.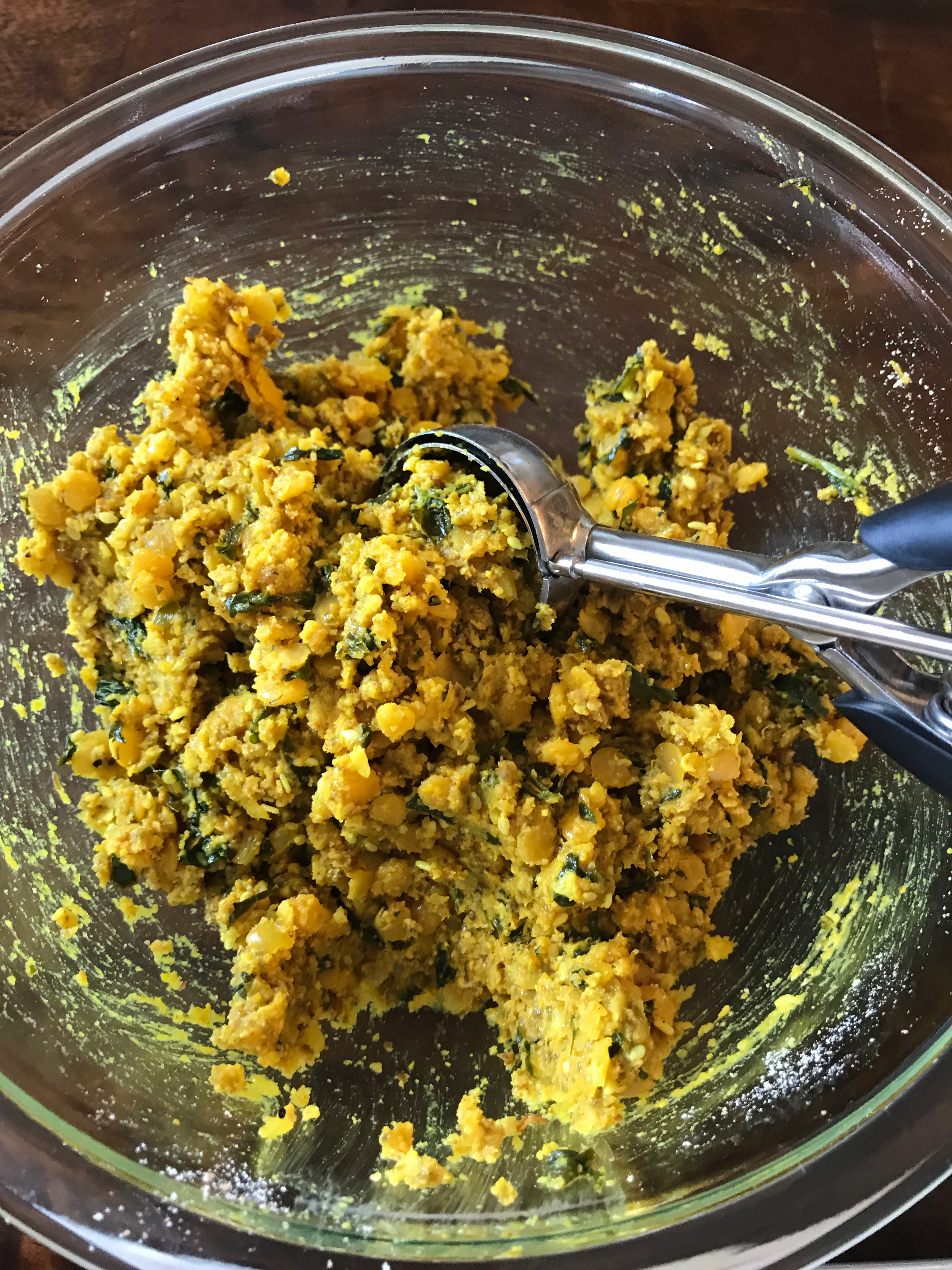 I like to use a cookie scoop to ensure all the fritters are the same size so they cook evenly.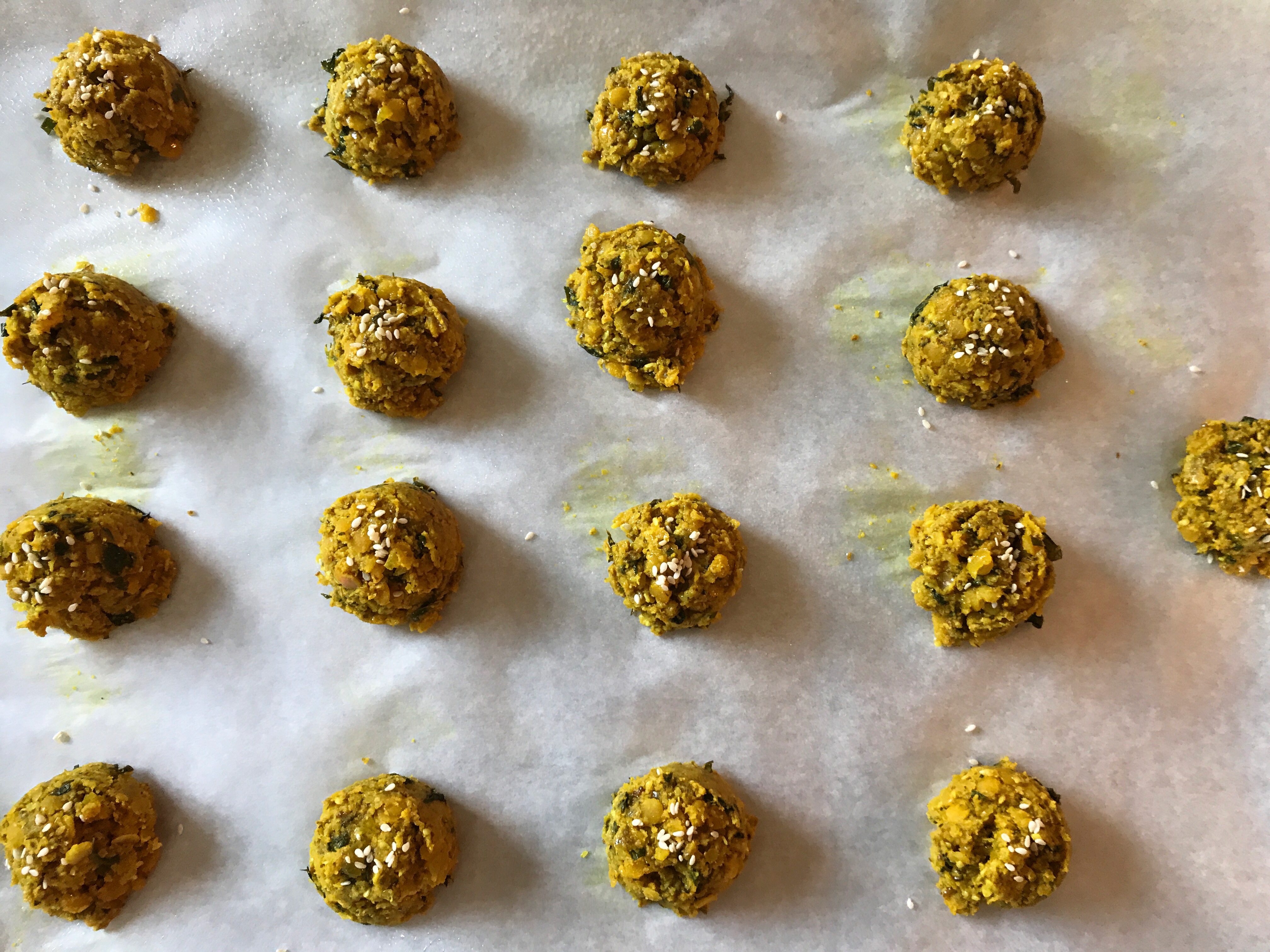 Scoop them onto a parchment lined baking sheet, and sprinkle with a few more sesame seeds for presentation if desired.  The fritters will taste just as good without the additional seeds, but it's fun to add a little flair!  These baked for 20 minutes, until they were just starting to brown on the outside.
These lentil fritters are great in a salad or on their own as a side dish.  There are so many good nutrients in them, from the lentils, to the spinach, to all the seeds.  You don't have feel guilty about eating 4 or 5 of them in a row.  Plus, they are vegan as well, if that's your thing!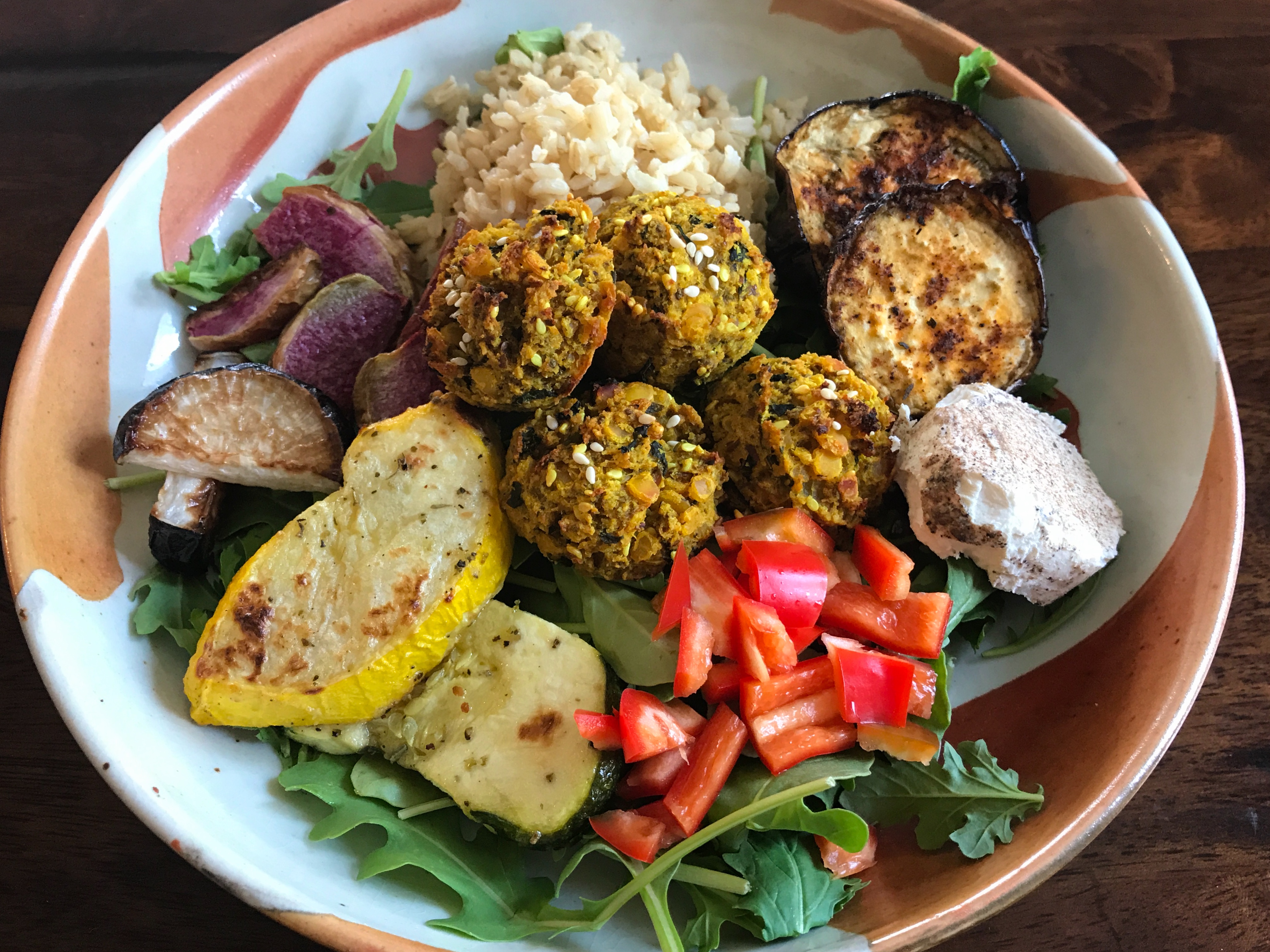 I chose to serve mine on a bed of arugula, accompanied by, what felt like, all the vegetables in my refrigerator.  Included above is my roasted eggplant (which you can find the recipe for here), roasted patty pan squash, roasted radishes (there is a roasted theme going on), some brown rice, bell pepper, and a nice slice of creamy peppered goat cheese.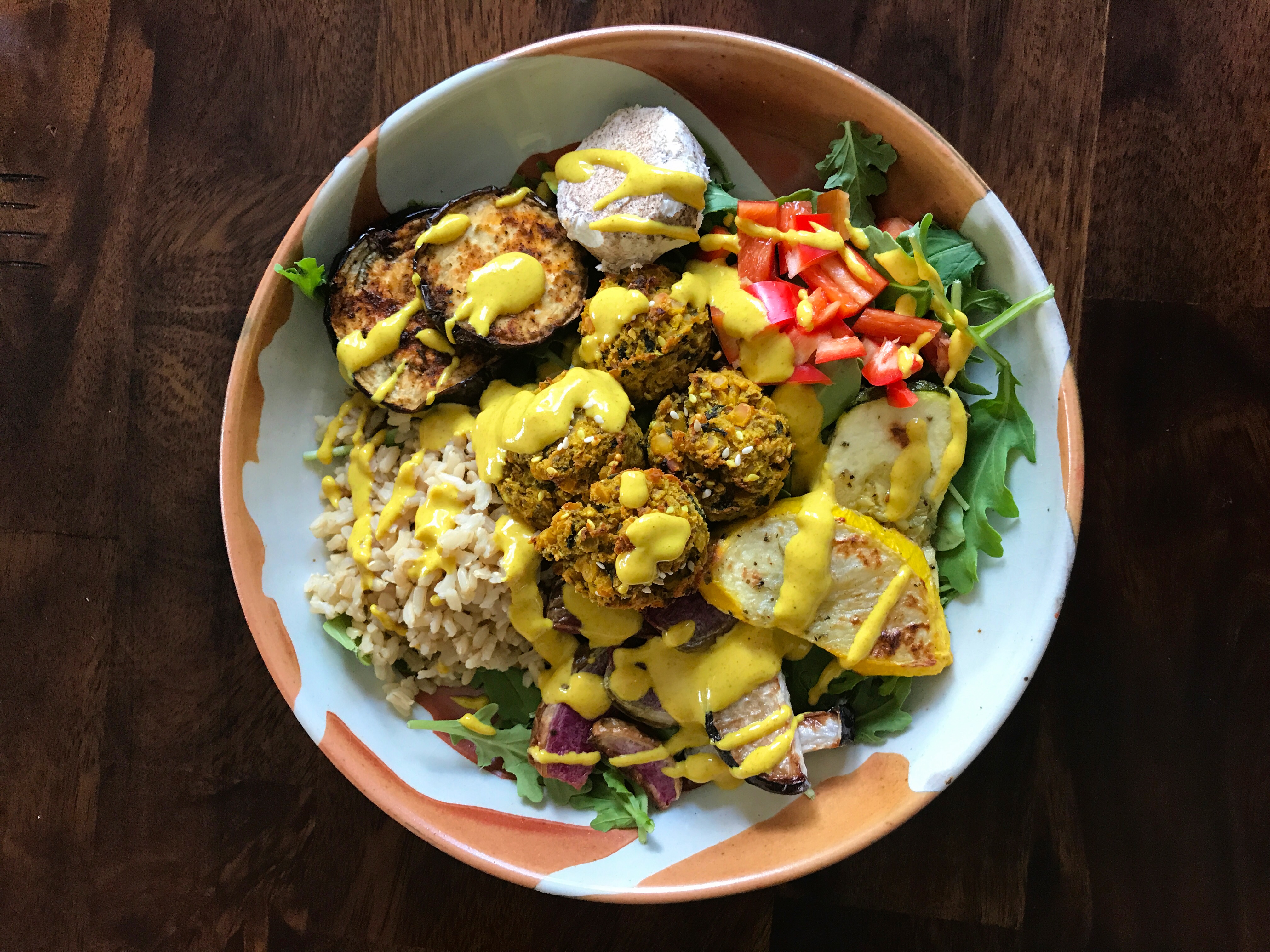 I finished it off with a tahini turmeric dressing, which will be featured in a later post, and then did a little happy dance as I devoured it!  It's truly a feast for the eyes and stomach.

5201 Total Views
3 Views Today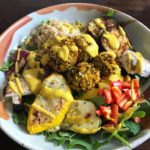 Servings

Prep Time

16-18

Fritters

10

minutes
Cook Time

Passive Time

35

minutes

30

minutes
Servings

Prep Time

16-18

Fritters

10

minutes

Cook Time

Passive Time

35

minutes

30

minutes
Servings

Prep Time

16-18

Fritters

10

minutes

Cook Time

Passive Time

35

minutes

30

minutes

Servings

Prep Time

16-18

Fritters

10

minutes

Cook Time

Passive Time

35

minutes

30

minutes
1

small onion

diced

4

garlic cloves

minced

2

tsp

olive oil

1/2

tsp

ground cumin

1/2

tsp

ground coriander

1

tsp

turmeric

1/4

tsp

ground cardamom

1/2

tsp

cayenne pepper

add less/more to suit your tastes

1/2

cup

red lentils

rinsed in cooled water and drained

1 1/2

cup

vegetable stock

1/2

tsp

salt

2

tbsp

fresh parsley

minced (or 2 tsp dried parsley)

1/2

cup

packed spinach

chopped

1

tbsp

fresh lemon juice

1

tbsp

chia seeds

1

tbsp

flax seed meal

1

tbsp

sesame seeds

toasted

1/4

cup

plain breadcrumbs
Heat oil in a sauce pan with cover over medium heat. Add onion and garlic and cook until soft and translucent, 5-7 minutes.

Add cumin, coriander, turmeric, cardamom, and cayenne pepper to the onion mixture. Stir to combine, and cook for 1 minute.

Add the rinsed and drained lentils and vegetable stock. Bring to a boil, then turn down to low and simmer partially covered for 10 minutes.

After 10 minutes, stir in the parsley and spinach and cook for 5 minutes, or until lentils are tender and the liquid is absorbed.

Add lemon juice and salt.

Stir in chia seeds, flax seed meal, and toasted sesame seeds.

Chill mixture in the refrigerator for 30 minutes to help firm up the lentils.

After chilling for 30 minutes, remove lentil mixture from the refrigerator and stir in the bread crumbs.

Scoop fritter mixture onto a parchment lined cookie sheet, using a cookie scoop if you have one. If you do not have a cookie scoop, use 1.5-2 tablespoons of the lentil mixture for each fritter.

Sprinkle on additional sesame seeds, if desired.

Bake at 425F for 20 minute, or until just starting to brown.

Enjoy either hot right away, or cooled down on a salad.
**Cardinal Rule** If lentil mixture is too salty, add an additional 2-3 teaspoons of lemon juice; the acid will help balance out the salt.
Recipe source: Vegan Richa
---
---