Bacon Quiche with Cheesy Grits Crust
Part two of the brunch installment from The Cooking Cardinal is a bacon quiche with a cheesy grits crust.  When I think of the foods I want to eat at brunch, an egg dish is always part of the menu.  The egg offerings at restaurants are always decadent and impressive. While I'm no stranger to scrambled or fried eggs, I never make myself eggs benedict or a quiche like this one.  I tend to leave those to the professionals.
So what better way to treat my friends than to make them a dish I've never attempted to make before!  When most people have guests over, they will make something they are comfortable with and have made at least once before.  I, on the other hand, like to set myself  up for failure and try to make something completely new to me.  I live life on the edge… (or something like that!)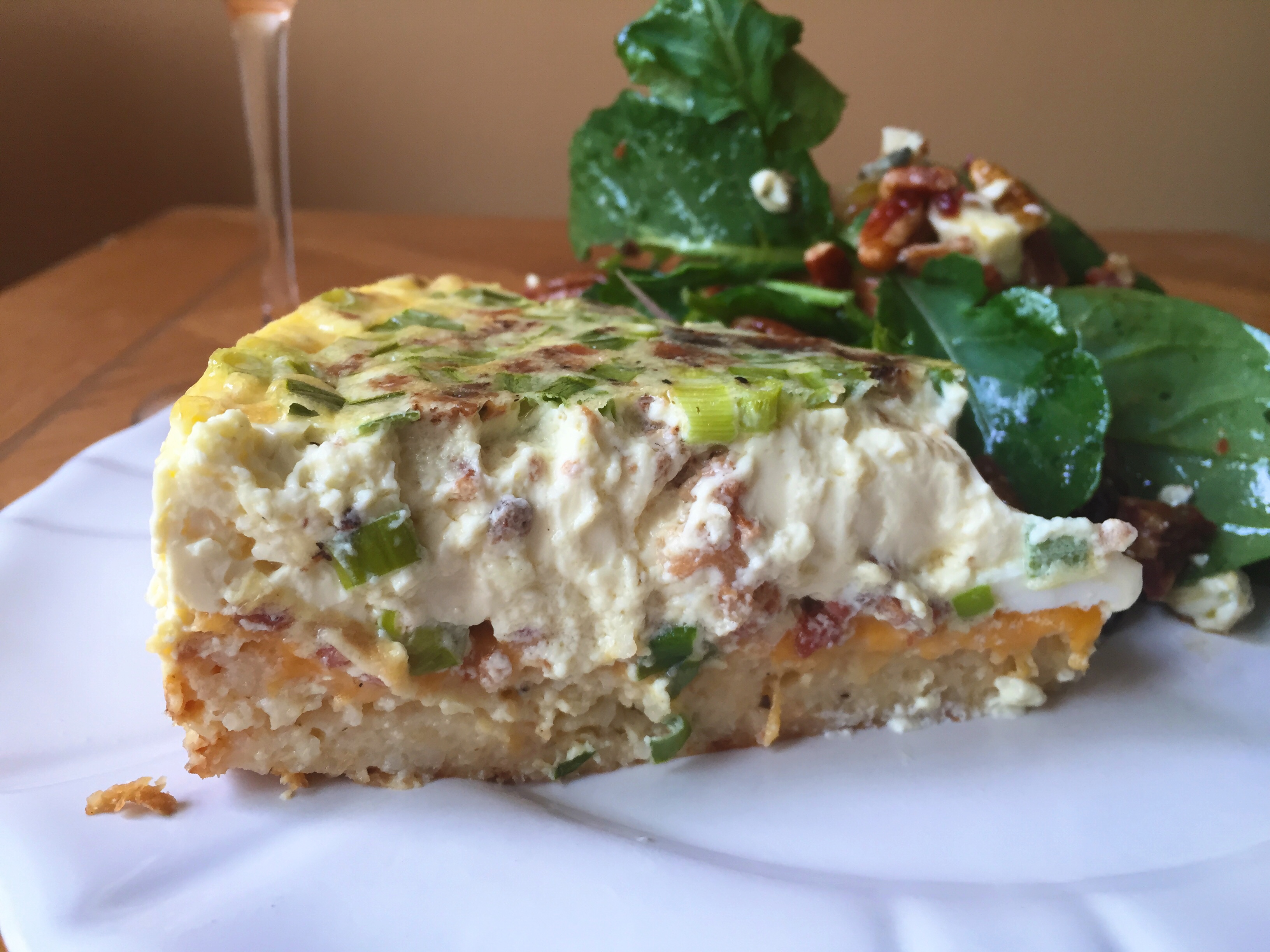 What can I say about this quiche?  The crust was an amazing combination of cheese and grits (unlike the traditional pastry crusts), then there is a layer of cheese on top of the crust, followed by the heavenly, light egg and bacon mixture.  It does take a while to make, but none of the steps are difficult and the finished dish is so worth it.
When I was planning for the brunch, I knew I'd be extremely busy with cooking and cleaning the day of; so I decided to make the quiche in two parts.  The night before I started by making the grits crust and also cooked the bacon that would be needed for two recipes the next day.  Doing this cut down greatly on the time it took to make the quiche on brunch day.  Pardon the lighting in this picture, my apartment isn't the best for night photos.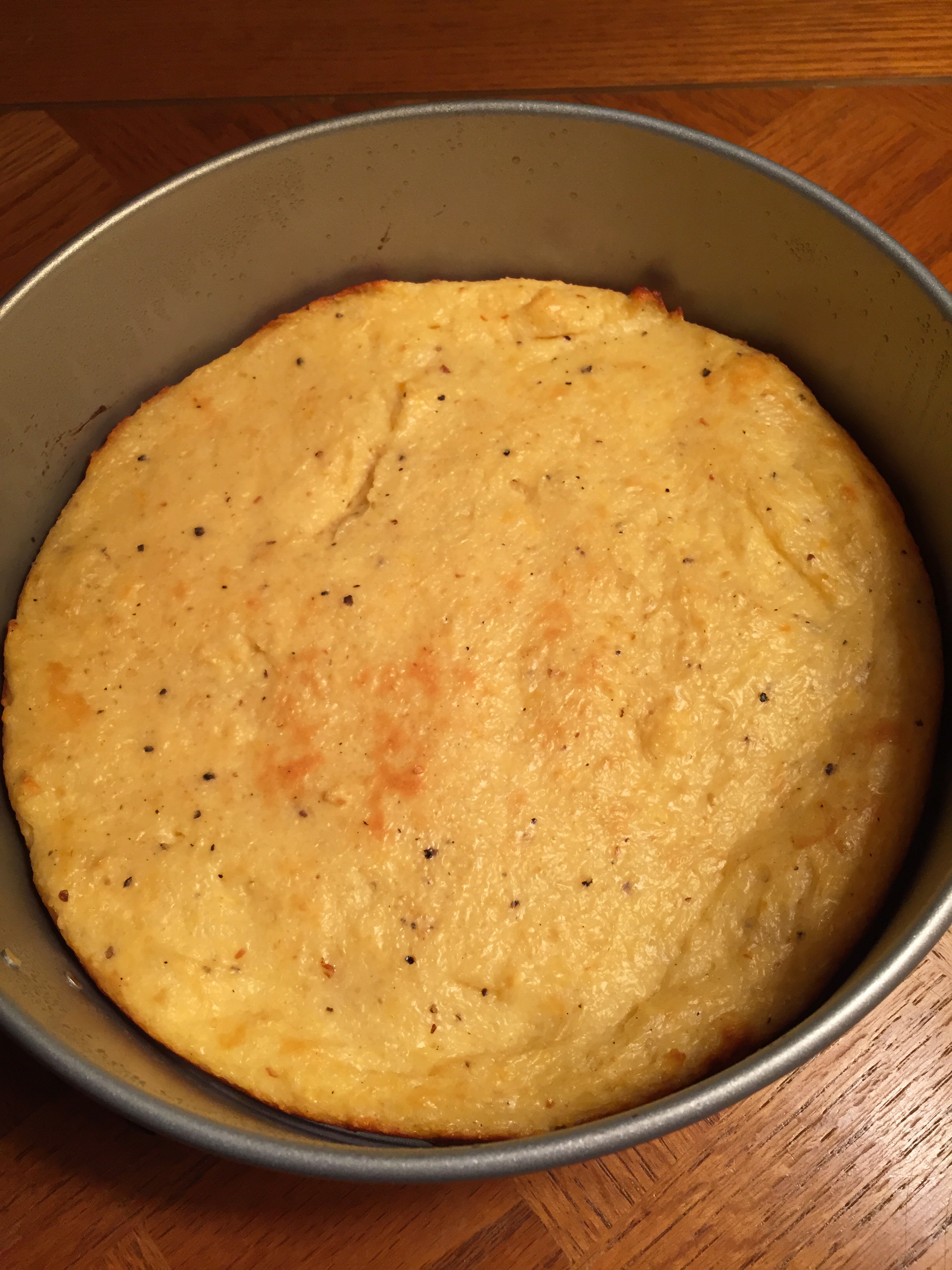 I used instant grits for the crust and cooked them in milk until they were the consistency of thick oatmeal.  Once the grits are done cooking, I mixed in a combination of three cheeses – cheddar, smoked cheddar, and Gouda.  I had to stop myself from eating the grits straight out of the pot, they were so good!  About 10 minutes after the cheese was mixed in and melted, 1 egg is added to help bind the crust all together, and then it is baked for 25 minutes (or until it is browned on top).  Once out of the oven, the crust is covered  in cheesy goodness.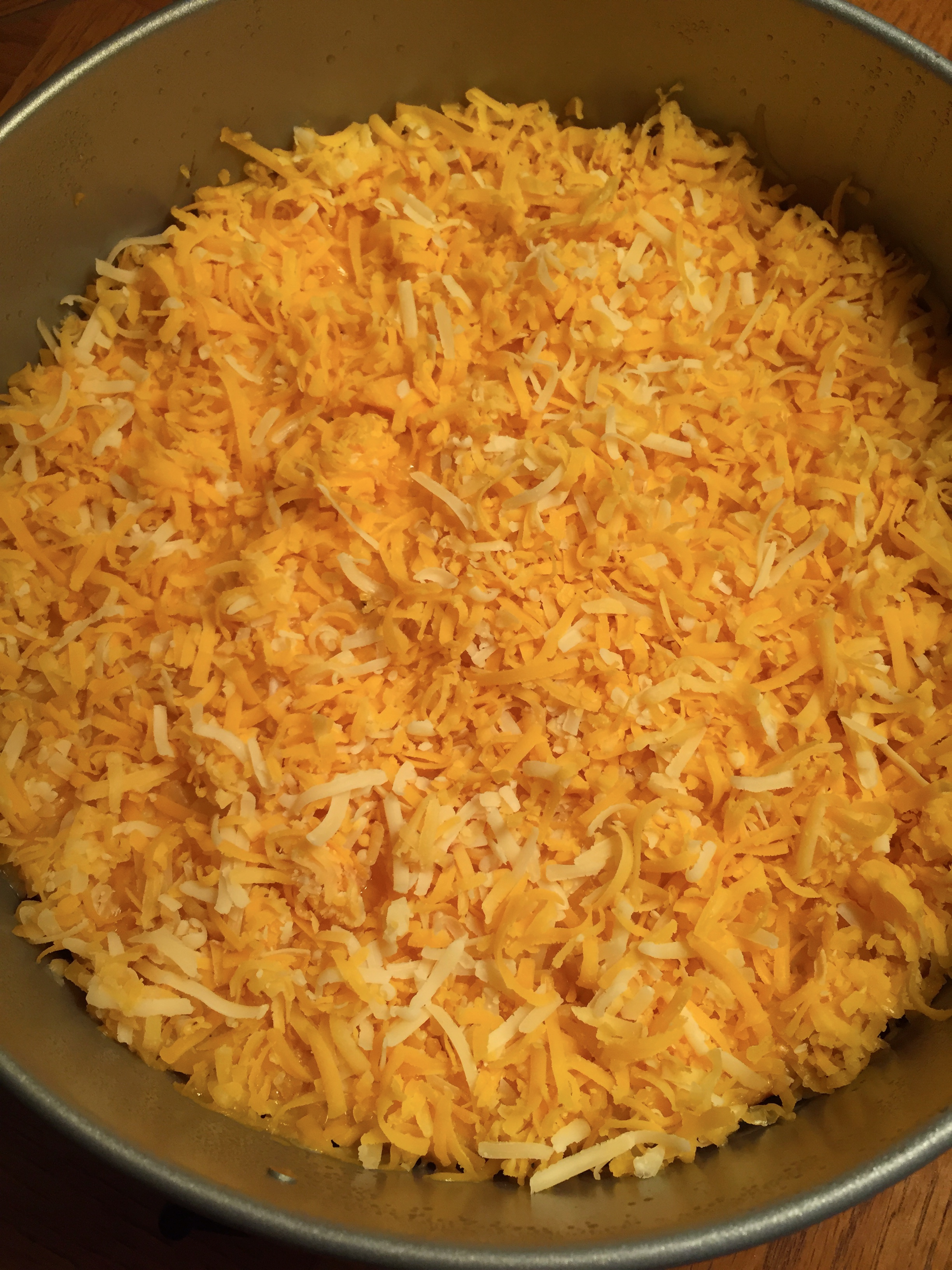 I think what makes this quiche so good is the fact that there is not only a bunch of cheese mixed in with the grits, but there is also that glorious layer of cheese on top!  I let the crust cool to room temperature, and then covered the pan in foil and popped it in the refrigerator.
The next morning I mixed up the egg component of the quiche.  To start I chopped up some green onions and the bacon I cooked the previous night.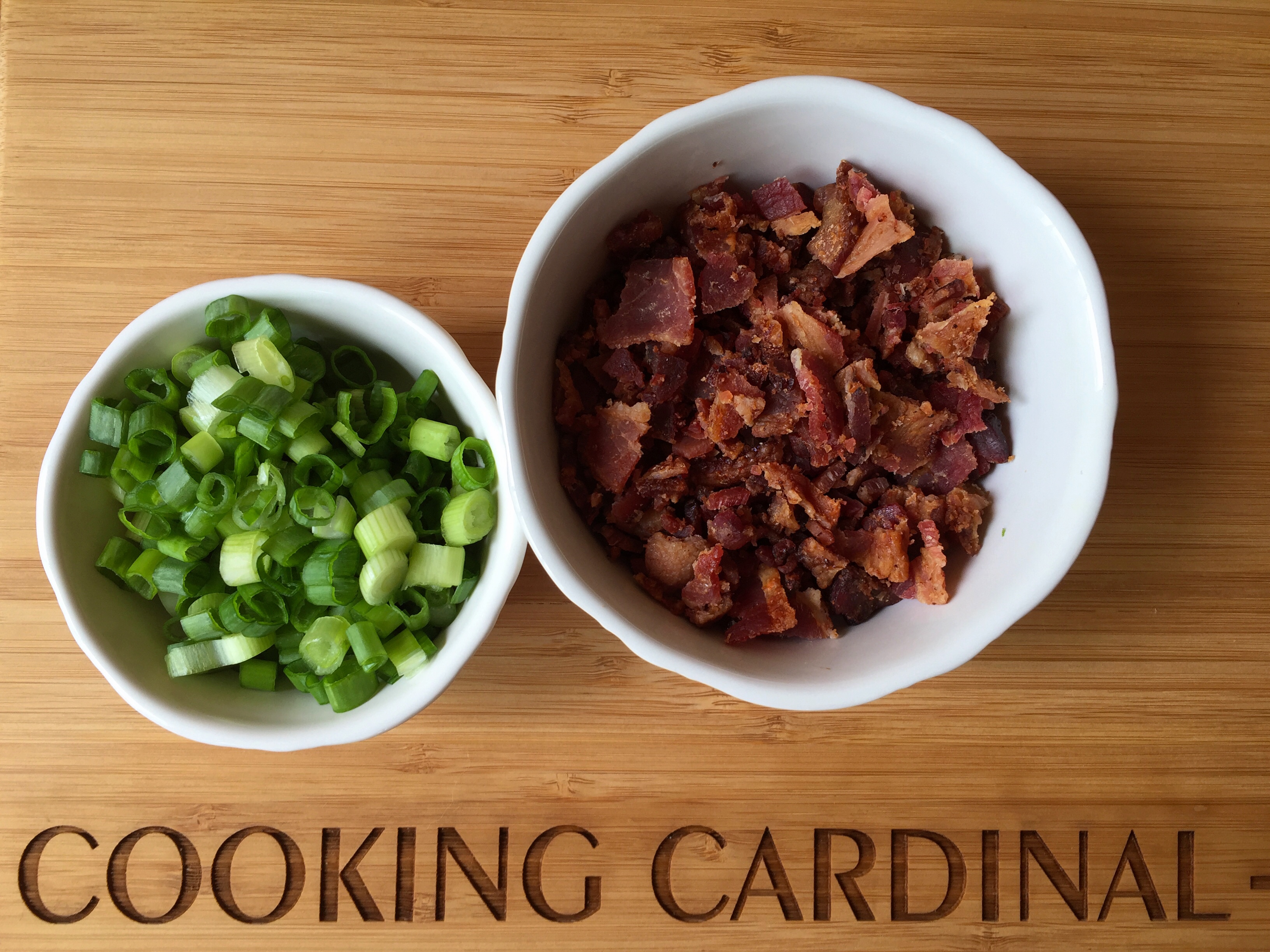 To make the rest of the quiche, eggs were combined with heavy cream, half-and-half, salt and pepper, and the green onions and bacon.  Then that was poured over the crust and cheese.  You will note that I never once mentioned this recipe was diet-friendly.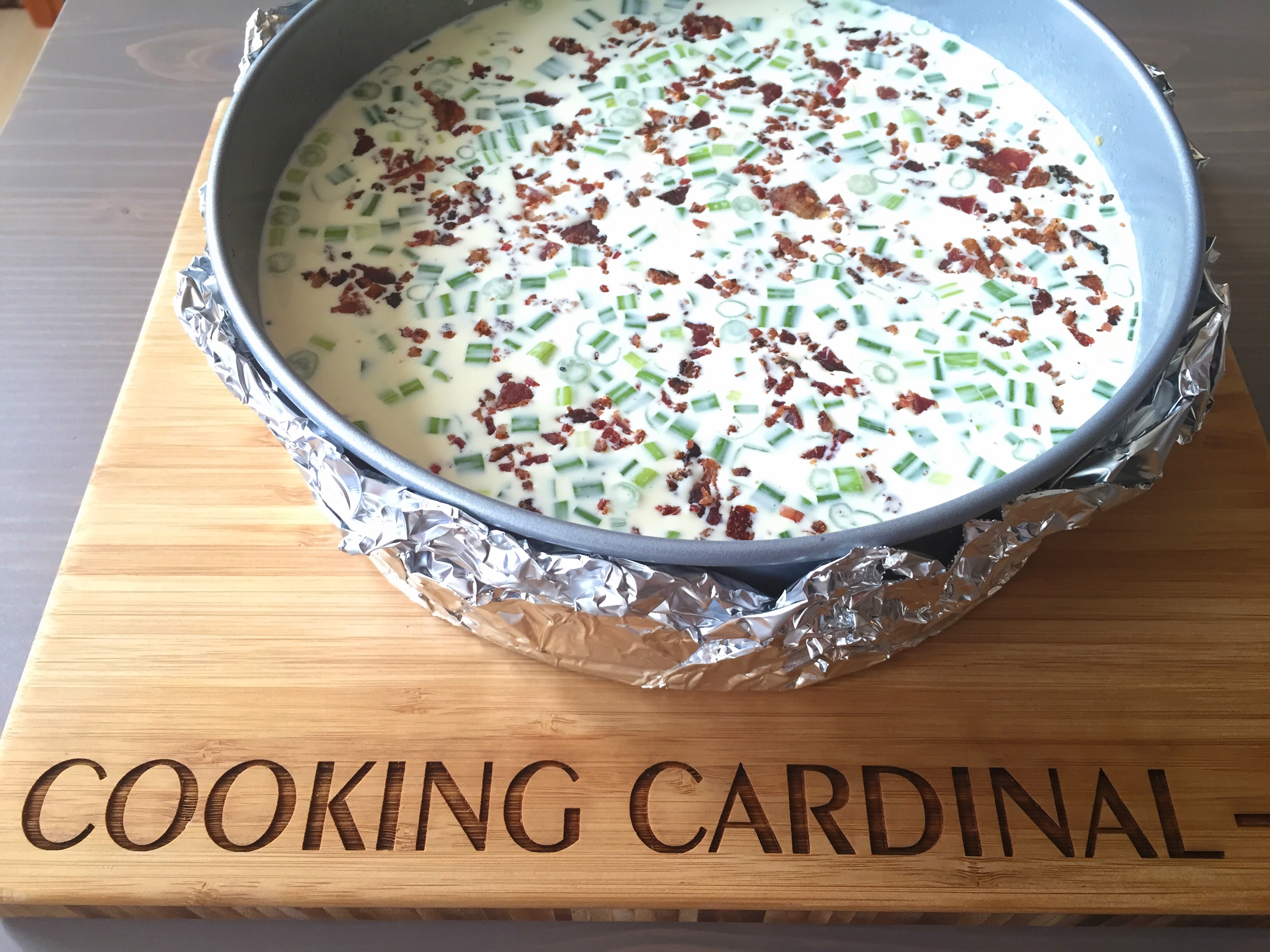 I know from past experience that my springform pan is not water tight.  So I wrapped the pan in foil before pouring in the egg mixture.  Some of the eggs did leak out, but the foil kept the mess contained.  I went off recipe and added a little more milk and another egg, just to make up for some of the filling that was lost to the leaking.  After the filling is poured in the pan, the whole thing is set on a baking sheet and cooks for 1 hour and 15 minutes.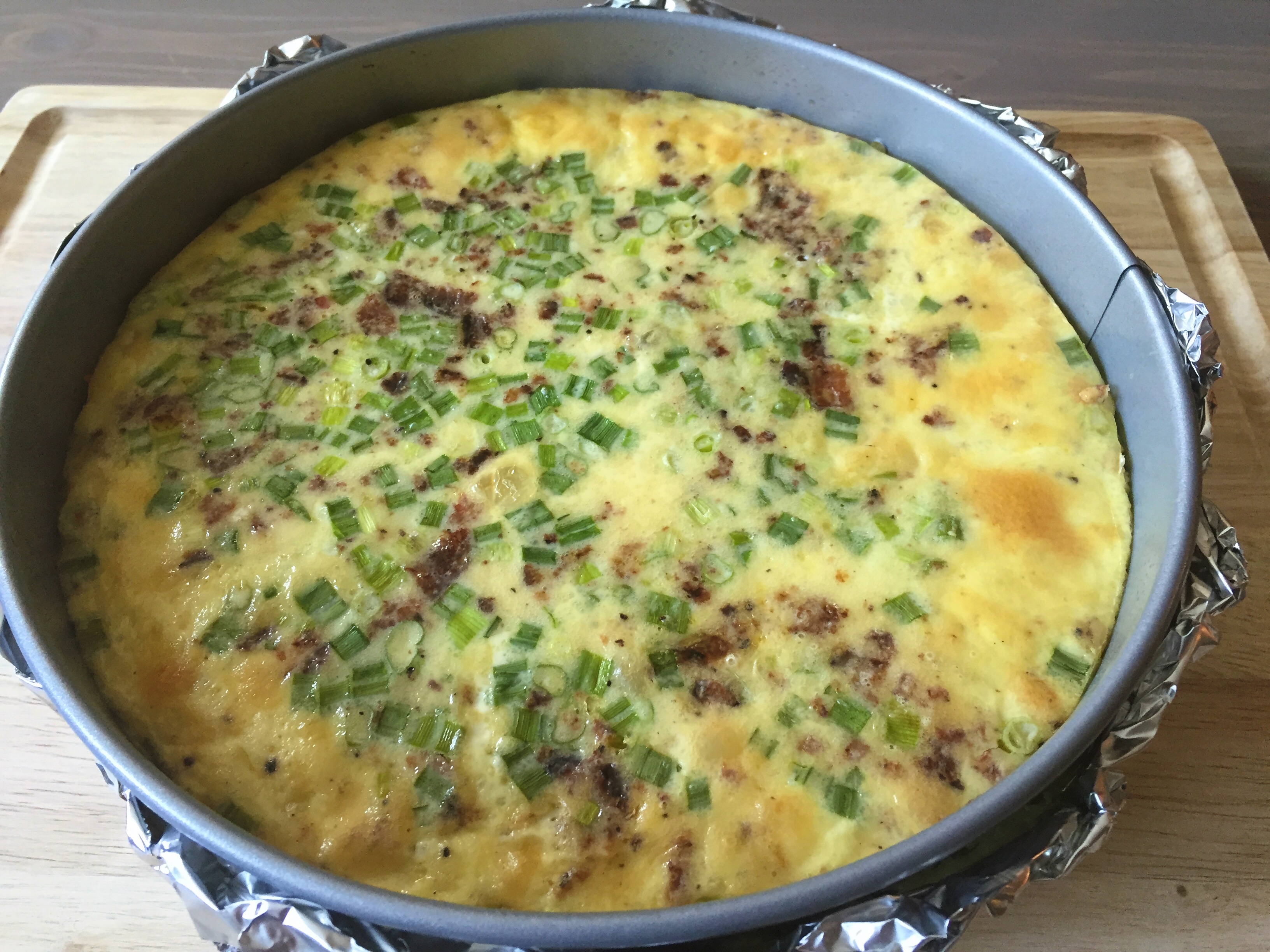 Once the quiche is just set and browned on top, remove from the oven and let it stand for 20 minutes.  Then run a knife around the edge of the quiche and remove the outer ring of the spring form pan.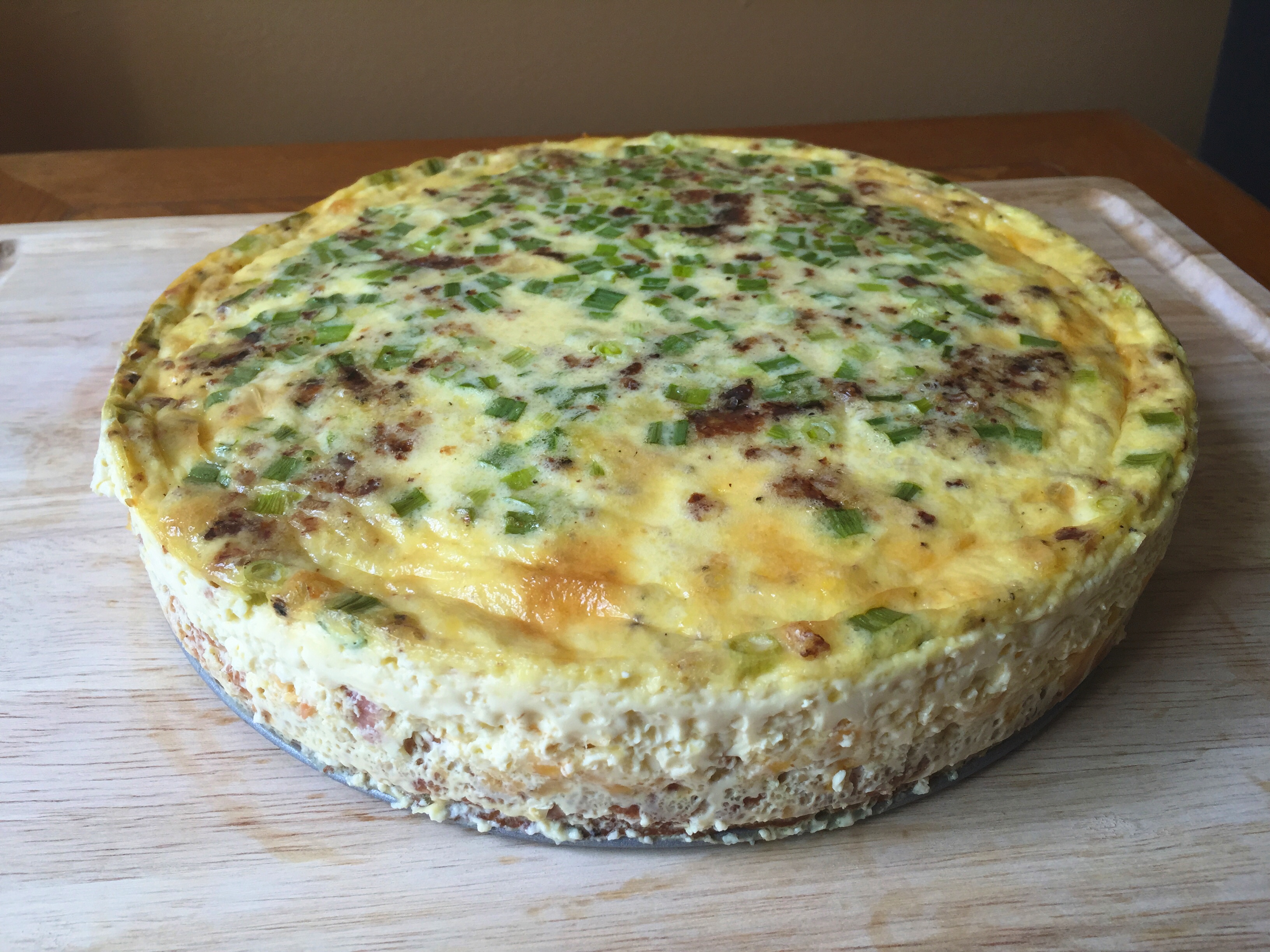 The final step is to just take a moment to admire that beautiful creation.  Go ahead, look at it for a minute or two and take in all it's glory.  Then dig in and enjoy the fruits of your labor!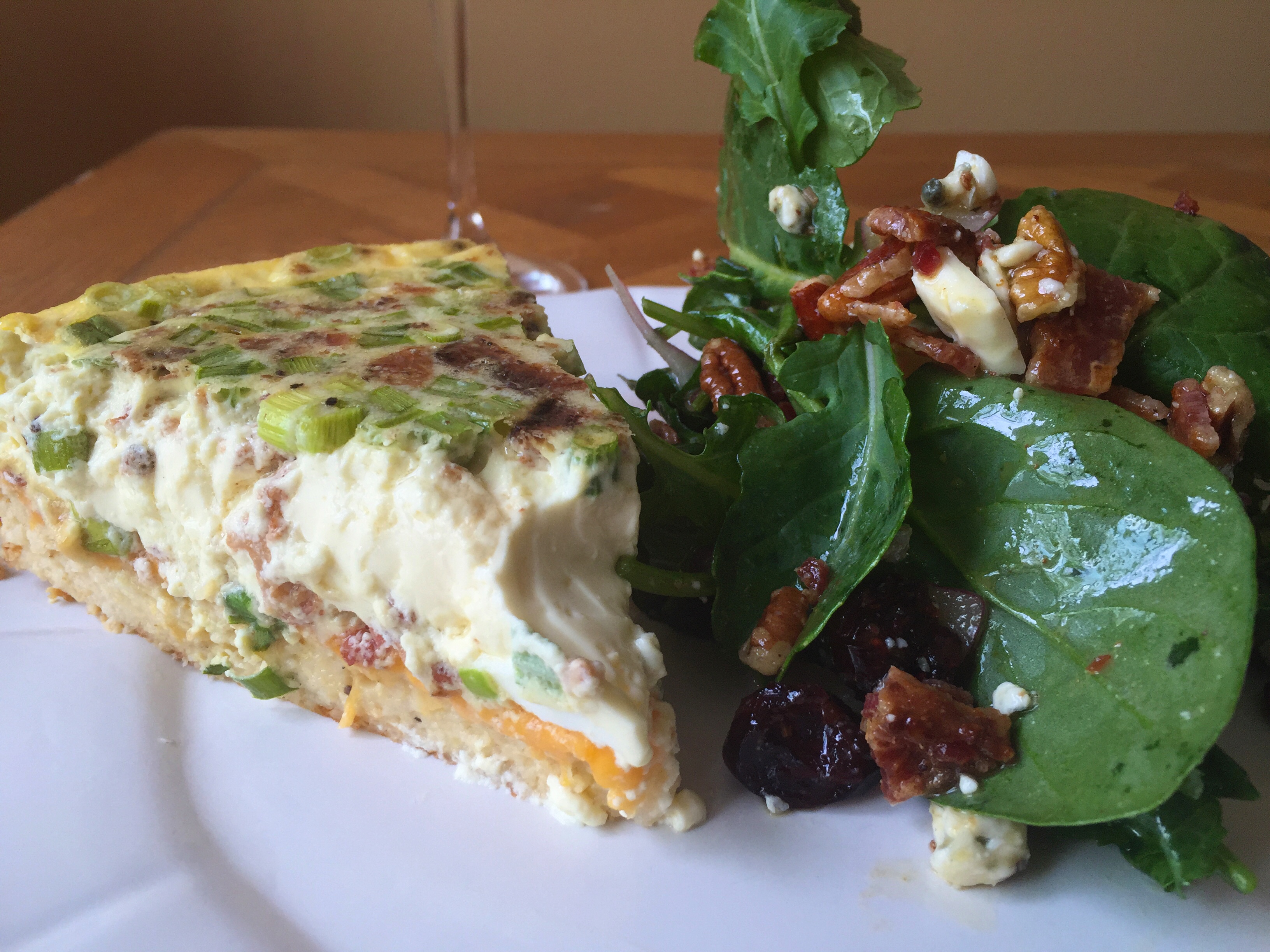 Since the quiche is pretty rich, I served it with a delicious salad on the side for the brunch (salad recipe will be featured in an upcoming post), and of course mimosas.
Set some time aside next weekend and make this for yourself – you won't be disappointed!
3268 Total Views
1 Views Today
12

oz

bacon

cooked

2 1/4

cups

milk

2

tbsp

butter

1/2

cup

grits

uncooked

2

tsp

salt

1

tsp

black pepper

2 1/2

cups

shredded cheese

use sharp cheddar or a combination of sharp cheddar, smoked cheddar and Gouda

6

large eggs

2 1/2

cups

half-and-half

1

cup

heavy cream

1/3

cup

sliced green onions
In a medium saucepan over medium-high heat, bring the milk and butter to a boil

Gradually whisk in the grits, 1 tsp salt and 1/2 tsp pepper. Cook, whisking constantly, for 5-7 minutes or until very thick.

Remove from heat and let stand for 10 minutes. Stir in 1 cup of cheese.

Let stand for another 10 minutes, then mix in 1 gently beaten egg. Spread mixture in a 9-inch springform pan that has been coated with cooking spray.

Bake at 350F for 25 minutes, or until set and browned.

Remove from oven and sprinkle with remaining 1 1/2 cups cheese. If making the night before, cool completely, then cover with foil and refrigerate overnight. If making crust the same day as serving, let it stand for 15 minutes while completing next steps.

Reduce heat to 325F, and wrap bottom of springform pan in foil.

Combine the half-and-half, cream, green onions, remaining 5 eggs, 1 tsp salt and 1/2 tsp pepper.

Pour mixture over grits, then sprinkle with crumbled bacon.

Place pan on a foil-lined baking sheet.

Bake at 325F for 1 hour and 15 minutes, or until lightly browned and just set.

Remove from oven and let stand for 20 minutes. Run a sharp knife around the edges of the quiche, remove sides of the pan, and serve.
**Cardinal Rule**  Hate getting splattered by bacon grease? Bake your bacon instead! Simply heat your oven to 425F, line a rimmed baking sheet with foil, place your bacon on the sheet in a single layer, and cook for 25-30 minutes Keep a close eye on it so it doesn't burn.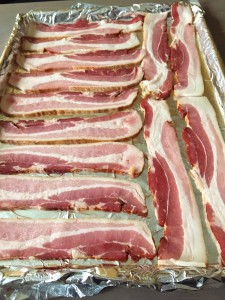 Recipe source: My Recipes
---
---